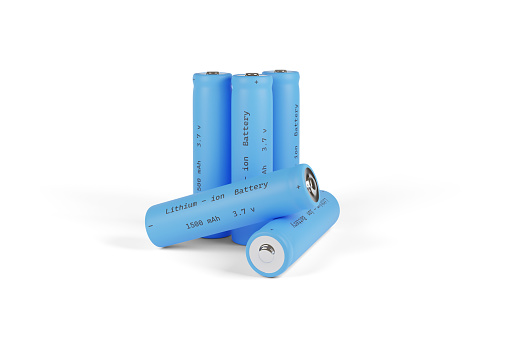 My first exposure to lithium, the soft silvery-white metal that heads group 1 of the alkali metals group, was in my high school chemistry class lab. The teacher placed a chunk of Na-sodium in water, creating a violent and explosive chemical reaction because of the quantum interactions between the metal and water molecules. Directly above sodium on the periodic table of elements is Li-lithium. The chemistry teacher then combined lithium with water in a controlled and protected environment. The combination resulted in a similar outcome to the sodium-water experiment, except the exothermal reaction, or release of heat reaction, lasted longer. As a teenager, I thought lithium was a cool element.
Addressing climate change with alternative and renewable fuel sources replacing traditional fossil fuels has caused many investors to flock to companies that offer new energy technologies.
According to its website, KULR Technology Group Inc. (NYSE:KULR) has disruptive thermal management technologies that "strive to fulfill an addressable $24 billion thermal management systems market." The company offers solutions in thermal interface materials, lightweight heat exchangers, and protection against lithium-ion battery thermal runaway propagation.
Lithium-ion batteries are rechargeable, using the reversible reduction of lithium ions to store energy. These batteries have become the predominant battery type used in portable consumer electronics and electric vehicles. Increasing demand for lithium from the EV sector and supply tightness caused lithium prices to explode in 2022.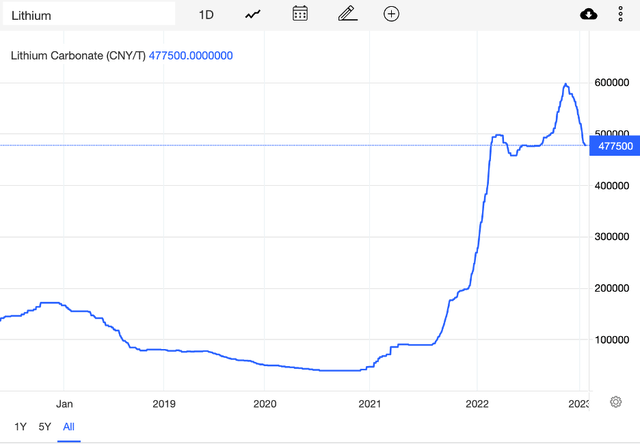 The chart shows the rise of lithium carbonate prices from $27,750 per ton on December 31, 2021, to $51,950 per ton on December 30, 2022, an 87.2% rise. Lithium nearly reached a record $60,000 per ton in November 2022 and was at the $47,750 level on January 24, 2023.
Lithium fundamentals support higher prices in 2023, given tight supplies and increasing battery demand. Lithium is the same cool commodity I learned about in high school, and last year, it was near the top of the percentage performance pack in the raw materials sector.
Meanwhile, at the $1.30 per share level, KULR Technology (KULR) could be even cooler when it comes to the stock's potential for percentage gains in 2023, according to the company's CEO, Michael Mo. KULR's products address one of the energy sector's core problems, localized storage.
Michael Mo is KULR's CEO
On Monday, January 23, I had the pleasure of chatting with Michael Mo, who has lots of experience in technology and educational chops with a master's degree in electrical engineering from UC Santa Barbara.
From 2007 through 2015, Michael was the senior director of business development at Amlogic Inc., a semiconductor company focused on designing and selling system on chip integrated circuits. Mr. Mo was the co-founder of CEO of Sympeer Technology, a peer-to-peer network company. I met Michael Mo at the recent CES Show in Las Vegas, one of the most influential worldwide technology events.
At KULR, Michael Mo focuses on harnessing the electrical battery power of lithium-ion batteries and creating localized storage applications. According to the CEO, "Lithium is the most efficient way to localize energy battery storage in today's world."
KULR's products
KULR's products address solving the storage issues facing electric energy created by lithium-ion batteries:
The company's CellCheck modular battery management system platform is KULR's next-generation battery safety technology for e-mobility, energy storage, and fleet applications.
KULR's SAFECASE mitigates thermal runway or the accelerated process whereby increasing temperature releases energy that further increases temperature. SAFECASE also creates safe and sustainable storage and transportation of lithium-ion cells and battery packs up to 2.5 KWh per case.
KULR's Thermal Capacitor is a carbon fiber-infused heat sink utilizing phase change material that absorbs or provides heat.
Fiber Thermal Interface is high-performance, flexible, thermally conductive carbon fiber materials.
Battery packs use KULR's Thermal Runaway Shield to absorb heat and shield cells from entering thermal runaway propagation.
The company's Internal Short Circuit identifies failure mode and safety issues in lithium-ion cells and battery packs.
Cathode, made of carbon fiber velvet, generates powerful electron pulses by field emission from the tops of carbon fibers.
KULR's products are critical for the electrification economy with a myriad of applications. KULR's current customers include NASA, the Department of Defense, and Lockheed Martin (LMT). The company also provides its technology to Cirba Solutions, a leading battery recycling company, and United Parcel Service (UPS), the world's largest express carrier and package delivery company specializing in international transportation and logistical services. KULR's SEC filings also include General Motors (GM) and Meta Platforms Inc (META) as customers with its product's automobile EV and metaverse applications.
A volatile small-cap stock
At around the $1.30 per share level on January 24, KULR's market cap was just below the $140 million level. Since July 2018, KULR shares have been as low as 55.0 cents and as high as $5.00.
Seeking Alpha's factor grades show the company's highlight is growth, while it receives a failing grade in profitability: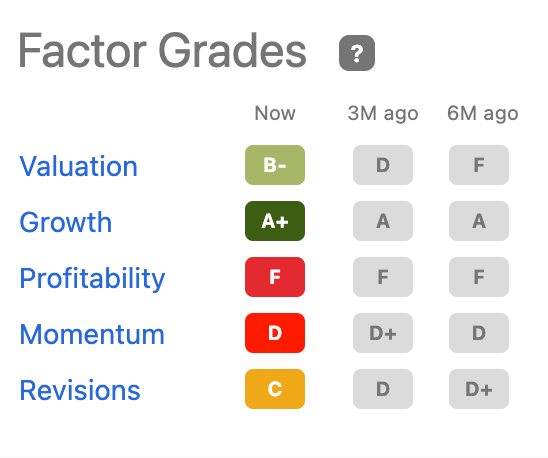 The failing profitability grade comes from the return on capital and assets and the company's asset turnover ratio: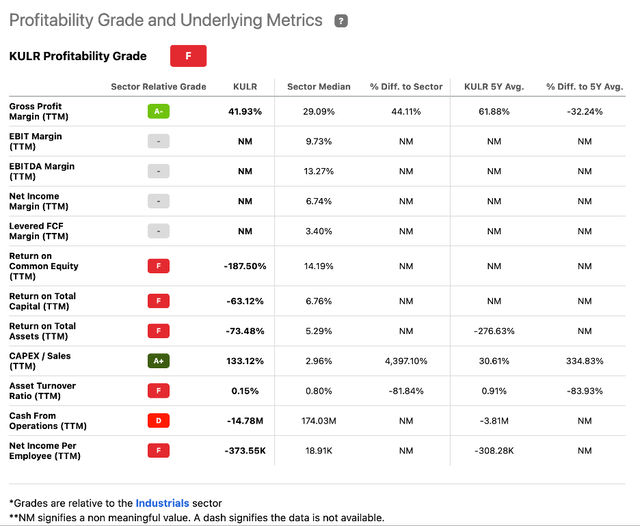 CEO Michael Mo explained the company had spent the past few years investing in its employees and infrastructure to create long-term shareholder value. KULR's balance sheet displays a very low current and long-term liability level. The latest quarterly income statement shows KULR has yet to turn the earnings corner to a positive result.
A bearish trend since November 2021- KULR underperformed the leading stock market indices in 2022
2022 and 2023 are challenging environments for companies with lots of blue-sky potentials as dark clouds have covered investors' eyes. Many analysts have warned against investment in companies without earnings in the current economic landscape.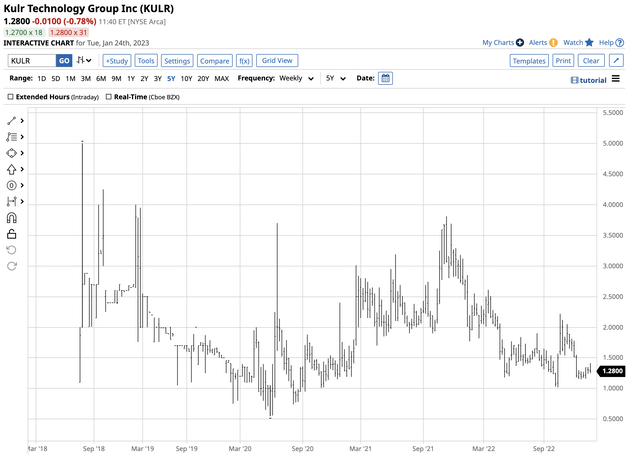 The chart shows KULR shares reached an all-time $5.00 high in July 2018 and have mostly made lower highs over the past five years. After reaching a 55 cents per share low in mid-2020 as the global pandemic gripped markets across all asset classes, the stock made higher lows and higher highs, reaching a lower $3.81 peak in late 2021 before all the leading stock market indices plunged in 2022. The S&P 500 fell 19.44% last year, while the DJIA dropped 8.78%. Meanwhile, the tech-heavy Nasdaq suffered a 33.1% loss. KULR shares did worse, falling 56.5% in 2022.
I define KULR as an emerging energy-technology business addressing storage issues in the battery sector. Michael Mo told me he's building a business that could make KULR a clearing house for battery technology storage, safety issues, and localized storage.
The CEO's reasons why KULR is a buy
CEO Michael Mo said, "Electrification is only in its beginning and early days for vehicles, planes, power tools, and other applications across many industries." When asked if other clean energy technology will emerge, he said battery technology via lithium-ion applications is the most efficient and the "base chemistry won't change in the next five years."
Michael Mo's strategy is to follow a parallel course to his favorite company, Nvidia (NVDA), which serves as a model for KULR's path. NVDA created a franchise in the graphic processing chip business. KULR's CEO sees his company following the same approach in battery energy as it seeks to improve safety, efficiency, and sustainability as the world addresses climate change issues. Moreover, the bifurcation of the world's nuclear powers and increasing defense spending will only increase the relationship and business flow between KULR and its government customers at NASA and the U.S. Department of Defense.
Michael Mo outlined why risk-reward favors the upside for KULR's earnings and the share's future. He outlined four areas that support his company's future and minimized risks:
Technology- NASA and the U.S. DOD have validated KULR's technology. The company has over a dozen granted patents and other intellectual property filings pending.
Market- The current customer base, including NASA, DOD, Cirba solutions, UPS, Viridi Energy Products, GM, and Meta, enhances KULR's strategy to minimize risk and maximize reward. Applications in aerospace, car and other vehicle manufacturing, tool manufacturing, mining, and other areas can further increase the company's addressable customer market over the coming years.
Execution- KULR spent 2021 and 2022 investing in employees and infrastructure to create a franchise for localized lithium-ion battery energy storage via its suite of products.
Financial- KULR's balance sheet is free of any significant debt. $1.3 million in revenue in Q3 and growth in 2022 has the company's CEO looking forward to a "hockey stick" earnings trajectory in 2023.
At the $1.30 per share level, the downside is limited. Harnessing lithium-ion battery safety, efficiency, and sustainability is KULR's goal. The disruptive technology critical for shifting energy requirements could make the company's prospects for percentage gains cooler than lithium's price potential over the coming months and years.