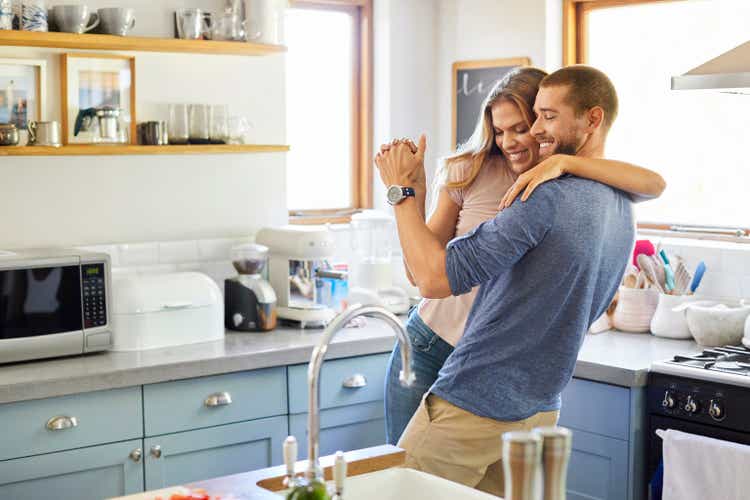 Co-produced with Treading Softly.
The famous Charles Dickens book, A Tale of Two Cities, begins by saying "It was the best of times, it was the worst of times..." It helps represent the dichotomy we often see in life that one person's worst day can be the cause of, or caused by, someone else's best day. Life happens all around us.
When it comes to the market, I often find myself on the opposite side of many types of investors.
I love to buy when others are selling. It's been a long-standing trend in my investment career that when the market is on sale, I'm like a kid in a candy shop - picking up opportunities and locking them down.
I frequently get asked how I can do this, or where all my cash comes from so that I can keep on buying when others are ducking out of the market or running for cover.
The answer is quite simple - I use my dividends.
I have built an entire portfolio that is laser-focused on providing me with a recurring income stream. The largest clump of money arrives on the 1st and 15th of every month, but I frequently have dividends hitting my account in the days and weeks between those two primary days.
Cash in hand represents a vast array of opportunities and possibilities. That cash can be just as easily turned into a bouquet of flowers for my loving wife, as it can be used to grow my dividend income stream. Unlike those who are forced to wait and pray for a rising stock market, my dividends come in good times or bad ones.
So what have I been buying up lately? Let's take a look at two opportunities I've been capitalizing on.
Pick #1: HQH - Yield 8.8%
Tekla Healthcare Investors (HQH) is a closed-end fund ("CEF") that invests in the medical sector, emphasizing biotech and pharmaceuticals. Source.
These sectors were all the rage in 2020 thanks to COVID and the numerous traders it generated. Last year, the traders moved on, and the price of HQH fell over 20%. We didn't move on, why?
We recognize that the long-term fundamentals for the healthcare sector remain very strong. HQH's price fell over 20%, but its NAV only fell about 8%: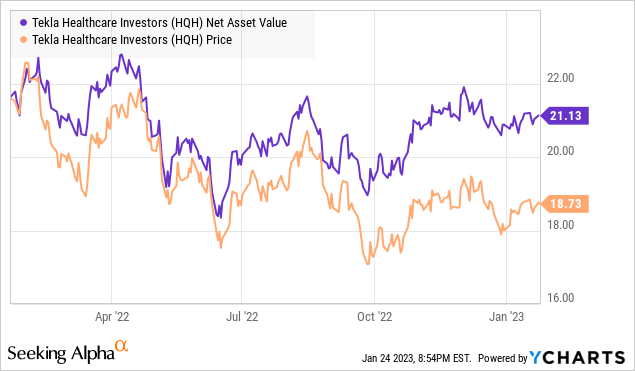 Today, HQH is trading at a very significant discount to NAV. The best part is that the dividend is based on NAV. HQH pays out 2% of NAV each quarter. With prices falling, that led to the quarterly dividend gradually declining through the year as the market sold off. For the February dividend, this trend will change, and we project a dividend of $0.42.
The dividend changing from a downward trend to an upward trend could be a catalyst for the price to close the gap and trade closer to NAV. For CEFs that pay variable dividends, the best time to buy is when their NAV is near the bottom, and the dividend is the lowest. That way, you get the best yield as NAV rises and your dividend climbs with it.
HQH wasn't a COVID trade for us. It is a fund that has proven the ability to outperform the market over the long haul: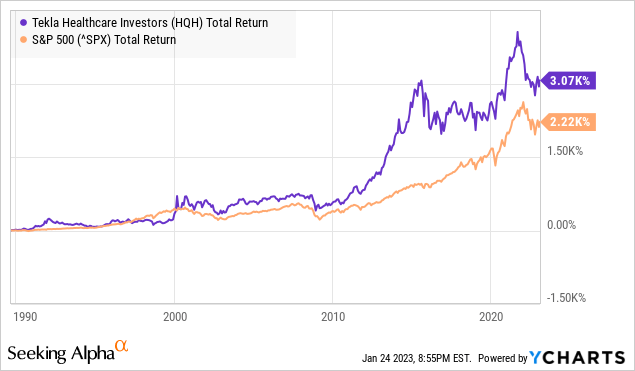 We are happy to add more while it is cheap!
Pick #2: AGNC - Yield 12.5%
AGNC Investment Corp. (AGNC) has enjoyed a significant rally from its October bottom. It is up over 50% in the past three months. The primary driver is likely the rebound in Agency MBS (mortgage-backed securities) that has occurred.
The decline in September was among the fastest and largest declines in MBS prices in history. The recovery has been equally as fast. Prices are now just shy of their 200-day moving average (the yellow line). Source.
A 5% increase in MBS prices might not sound like a lot, but remember, AGNC is leveraged at 8.7x equity. At that level of leverage, a 5% increase in asset prices results in approximately a 38% increase in equity value (excluding the positive or negative impact of hedging).
This is why book value has been so volatile over the past year. Agency MBS prices fell at a historic pace. Mortgage rates climbed quickly, and the spread between mortgage rates and Treasuries hit its highest point since the 1980s. As far as agency MBS was concerned, 2022 was worse than the Dot-Com bust, worse than the Great Financial Crisis, and worse than COVID.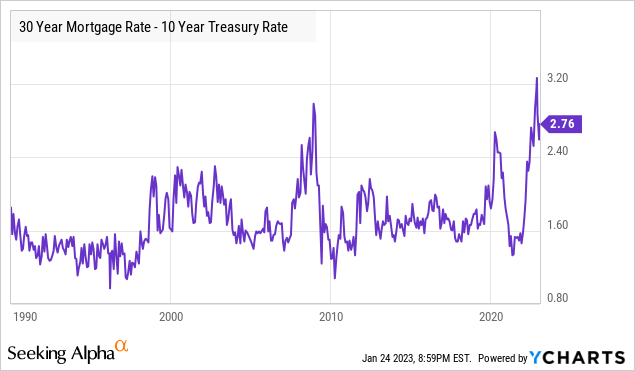 Why is this spread important? It is important to book value because AGNC is long agency MBS (which determines the "30-year mortgage rate") and hedges that position by shorting U.S. Treasuries. When this spread gets very wide, this indicates that agency MBS is underperforming Treasuries. In other words, the short position on Treasuries is failing to counterbalance changes in MBS prices. This is known as "basis risk", and it has a very dramatic impact on book value. A 50 bps change in this spread in either direction will cause a 37.5% swing in book value. Source
This weighed on AGNC's book value in all of 2022:
The downtrend throughout 2022 turned around in Q4, and we expect the book value that AGNC will report for Q4 earnings will be significantly higher than Q3. It should be much closer to the Q2 book value.
Note that the MBS-Treasury spread is still very high, a good 100 bps over historical averages. As that spread normalizes, it will provide a tailwind to AGNC's book value. This trend will likely continue throughout the year.
AGNC's price continues to trend upwards, and we expect that it will soon be trading at a premium to book value. If it does trade at a sustained premium, AGNC should issue equity, this would be very beneficial for shareholders. We want AGNC to be buying as much agency MBS as it can while prices are very low relative to U.S. Treasuries. The future outlook on returns for agency MBS is higher than they have been in AGNC's history as a company. We want to see AGNC aggressively increase its portfolio.
So be on the lookout for AGNC to start raising some capital. Any dip caused by an equity raise is a buying opportunity!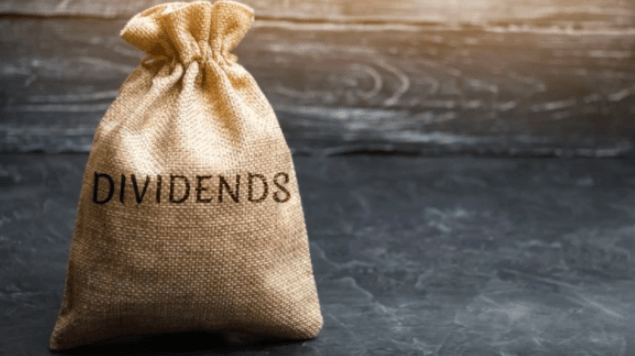 Conclusion
With AGNC and HQH, we can take advantage of on-sale prices for long-term income opportunities. HQH provides wide coverage of the healthcare sector, which usually does not provide strong income. AGNC allows us to have leveraged exposure to MBS income and prices while getting paid monthly.
For retirement, I want a hands-off income that allows me to enjoy the simple things in life. A walk down a country road enjoying the fresh air. A trip to the beach to enjoy hearing the waves crash into the shore. A fire crackling in a fireplace while I enjoy a warm cup of coffee.
I don't want my retirement to be strapped to a chair in a cubicle worried that if the market moves wrong that I'll be stuck there forever. The market moves in 2020 and 2022 caused many would-be retirees to postpone or delay their retirement fearing they no longer had "enough" to retire.
Don't be a victim of forces you cannot control by abdicating your portfolio to the whims of others. Take charge. Invest for income, then you too can enjoy retirement with fewer worries.
That's the beauty of our Income Method.