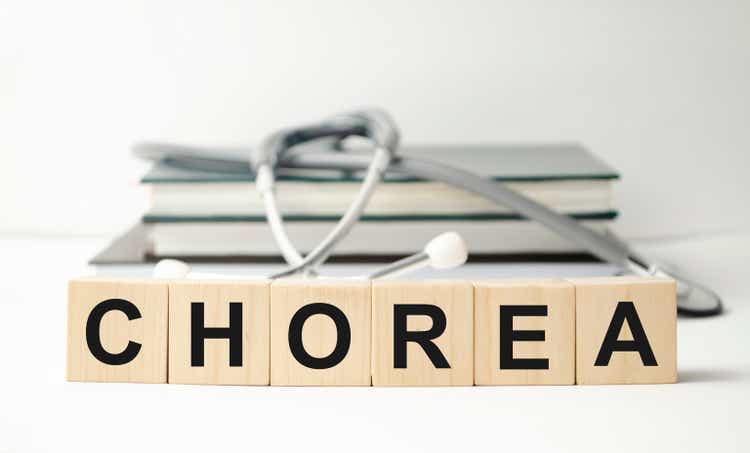 Last quarter, Neurocrine Biosciences, Inc. (NASDAQ:NBIX) saw a clear acceleration in its core Ingrezza tardive dyskinesia franchise. Q3 net product sales increased +31.3% year-over-year to $379.3M, with net sales of Ingrezza specifically amounting to $376M. The company even raised its full year 2022 sales outlook for the drug to between $1.4 to $1.425B. The company's intensified sales effort is clearly paying dividends.
The market was pleased, and it even swallowed the later news that NBIX's investigational calcium channel blocker NBI-827104 had not met its main Phase 2 goal EE-CSWS patients with measured indifference.
The street's old view on Neurocrine Bioscience was that it was a one trick pony about to hit the wall. With its two other drugs (Ongentys and Elaglix) dead in the water with legible revenues, the "one trick" itself –Ingrezza– would soon hit a sales plateau, as the majority of TD patients were already being captured.
That view has been jettisoned. The Street now expects 4Q 2022 revenues of $408.3 million, up from $312 million in 4Q 2021. It sees non-GAAP earnings hitting 1.14 EPS(!) as opposed to -.08 EPS in 2021.
Neurocrine is now starting to look like an ambitious contender. It has a few decisive events this year that could make it a far bigger player in the CNS space. The company has certainly been positioning itself in some astute ways for long-term benefit:
In August, Neurocrine bought Diurnal. Though not appreciated by the market, the deal was well-priced. NBIX talked primarily of an "opportunity to accelerate the establishment of clinical development and commercial capabilities in the UK" as the motivation for the deal. With Neurocrine looking to build itself into a more international CNS player and maximize the long-term value of its pipeline, this makes sense.

Its deal with Voyager (VYGR) Neurocrine obtained the global rights for the company's GBA1 gene therapy program for Parkinson's disease and other GBA1-mediated diseases for $175M upfront, comprising about $136M in cash and $39M of new Voyager shares issued at $8.88 apiece. Neurocrine has also agreed to partner with Voyager for three new gene therapy programs directed at rare CNS targets.
More immediately, there are three major events from within their own pipeline to consider:
The sNDA regarding chorea: On December 22, Neurocrine Biosciences reported that the FDA had accepted its sNDA for valbenazine as a treatment for chorea, a serious movement disorder associated with Huntington's disease. Verdict is due out before August 20, 2023.

Crinecerfont: The Phase III results for crinecerfont in congenital adrenal hyperplasia (CAH) will be released in February 2023 for adults and April 2023 for children. Success could take the stock up to $140.
3. NBI-921352: The Phase 2 results evaluating this Nav1.6 sodium channel inhibitor in adult patients with focal onset seizures are also expected in February 2023.
Breaking out the Bullish Thesis:
The new bullish thesis for NBIX depends on four distinct components: that the TD franchise will continue to grow more than previously expected in 2023; (less importantly) that Ongentys will rise in sales more than previously expected; that the FDA chorea approval by August occurs, thereby expanding Ingrezza's sales considerably; and that crinecerfont (just one of many pipeline results coming within the year) delivers.
The U.S. is now post-pandemic. More in-person sales calls and patient visits in the U.S. and Europe suggest that 2023 might be a year in which we see more traction from the firm's sales force. Early in 2022, Neurocrine expanded its sales efforts for Ingrezza, so expect the fourth quarter of 2022 and 1Q 2023 to show results. Also, in November, Neurocrine bumped the price of Ingrezza by 9%. This will help revenues.
Though Elagoliz will need to deliver on its label extension study in polycystic ovary syndrome to offer any significant sales growth, NBIX's other drug –Ongentys– saw revenues up 38% year over year in Q2 2022. This was surprising to the Street and we may see better growth due to a larger sales force. Stifel analyst Paul Matteis sees a "conservative" $150 million in peak sales for Ongentys; analyst Stephen Simpson suggests the possibility of a $250 million sales peak.
Far more important for the bullish thesis: chorea for Huntington's disease. The FDA decision date is set to occur by or before Aug. 20, 2023. An approval offers a huge opportunity due to its addressable market.
What is chorea? Chorea is an abnormal involuntary movement derived from the Greek word "dance" and characterized by abrupt, irregular movements. Huntington's disease (HD) itself is an inherited disease that causes progressive degeneration of nerve cells in the brain. It causes neurons in parts of the brain to gradually break down and die. As the disease attacks those areas of the brain that control voluntary (intentional) movement, it thus causes chorea. People living with HD often develop chorea as well as abnormal body postures.
There is no treatment that can stop or reverse HD, but the drug Austedo –an Ingrezza competitor– is already used to treat the chorea associated with HD.
Both Austedo and Ingrezza are grouped as VMAT2 inhibitors (inhibits vesicular monoamine transporter type 2). Both compete in the TD space, and again Austedo already has chorea HD approval. Austedo for treatment of chorea has shown statistically significant improvement by 12 weeks, using a dose range 6mg to 48mg. (Improvement in chorea movements is measured by the Total Maximal Chorea Score. A decreasing score or a negative score shows an improvement in chorea symptoms.)
However, Austedo has a "Boxed Warning" for patients with Huntington's disease, specifically warning people that taking Austedo can increase the risk of developing depression, suicidal thoughts and behavior. Ingrezza is likely to avoid this boxed warning (the most serious warning by the FDA), which will make for a crucial distinction.
In its own recent filing, the company reported:
No clinically important changes in vital signs, ECG, or laboratory tests were found. In this study, no suicidal behavior or worsening of suicidal ideation was reported as a TEAE or per the C-SSRS in valbenazine-treated participants.
NBIX's sNDA filing included data from their KINECT-HD Phase 3 study and the on-going KINECT-HD2 open-label study of valbenazine in adults with chorea associated with Huntington disease. The results of the KINECT-HD study (which enrolled 128 adults randomly assigned to valbenazine or a placebo capsule for 12 weeks) showed that the treatment with valbenazine significantly eased chorea symptoms vs a vis the placebo, with an effect seen at two weeks.
An extension trial called KINECT-HD2 is exploring the long-term safety and efficacy of valbenazine in adults, up to age 75. KINECT-HD2 is enrolling people who completed the original KINECT-HD study and is actively recruiting additional participants in Canada and the U.S.
Last May, the FDA designated valbenazine an orphan drug regarding chorea via HD. As orphan drug status is given to therapies with the potential to improve medical care for rare disease, it confers several incentives including exemption from FDA application fees and –most importantly– the potential for seven years of market exclusivity should the agency approve the therapy. The FDA set a prescription drug user fee act target action date for Aug. 20, meaning a decision is expected by then.
Avoiding a boxed warning, Ingrezza would arguably offer a better treatment option to the 30,000 Americans presently experiencing chorea associated with Huntington disease.
Pipeline: Impending Results
1. Crinecerfont
Neurocrine has made its tardive dyskinesia therapy Ingrezza a success, but its other efforts have been hit-and-miss. The pipeline was dealt another blow in December with the mid-stage failure of NBI-827104 in a rare pediatric epilepsy (epileptic encephalopathy with continuous spike-and-wave during sleep).
It was a continuing reminder of how reliant it is on Ingrezza, but the company has a few big shots on goal in 1H 2023. Neurocrine has several more results coming later in the year, but the late-stage data on crinecerfont in congenital adrenal hyperplasia may offer the greatest possibility of success. The Phase III results will hit in February 2023 for adults and April 2023 for children. The first of these will be a binary event.
Positive results in the two cohorts would take the stock to $140 as investors register the size of the addressable market. Classic CAH affects as many as 1 in every 10,000 to 15,000 people living in the United States and Europe; nonclassic affects about 1 in every 100 to 200 people. Both classic and nonclassic CAH affect people worldwide. The management of classic CAH is tough in adolescents due to the hormonal changes active during puberty. There are no non-steroidal treatment options for CAH patients.
How does crinecerfont operate in this case? Its blockade of CRF receptors in the pituitary has been shown to decrease the release of adrenocorticotropic hormone (ACTH), which in turn decreases the production of adrenal androgens, and potentially the symptoms associated with classic CAH.
According to Eiry Roberts, the company's CMO:
"The Phase 2 data for crinecerfont demonstrate a reduction in levels of key hormones and hormone precursors at a critical transition stage in a young person's life. The 14-day, open-label Phase 2 study evaluated the effect of crinecerfont in eight adolescents 14–17 years of age (three males, five females) with classic CAH due to 21-OHD (Figure 1). Median percent reductions from baseline to Day 14 for 24-hour measurements of ACTH, 17-hydroxyprogesterone (17-OHP), and androstenedione (males and females), and androstenedione/testosterone ratio (males) ranged from -55.3% to -76.1%, while morning window measurements (i.e., the average of the two samples collected at 7:00 a.m. and 10:00 a.m.) ranged from -57.1% to -76.2%. Levels of these hormones and hormone precursors are often elevated in patients with classic CAH. Additionally, a greater than 50% reduction from baseline for ACTH, 17-OHP, and androstenedione (males and females), testosterone (females), and androstenedione/testosterone ratio (males) was achieved by 63%, 75%, 50%, 60%, and 67% of participants, respectively."
Most important: crinecerfont was generally well tolerated, with no serious adverse events or discontinuations. All adverse events were assessed as mild.
According to Stephen Simpson, an analyst who has covered crinecerfont with more precision: "management has already started discussions with payors and taken some initial launch preparations and expects to leverage its acquisition of Diurnal to market the drug in Europe without a partner."
2. NBI-921352
Neurocrine Biosciences is conducting a Phase 2 clinical trial evaluating NBI-921352, a Nav1.6 sodium channel inhibitor, in adult patients with focal onset seizures, with data expected in February 2023. There are about 3.4 million people with epilepsy in the US -- 3 million adults and 470,000 children -- so this drug would have important consequences for quality of life.
3. NBI-1117568
Another interesting prospect is NBI-1117568, a selective muscarinic M4 agonist to which Neurocrine gained access via Sosei. The firm has begun dosing patients in its Phase II trial of NBI-1117568 compound regarding schizophrenia. Results are expected in 2024 (well later than its Ingrezza as an adjunctive treatment for schizophrenia in December of this year). Though well behind Karuna (KRTX) by years, NBI-1117568 does have some aspects that could produce better efficacy and tolerability and it certainly suggests Neurocrine's long-term ambition. (I have written on Karuna, alerting readers last summer to get in before its KarTX results; indeed, a merger of Karuna and Neurocrine would result in an interesting actor within the CNS space.)
Financial Health
Neurocrine has more cash than its total debt. Its debt is well covered by operating cash flow (118.6%) and its interest payments on its debt are well covered by its EBIT (23x coverage). NBIX's short term assets ($1.2B) exceed its short term liabilities ($485.1M). Its short term assets ($1.2B) exceed its long term liabilities ($113.7M).
According to Simply WallStreet, the stock is significantly undervalued vis a vis its future cash flows:
Conclusion
Expect strong 4Q revenue results and added color on CAH and other aspects of the pipeline in early February. The main drivers for a higher multiple will be: 1. better performance in getting new TD patients onto Ingrezza; 2. new Ingrezza chorea patients later in the year; 3. Crinecerfont in kids being a success.
Though Ingrezza TD will remain the work horse in 2023, an FDA approval of Ingrezza chorea and big results from Crinecerfont would reassure investors that the Neurocrine Biosciences, Inc. gravy train will continue to roll into the foreseeable future. Ultimately, the free cash flow from Ingrezza should support the pipeline without the need for further dilutive financing. Though not assured, success on all three fronts --CAH, seizures, and chorea-- could double Neurocrine Biosciences, Inc. stock within the year.
Best to approach this speculative trade with a covered calls strategy.