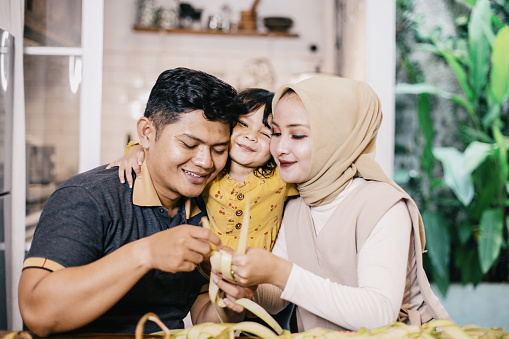 Having spent 10 years studying emerging markets, I know that you have patterns repeated over and over again. A bubble is like a fire which needs oxygen to continue... when you see there is no oxygen, things change. - Nouriel Roubini
Introduction
Those of you who happened to listen to a recent Lead-Lag Live episode with James Picerno would note that we spoke about how US stocks had crushed international stocks over the last decade, and it seems like the time is right for another bout of mean-reversion.
Within international stocks, I feel that emerging markets may prove to be an intriguing risk-on play as it seeks to make up for the lost decade. If you recollect, since the onset of QE3 in 2012, the co-movement of EMs with US stocks had disappeared. With QE now on its way out, it feels like this EM cohort could seek to grab the outperformance baton from its US counterparts.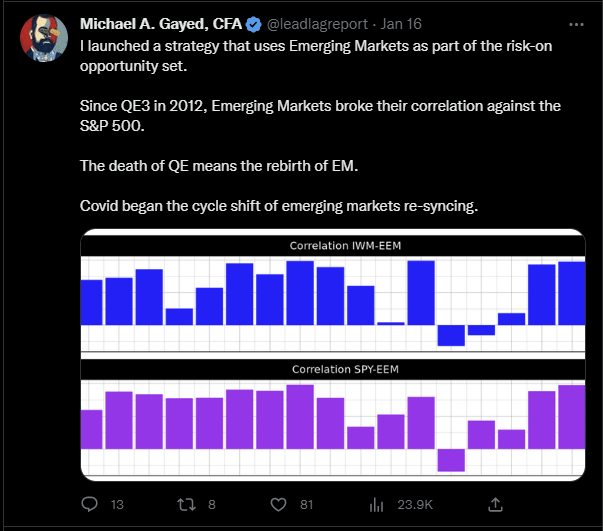 Within emerging markets, you ideally want to stay exposed to the high-growth regions, and based on the IMF's forecasts for 2023, it looks like emerging market Asia appears to be the most attractive region. Just for some perspective, Real GDP growth there will likely pick up from 4.4% in 2022 to 4.9% in 2023, even as the rest of the globe witnesses a slowdown. Global GDP looks poised to slow from 3.2% in 2022 to 2.7% this year, while EMs in general, will see a flattish trajectory of growth, with yet another year of 3.7% growth.
Key Considerations for Prospective Investors
Within EM-Asia, you have the VanEck Vectors Indonesia Index ETF (NYSEARCA:IDX), an ETF that enables you to get exposure to Southeast Asia's largest economy. This is not a pure-play Indonesian-based product, as stocks in this portfolio are only required to derive half their revenue from Indonesia. This means you could have a few stocks even from terrains such as China, Thailand, Singapore, etc. Incidentally, ~22% of the portfolio consists of stocks that are domiciled in regions outside Indonesia.
What works in IDX's favor is the valuation angle and the earnings potential investors could get at that multiple. According to YCharts, IDX only trades at 9.2x forward P/E, a 23% discount to the corresponding multiple of iShares.
As a structure, there are some good and bad things to consider. Despite being around for a longer duration than the more popular - iShares MSCI Indonesia ETF (EIDO), the former has only managed to accumulate AUM of around $35m, which is around 14x lower than the latter. The lack of ample participation translates into pretty drastic average spreads. Just for some context, the average spread % of IDX works out to a whopping 0.23%; conversely spreads with EIDO are a lot more acceptable at 0.04%
What's good about IDX is the superior income differential; after a few years of declining dividend payouts, IDX recently lifted its payout by almost 3x on a yoy basis sending the yield well over 3% to 3.45%, a good 100bps higher than EIDO.
Investors should also be aware of the fact that IDX's portfolio is dominated by Indonesian financials which account for 29% of holdings. I can get behind the fact that over the long term, you have all these banks that could finance the consumeristic aspirations of one of the youngest populations in the world; just for some context, 40% of the Indonesian population is currently less than 25 years old.
I also think these banks would be required to play a key role in the financing of Indonesia's new $34bn worth capital in Nusantara. As things stand, it is believed that the initial phase of construction through 2024 will be funded through the national budget but after that, the private sector will be expected to pick up the baton.
Indonesian banks are also believed to be very well-capitalized. According to Fitch Ratings, the average Tier 1 capital ratio of the nation's largest banks are amongst the highest in the APAC region at 21.6%!
Having said that, it's questionable if the immediate outlook feels resilient enough. After a robust year where credit growth came in at 9-11%, things are expected to slow in FY23 to 6.3% to 7.8%. Last week, the Indonesian central bank also flagged its desire to end the tightening cycle, which may also limit further NIM expansion in FY23.
Conversely, you wonder what that could do to the Indonesian Rupiah which has done well to recently negate the psychologically crucial landmark of 15000 (which is also not far from the 200DMA) and reach its highest point in 4 months.
As noted in The Lead-Lag Report, a lot of market participants have been cheering dollar weakness but things may change on Feb 1st during the Fed meeting. As of now, the bond market is betting that rate cuts could take place before the end of the year, but if Powell suggests otherwise on Feb 1st, the dollar may seek to reverse some of the brutal losses it has gone through, which could weigh adversely on the Rupiah.
Conclusion
While conditions for IDX look reasonable, investors may also want to consider that a relative strength ratio measuring the dynamics between Indonesian stocks, and Asian emerging market stocks recently failed to demonstrate much strength after breaking out from a descending channel. Ideally, you'd want to see this ratio build a floor before considering a position.

Anticipate Crashes, Corrections, and Bear Markets
Sometimes, you might not realize your biggest portfolio risks until it's too late.
That's why it's important to pay attention to the right market data, analysis, and insights on a daily basis. Being a passive investor puts you at unnecessary risk. When you stay informed on key signals and indicators, you'll take control of your financial future.
My award-winning market research gives you everything you need to know each day, so you can be ready to act when it matters most.
Click here to gain access and try the Lead-Lag Report FREE for 14 days.