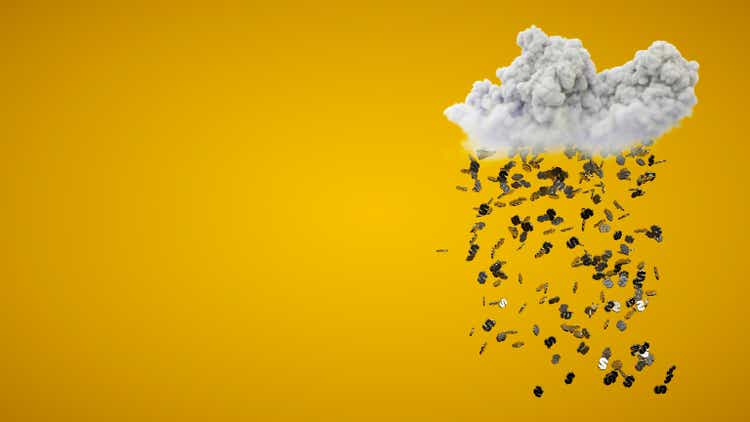 This article was coproduced with Cappuccino Finance.
We're clearly in the digital world these days.
Just about everyone has a small computer on his/her hands, and a lot of appliances are connected to an Internet network to do "smart" things. The amount of information and data generated by these activities is staggering, and individuals and companies require tons of space to store the data. Growth of automation in manufacturing, as well as consumer environments, play a large role in increasing data center demand.
Knowing all these facts and trends, it's not surprising to see that the global data center outlook is bright. It's expected to grow by ~21.98% CAGR until 2026. Owning a piece of the data center action would be a great way to participate in the almost infinite demand we're all witnessing today.
In that regard, data center REITs are in a great position to take advantage of these positive trends. They provide critical digital infrastructure and services for individuals and corporations, and their businesses have been growing robustly in the past several years. Investors should consider the following three Data Center REITs.
Digital Realty Trust (DLR)
Digital Realty Trust is a leading global provider of data center, colocation, and interconnection solutions. They're a REIT that owns, acquires, develops, and operates data centers around the world. Digital Realty Trust has more than 300 data centers in their portfolio with more than 4000 customers around the world.
Digital Realty Trust's AFFO and dividend have been growing at a consistent pace in the past several years. The AFFO growth rate in the past five years has been 3.35% (five-year CAGR), and the dividend growth rate in the past five years has been 5.58% (five-year CAGR). As the demand for data center grows, I expect this growth trend of Digital Realty Trust to continue in the future.
Digital Realty Trust is doing a great job at maintaining a strong balance sheet and managing their debt maturity schedule. The weighted average maturity of their debt is 5.4 years, and the weighted average coupon rate is at 2.4%.
Looking at the debt maturity schedule, the debt is very well spread over the next several years. Their net debt to adjusted EBITDA ratio is at 6.4x, and the fixed charge coverage ratio is at 5.7x.
The cash dividend payout ratio is on the high side (92.51%), but I don't think their dividend is in danger, given the strength of their business and stable balance sheet.
Their AFFO payout ratio is at 77.31%, and their FFO payout ratio is at 72.51%.
Currently, Digital Realty Trust is undervalued. The P/AFFO of 17.08x and P/FFO of 15.49x are about 20% lower than their five-year average.
Equinix (EQIX)
Equinix is a global digital infrastructure company. High-tech companies around the world trust their platform to bring together and interconnect people, computers, and applications to empower their success. They have more than 10,000 customers in over 60 different markets, and they serve more than 25 countries around the world. Equinix's clients include AWS, Azure, Oracle (ORCL), and Google (GOOG) (GOOGL).
Equinix has a very favorable capital structure and plenty of liquidity available to them. Their debt maturity schedule is very well spread out over the next couple of decades, and the weighted average maturity is at 8.6 years. And 96% of their debt is fixed rate.
Equinix has $6.4 B liquidity available to them, so I don't expect them to have any problem executing their growth and acquisition plans.
The dividend safety of Equinix is quite high. The cash dividend payout ratio is at 36.26%, and AFFO payout ratio is at 42.41%.
In the past several years, Equinix has been raising the dividend substantially, and I expect that will be the case in the future. The dividend growth rate of the past five years has been 9.16% (five-year CAGR).
Iron Mountain (IRM)
Iron Mountain helps individuals and corporations around the world protect their information, reduce storage costs, comply with regulations, facilitate corporate disaster recovery, and better use their information. They serve more than 225,000 customers around the world in more than 50 countries.
Iron Mountain had pretty strong results in the latest quarter. Their revenue grew 14% YoY, and adjusted EBITDA was $469 M (12% growth YoY). The AFFO was $288 M (up 9% YoY). I expect this positive trend to continue in the foreseeable future as benefit of pricing and positive volume trends continue in the market.
Iron Mountain has a strong balance sheet with plenty of liquidity. 79% of their debt is fixed rate, and the weighted average interest rate is at 5.0%. The weighted average maturity is 6.3 years, and net leased adjusted leverage is 5.2x. Iron Mountain has $1.5 B of liquidity available to them.
Currently, Iron Mountain is undervalued. Looking at the valuation metrics, P/AFFO of 13.86x is substantially lower than the sector median. Given their strong business and balance sheet, it is surprising to see their valuation below their peers. I expect their stock value to appreciate soon.
Risks…
Recession fears on both Wall Street and Main Street are running high. Recently, many of high-tech giants like Google, Microsoft, and Amazon announced layoffs.
Also, cost-cutting measures are being taken by companies.
Yet, data centers are part of essential infrastructure for technology companies, and we expect the impact will be smaller than other sectors. But a severe recession and cost-cutting from technology companies could have a negative impact on data center businesses.
The data center industry is fragmented, and there's no clear leader in the space. Therefore, the REITs in this article do not necessarily offer pricing power. Additionally, if one big tech giant (let's say Google) decides to take over the data center infrastructure, it could be hard to compete because the companies in the industries are vulnerable to new entrants.
Conclusion
We're living in the digital world. Also, believe it or not, things are getting more and more digitized, automated, and connected.
As this trend continues, the need for data storage and demand for infrastructure will continue to increase. In 2022 alone, the global data center market grew more than 20%.
Data center REITs provide critical infrastructure for companies, therefore, they are perfectly positioned to take advantage of the rapid growth of data center industries.
The three companies mentioned in this article have strong moats, a bright future outlook, and solid capital structure. We expect them to continue to grow and capture the positive trend of the industry.