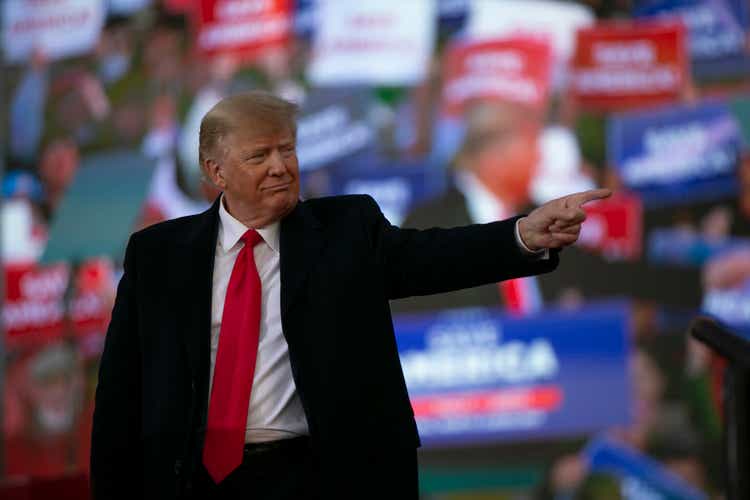 (Editor's Note: The below article included corrections made after the original publication. The original termination date was March 8, 2023, but it was in fact extended to September 8, 2023. Also, the stated redemption value was originally reported as $10.00)
Digital World Acquisition Corp. (NASDAQ:DWAC) is currently the highest-valued pre-deal SPAC. It is supposed to take the Trump Media & Technology Group public. That's even though it is down substantially from its highs.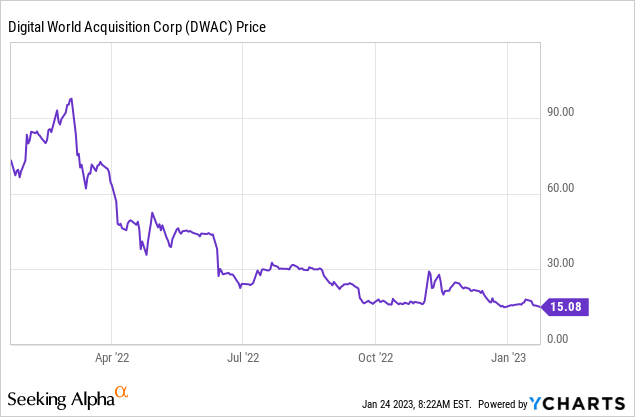 Post transaction, there will be (at least) in the neighborhood of 193 million shares floating around. That includes PIPE financing. It could be a bit more because additional shares can be issued if performance is good. However, this should also get the company something close to $1.3 billion in cash that can be used to fuel growth. The cash is worth around $6.7 per share.
And the Trump Media & Technology Group assets as disclosed in the S-4 - Digital World Acquisition Corp:
Assets are dwarfed by liabilities, and there's limited insight into what these entail. The main asset of the proposed company seems to be the Truth Social app, which is based on open-source software (Mastodon), and derives it value mainly from the number of users it connects.
Users have been flocking to the platform because of former U.S. President Trump's association with the platform. In addition, I believe lots of people were somewhat frustrated by the collective banning by established social media companies of the former President.
The SPAC had an original termination date of March 8, 2023 but shareholders voted to allow additional time, making September 8, 2023, the deadline for a deal to be completed.
According to Google trends, interest in Truth Social is waning:
Google Trends data seem to correlate quite well with app downloads for the Truth Social app:
Trump may want to run again in the 2024 elections. If I look at betting markets for presidential elections, Ron DeSantis is the favorite. Biden is a close runner-up. Donald Trump is quite a bit behind to both but is still deemed a contender. At this point, other names are considered long shots. Kamala Harris or Gavin Newsom are in the 3%-5% range. Even Michelle Obama gets a 2-3% probability.
If Trump wants to improve his chances, he would likely want to get back on social media with broader distributions.
Something I briefly want to mention is that Google trends data shows relatively high interest in the Truth Social search term from China:
I think it is interesting to take note of this because on the TMTG Wikipedia page the launch of DWAC is associated with a Chinese firm called Arc:
DWAC was created with the help of ARC Capital, a Shanghai-based firm specializing in listing Chinese companies on American stock markets that has been a target of SEC investigations for misrepresenting shell corporations.[8][9][10] Some investors were surprised to learn that their investment money was being used to finance a Trump company.[11] In 2021, the DWAC Trump venture was linked with another company, China Yunhong Holdings based in Wuhan, Hubei,[12][13] until its lead banker who was running the merger promised to sever ties with China in December 2021, stating Yunhong was to "dissolve and liquidate".[14][15] In February 2022, Reuters reported that the connection between Shanghai-based ARC Capital and Digital World was more extensive than thought, with ARC having offered money to get the SPAC off the ground.[15]
I think it is worth considering because in the past foreign relationships of Trump have been leveraged by political opponents. If Trump is making a serious run, I believe there is a non-zero probability he'd want to disassociate himself from DWAC.
Increasingly there is a clear path for Trump to return to the established social media platforms. Twitter is now owned by Elon Musk, who lifted his lifetime ban. Not surprisingly, rumors are circulating that Trump is considering exactly that:
Donald Trump since late last year has told several people that he doesn't want to renew an 18-month exclusivity agreement with Truth Social that expires in June, according to a Rolling Stone report on Sunday. The ex-President currently has an agreement that requires him to wait six hours before posting to other social media after he posts on Truth Social.

The latest report comes after NBC News reported Wednesday that the former President is likely planning a return to Facebook (META) and Twitter (TWTR). Trump's campaign is formally petitioning Facebook parent Meta Platforms to unblock his account after it was banned following the attack on the U.S. Capitol in January of 2021.
This is terrible news for DWAC because the former President is one of the few exclusive major social media presences. As a small platform trying to compete with established platforms (a notoriously difficult endeavor due to the strong network effects), this is a huge loss. On other social media platforms, Trump's followers would have access to him in addition to lots of other connections. Some may argue Truth Social will allow access to an unchained version of Trump (not concerned by the content limitations of established platforms). But as Elon Musk discovered at Twitter, advertisers don't like this. Without advertisements, it is hard to build a business case and support a decent valuation.
The options market for DWAC is also quite interesting. The way I read it the short-term option market (March 2023 $15 put and call prices) are in balance. The options market seems to imply the stock could go either way in the short term as the business combination concludes or not.
If you look further out, at January 24's option prices, for example, there's a huge imbalance. The options market seems to imply it is much more likely the company's value will go down from $15 over a ~1-year period. DWAC stock is in demand as a short, and the borrowing rate to sell it short is still quite high (around 10%). It has come down from 90%+, though. This increases demand for puts (as you don't have to pay borrow costs). The tendency for DWAC borrow costs to spike may explain some of the imbalance. However, with so many shares becoming available post-business combination, option markets likely also reflect that borrow costs will likely come down over time.
If you look at the March 17 expiration, the $12.5 puts are around $0.90, while the $10 puts are $0.05. The options market believes the probability is extremely low that prices will dive below the redemption price of $10.20 by that date. By the June expiration, the $10 puts have jumped to ~$0.38. The latest figure for redemptions is $10.20. This figure can bounce around a bit. SPACs generally invest their funds in very safe cash-like instruments. Yet, these days, the yield at the front end of the curve is pretty good, and many SPACs are generating a return that way. On the other hand, SPACs can incur expenses necessary to try and get a deal done. In my experience, these go up as a deal nears or something is in the works. The graph below shows the trajectory/level of operating expenses: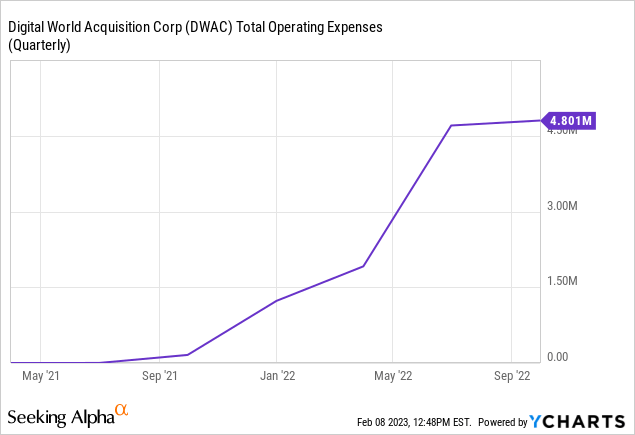 If you use the last disclosed $10.20 as a baseline, it will likely be between there and $10.60 by September 8, 2023.
The SPAC market has deflated. SPACs have continued to do ok if you don't hold them until after their business combinations, but they've generally done horrible afterward in 2022. DWAC is an interesting short over a longer timeframe. However, I'm scared to short a popular target into the potential business combination that could occur between now and September 8. If it closes and there's a lot of buzz around that, it is a scary stock to short. I think the short-term $10 puts have some merit. I think the March 17' puts could be pretty interesting. Even though the deal doesn't have to close by that time, these are relatively inexpensive. There are also interesting combos but these are even less liquid so I've published these for subscribers only.