JinkoSolar Profits Soar, But Company Still Lacks Investor Respect
Summary
JinkoSolar said its majority-owned, China-listed unit's profit and adjusted profit rose up to 159% and 428%, respectively, last year.
Even after a recent big rally in its stock price, the company's U.S.-listed shares still trade at a P/E ratio that's about a half to a third of its peers.
JinkoSolar's U.S. stock really does look quite undervalued and could be a good investment.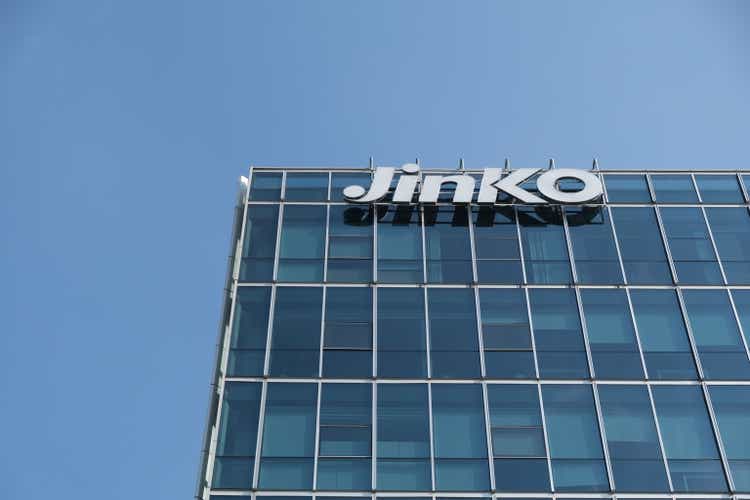 Despite its status as one of the world's 10 largest solar panel makers, JinkoSolar Holding Co. Ltd. (NYSE:JKS) seems to hold the title of "least-respected" in its class. At least some of that dubious distinction could owe to the company's inability to be more precise in some newly released preliminary fourth-quarter financial results. The numbers look quite healthy overall but are also quite vague when one considers the quarter ended nearly a month ago.
We don't usually begin by looking at company valuations, but in this case, the difference between JinkoSolar and its peers is quite striking. The stock currently trades at a forward price-to-earnings (P/E) ratio of just 10, which is quite low for a company whose profits and revenue are both growing by triple-digit amounts as the broader industry booms. The ratio was far lower just a month ago, but rose after a 42% jump in JinkoSolar's share price since the start of the year.
By comparison, U.S. giant First Solar (FSLR) trades at a forward P/E ratio of 35, while JinkoSolar's domestic peer Trina (688599.SH) trades at 23 times. U.S.-listed peer Canadian Solar (CSIQ) trades at a similarly low 10 times, indicating an earlier delisting threat stemming from a dispute between the U.S. and Chinese securities regulators may have depressed both U.S.-listed companies' shares. But that dispute was largely resolved in the second half of last year, meaning it should be less significant now.
Interestingly, JinkoSolar's majority-owned China-listed unit, the similarly named Jinko Solar Co. Ltd. (688223.SH), currently trades at a forward P/E of 29, which is more similar to the global peers. That discrepancy led the parent JinkoSolar to use its China-listed company to raise 10 billion yuan ($1.5 billion) last year through a convertible bond issue to finance two major new projects.
All that said, we'll return our attention to the U.S.-listed JinkoSolar's latest announcement which contained some preliminary full-year profit data for the Shanghai-listed Jinko Solar, which released its own simultaneous Chinese announcement. The Shanghai-listed Jinko Solar is 58.6% owned by the U.S.-listed JinkoSolar, and is one of the U.S.-listed company's primary assets.
According to the announcement, Shanghai-listed Jinko Solar expects to report net income of 2.66 billion yuan to 2.96 billion yuan for all of 2022, representing a 133% to 159% rise over the previous year. The company previously reported a 1.68 billion yuan profit in the first three quarter of the year, which means it expects to post a profit of about 980 million yuan to 1.28 billion yuan for the fourth quarter.
That brings us back to our comment at the outset of this review wondering why the fourth-quarter profit range is so big considering the period had already ended for about three weeks when the company made the announcement. Some might guess the company may still be deciding whether to record some of its non-cash gains or losses for the quarter, which would affect the final profit.
But a forecast in the same announcement saying Jinko Solar expects to post an adjusted profit of 2.5 billion yuan to 2.8 billion yuan for 2022 is similarly vague, even though adjusted profit typically excludes such gains and losses. Of course, we're being just slightly sarcastic in attributing the company's low P/E ratio to this kind of vague accounting. The reason for the big gap probably lies somewhere else, perhaps in the delisting threat we previously mentioned.
Accelerating profits?
The latest data show that the Shanghai-listed Jinko Solar's profits could even be accelerating a bit - a trend that could continue this year due to an expected drop in the price of polysilicon, the main ingredient used to make solar panels. What's more, Jinko should benefit from continued strong worldwide demand for solar panels, especially from the west, which is looking to wean itself from fossil fuels to slow global warming and also lessen its reliance on Russian oil and gas.
As we've already said, Shanghai-listed Jinko Solar's full-year profit forecast translates to 133% to 159% growth from 2021 levels. The company's profit grew 132% in the first three quarters of the year, which implies that the growth rate accelerated in the fourth quarter.
On an adjusted basis, the Shanghai-listed Jinko Solar's profit grew by an even larger 371% to 427% in 2022, according to the latest announcement. That compares with 418% adjusted profit growth in the first three quarters of the year, implying the growth on an adjusted basis likely slowed in the fourth quarter.
So, there are a bit of mixed signals about how the growth trended in the fourth quarter. But regardless of that, such massive growth is certainly a broadly positive signal. Investors seemed to like the announcement overall, with JinkoSolar's U.S.-listed shares rising 5% in the three trading days after it came out.
Truth be told, JinkoSolar and its peers are all sitting quite pretty right now. In addition to strong global demand for their products, they are also likely to see significant reductions in polysilicon prices in the year ahead, which should help to reduce their costs.
After rising sharply for the last two years, polysilicon prices finally topped out in the second half of last year. Prices in early January were already more than 50% below their peak last August. They continued to plunge this month, falling by a third in the first three weeks of 2023, though some expect the January declines to be temporary.
We should also note that the declines are for polysilicon purchased in the spot market and that JinkoSolar and the other major panel makers all have longer-term supply contracts whose prices are more stable.
We'll close with a quick summary of New York-listed JinkoSolar's latest financials, which show its revenue rose 128% to 19.5 billion yuan in the third quarter, while its profit nearly tripled to 550 million yuan. The company forecast fourth-quarter module shipments of 13 GW to 15 GW, which would be up 30% to 50% from a year earlier - a relatively big slowdown from the 117% shipment growth in the third quarter.
At the end of the day, JinkoSolar's U.S. stock really does look quite undervalued and could be a good investment given the many macro factors currently working in its favor and receding U.S. delisting risk. Now, investors just need to discover that.
Disclosure: None
Editor's Note: The summary bullets for this article were chosen by Seeking Alpha editors.
This article was written by
Got a great investment idea on a US- or Hong Kong-listed China stock but don't know how to spread the word? We can help! Contact us at investors@thebambooworks.com. Bamboo Works (www.thebambooworks.com) is the premium source for news and analysis on Chinese companies listed in the United States and Hong Kong, with a strong focus on mid-cap and also pre-IPO companies. Contact us at info@thebambooworks.com to learn about opportunities for sponsored content.