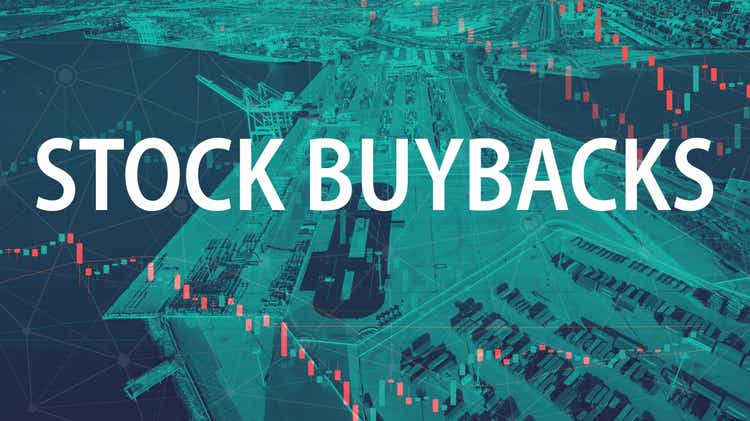 After the market close, Chevron Corporation (NYSE:CVX) announced a major increase to their capital return program. The energy giant probably shocked the market with the size and unfortunately the timing of a new stock buyback plan. My investment thesis is Bearish on energy companies, with prices in a downtrend after the Russian invasion of Ukraine artificially boosted prices in 2022.
$75 Billion
Chevron announced a 6% increase in the quarterly dividend, to $1.51 per share. CVX stock now has a dividend yield of 3.4%. The shocking news was the announcement of a $75 billion shares buyback effective April 1 with no termination date, though the company has regularly stated a desire to repurchase $15 billion worth of shares annually.
The buyback amount is massive and approaches the levels constantly announced by Apple Inc. (AAPL). Unfortunately, Chevron didn't spend any money on share buybacks when the stock traded at decade lows in 2020 and most of 2021.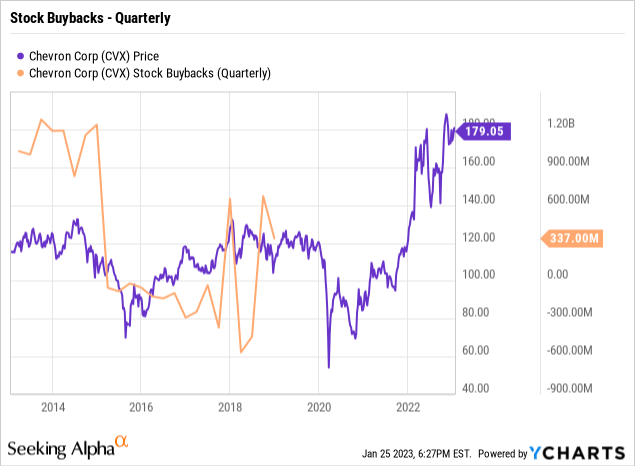 The chart doesn't capture that the energy giant spent $3.7 billion on buybacks in Q3'22 and another $1.7 billion in Q2'22 when the stock traded close to record highs.
Chevron even had an existing $25 billion share repurchase plan the company never fully utilized after approval back on January 2019. The new plan replaces the existing plan being terminated on March 31, 2023.
As with a lot of stock buybacks, Chevron failed to repurchase shares during market weakness and now issues a massive share buyback after the stock has soared to record levels. A far more ideal situation is for any company to buy weakness.
The energy giant is now in a far better financial position for share buybacks, ending Q3 with a net debt level of only $8 billion. Chevron saw debt soar to over $30 billion back in 2020 when energy prices initially collapsed on covid shutdowns.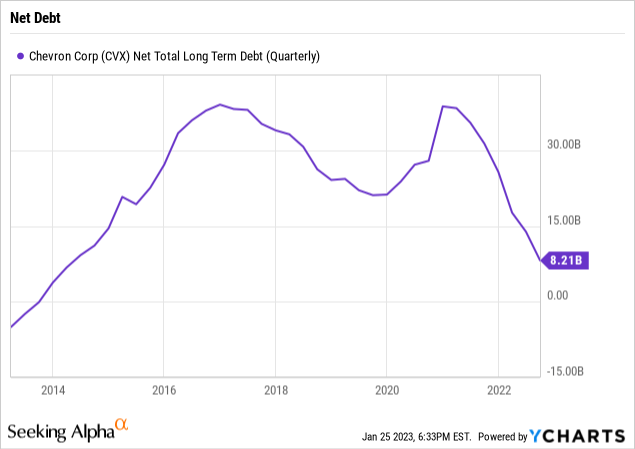 The company saw Q3'22 free cash flows of $12.3 billion and probably spent a similar $3.75 billion on share buybacks during the quarter. Chevron generated a recorded $15.3 billion in operating cash flows and spent $3.0 on capital spending in the quarter, despite the surging energy prices.
The market cap has soared to $350 billion in the process. While the share buyback amounts to over 20% of the current market cap, Chevron has to actually spend the money in a prudent manner in order for an investor to benefit from the announcements. As the CFO mentioned on the Q3'22 earnings call, the company has a better plan to repurchase shares throughout the cycle, but a better plan is to purchase shares when the price is cheap:
So we're setting the buyback at a level that allows us to maintain it across the cycle when prices do correct. We'll continue to buy back shares near the top end of the range that we've been talking about.
Energy Prices
The biggest problem facing Chevron is plunging energy prices. Natural gas has collapsed below $3/Mcf due to warmer winter weather. WTI has remained relatively strong at $80/bbl, providing a solid price for strong profits from the company.
The oil price picture is more mixed, as Russian oil doesn't exit the market and Venezuelan oil is now returning to growth mode. An extra million barrels of oil from this socialist country could alleviate a lot of supply fears in the oil market while China ramps back up demand.
As mentioned above, Chevron produced massive cash flows in Q3 due to higher energy prices as follows:
Crude oil and Natural gas liquids at $76/bbl, up from $58/bbl last year.
Natural gas surged to $7.05/Mcf from $3.25/Mcf a year ago.
Natural gas is now below the levels of 2021, when Chevron only generated operating cash flows of $8.6 billion. The energy giant is set to see a dramatic reduction in cash flows, though still at solid levels.
Chevron only produced EPS in the $6 to $8 annual range pre-Russian invasion, and investors should be skeptical about paying record highs for the stock price. Analysts ultimately predict that the energy giant will be seeing an EPS trend down towards an $11 EPS, and the $3/Mcf natural gas prices should help escalate the downward spiral.
Takeaway
The key investor takeaway is that Chevron still isn't repurchasing shares correctly. The energy giant isn't full speed ahead on buybacks now, but the company did restart the plan at record-high stock prices versus conserving the cash for a rainy day.
Investors should avoid CVX stock with energy prices falling and the company not aggressively repurchasing shares due to obvious concerns the stock price will fall along with energy prices. The solid Chevron Corporation 3.4% dividend yield just isn't large enough to offset a loss of capital in this scenario.