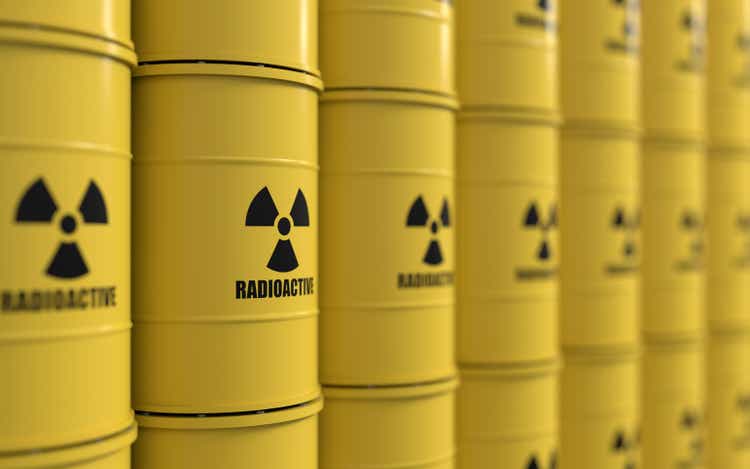 Investment Thesis
Cameco (NYSE:CCJ) is in the process of acquiring Westinghouse Electric Company. This means that Cameco will not be a pure play bet on uranium, but an integrated uranium conglomerate that's capable of supplying the nuclear utility industry.
Here I describe 3 catalysts facing the uranium sector. Also, I note some key investment risks.
On balance I'm bullish on Cameco and expect the business in 2023 to be substantially more profitable, leading to significant investor upside.
3 Catalysts Facing Uranium
There are 3 catalysts why I think Cameco is going to be an attractive investment in 2023.
In the first case, in the past few weeks the Sprott Physical Uranium Trust (OTCPK:SRUUF) has traded higher.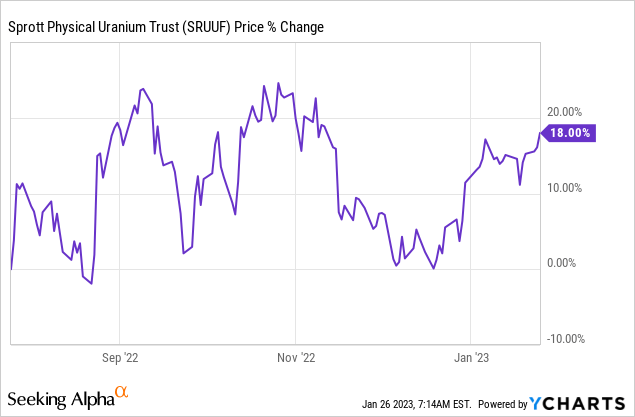 SRUUF is often correlated with risk appetite among investors. When investors are seeking risk, SRUUF tends to trade higher.
When that happens, and SRUUF trades at a premium price to its underlying Net Asset Value (''NAV''), it's able to take that excess capital to buy and hold physical uranium. This removes excess uranium stockpiles from the market.
Secondly, perhaps a surprise to some, but China is leading the charge in renewable energy. Despite all the declarations in the West about China's uninterest in decarbonizing its footprint, China is building 22 nuclear reactors.
Put another way, approximately half of all new global reactors being built are being built in China. China seems to recognize a direct correlation between human flourishment and low energy sources.
I don't want to draw too much attention to China since I think that could both distract from and strengthen the overall nuclear case. Yet, the fact remains, that even though there's wild speculation over how we'll phase out fossil fuel usage, whether it's through renewable, hydro, or nuclear, China is one of the most energy-consuming countries in the world, and they clearly believe in an "all of the above'' energy strategy.
Thirdly, this catalyst is indirect. But I actually believe it has the most propensity to sustainably drive uranium prices higher.
There's a change in sentiment across the globe on the view of uranium as an energy source. Here I highlight 3 countries, from 3 different continents.
Japan is one example, given the population's stigma post-Fukushima meltdown. Japan is restarting 3 of its reactors by the summer 2023. With a possible 7 coming back online towards the end of 2023.
The UK funded £50 million towards nuclear fuel projects. This is small admittedly, but it's a clear move towards a change in sentiment amongst UK politicians.
The US has recently awarded funding to some companies to increase its reserve of strategic nuclear fuel.
The third catalyst is not as much about the absolute amount of capital now being sent into the uranium sector. Frankly, it's small in the grand scheme of things. But what's important here is the change in sentiment.
Risk Factors Facing Cameco
There's a lot of uranium supply still floating around the world. Nobody knows exactly how much uranium stockpile reserves are available and that could continue to suppress uranium prices.
Also, many uranium producers around the world are ready to resume production once uranium reaches around $60 per pound.
This means that even if there's a strong demand for uranium, there's likely to be a significant amount of supply coming online that will continue to keep some sort of lid on uranium prices.
What to Expect on its Q4 Earnings
Cameco is about to report its Q4 earnings in two weeks' time.
Given that the analyst community is overly pessimistic about Cameco's revenue projections through 2023, I think the company will likely positively surprise them.
For my part, given everything that we have discussed on uranium demand, I believe that Cameco may actually end up guiding close to $2 billion in revenues for 2023.
This puts CCJ at just over 5x this year's revenues. Perhaps, a better way to look at this investment is this. Cameco was already profitable in 2022 when uranium prices hovered at $50 per pound.
According to my thesis, it's very possible that this year we'll see $60 per pound or higher. This would make Cameco substantially more profitable.
The Bottom Line
While Cameco will continue to benefit from high uranium prices, its 50% ownership of Westinghouse Electric which sells Small Modular Nuclear Reactors to the nuclear industry, will make Cameco less directly exposed to dramatic swings in uranium prices.
Cameco is a diversified, low-risk, low-frill investment for anyone that's bullish on uranium. I make the case that this is not a bad thing. It's a good thing. It's the type of investment that you can buy and sleep well at night.