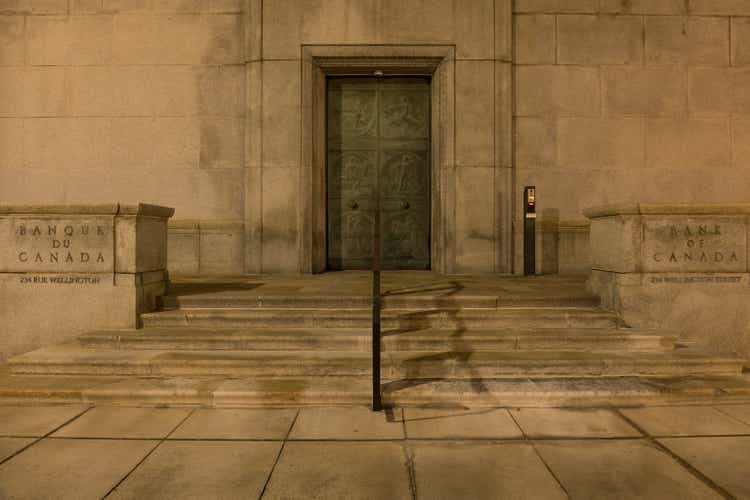 The Bank of Canada says it's taking a wait and see approach when it comes to future rate hikes. Andrew Kelvin, Chief Canada Strategist at TD Securities, tells Greg Bonnell why he thinks the central bank may have to consider easing rates in the future.
Transcript
Greg Bonnell: So let's talk about what we got this morning. We got the 25 basis point, the quarter-point rate hike that we are expecting, but a pretty clear signal from the bank that they think they're done from now unless something else happens.
Andrew Kelvin: Yeah, and it was conditional. They were very careful to explicitly qualify their statement that they expect to keep the overnight rate on hold conditional on the economy unfolding in line with their expectations. So if inflation does not come down as quickly as they expect, they are telling us that they will lift rates again. If growth proves stronger than anticipated, it would bring additional rate hikes back into play.
We do believe that the Bank of Canada is done here. I should say that up front. We did expect that this 25 basis point move would be the last move from the Bank of Canada of the cycle, and it seems the Bank of Canada does agree. Because one thing I would like to believe, that after some of the difficulties with communications, with the Street, and with the public, the bank experienced really through the latter part of 2021 and the early part of 2022, that they wouldn't make these statements lightly. So I have to believe that they have a fairly high degree of confidence that there's enough tightening already in place, that we're starting to see signs of the economy slow, which gives them enough comfort that inflation will likely be coming lower. So from our perspective, the real question isn't will the bank tighten again. It's more a question of when can they start easing.
Greg Bonnell: They were fairly explicit in saying that, right? I think if I went through the statement, the only thing that might have stood out for me is being, OK, this is a pretty strong statement in terms of we've done this, and now we plan to sit back, watch the effect we've had through the economy unless something forces our hand. Was that a bit more than we were expecting, that they would be that explicit about it?
Andrew Kelvin: It's more than I was expecting, certainly, just because again, I thought given some of the uncertainty around the economy, and not just this cycle. This cycle is an extraordinary cycle given all the fiscal stimulus interplayed with monetary stimulus, so many factors globally impacting the Canadian economy but in general it's really hard to pick out turning points in a policy cycle.
The meeting-- this was a tricky-ish meeting for them just in terms of their communication. The 25 basis points, that was the easy part. It's the communication that was more difficult. So I would have thought they would want to give themselves a little bit more wiggle room in terms of being able to adjust further in March or April if the economy proved to be more resilient than anticipated.
But, it's clear that they think there's enough tightening in place that we are starting to see those impacts, and we will continue to see them through 2023. Because one thing they did highlight was that we haven't seen the full impact of the rate hikes already in place yet. Monetary policy works with a lag. Interest rates don't reset instantaneously. Not all interest rates anyways. The impacts of just the tightening that we'd seen prior to today still will be felt through this year, and I think they're very cognizant of that. And it does suggest that they are concerned about the risks of over-tightening, as well as the risks of under-tightening both of which are very real.
Greg Bonnell: Now part of the rationale behind all this, saying that we're seeing some signs of slowing demand in the economy, let's pause. Let's see what the effect we've had. Also, that the fight against inflation, they appear to be signaling here that they think they're making some pretty good progress in terms of their projections, thinking they get back to target by next year. Is that feasible? Is that realistic?
Andrew Kelvin: I think back to target by next year is realistic, because in part, inflation-- the target's a year-over-year number. If they can get to a sustainable rate of inflation by the latter part of this year, it will get us back to target inflation in 2024. By the end of 2023, most of those inflation prints from last year, which were so surprising to many of us, they won't be in the calculation anymore. That's just the nature of inflation.
Now, in terms of the sort of composition here, the bank clearly does see evidence that goods inflation is likely to come off here. We've seen supply chains heal. A lot of the supply chain issues that we saw during the pandemic in 2020 and 2021 were a result of the global economy. Not just Canadians, but the global economy, shifting from goods consumption -- sorry, from services consumption to goods consumption. When the entire world stopped going to restaurants and started ordering consumer electronics, that stressed the ability of those factories produce those chips to produce those phones, and it stressed the ability of ports to handle the ships needed to take those from point A to point B.
Now that goods demand has slowed globally, we're seeing those supply chain disruptions lessen. That will have a downward impact on goods inflation. Services inflation will be a bit stickier. I think that is the real wild card here, because we know the labor market is very tight. But the bank does believe that with the slowing in the economy that they expect to see, that will be enough to bring both goods inflation lower, and a little bit of moderation service inflation to ultimately bring inflation back under control. And ultimately, that has to be their bet here, because if they didn't believe that, they wouldn't be able to signal a pause here.
Greg Bonnell: For anyone who's studying their countdown clocks, what's the time here? We're a little after noon Eastern time, so we are one week and roughly two hours away from hearing from the US Federal Reserve. Now, I don't think Jerome Powell is going to phone Tiff Macklem, say buddy, I just don't know what to do. I saw what you guys did. Guide my way. But is there anything out of what we're getting today from our central bank that might inform us about the future path of the Fed and what we might get from them?
Andrew Kelvin: I don't know if it will inform the Fed, per se. But some of the factors that are impacting Canada are also impacting the Fed. The goods inflation story is a global story, not just a domestic story. So the same way we expect to see less in the way of goods inflation in Canada, so too will we in the US.
Oil prices are global prices. With energy prices lower in Canada, so too are they in the US. And we have heard from Fed officials talking about how they think a slower pace of tightening would be more appropriate. So I do think it foreshadows what we're likely to see from the Fed, not in terms of the explicit forward guidance. We don't think the Fed will be done with this meeting. But it does sort of fit with this idea that central banks, certainly in North America, are closer to the end than they are to the beginning. Europe is another story. But we can cover that another time.
Greg Bonnell: Or even get that question later in the show. Before we get off this topic, I just want to ask you about the fact that we are going to get from the Bank of Canada what we're not accustomed to, the equivalent of the Fed minutes. We're going to get to pull back the curtain. They're going to have a release for us in the coming days. I can't remember it's one week or two weeks away. Would this put any more color into these deliberations? Is this useful for us as people who watch the markets and watch the influence of central banks?
Andrew Kelvin: In an ideal world, no, it wouldn't be useful because they would have done a perfect job of--
Greg Bonnell: Communicating.
Andrew Kelvin: Explaining, exactly. We would read the statement. We would read the MPR. And we would know exactly why they did what they did. But in the real world, any additional piece of information is helpful for context. They are by their nature backward looking. It tells us what they thought two weeks prior.
And I'll be really interested to see how much detail goes in, because we don't really know what these are going to look like. Will they be scrubbed of all the interesting details? Will we find out the differences in the individual deputy governors' views?
Because one thing that's different between Canada and the US, in the US, every Fed governor can go off and say whatever they think. If they get a vote, it all becomes public. The Bank of Canada speaks with one voice. When you hear from one deputy governor, you're hearing the same message from another deputy governor, or the governor himself. It will be interesting to see a bit of the variety of views across governing council if they allow us that degree of detail. Because again, they could scrub all the really interesting bits out if they so choose, in which case, I will have to write a very dry report.