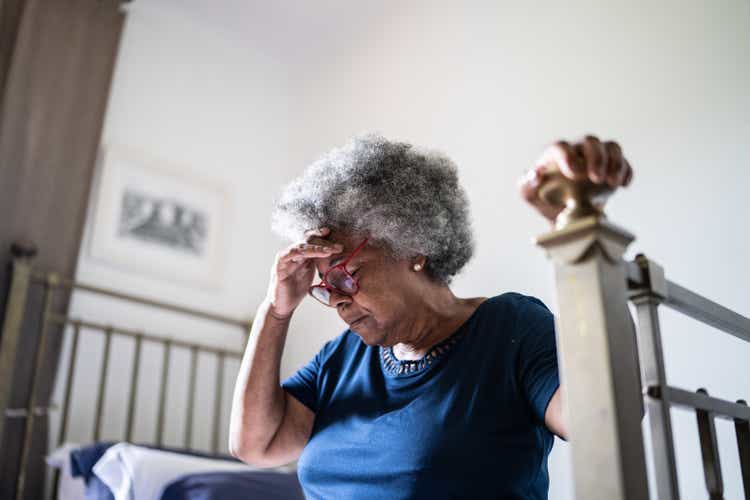 Introduction
I continue to maintain a strong buy rating on Cassava Sciences (NASDAQ:SAVA). I believe that Cassava Sciences presents a favorable risk-to-reward ratio considering the massive potential gains to be made upon the successful launch of an Alzheimer's Drug (AD).
Cassava Sciences is a company based out of Austin, Texas, working on a novel treatment for AD called Simufilam. An estimated 6.5 million people in the United States alone are affected by this disease. Additionally, this number is expected to double by the year 2050, bringing the total to 13 million. Add in the fact that there is no effective treatment for the disease currently on the market; Cassava Sciences has a vast potential market for their drug.
From the company's last quarterly earnings, the company has $174 million in cash, offset by only $8.5 million in current liabilities with a burn rate of cash of $21 million a quarter. The company is in a great financial position and has stated it has enough cash to fund its way through phase 3 trials. Based on its current financials, I believe this to be true.
Data Announcement
On January 24th, the company released what it deemed as positive data from its 200-patient OLE study. The company's highlights of the release are below:
ADAS-Cog mean scores changed minimally over 1 year in patients with mild-to-moderate Alzheimer's disease treated with open-label simufilam tablets.
47% of patients improved on ADAS-Cog over 1 year, and this group improved by 4.7 points. An additional 23% of patients declined less than 5 points on ADAS-Cog over 1 year, and this group declined by 2.5 points.
Mild patients responded better than patients with moderate Alzheimer's disease.
Simufilam was safe, well tolerated.
Topline results of the whole patient cohort:
Top-line Results – mean scores, baseline to month 12 (lower is better, except for MMSE):

ADAS-Cog11 scores changed from 19.1 (±9.2) to 19.6 (±13.3)
MMSE scores changed from 21.5 (±3.6) to 20.2 (±6.4)
NPI10 scores changed from 3.2 (±4.6) to 2.9 (±4.6)
GDS scores changed from 1.8 (±1.8) to 1.4 (±1.9)
Finally, the breakdown between mild and moderate subgroups:
Analysis of Efficacy EndpointsEfficacy outcomes were analyzed by an independent, outside biostatistical consulting firm led by Suzanne Hendrix, PhD. The pre-specified primary efficacy endpoint was change in baseline on ADAS-Cog, a cognitive scale widely used in Alzheimer's clinical research. Exploratory endpoints included the Mini-Mental State Examination (MMSE) to assess disease stage by cognitive impairment; the Neuropsychiatric Inventory (NPI10) to assess dementia related behavior; and the Geriatric Depression Scale (GDS). The Full Analysis Set (FAS) population (N=216) was used for the statistical analysis of efficacy endpoints.

Alzheimer's is a progressive disease. Severity of disease is typically assessed by MMSE score. In this study, mild patients are MMSE 21-26; moderate patients are MMSE 16-20. Mild and moderate sub-groups showed notable differences on changes in ADAS-Cog mean scores, baseline to month 12 (lower is better):

In the mild sub-group, ADAS-Cog scores improved, from 15.0 (±6.3) to 12.6 (±7.8)
In the moderate sub-group, ADAS-Cog scores worsened, from 25.7 (±9.2) to 30.1 (±13.1)

"The data for simufilam are noteworthy," said Suzanne Hendrix, PhD. "The improvement in ADAS-Cog over 1 year in mild patients taking simufilam is well outside the expected range of historic placebo decline rates from numerous other studies."

Figure 2 presents a model of historical declines on ADAS-Cog in early disease and mild disease.
The stock fell sharply at the open due to this data release having the overall average super response rate fall from 63% to 100 patients to 49% at 200 patients. While comparing Cassava Sciences' current results to its previous results is disappointing, those results are still remarkable compared to peer therapies.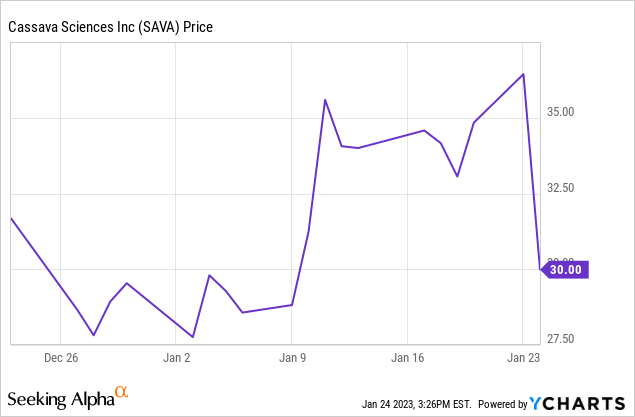 In my opinion, the key excerpt from this announcement is the breakdown of the patients into mild and moderate subgroups. Many individuals had speculated that mild patients might respond better to the drug than moderate patients because moderate patients may have too much cognitive function lost to recover. This speculation appears to be the case and should help Cassava design more accurate trials. Additionally, it suggests that Cassava Sciences may receive approval only for the mild AD subgroup in the future. A helpful chart is below.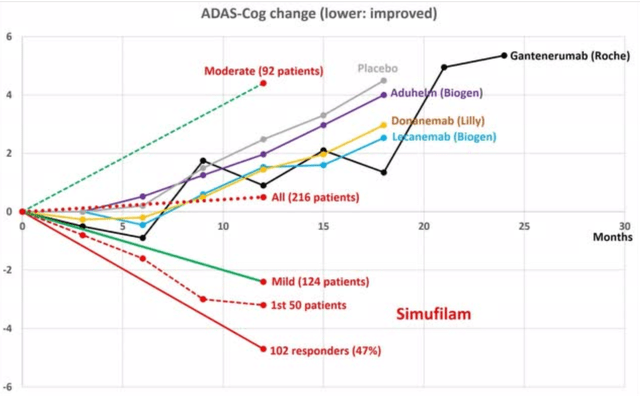 Research from the NIH suggests that up to 50% of patients with AD may have mild AD, making them in the target group for Simufilam. While this shrinks the potential market size for Simufilam, the market size is still huge and will provide the opportunity for plenty of sales.
Furthermore, there seems to be a time urgency in getting a patient with AD treated because Simufilam will no longer be effective at some point of degradation. This fact, paired with Simufilams excellent safety profile of over 300k doses without an adverse effect, creates another use case for the drug as a preventive pill.
Institutional Buying
A big knock on Cassava Sciences had been the lack of well-known institutional buying. Well, that changed in Q4 when well-known biotech fund EcoR1, with an excellent investment track record, helped lead a $50 million offering which they purchased over half of. Additionally, Gallacher capital management purchased over 500k shares totaling 1.47% of outstanding shares and an additional 501 calls in Q4.
Upcoming Catalysts
The next upcoming catalyst will be the CMS trial below: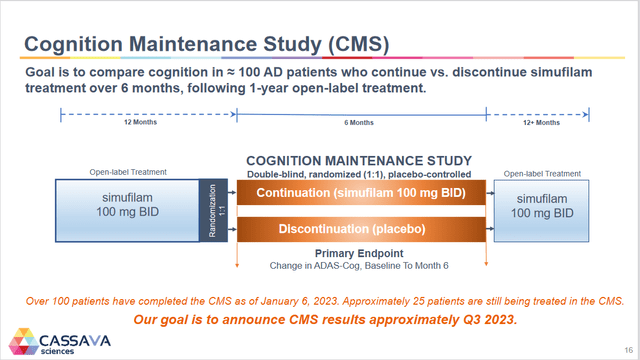 What's important is this will be the soonest placebo-controlled data released. It should give a good preview for the Phase 3 trial and could lead to a form of accelerated status. Guidance on this can be found from Eli Lily (LLY) and its recent Accelerated Approval application for its drug, which they were denied.
In the complete response letter to the accelerated approval application, the FDA specifically requested that Lilly provide data from at least 100 patients who received a minimum of 12 months of continued treatment on donanemab. Donanemab's specificity to target deposited amyloid plaque informed the unique clinical trial design of TRAILBLAZER-ALZ, which allowed patients to complete their course of treatment when they reached a predefined level of amyloid plaque clearance. While the trial included more than 100 patients treated with donanemab, due to the speed of plaque reduction, many patients were able to stop dosing as early as 6 months of treatment, resulting in fewer than 100 patients receiving 12 months of donanemab. The FDA indicated that the data to meet the exposure expectation would likely need to include the unblinded controlled safety data from TRAILBLAZER-ALZ 2 upon completion.
Additionally, investors can continue to expect updates on the two-phase three trials scheduled to be completed by the end of 2024, with over 800 of the needed 1750 patients enrolled.
Risks and Conclusions
Biotech companies are known for volatility due to their value being based on so many binary catalysts. If an event goes one way or another, a stock will launch up or down large percentages. Additionally, Cassava Sciences only has one drug in its pipeline, so if they miss it, there is no backup plan. Investing in Cassava Sciences takes all the risks of investing in a biotech company to another level.
I continue to remain very bullish about Cassava Sciences. While the recent data announcement may not have been what many were hoping for, it continued to show that Cassava Sciences has a product that has a chance to make it to the market.