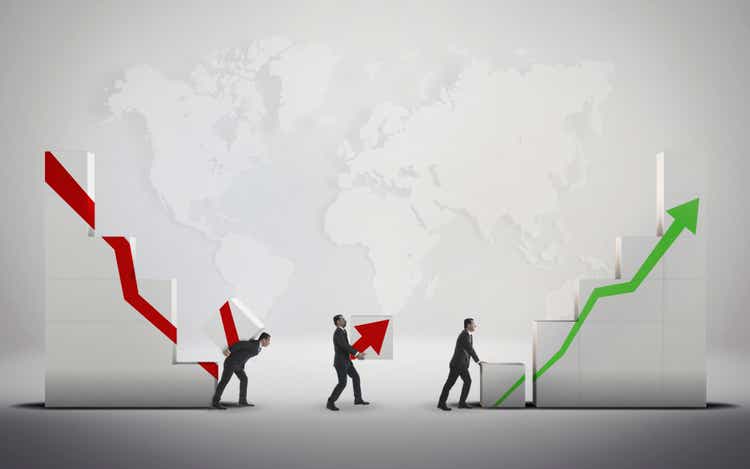 Seagate Technology Holdings plc (NASDAQ:STX) reported financial results for its fiscal second quarter ended December 30, 2022. Q2 Non-GAAP EPS of $0.16 beat by $0.07 and revenue of $1.89B (-39.4% YoY) beat by $60M.
F3Q guidance is Non-GAAP diluted EPS of $0.25, plus or minus $0.20, and outlook for Revenue is $2.0 billion, plus or minus $150 million.
Seagate CFO Gianluca Romano noted in the company's Q2 earnings call:
"Shipment into mass capacity markets totaled 97 exabytes, down 7% quarter-over-quarter. Of this total, roughly 82% were derived from nearline products, shifting to cloud and enterprise OEM customers. Nearline shipments of 80 exabytes were down 6% sequentially and roughly 30% of our recent high."
Total hard disk drive shipments were 113 exabytes in the December quarter, down 5% quarter-over-quarter, with HDD (hard disk drive) revenue declining 6% sequentially to $1.7 billion. With shipments of 97 exabytes for mass capacity markets, that leaves 16 exabytes of legacy HDDs shipped, which were +10% QoQ.
To clarify the company's definitions:
Mass capacity storage involves well-established use cases—such as hyperscale data centers and public clouds as well as emerging use cases.
Legacy markets are those that STX continues to sell to but does not plan to invest insignificantly. Examples include Consumer Storage for backups for PCs and gaming, and Client Storage for PCs, DVRs, and premise monitoring equipment.
Chart 1 shows two important metrics:
The top two lines compare nearline Data Center HDDs shipments for Seagate (gray line) and competitor Western Digital (WDC) (blue line) between F2Q19 and F2Q23. For Seagate it shows a significant drop in F1Q23 of 28.5% in nearline followed by a F2Q23 drop of 6.3%. It compares to a F1Q23 increase of 0.9% for WDC. The company announces F2Q23 earnings on January 31. In both cases, the trendlines (dotted lines) are positive.
The bottom two lines compare "other" primarily legacy, HDDs for Seagate (yellow line) and WDC (orange line). For STX, the trendline (yellow dotted line) is positive, versus negative for WDC. It is this sector that is most vulnerable to competition from SSDs (solid state devices made from NAND chips).
Chart 1
Cloud and Enterprise Markets
CEO Dave Mosley noted at the earnings call:
"Turning to the U.S. cloud and enterprise markets. Customers have focused on working down the HDD inventory levels that were built up during the pandemic as non-HDD component shortages created inventory imbalances. We believe some progress has been made in recent months supported by an improvement in non-HDD component availability. While inventory adjustments are customer-by-customer event, and ongoing macro uncertainties have led to more cautious near-term buying decisions, we expect nearline sales will improve slightly in the current quarter, particularly for our high-capacity drives."
It is imperative to address the growth of the cloud and enterprise server market as it represented $1,247 million of Seagate's total HDD revenue of $1,663 million. This 75% of revenue has been increasing as HDDs for the cloud and enterprise markets have increased and client HDDs (PCs, etc.) have been replaced by SSDs. This revenue trend, illustrated in Chart 2, obviously tracks the data in Chart 1 above which is based on shipments and capacity equaling exabytes.
Chart 2
HDDs currently dominate the cloud exabyte market, offering the lowest cost per gigabyte based on a combination of factors including price, cost, capacity, power, performance, reliability, and data retention. HDDs represent the predominant storage for cloud data centers because they provide the best TCO (total cost of ownership) for the vast majority of cloud workloads.
Hyperscale spending has been under pressure because of macroeconomic problems, and as CEO Mosley noted above. We have seen headcount reductions at Meta Platforms (META), Amazon (AMZN) and Alphabet (GOOGL). These are significant headwinds STX must face.
On the company's conference call, Microsoft (MSFT) management noted the slowdown seen in December has continued to worsen. Cloud computing services is softening, with guidance given for growth in the low 30% range for the March quarter.
These actions of slowing cloud services and headcount reductions will impact cloud capex spend. I show YoY change for 2022 and 2023 by U.S. hyperscale companies in Chart 3. YoY growth in 2022 may slow to just 5% for 2023.
Chart 3
Investor Takeaway
Seagate's share price has underperformed main competitor WDC in the past 1-year period, as shown in Chart 4, as the share percentage change of both companies is negative. The underperformance was a result of the significant drop in F1Q23 ending September 2022 of 28.5% for nearline exabyte shipments.
STX share price is currently up 9.5% following digesting of its earnings call two days prior. WDC is up just 3.5%. WDC's F2Q23 earnings call on January 31 will be telling.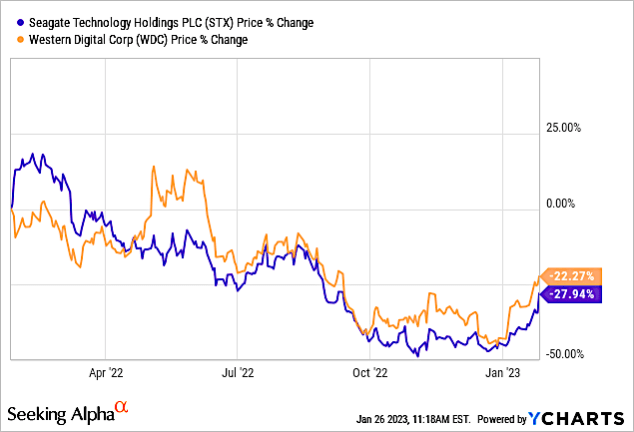 Chart 4
Chart 5 shows P/E ratios for the two companies, showing the increase in WDC following the lackluster F1Q23 quarter for STX.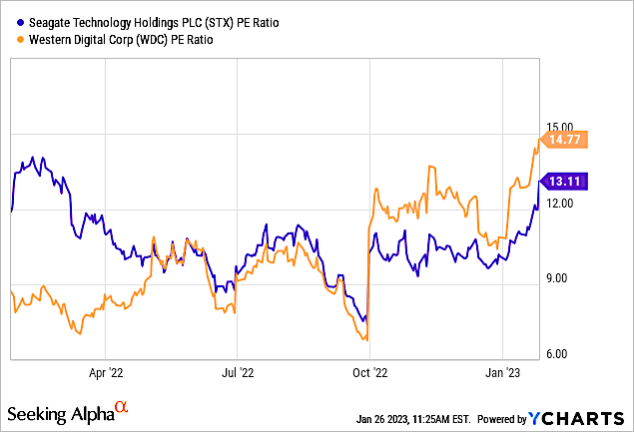 Chart 5
Ratings for the two companies are the same, with a Quant Rating of Hold as show in Chart 6, of which I concur. There are too many uncertainties in cloud capex spend in 2023, which is forecast to drop from +20% YoY growth in 2022 to just 5% in 2023.
Chart 6
Seagate has outperformed Western Digital in the nearline HDD subsegment until the recent two quarters that negatively impacted the company. WDC will announce its F2Q23 on January 31, 2023, which will tell us whether the underperformance with STX continues.
As the HDD industry moves to advanced technology, Seagate Technology Holdings plc's HAMR appears to be ahead of Western Digital's MAMR advanced HDD.
Indeed, Seagate Technology Holdings plc in its earnings call reported that its 30-plus terabyte family of drives based on HAMR technology is expected to begin customer shipments of these products in the June quarter.