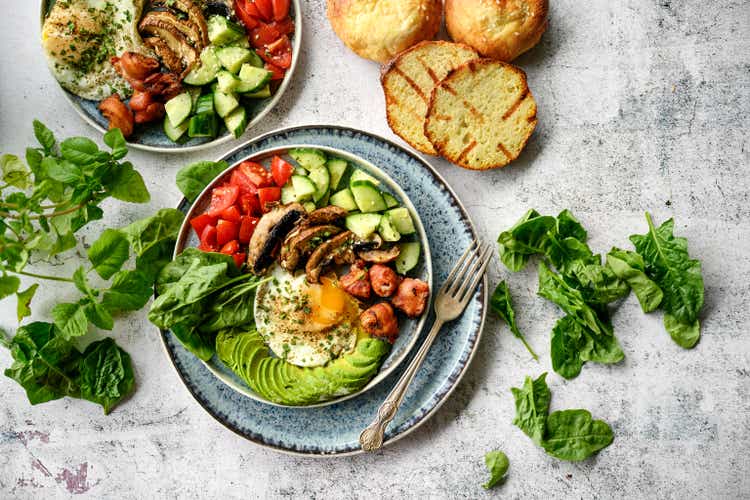 Update on Rating
We initiated coverage on Sweetgreen, Inc. (NYSE:SG) on October 26th, 2022 with a "HOLD" rating due to major risks for the stock. We cited high valuations and macroeconomic risks as catalysts for the stock to go down. Our predictions have largely been justified, as the valuation has nearly halved since the time of that article. As mentioned in the coverage article, we promised readers to update our rating once the "economic picture becomes more clear," and we intend to do that today with a "SELL" rating on the stock.
Recent Updates
Since the initial coverage, there have been a few important movements. First, the company has announced its Q3 2022 results, which we will discuss in following sections. Second, the company has seen management changes, with the COO stepping down in March of this year. The company also has launched new products in the dessert segment, announcing the offering of "Crispy Rice Treat" in November of 2022. Though we don't expect the dessert to be any meaningful business change to impact growth, we view it as a positive that the company is aiming to expand its products and offerings to its customers.
Negative Catalysts
Poor Q3 2022 Results
Our thesis is largely impacted by the worse than expected results in Q3 2022. Though the company reported a YoY revenue growth of 29%, the growth was subpar for a company with lofty premiums, as discussed in the previous article. What was more troubling was the rapid decline in same-store sales, as the company reported a 6% YoY growth in same-store sales compared to 43% in the year prior. Net loss also expanded from -$30.1 million to -$47.4 million in the same time frame. Furthermore, restaurant openings also saw a slight decline, as the company only opened 10 new restaurants compared to 11 new restaurants in the prior period.
Worsening Fundamentals
Our valuation comparison saw that Sweetgreen was around 1.5x to 2x of other consumer-facing retail companies with similar growth profile. Though the valuation has come down dramatically since then, we believe that continued deceleration will continue to pressure valuation downwards. The deceleration in fundamentals during Q3 2022 have been highly worrisome, given some tailwinds like better than expected consumption metrics and return to office trends. We believe that with worsening economic fundamentals due to higher number of layoffs and higher interest rates, the results here in the short-term are not going to get any better. If Sweetgreen was unable to perform well in the past economic environment, it is unlikely to fare much better in a recessionary environment.
Balance Sheet Risk
Given the net losses and the deceleration of top line growth, the catalyst for continued downward trend comes from the balance sheet. The company had $472 million in cash at the end of FY 2021, but by Q3 2022, the company reported $381 million cash, which is more than a 20% drawdown in less than a year. As losses continue and financial markets remain comparatively illiquid due to higher interest rate environment, the company will see some balance sheet pressures and financing pressures without a major turnaround in the business. The visualization below simplifies the concerning trend we see, where on a quarterly basis, the company's asset value goes down in conjunction with the company's losses. Though admittedly, this only shows a few quarters since the IPO, we believe this is a negative indicator for the stock as long as such trend holds.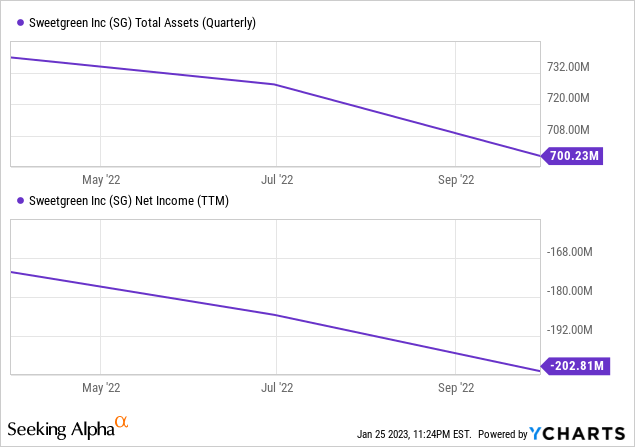 Risk to Thesis
Our thesis relies on deteriorating economic conditions that would affect a growth-oriented retail business that focuses on high-priced products like Sweetgreen. The thesis will need to be re-assessed, if economic conditions were to become much better, as interest rates go down along with inflation. However, given the Federal Reserve's hawkish stance along with recent layoffs affecting employment and general sentiment, we believe that the economy is likely to remain in difficult or at the very least in uncertain waters for the short term.
Conclusion
We believe that economic conditions will remain unfavorable to Sweetgreen, Inc.'s prospects in the short to medium term. For a company with accelerating net losses and decelerating top line growth, we believe that the risk for Sweetgreen, Inc. stock is skewed to the downside. We update our rating on Sweetgreen, Inc. stock to a "Sell" rating ahead of Q4 2022 earnings. We will re-assess our thesis after the FY 2022 and Q4 2022 update.