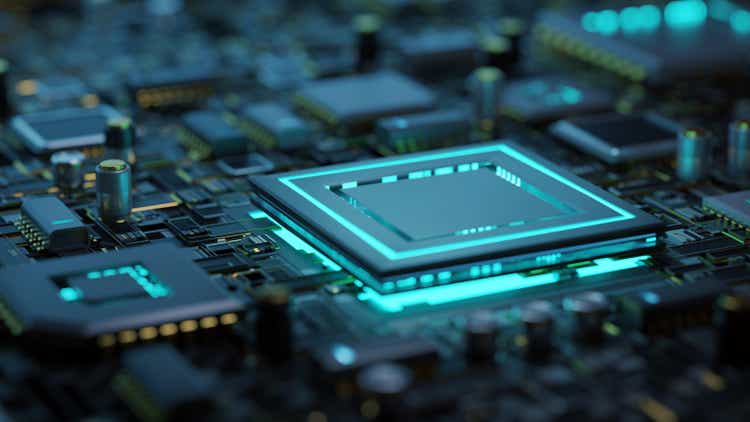 Amid U.S. sanctions against China's semiconductor industry, two countries, The Netherlands and Japan, are holdouts in allowing their domestic semiconductor equipment companies to succumb to pressure to conform to U.S. requests.
I've already discussed The Netherlands' domestic company ASML (ASML) in numerous Seeking Alpha articles, which has significantly been impacted by being prohibited from selling its $200 million EUV lithography equipment. Current U.S. sanctions are now focusing on its $70 million immersion DUV lithography equipment. These systems have enabled China's SMIC foundry to make their ICs at the 7nm node, which I reported for the first time that China foundry SMIC was able to make chips at the 7nm node without EUV in my May 18, 2022, Seeking Alpha article entitled "Applied Materials: SMIC Move To 7nm Node Capability Another Headwind."
In this article, I analyze Tokyo Electron Ltd. (OTCPK:TOELY), a Japanese company that's the focal point of U.S.-Japanese negotiations. The article addresses metrics about the company to understand why the U.S. is so fixated on it. Secondly, it discusses how the entire semiconductor equipment industry in China will be impacted if Japan agrees to the sanctions.
Semiconductor Equipment Sector
There are different categories in the semiconductor space. Categories covered include:
Front-end (wafer processing/mask/reticle/wafer manufacturing/fab facilities) equipment
Final manufacturing (assembly/packaging/test) equipment.
I estimate that semiconductor equipment revenues for 2022 will end up reaching $110 billion, and front end also referred to as WFE (wafer front end) comprises approximately 85%.
Revenues generated by Japanese companies from 2015 through 2022 are show in Chart 1. While 2022 revenues (red line) are on a downward trend in the last two months, the trendline (red dotted line) is just slightly lower than the 2021 trendline (blue dotted line).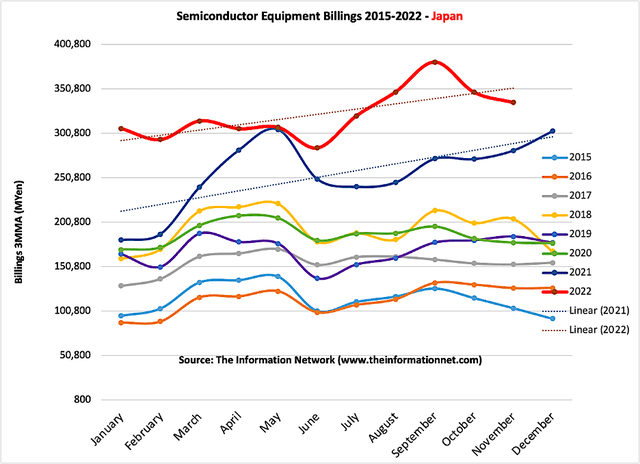 Chart 1
In Chart 2, I show similar data for U.S. equipment companies, which includes equipment companies such as Applied Materials (AMAT), Lam Research (LRCX), and KLA (KLAC). 2022 revenues (red line) have been dropping since November 2021 and the trend line shows the drop.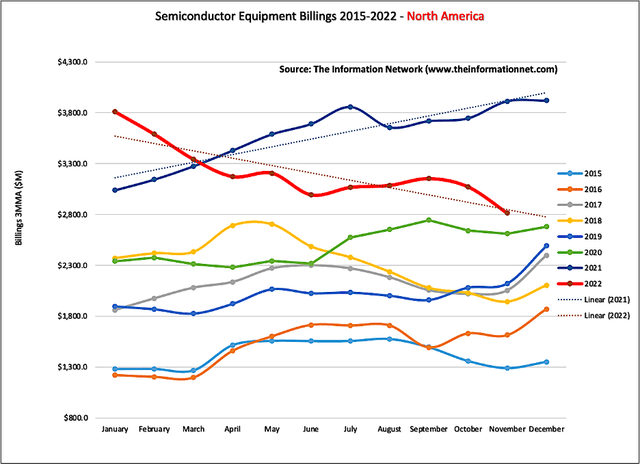 Chart 2
Analysis of Tokyo Electron
Tokyo Electron (referred to as "TEL") is a key vendor of semiconductor processing tools, and competes directly with AMAT and LRCX primarily in the etch, deposition, and clean segments.
In fact, Tokyo Electron is No. 4 of the Top 10 Global WFE equipment companies with a market share 15.3% in 2021, just ahead of Lam Research with a 14.9% share, according to our report entitled Applied Materials: Competing Analysis of Served Markets.
Tokyo Electron competes in three main segments, which I discuss below.
Plasma Etch
Thin Film Deposition
Cleaning
In Chart 3, I show Plasma Etch revenues for TEL, AMAT and LRCX between 2010 and 2021. Starting in 2017, TEL (blue line) pulled ahead of AMAT (red line), which has lost market share to the two competitors.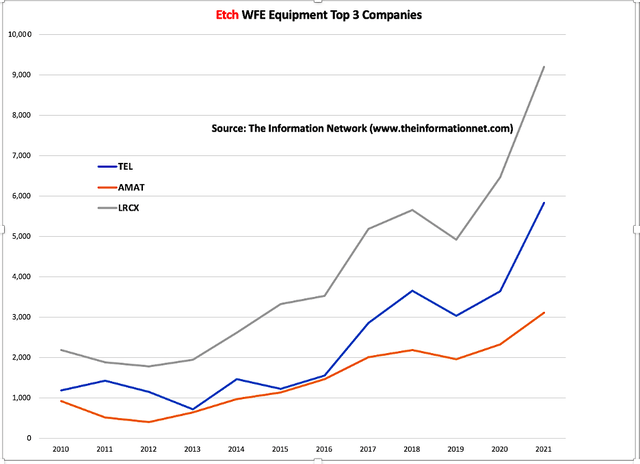 Chart 3
Chart 4 shows Thin Film Deposition revenues for TEL, AMAT and LRCX between 2010 and 2021. Data for this chart combine several different types of deposition systems, and each deposition type has its own market leader, according to our report Global Semiconductor Equipment: Markets, Market Shares and Market Forecasts.
AMAT is the clear leader, and its share increased in 2021 with a 78% YoY growth compared to increases in the low-40% range for LRCX and TEL.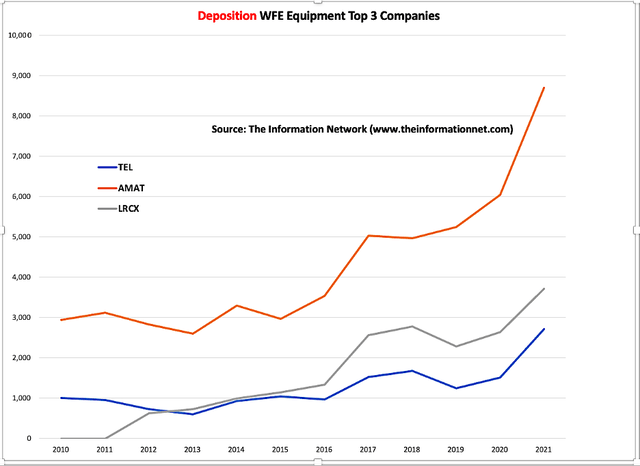 Chart 4
Chart 5 shows Cleaning revenues for TEL and LRCX between 2010 and 2021. AMAT doesn't compete in the sector, which includes Wet Stations and Spray Processor Cleaning Systems, which are combined in this chart.
TEL has been increasing share against LRCX. Note in this article I only include these three companies. But in Cleaning, Screen Holdings (OTCPK:DINRF) is the market leader in both sectors.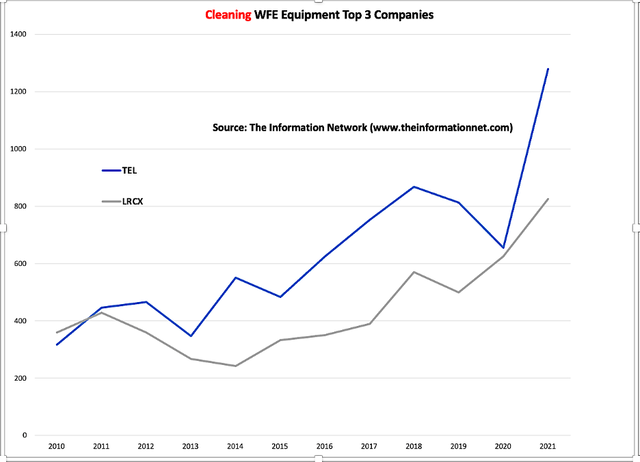 Chart 5
Investor Takeaway
Financial Metrics
Tokyo Electron's stock has underperformed competitors Applied Materials and Lam Research over the past 1-year, as shown in Chart 6. This despite similarities in comparative revenue by product shown in Charts 3-5, where TEL outperformed AMAT in Plasma Etch and outperformed LRCX in Cleaning systems.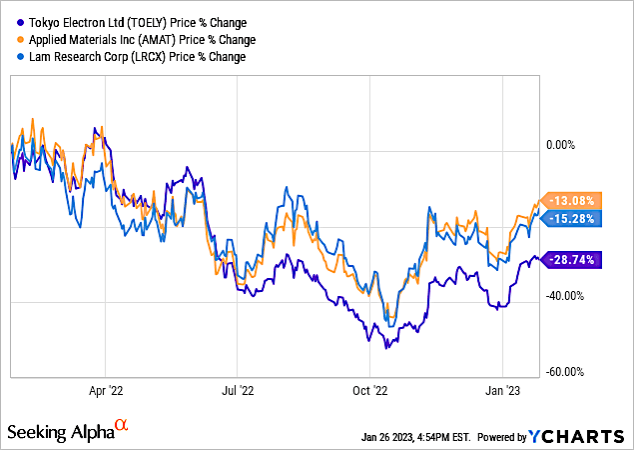 Chart 6
Chart 7 shows that PE ratios of the three competitors also is tightly packed over the one-year period.
Chart 7
In this analysis, I show that these three competitors have demonstrated similar performance in the three system sectors they compete – Plasma Etching and Thin Film Deposition (all three companies) and Cleaning (two companies).
What this means is that these processing systems are comparable and dependent on customers. For example, Lam has a high exposure to NAND memory companies and AMAT has high exposure in logic/foundries. In 2021, TEL generated $4.4 billion in revenue from sales to China in 2021, ahead of $4.2 billion for AMAT, and $3.6 billion for LRCX. Again, these three competitors are nearly indistinguishable from each other, which is significant.
Impact of China Sanctions
If Japan agrees to the U.S.-mandated sanctions against TEL, which are already in place for AMAT and Lam, China will be impacted at the <16nm node. Chinese semiconductor companies are reacting to sanctions and threats of sanctions by buying equipment from domestic suppliers such as:
ALD - Naura
CMP - Huahai Qingke Co
Epitaxy - Naura
PECVD - Piotech
PVD - Naura
RTP - Mattson (parent company Beijing E-Town)
Dielectric Etch - AMEC
Conductor Etch – Naura
Each of these Chinese companies make equipment that competes directly with AMAT, Lam, and TEL. I detailed an analysis of Chinese equipment companies in several Seeking Alpha articles, with the latest on Jan. 3 entitled "U.S. Sanctions Are A Catalyst For China's New Semiconductor Fab Expansion."
If Japan doesn't agree to U.S. sanctions, then Tokyo Electron will take all the business from AMAT and LRCX if:
Logic chips with non-planar transistor architectures (i.e., FinFET or GAAFET) of 16nm or 14nm, or below;
DRAM memory chips of 18nm half-pitch or less;
NAND flash memory chips with 128 layers or more.
The revenues from sales to China discussed above are for equipment sales for all nodes, and the sanctions would only represent a portion of lost sales by AMAT and LRCX. Nevertheless, as China moves to smaller nodes, this re-allocation of revenues will only grow. One can postulate that it would only represent lost sales to China's SMIC foundry or Chinese fabs of Samsung Electronics (OTCPK:SSNLF) and SK Hynix making memory chips.
However, one must also recognize that China fabs are operating in stealth mode and are not heralding product output for fear the publicity would incur further U.S. Sanctions. For example, on July 17, 2021, I wrote a Seeking Alpha article entitled "China: Who Needs TSMC When They Have SMIC." A few months later, the U.S. sanctioned SMIC.
Editor's Note: This article discusses one or more securities that do not trade on a major U.S. exchange. Please be aware of the risks associated with these stocks.