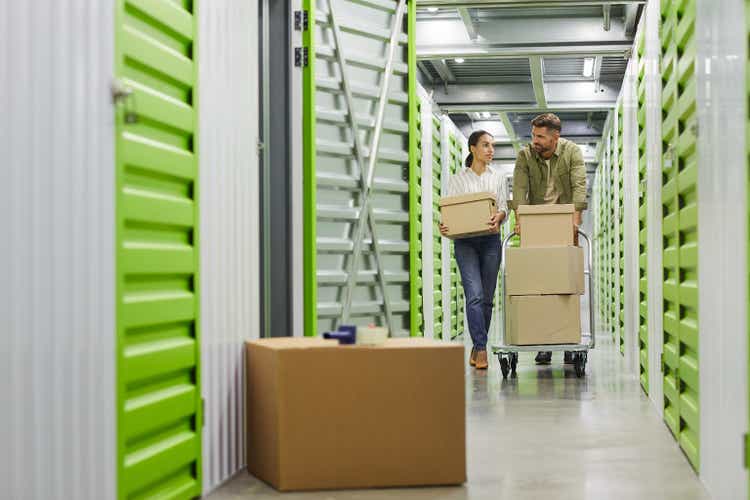 REIT Rankings: Self-Storage
This is an abridged version of the full report and rankings published on Hoya Capital Income Builder Marketplace on January 24th.
In the Hoya Capital Self-Storage REIT Index, we track the five major self-storage REITs, which account for roughly $100 billion in market value: Public Storage (PSA), Extra Space Storage (EXR), CubeSmart (CUBE), Life Storage (LSI), National Storage (NSA), along with micro-cap Global Self Storage (SELF). Self-Storage REITs defied expectations to the upside as comprehensively as any real estate sector during the pandemic - delivering cumulative earnings growth of over 50% since 2019 - but the previously red-hot sector appears to have hit a soft patch in late 2022 as the anticipated post-pandemic demand normalization was accelerated by icy-cold housing market activity and pressure from elevated supply growth.
There are roughly 50,000 self-storage facilities in the United States, and proximity to one's home is typically cited as the most important feature. One in ten US households rents a self-storage unit, and 70% of self-storage customers are residential while 30% are businesses. The self-storage industry remains fairly fragmented with these six REITs owning roughly 20% of the total square footage, but these REITs also provide third-party management services to another 5% of storage facilities. Revenue and expense management technology, brand value, and cost of capital have historically given these REITs a competitive advantage over private market competitors and smaller brands. The three largest REITs - Public Storage, CubeSmart, and Extra Space - operate relatively higher-rent portfolios in more primary markets, while Life Storage, National Storage, and Global Self Storage operate facilities with lower rents in secondary and tertiary markets.
Stumbling into the coronavirus pandemic with challenged fundamentals and an outlook for near-zero growth amid oversupply challenges, self-storage demand came roaring back to life beginning in late 2020 as booming housing market activity amplified pre-existing demographic tailwinds to drive record occupancy levels and double-digit rent hikes. The Producer Price Index for self-storage facilities - which has historically exhibited a near-perfect correlation with rent growth - illustrates this incredible turnout along with the more recent moderation. Peaking in April with a record-high annual increase of 17.9%, the most recent PPI report for December showed a rather steep cool down in both the annual rate of growth and the absolute level. While the annual increase still stood at 14.3% in December, the -0.3% month-over-month decline was just the second negative month in two years and the weakest since June 2020.
Self-storage demand is more closely-correlated with household moving rates than many presume - specifically home sales and rental turnover - a previously-underappreciated correlation that was on full display early in the pandemic as robust housing market activity from mid-2020 through mid-2022 fueled a corresponding boom in self-storage demand. This trend has worked in the reverse of late amid a rate-driven housing cooldown that sent the pace of both New and Existing Home Sales to their lowest levels since 2011. Rental market turnover has been similarly sluggish - dipping to the second-lowest rate ever recorded by RealPage, as renters chose to renew existing leases which in most cases were significantly below market rents, per recent apartment REIT reports that noted a historically wide "loss to lease" spread.
As discussed in our Real Estate Earnings Recap, some of this softness started to become apparent during third-quarter earnings season. After delivering six straight quarters of "beat and raise" results across the sector, "hit and miss" was the theme of third-quarter results with a trio of solid reports offset by a pair of downbeat outlooks. Most notably, ExtraSpace lowered both its full-year FFO and NOI growth outlook by 70 basis points, citing a combination of expense pressures and slower demand. National Storage also lowered its growth outlook by 70 basis points, noting that while self-storage fundamentals "remain healthy," the company is seeing clear signs that demand is "moderating toward historical norms." Life Storage was an upside standout, however, boosting its full-year FFO growth target by 280 basis points while Public Storage and CubeSmart also delivered solid guidance boosts.
The net effects of these guidance revisions raised the average full-year FFO growth target to 22.3% - up 80 basis points from 21.5% in the prior quarter - which follows sector-leading FFO growth of 27.1% in 2021. Storage REITs had set a high bar, however, having delivered the strongest upward FFO guidance revisions of any REIT sector in both Q1 and Q2 with average upward revisions of over 250 basis points in each of the prior two quarters. Rising expenses, a dip in occupancy rates, and commentary regarding softer customer demand were the areas of concern with three-of-five REITs projecting higher same-store expenses driven by higher marketing spending and property taxes.
Recent updates provided in early January provided more evidence of this demand cooldown - a soft patch that appears to go well beyond the typical seasonal patterns. Storage REIT occupancy rates typically peak in Q2 and bottom in Q4, a peak-to-trough decline that has averaged 180 basis points over the past decade. Notably, storage REITs recorded a relatively wider 290 basis point decline during this period, bringing the average ending occupancy rate to 92.1% - the lowest since late 2019. During these January updates, three REITs also provided reporting on "street rates" - effectively the market rental rate for new self-service customers. Public Storage noted that move-in rates in Q4 were 4.9% below the move-in rate last year while National Storage reported similar declines in street rates of 5% in December and an updated chart from Life Storage indicated a similar 5-10% comparable dip.
While we don't think that this soft patch in storage demand is fully discounted in storage REIT valuations - potentially providing better buying opportunities later in 2023 - we have seen some encouraging hints at a demand recovery in recent weeks. Searches on Google for "self-storage unit" - which has historically exhibited a strong correlation with occupancy rates - dipped particularly sharply in November and December and briefly fell below 2019 baseline levels, but since bottoming just before Christmas, search activity has rebounded sharply in the four subsequent weeks to the highest since mid-July. These metrics correspond with similarly encouraging indicators across the broader housing market. Redfin reported last week that its Homebuyer Demand Index increased 6% over the past month while Google searches for "homes for sale" were up nearly 50% from their November low.
The annual Moving Report from U-Haul and newly-released Census data showed where exactly this household moving activity is occurring. Florida was the fastest-growing state in 2022 on a percentage basis with an annual population increase of 1.9% while Texas earned the top spot on an absolute basis with the addition of nearly a half-million new residents. These two states were also the top one-way U-Haul truck customers during 2022, ranking as the top growth states on the annual U-Haul Growth Index. On the flipside, New York saw the highest outflows on both a percentage basis and an absolute basis, losing nearly 1% of its total population this past year. California and Illinois also recorded six-figure decreases in the resident population. At the regional level, the South was the fastest-growing and the largest-gaining region last year, increasing by 1.1% while the West region recorded an annual increase of 0.2%. The Northeast and the Midwest regions, however, recorded population declines of -0.4% and -0.1% residents, respectively.
Self-Storage REIT Performance
Pressured late in the year by these emerging signs of demand softness, Self-Storage REITs slightly underperformed the broader Equity REIT Index in 2022 with total returns of -27% compared to the -25% decline from the Vanguard Real Estate ETF (VNQ) and also lagging the -18% decline from the S&P 500 ETF (SPY). Despite the underperformance last year, Storage REITs are still the top-performing property sector since the end of 2019, propelled by robust gains of nearly 80% in 2021 and 13% in 2020.
The slight underperformance has continued into early 2023 with the Self-Storage sector higher by 4.3% thus far, slightly lagging the 6.6% gains on the broader Equity REIT Index. Diving deeper into the company-level performance, Public Storage posted the strongest relative performance last year among the five major storage REITs, while micro-cap Global Self Storage interestingly escaped much of the selling pressure as well. National Storage was hit the hardest in 2022 with a dip of over 45% while the three mid-cap REITs delivered similar declines last year of around 30%.
Deeper Dive into Earnings Reports
Storage REITs hit 'rock bottom' of a multi-year downtrend early in the pandemic and were left for dead by many analysts and investors. Green shoots began to emerge by late 2020 and after these signs of strength were initially dismissed as a short-term blip, these REITs built on the rebound in each of the subsequent quarters. Following several years of heavy discounting and "free rent," pricing power strengthened beginning in late 2020 while ending occupancy rates and NOI margins each climbed to record-highs. Since the end of 2019, Self-Storage REITs have delivered sector-leading same-store NOI growth of over 35% - more than 15 percentage points better than the next leading sectors, single family rentals and manufactured housing. Updated guidance calls for NOI growth of 18.2% for full-year 2022 resulting from 14.1% revenue growth and 6.4% expense growth.
Storage REITs recorded NOI growth of roughly 16% in the third quarter which was driven a 16.6% average rise in realized rents, a 110 basis point improvement in NOI margins, and offset by a 210 basis point decrease in occupancy rates. The operating efficiency of the self-storage business is second to none in the real estate sector, commanding some of the highest NOI margins in the real estate space at over 70% while requiring minimal ongoing capital expenditures to maintain the facilities.
A double-edged sword for these REITs, the ease and efficiency at which operators can enter the market has resulted in a wave of speculative supply growth coming online over the last half-decade. Storage REITs indicated that supply growth is expected to be a headwind over the next several quarters, but expect new development to moderate later in 2023 as the effects of higher interest rates and macroeconomic uncertainty temper the development appetite. Construction spending data from the Census Bureau has indicated that the peak in development appears to have occurred in 2017 and declined by more than 10% in 2021, but soaring rents and record-high occupancy rates spurred a rebound in starts in 2022.
Acquisition and consolidation opportunities should remain plentiful over the next decade for these storage REITs following the late-2010s supply boom, and we did indeed see acquisition activity ramp up over the past several quarters as these REITs acquired more than $10B in assets over the past year. Fueling this record pace was a pair of acquisitions from Public Storage: a $1.8B acquisition of ezStorage - a 48-property portfolio in the Washington DC region, and a $1.5B acquisition of All Storage, which owns 56 properties in the Dallas market. Additionally, earlier last year, CubeSmart completed a $1.7B acquisition of Storage West - an owner and operator of 59 self-storage assets in Southern California, Phoenix, Las Vegas, and Houston.
Importantly for their external growth prospects, self-storage REITs operate with some of the most well-capitalized balance sheets across the real estate sector. On average, self-storage REITs operate with debt ratios that are well below the REIT sector average of 30%, led by Public Storage, which operates with perhaps the most conservative balance sheet within the REIT sector with one of the few, coveted "A-rated" long-term bonds. CubeSmart, Life Storage, and Extra Space all hold investment-grade long-term bond ratings as well. All six self-storage REITs operate with debt ratios below 30%.
Self-Storage REIT Dividend Yield
Storage REITs were one of the only property sectors that went completely unscathed by the wave of coronavirus-related dividend cuts that swept across the REIT universe in 2020 and were among the leaders in dividend growth in 2021 and 2022 as well. Storage REITs pay an average dividend yield of 3.5% which is slightly below the market-cap-weighted REIT sector average of 3.7%. Self-storage REITs pay roughly 60% of their available cash flow, leaving plenty of cash flow to fuel accretive growth through acquisitions and development.
Diving deeper into the sector, we note that the dividend yield ranges from a high of 5.71% from National Storage to a low of 2.74% from Public Storage. Notably, CubeSmart, National Storage, and Extra Space have been among the leaders in dividend growth across the REIT sector over the past five years with double-digit average annual dividend growth rates. Five of the six REITs hiked their dividends in 2022 with Public Storage as the lone exception - which has held its dividend steady since 2016. PSA did pay out a $13.15/share special dividend for its share of gains from the acquisition of PS Business Parks by Blackstone Real Estate.
Takeaway: Short-Term Soft Patch, Bullish Longer-Term
Storage demand is driven largely by housing activity- specifically home sales and rental market turnover and while we've seen some encouraging hints at a housing demand recovery in recent weeks, we don't think that the soft patch for storage REITs is fully discounted, potentially providing better buying opportunities later this year. Patience will be required over the next several quarters as expectations adjust to the post-pandemic normalization, but we continue to like the longer-term prospects for the storage sector given the 'stickiness' of demand, strong balance sheets, low cap-ex needs, and impressive operational track record. Accelerated by tighter financing conditions and softer fundamentals, external growth opportunities should be plentiful over the next several years as more high-levered private players seek an exit.
For an in-depth analysis of all real estate sectors, be sure to check out all of our quarterly reports: Apartments, Homebuilders, Manufactured Housing, Student Housing, Single-Family Rentals, Cell Towers, Casinos, Industrial, Data Center, Malls, Healthcare, Net Lease, Shopping Centers, Hotels, Billboards, Office, Farmland, Storage, Timber, Mortgage, and Cannabis.
Disclosure: Hoya Capital Real Estate advises two Exchange-Traded Funds listed on the NYSE. In addition to any long positions listed below, Hoya Capital is long all components in the Hoya Capital Housing 100 Index and in the Hoya Capital High Dividend Yield Index. Index definitions and a complete list of holdings are available on our website.
Editor's Note: This article covers one or more microcap stocks. Please be aware of the risks associated with these stocks.