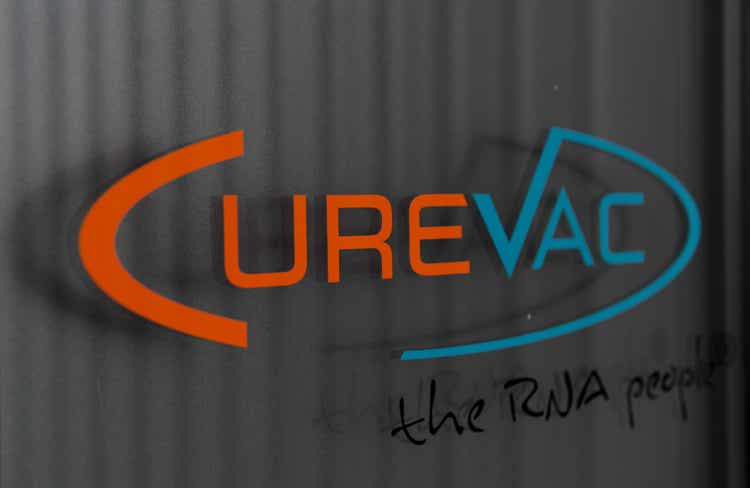 The explosive growth in mRNA technology is giving us all a chance to watch a scientific field advance in real time, and we've just had a very clear example of that. Readers might recall that CureVac (NASDAQ:CVAC), one of the earliest players in the whole mRNA-vaccination field, had a very disappointing clinical readout on the efficacy of their coronavirus vaccine candidate as compared to the Moderna (MRNA) and to the Pfizer/BioNTech (PFE, BNTX) vaccines.
You can think of several reasons why that might have happened, but one explanation was considered the most likely: the type of mRNA that each vaccine used. It's a sure bet that more people have heard of (and cared about!) pseudouridines in the past three years than ever before, because both the successful mRNA vaccines adopted such structures as replacements for the regular uridine residues in their sequences. Evidence had accumulated (starting with the work of Katalin Karikó) that these modified RNAs were less likely to set off a response from the innate immune system, allowing a high enough dose for the mRNA to accomplish its goal of getting cells to produce enough coronavirus Spike protein for effective immunization. Immune response to the vaccine mRNA is the most literal example of "killing the messenger" that I can think of, short of the Spartan treatment of Darius' envoys in 491 BC.
CureVac had resisted this idea. Since its founding, the company had stuck with the hypothesis that uridine modification wasn't actually necessary for an effective vaccine, so long as one took care to produce a well-optimized mRNA sequence in the first place. Their first coronavirus vaccine trial result certainly put a big dent in that idea, because its sequence was presumably optimized in this way, but it failed because the highest dose that they felt was feasible still wasn't enough to produce a robust immune response.
But the company took another crack at it, and last spring they took another unmodified-RNA vaccine into trials, one whose sequence had been optimized even further. As this article from Nature details, though, it appears that CureVac was already hedging its bets. In August of 2022, they began trials on a more Omicron-specific coronavirus vaccine, and this one had modified uridines in it. Their (outgoing) CEO told the magazine in an interview that "There should not be a kind of religious way" to see the issue, and that instead they were going to let the data decide the issue.
That is of course absolutely the only way to do it. Dogma in a field of research can be a killer, and there are more example of this than anyone has time to list. Of course, stomach ulcers were caused by stress and diet. Of course, hormone replacement therapy was beneficial in postmenopausal women. Of course, there was no reason to worry much about tetraethyllead being constantly spewed from every car's tailpipe. Of course, there had to be a luminiferous aether to allow light to propagate. Of course, the earth was at the center of the universe. These "habits of mind" are a human tendency that's a part of our consciousness, and that generally serves us well. But science is a very atypical human activity, which is why it took so long to develop in human culture. We have to go against our instincts, challenge our assumptions, and be ready to discard them if the data say so, no matter how painful that might be.
So it's good to see CureVac change its mind in the face of evidence, and now that evidence is in. Earlier this month the company announced the results from those coronavirus vaccine trials and from another one, an mRNA flu vaccine that was also done with modified uridines, and both were successful. I note that the flu program seems to have featured a head-to-head comparison between a modified-mRNA candidate and an unmodified-mRNA candidate, and it's only the former whose results are being mentioned in the press release. As for the coronavirus vaccine candidate, the side effects were far lower than the company had seen with the unmodified mRNA; the results were definitive.
As that Nature article notes, other organizations have run such head-to-head trials in the past (BioNTech, for one), but the full results were not publicized. Well, let's put it this way: they were, in a way, because BioNTech and the others who have investigated this issue have voted with their money and effort in favor of uridine-modified mRNA, and now we can see why. The only way that you can easily imagine this changing is for situations where you might want activation of the innate immune system (as might be the case in oncology), or if some new mRNA delivery system can evade the problem altogether. Even then, you'd be throwing away another advantage of the pseudouridines, which is resistance to nuclease enzymes in the cell, and we're just going to have to see if unmodified mRNA is ever the way to go. But for vaccines, the question appears to have been settled.
Disclosure: None.
Editor's Note: The summary bullets for this article were chosen by Seeking Alpha editors.