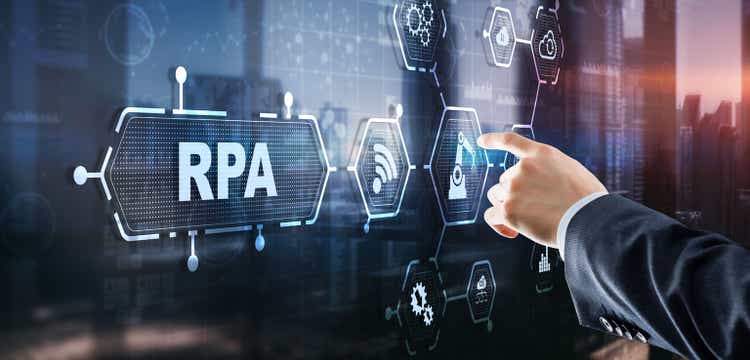 Thesis highlight
UiPath (NYSE:PATH) has 31% upside. I believe the market has already priced in a weak FY23 given how the valuation has continuously drifted down over the past few months. As such, the current set up is quite positive if PATH can reaccelerate growth post FY23 and improve profitability - which is a key catalyst to valuation re-rating.
Company overview
PATH provides a comprehensive platform for organizations to learn about automation opportunities and then implement, manage, run, engage, measure, and govern those automations across teams, functions, and use cases.
Automation is the disruptor to legacy workflow processes
Companies rely on procedures that involve the use of numerous programs, and those programs are run by human operators. These days, specialized applications may provide a lot of useful features, but they can't possibly cover every possible scenario in the workplace. Due to the explosion of niche software, humans now serve as the enterprise's connective tissue, moving fluidly between disparate programs that were not designed to work together or meet the specific requirements of the processes they underpin. Because of this, business processes today are still prone to human error, monotonous, and administrative in nature, preventing employees from concentrating on tasks that carry higher value.
Because of this, businesses are finding new methods of application unification, customization, and operation that doesn't require extensive IT resources or adjustments to the current IT infrastructure. In my opinion, automation helps businesses enhance their performance by facilitating the planning and optimization of operational procedures. Automation solutions that can faithfully imitate human behavior can be integrated into pre-existing business processes, something that isn't possible with conventional software. In this way, companies can use the efficacy of niche applications in a unique way. This new form of automation, which can mimic human actions, is upending the status quo of automation and revolutionizing industries by helping customers cut costs without significantly altering their existing operations.
RPA is the way to go
Outside of the scope of specific applications, automation has traditionally been fragmented, constrained, and extremely individualized (i.e., macro scripts). The initial wave of automation was created to handle simple, non-critical tasks. Automation tools have developed to the point where APIs can be used to perform rule-based batch processing of administrative tasks.
By integrating the user interface [UI] with application programming interfaces [APIs], Robotic Process Automation [RPA] was the first automation technology to break free of conventional limitations and was able to grow beyond the confines of routine administrative tasks. When RPA standardized the possibility of automation across applications, the range of possible applications for automation greatly increased. RPA's disruptive power lies in its capacity to incorporate both UI and API-based functionality such that it can imitate the intricacies and difficulties of human input, and in its ability to employ the existing UI to wholly imitate the required business workflow. While other methods may only be able to automate a subset of a process, RPA's user-emulation-based approach allows it to automate the entire process, whereas other methods may be too rigid to drive meaningful automation.
UiPath is the leader in RPA
Based on the G2 scoreboard, PATH is the most successful RPA provider. To start, it couldn't be simpler to use. Even though I don't have any formal training in computer programming, I was still able to build bots that handled the majority of the routine tasks in my day job adequately. The PATH platform makes it simple to take advantage of automation tools thanks to its user-friendly design, which includes a streamlined interface and low-code, drag-and-drop functionality. As a result, automations can be rapidly rolled out across a company, resulting in a shorter time to value. PATH is simple enough that even employees with limited technical knowledge can pick it up quickly and easily, and it doesn't necessitate expensive implementation or extensive professional services.
The PATH platform not only provides a wide range of solutions, but it is also designed with enterprise in mind. As the scope of clients' automated processes expands, so does PATH as a platform to support it. PATH can be used in a variety of cloud configurations, including public and private clouds, as well as in a hybrid setting. Furthermore, PATH is built with security and governance in mind, enabling organizations to expand their use of automation while providing their IT departments with the means to set up appropriate boundaries for it.
Viral adoption model
PATH's position within an organization can be organically scaled from the bottom up thanks to the virality of its products, which fuels the platform's adoption. The establishment of a center of excellence [COE] is typically the first step of customers' journeys toward greater automation using PATH. The COE collaborates with employees across lines of business to assess and rank opportunities for high-value automation. The COE then develops automations for basic, broadly applicable tasks and makes them available to the workforce via desktop applications. This step is important as the more familiar and at ease workers become with automations, the more they use them, and the more they find gaps within workflows that can be automated. By doing so, COE is also able to amass ideas for future automation applications. After multiple iterations of this pattern, a subset of the workforce inevitably begins to develop practical automations independently. This cycle keeps turning, accelerating innovation across the company and surfacing ideas for new forms of automation in ways that a top-down approach would struggle to match.
Strong ROI fuel strong growth ahead
The high ROI that businesses are seeing from implementing PATH is, in my opinion, a major factor in its widespread adoption. This ROI typically results from fewer hours spent on manual labor, shorter processing times, and higher accuracy. These quantifiable benefits, in my opinion, strengthen the case for PATH initial investment and subsequent rollout to additional teams, organizations, and use cases, ultimately leading to increased demand from satisfied customers, propelling a net expansion rate of over 120% (It should be noted that this rate was over 140% prior to 2022). An additional indicator of the solution's tenacity is the fact that its gross retention is so high, at around 98%. Finally, based on the wide gap between PATH's average ARR per customer of $105k and those with ARR at more than $1 million (only 1.9%), I believe that the vast majority of PATH customers are still in the early stages of their journey toward automation. Consequently, I believe UiPath has a great deal of room to expand among its current clientele.
Notable customer wins recently are reflective of PATH strength
It's true that PATH has been hit hard by macro and FX weakness in recent months, but they've also picked up some major clients like Petco, Nautilus, Wisconsin Energy, and a deal with some of the most important regulatory bodies in the United States. Given the difficulty of doing business with the federal government and the size of the potential market, I am optimistic about the agreement with the United States Air Force and the United States Department of Homeland Security. Even though new customer additions slowed during the quarter, this is not unique to PATH (i.e., almost every software company is facing it as well). I think the highlighted customer wins are an indication of PATH's technological prowess and its ability to attract enterprise customers, and the fact that PATH's gross revenue retention remains at 98% is crucial.
Valuation
My model suggests that PATH is worth $18.64 in FY24. The core part of my thesis is that PATH is able to reaccelerate growth after a weak FY23 as we lapse a bad macro backdrop. This growth should be derived from capturing new clients and expanding ARR per customer. More importantly, I expect PATH to continue improving its profitability and guidance on it. As these happen, I expect the market to start giving credit for PATH long-term profitability, as such valuation multiples should improve.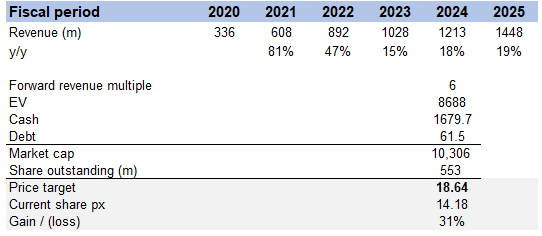 Risk
Fast evolving competitive landscape
It stands to reason that other, larger companies would try to enter the RPA market, given its size and growth, and compete with PATH by leveraging their global distribution channels. The presence of rivals like Automation Anywhere also means that prices may remain stable or even decrease over time.
Conclusion
The constant downward drift in valuation over the past few months has led me to believe that the market has already priced in a weak FY23. The current situation is favorable if PATH can reaccelerate growth after FY23 and improve profitability, both of which are important drivers of a valuation re-rating.