Beyond The Common Stock Of Oxford Lane Capital
Summary
Oxford Lane Capital has six separate trading securities beyond the common stock OXLC. Four are preferreds and two are unsecured notes.
I'll take a look at the company's financials from the perspective of the preferred/note holders to evaluate their security.
Then I compare and review the six separate issues in relation to each.
If you own OXLCM, OXLCZ, OXLCP, OXLCN, OXLCO, and OXLCL you might say you own 23% of the alphabet. Read on to find out why two of these stand-out.
I do much more than just articles at Microcap Review: Members get access to model portfolios, regular updates, a chat room, and more. Learn More »
It's no secret that I find CLO CEFs like Oxford Lane Capital (NASDAQ:OXLC) to be poor investment candidates as I've made it clear in the past. My recent investigation into peer OFS Credit Company (OCCI) revealed a similar pattern of NAV destruction impacting common stockholders.
Commenters across these articles and numerous others about CLO CEFs extol their successful returns with these stocks. I'm sure more will chime in on this article. But today I'm not here to make an argument critiquing OXLC.
Instead, I'd like to dig deeper into the capital stack where they have six other publicly traded issues. These are term preferreds which pay a dividend monthly and unsecured notes which pay out quarterly. Each of these are more secure in the capital stack than OXLC providing additional security, and also are not at risk of a dividend cut. If the company does find themselves in a pinch, the first thing that will be sacrificed will be the common stock dividend which not only serves as a layer of protection but also as an early warning system.
Before we look at these issues specifically though, it will help us to review the company's financials overall.
Oxford Lane Capital Financial Overview
Their most recent investment presentation comes from November 2022 where we can observe that net asset value has declined by 29% in the last year. The company's most recently reported NAV range in December was $4.79 - $4.89.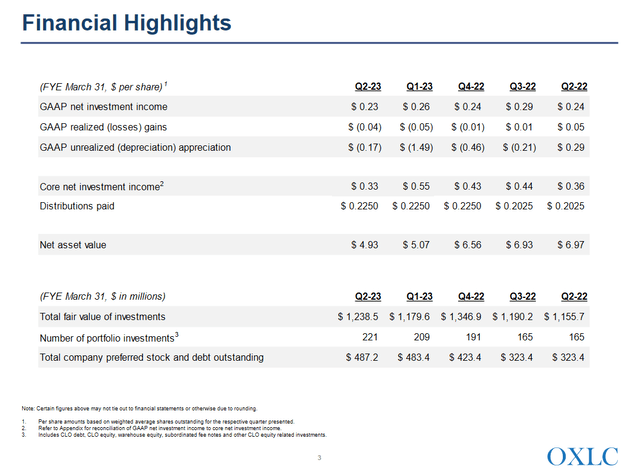 That has not stopped the company from being active in the secondary market where they traded around $170 million worth of CLO equity and debt in the quarter. That represents about 13.7% of the portfolio's value that got moved around. The results are a portfolio with the kind of yield you might hope for.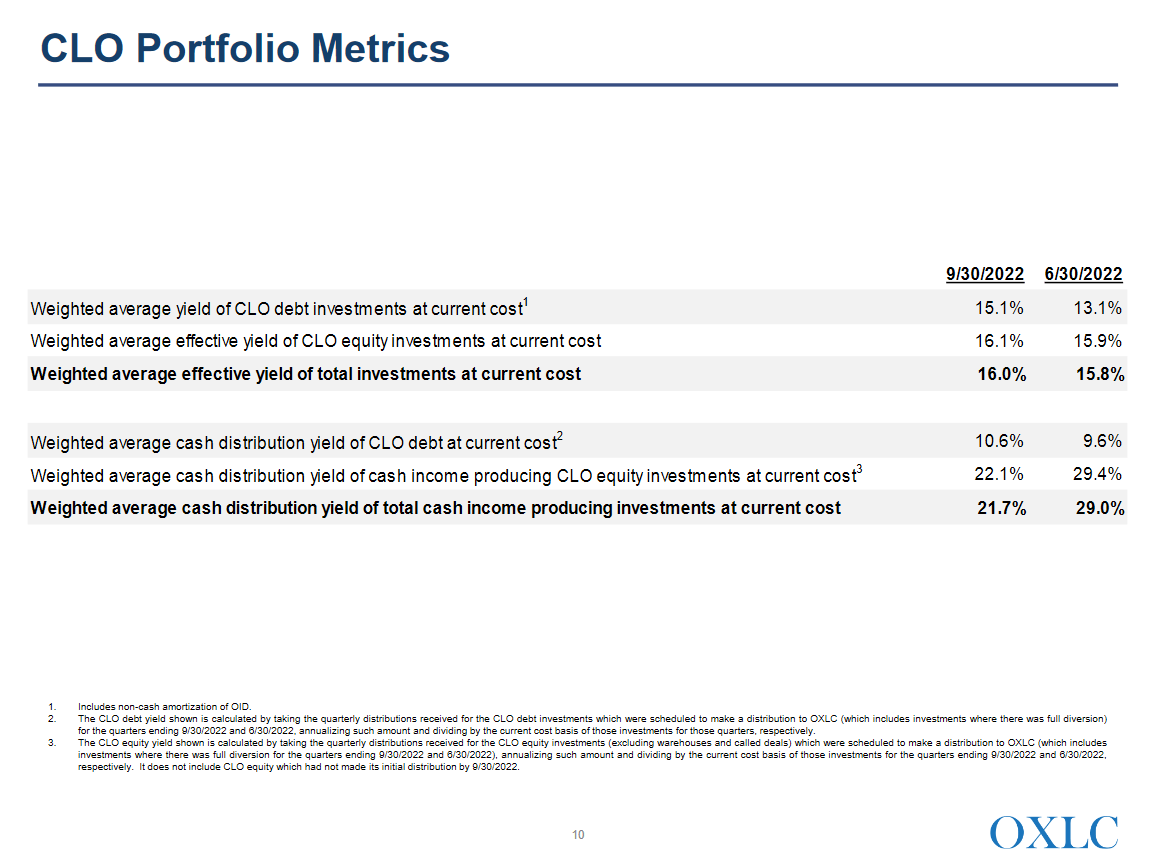 A high yield is something to interrogate, not reach for. Management characterized the issues that are facing them as a broad market ones stating,
"The broader corporate loan and CLO equity market exhibited weakness the first half of calendar year 2022. During that period, the Morningstar LSTA US Leveraged Loan Index decreased from a price of 98.64% as of December 31, 2021 to 92.16% as of June 30, 2022. From June 30, 2022, the Morningstar LSTA US Leveraged Loan Index increased to 95.50% as of August 12, 2022, before dropping to 91.92% as of September 30, 2022. For the nine months ending September 30, 2022, BB rated loan prices decreased 360 bps (or 3.62%), B rated loan prices decreased 746 bps (or 7.53%), and CCC rated loan prices decreased 1,135 bps (or 12.41%). Additionally, during 2022 the loan market exhibited an increase in default rates to 0.90% as of September 2022 compared with 0.29% at the end of 2021."
Of particular note here is the loan market's increased default rate which jumped 210% in just nine months. A December 2022 note from S&P Global highlighted this metric may end up as high as 2.5% by September 2023.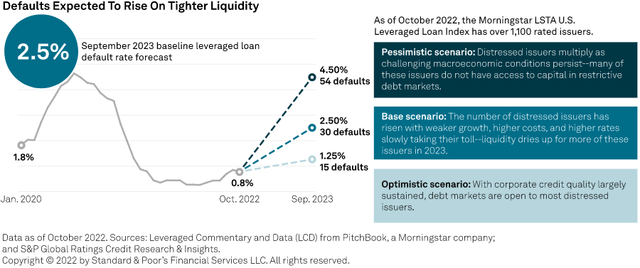 Notably even in their "Optimistic Scenario" they are expecting the default rate to hit 1.25% - nearly ~40% higher than the rates reported in September. This portends trouble for funds like Oxford Lane as it means peer lenders with portfolios like theirs are defaulting.
And in case you didn't read the writing on the wall CEO Jonathan Coen tells you directly,
"The Fund's ability to pay distributions might be adversely affected by the impact of one or more of the risks discussed in this section or otherwise, including the recent market volatility described above. The Fund cannot assure you that it will achieve investment results that will allow us to make a specified level of cash distributions."
We can see an impact of the deteriorating market conditions reflected in their losses in the portfolio.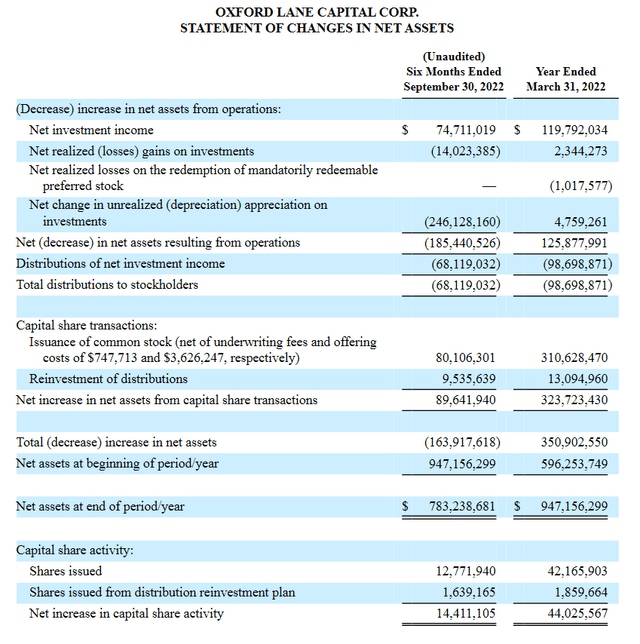 In the last six months the company realized $14 million in losses and saw their book written down by an additional $246 million. In total the six months saw losses on their book of $260 million or ~21% of current market value. The bulk of these are unrealized losses, yet suggest cracks in the underlying portfolio.
On a positive note though we can observe that net investment income covered total distributions by 110%. During those six months, common stock distributions were $68 million which represents 91% of net investment income. From the viewpoint of preferred and noteholders this means there's another $68 million in cash that could be freed up every two quarters if they start to face a cash crunch.
Interest expense for the preferreds totaled $8.4 million in those six months. Interest expense for the two notes is estimated to be around $5.9 million in the same time. If we consider this then cutting the common stock dividend could fund the preferred and note payouts for 2.4 years, all else being equal.
That being said, increased defaults in underlying business loans could decrease the CLO equity value that the fund is 97% invested in. The value of these positions has already been eviscerated and yet the majority of these are still unrealized losses. It will take years before some of these CLOs fully unwind which will give the full picture on returns.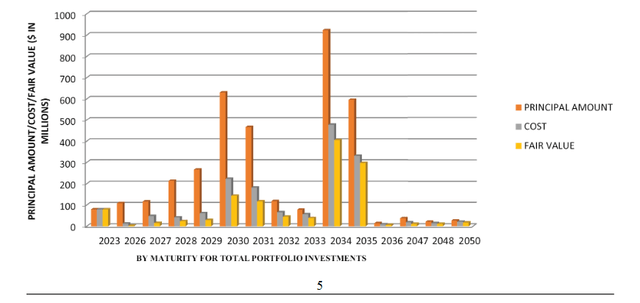 Net asset value at the end of the period was $783.2 million. Preferred stock and debt have a $487.2 million principal value. That means $783.2 million in value must be destroyed before the principal of the preferred and notes is touched. Yet when we consider that in the last six month period they had to write down $246 million, this $783 million cushion may not be what it appears.
Keep an eye out for their quarterly update on January 27th as it's bound to be material.
Digging Deeper Into the Capital Stack
While OXLC's current annual dividend yield of +15% may be attractive, it may be even more so as a cushion to their preferred and unsecured notes. Here's a table with the basics on these issues.
| | | | | | | |
| --- | --- | --- | --- | --- | --- | --- |
| | Original Coupon | Type | Maturity Date | Price | Annual Dividend | Current Yield |
| NASDAQ:OXLCM | 6.75% | Preferred | 6/30/2024 | $25.00 | $1.69 | 6.75% |
| | 5.00% | Unsecured Notes | 1/31/2027 | $22.63 | $1.25 | 5.52% |
| NASDAQ:OXLCP | 6.25% | Preferred | 2/28/2027 | $22.90 | $1.56 | 6.82% |
| | 7.13% | Preferred | 6/30/2029 | $22.98 | $1.78 | 7.75% |
| | 6.00% | Preferred | 8/31/2029 | $21.50 | $1.50 | 6.98% |
| | 6.75% | Unsecured Notes | 3/31/2031 | $23.41 | $1.69 | 7.21% |
The issues are ordered by earliest Maturity Date first. The preferreds are somewhat unusual in that they are term preferreds meaning they have a required call date represented here. That helps investors have a bit more certainty in estimating yield-to-maturity. Each of the preferreds pay a monthly dividend while the notes are paid quarterly.
The company has redeemed two term preferreds in the past already. I've heard it said, "History doesn't repeat itself, but it often rhymes." In that regard it may be reasonable to believe these issues will be paid in full. Plus the reality that the company is generating investment income.
If we disregard placement in the capital stack, OXLCN seems the most attractive given it has the highest annual yield and trades at a discount to par value. On the other hand, OXLCL offers even more security in the capital stack with only a slight decrease to the dividend.
Owners of the M, Z, P, and O securities may consider swapping to either the N or L. Swapping to either provides a better annual yield with the only change being duration risk. In particular, swapping from the M, P, and O preferreds to OXLCL will provide not only a better yield but it's also more secure in the capital stack.
The fact that the unsecured note is offering a higher yield than the preferreds may reflect a pricing inefficiency overall. Over time that may be a differential that will be squeezed out through price adjustments.
All of these issues have relatively low dividends. Using the entire universe of preferreds pulled from this screener I calculated the average dividend of 597 different preferreds is 8.96%. So in the world of preferred shares the options at Oxford Lane offer quite a bit lower yield.
One final note about these six securities. A common tactic for OXLC is to raise equity when it is priced above book value. Whenever this happens these securities are actually made more secure by the cash raised.
Concluding Thoughts
I still think that Oxford Lane Capital's common stock is likely not a good investment. But if one is interested in investing in the company they may at least consider the preferreds or notes they have trading as well. These issues are quite illiquid by comparison to the common stock, so keep that in mind if you are interested in building a position.
In a worst-case scenario where loan losses bite into expected returns on the CLO equity positions the company maintains, there is a built-in first line of defense in the form of the common stock dividend. Cutting this dividend would free up a significant amount of cash in relation to the distributions required on the preferreds and notes. That cash could be used for a number of different things to help the company stay alive.
Upon review of the basket of preferreds and notes that Oxford Lane offers we noted OLXCN and OXLCL as standouts amidst the group. OXLCL in particular seems inefficiently priced compared to the preferreds with lower yield. Why pay for a lower place in the capital stack at a lower yield?
For those that find these types of shares interesting, I might suggest you turn to another article I just wrote about two +9% yielding preferred shares from commercial mortgage REIT ACR. Commercial mortgage REITs originate the loans directly that sometimes end up in the CLOs OXLC invests in. And of particular note both ACR preferreds are key holdings of a private fund affiliated with OXLC peer Eagle Credit Company (ECC).
If they are good enough for a CLO investment company, they just might be good enough for you!
---
Microcap Review is a service offering multiple microcap stock picks a month.
We subscribe to the first rule of investing, "Do not lose money," by seeking a discernible margin of safety in investments.
I believe small and microcap stocks, as well as special situations, are the best place to look for value in the markets, as most people overlook these companies, making them more likely to be mis-priced.

Join now to get exclusive research!
This article was written by
Joined the Seeking Alpha team as a Senior Editor in 2023. As part of being an Editor I no longer can write for the site but instead focus on ensuring we curate quality content.
I am a self-taught value investor along the Graham and Dodd line. My first objective is to not lose money. I seek to do this by ensuring any position I enter has a discernible margin of safety. The second thing I aim for is above-average returns.
Always open to questions and dialogue as I believe it only serves to improve us all.

Analyst's Disclosure: I/we have a beneficial long position in the shares of ACR either through stock ownership, options, or other derivatives. I wrote this article myself, and it expresses my own opinions. I am not receiving compensation for it (other than from Seeking Alpha). I have no business relationship with any company whose stock is mentioned in this article.
Seeking Alpha's Disclosure: Past performance is no guarantee of future results. No recommendation or advice is being given as to whether any investment is suitable for a particular investor. Any views or opinions expressed above may not reflect those of Seeking Alpha as a whole. Seeking Alpha is not a licensed securities dealer, broker or US investment adviser or investment bank. Our analysts are third party authors that include both professional investors and individual investors who may not be licensed or certified by any institute or regulatory body.