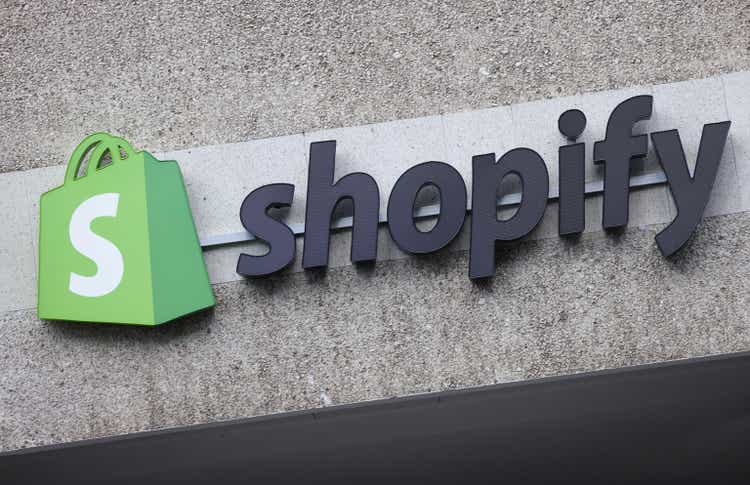 Shopify (NYSE:SHOP) has had its self quite the year. Bottoming out under $25, it looks like the stock might finally have some serious life back. The stock surged over 10% today on the news of a new price plan. The company is set to report year-end results on February 15th, which I am really looking forward to seeing. The stock has been beaten up for several reasons, some within their control, and some not. At the end of the day, it comes down to profitability. I do believe they will be profitable in the next couple of years, and the expected growth rates will return. I remain bullish on Shopify in the long run.
What's This Rally All About?
Shopify has had a pretty good week, up over 16% after Wednesday. This can be attributed to their new pricing plan. This plan screams growth. Shopify has essentially left its pricing as is over the last 12 years. The basic plan, which used to cost $29 a month, now costs $39. The Shopify plan will move up to $105 from $79, and the Advanced plan will jump to $399 from $299. Given how effective Shopify has been and how much has changed over the years, this was well overdue. Current users will not be affected by these changes until April. Shopify now is much more advanced than Shopify 12 years ago. Merchants are getting a much better product, and there haven't really been any price increases to account for one of the best tools in the market.
Is the timing bad given the state of the tech world lately? No, I don't think so. As I said, with respect to bang for buck, it's long overdue. Will they lose some customers? Potentially, but given the increases, it now costs less to replace them. Not to mention, we have seen the competition WIX.com (WIX), and Squarespace (SQSP) increase their pricing with minimal impact on retention. Lead Oppenheimer analyst Ken Wong said:
Shopify is still significantly underpriced relative to enterprise commerce offerings...
All in all, I think this is a great move for Shopify and shareholders should be thrilled with this news, which is what appears to be happening given the sudden surge in share price.
Does This Make Shopify A Buy?
In short, I think so. It's an aggressive move, but that's what you want to see from a company that has seen its share price collapse 85% over the last year. Because Shopify is a growth name by definition, the stock has gotten hammered by slowing growth rates. We had to know this was going to happen in a post-Covid world, though, right? Albeit a perfect storm given the increase in rates, surging inflation, and the return of in-person shopping. Looking below, we can see the absurd growth rates from 2019-2021. The magic number for ideal growth for me is 20%. We will see just how close to 20% we get for the year on February 15th. Looking below, we can see that analysts are currently predicting just under 20%. The good news is that with this boost in pricing, we should easily return to 30%+ growth in 2023 so long as we don't see a mass exodus, which likely won't happen.
Unfortunately, there is always more to the story than revenue. Below is a chart showing Net Income. We can see that it looked like the company would be profitable for the rest of the time. But that's not how it has played out. Part of this can be explained by poor timing concerning to integrating its acquisition of Deliverr in Q3 after taking over the company in July. This also weighed on margins as they dropped to 37.2% from 43.2% just a year prior. I do believe that Deliverr will be great for Shopify long term as they work to merge into a single fulfillment network. As I mentioned, mix in the majority of tech collapsing, high rates, and inflation, and you have a bit of a perfect storm concerning to Shopify having a really bad year.
I do think we have seen the worst of the worst with respect to what will happen with Shopify. I do think that the company will be able to continue to grow. Shopify said in the Q3 earnings call that 2022 was an "investment year". The company is laser-focused on being profitable and working its way back there. In the 7 years since IPO, they have been profitable in 5, which is great. I have a sneaking suspicion that they may even return to profitability in 2023, but if not, I would be stunned if the company was still in the red come 2023. Given the anticipated continued growth in general e-commerce revenue (as shown below), and Shopify owning a huge chunk of that market (well find out just how much on February 15th).
What Does The Price Say?
Shopify is a name I have been watching technically for a couple of weeks. The stock has a solid history of living up to the technical indicators. One of the most significant indicators is the 200-day moving average. Is it perfect? No. But looking below, we can see that there is reason to be excited by the break of the moving average this week.
The stock usually reverses right around the 200-day moving average. The last touch, was just over a year ago before the tech market began to really crumble. We saw the price fall below the moving average and then break back above it. But on the re-test, we collapsed again, and the stock fell 80%.
Does this mean we're about to lift off? No. We need to watch to see what happens over the next few weeks. My current price target on Shopify is $80. Looking below, we can see that there isn't a ton of resistance between where we are and that $80 mark. This would be about a 70% gain from current levels, which is nothing to laugh at. But before we get crazy, we need to have a positive reaction off the 200-day moving average on a re-test and get over $50 and hold over $50.
How am I playing this? I have shares I bought after the split tucked away in a long-term account, but concerning short-mid range management, I am waiting to see if we can get a retest or close over $50. If we do get over $50, my stop will fall just under the 200-day moving average so that I don't get stopped out on tests. As I said, it's not a perfect indicator, but it does look promising for the first time in a long time.
Wrap-Up
As you can see, there is a lot to like about Shopify. While it hasn't been all good news over the last year, it's encouraging to believe that the worst is in the past. I do think the company will return to profitability by 2024. Shopify will continue to win market share and be a strong force in the growing E-commerce world. I am going to be patient with this stock and wait and see what happens over the next couple of weeks with respect to price. But I am actively looking for another entry point. I sleep well at night knowing I have long-term shares tucked away, and you should too. See you all on February 15th!