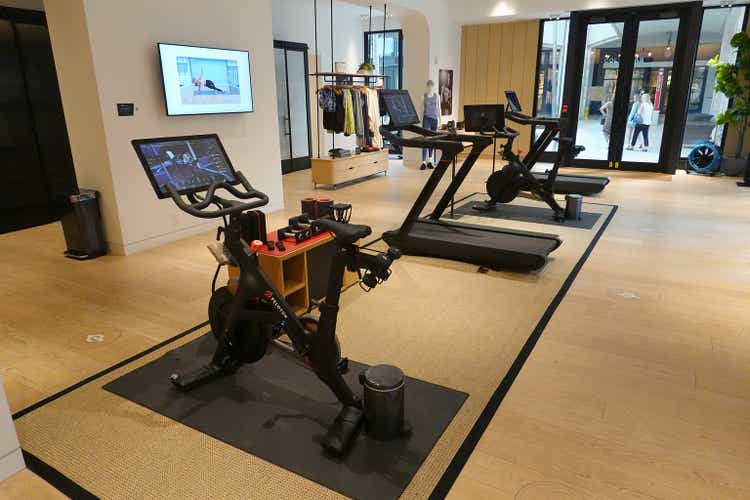 On one side we have Peloton (NASDAQ:PTON), a U.S. company founded in 2012, while on the other side we have Technogym (OTCPK:TCCHF), an Italian company founded in 1983. If you have ever entered a gym, there is a high chance that you have encountered a Technogym product, as it's one of the main providers of gym equipment to fitness clubs, hotels, and offices in Europe and the rest of the world. But if you prefer to train at home, you probably have heard about Peloton and its smart bikes and treadmills that enable their users to virtually access fitness classes and group workouts comfortably from home.
Today we analyze both Peloton and Technogym to determine why Technogym might represent a good investment opportunity, and why Peloton does not.
Business Models
Despite both companies operating in the fitness industry, their business models are very different.
Technogym
Technogym is a leading provider of fitness equipment and solutions, focused on developing and manufacturing high-quality fitness equipment using cutting-edge technologies. The company operates in both the business-to-business (B2B) and business-to-consumer (B2C) segments, catering to the needs of fitness and wellness clubs, hotels, hospitalities, and offices, as well as individual consumers.
The B2B segment accounts for 70% of Technogym's total revenues and is focused on providing gym equipment and solutions to fitness centers and other commercial clients. The B2C segment, on the other hand, develops luxury fitness equipment that combines high-tech functionalities with a focus on design.
In addition to manufacturing gym machines and equipment, Technogym has also developed an ecosystem called Mywellness that caters to 23 thousand of fitness centers and 22 million users worldwide. The cloud-based Mywellness platform is offered to fitness centers to improve customer management and engagement by offering further training programs, live and on-demand classes, and tracking results. These services can be accessed anywhere and anytime by fitness club members using the mywellness app. Additionally, Technogym introduced a separate app called Technogym app that is available to anyone, even without a gym membership, that enables users to access training programs customized by an artificially intelligent coach, as well as on-demand training sessions.
Combining both the sales of equipment and software services, Technogym is able to deliver a total wellness solution to fitness operators all over the world. The company has also been recognized as an official supplier by many relevant institutions and companies such as the Olympic Games, Virgin Active, Marriott Group (MAR), Hilton Group (HLT), Apple (AAPL), Google (GOOG), and Meta (META).
Revenues generated by Technogym are primarily from Europe (58%), Asia Pacific (18%), North America (11%), and the rest of the world. The company's diversified revenue streams and strong partnerships with leading institutions and companies make it a strong player in the fitness industry. As a publicly traded company, investors may want to consider Technogym as a potential investment opportunity in the fitness industry.
Peloton
Peloton is a company that operates in the fitness industry, offering a subscription-based model that allows users to access live streaming and on-demand fitness and wellness courses. The company develops and sells three different types of home gym equipment: bikes, treadmills, and a rowing machine, which are known for their connectivity and features. Each Peloton product comes with a large screen that offers users a wide range of functionalities, including the ability to follow live-streamed workout classes led by professional coaches in various disciplines.
The connected fitness subscription, which is charged on a month-to-month basis, is required to access live and on-demand classes, and it is activated after buying one of Peloton's products. However, it's worth mentioning that even without buying a bike or a treadmill, users can subscribe to the Peloton platform, gaining access to the full catalogue and work out with other brands' equipment, or just follow bootcamps that don't require any gym equipment.
Peloton generates revenue through two main streams: subscription and equipment sales. Revenues generated by subscription account for 39% of total revenues, while the sales of equipment account for 61%. Peloton's subscription-based model and strong emphasis on connectivity and features have proven successful, making it a strong player in the fitness industry. As a publicly traded company, Peloton may be a worthwhile investment opportunity for investors looking to gain exposure to the growing fitness industry.
Growth Drivers
Both companies operate in the fitness industry, but they target different segments of the market. Technogym focuses on the commercial side of fitness, providing high-quality and technologically advanced gym equipment and solutions to fitness centers and other commercial clients. On the other hand, Peloton focuses on the consumer side, offering a subscription-based model that allows users to access live streaming and on-demand fitness and wellness courses through their home gym equipment.
In terms of investment priorities, Technogym's key growth drivers are the investments made in research and development (R&D) to continue developing and improving its products. Peloton, on the other hand, focuses on its platform and content offering, investing to enrich and improve its streaming platform. This means that customers who choose Technogym do so knowing they will get high-tech and high-quality products, while customers who choose Peloton do so for the unique platform they offer.
To calculate the expected growth rates of the two companies, we can look at how much and how well they have invested in their growth drivers. For Technogym, the growth drivers are R&D expenses and capital expenditure, which are necessary to sustain the development of new equipment. For Peloton, the main growth driver is content expenses, which are needed to enrich its streaming platform.
We can compute the expected growth rate using the reinvestment margin, which shows what percentage of revenues has been reinvested into the company, and the sales-to-invested capital ratio, which shows how well the company is able to reinvest its resources for future growth. Multiplying these two values, we obtain the median expected growth rate, which is equal to 10.5% for Technogym and 26.3% for Peloton.
When analyzing the financial performance of Peloton, it's important to consider the cost of content as the primary growth driver. This is because, as the company has reported, the connected fitness subscription segment is where the value lies. Peloton's management has stated that they will outsource all manufacturing processes in order to reduce costs and allocate resources where the true value is - the delivery of live and on-demand content under subscription.
By focusing on its subscription-based model, Peloton has the potential to generate a sustainable revenue stream from its monthly subscriptions, while cutting significant fixed costs. This business model is similar to that of a streaming service like Netflix (NFLX). We can think of Peloton as the Netflix of fitness content as we will see while projecting its future performances.
Operating Performance
From 2013 to 2021, Technogym's revenues grew at a compound annual growth rate (GAR) of 5.1%, reaching €611 million. The company has maintained a median operating margin of 15.6% and a median return on invested capital (ROIC) of 34.2% over the last five years. This has led to a strong growth in free cash flow from (FCFF) €11 million in 2013 to €74 million in 2021, with a CAGR of 26%. In the last six months, Technogym has seen a 17% increase in revenues and a stable operating margin, resulting in a 10% year-over-year increase in operating income.
On the other hand, Peloton has seen a significant increase in revenues from $218 million in 2017 to $3.58 billion in 2022, at a CAGR of 74.9%. However, the company has yet to become profitable due to the high costs associated with producing its equipment and content. After the pandemic effect, revenues generated by the sales of equipment started to decline considerably, badly affecting its operating performance. Despite this, the subscription segment has seen positive gross margins and has been able to maintain its momentum.
Technogym has a negative cash position of -€39 million, but has a strong current ratio of 1.36, a moderate debt-to-equity ratio of 0.35, and a healthy interest coverage ratio of 75. This indicates that the company has the ability to meet its short-term financial obligations and has a moderate level of debt.
Peloton has a negative cash position of -$1.1 billion and a current ratio of 2.38. However, the company has a high debt-to-equity ratio of 4, indicating that the value of its debt is four times greater than the equity value. The interest expenses are manageable, at $43 million, but the company has been diluting the value of its shares by increasing the number of shares outstanding from 220 million in 2019 to 340 million as of today. This is a sign that the company has been issuing new shares to raise additional capital, which can have a negative impact on the value of existing shares.
Projections
I use a discounted cash flow analysis method to value NetEase. The aim of a DCF analysis is to determine the present value of expected cash flows generated by the company in the future. The first step is to project the growth rate at which revenues will grow in the future. Secondly, we will need to assume the degree of efficiency and profitability at which the company will turn revenues into cash flows.
Efficiency is represented by the operating margin, and profitability by the ROIC. Having the revenue projections and future operating margins, we obtain the EBIT and, after subtracting taxes, we get the net operating profit after taxes. The ROIC is used to determine the reinvestments needed to support future growth, determining how much profit the company generates from every dollar reinvested into the company. Future cash flows are calculated by subtracting the reinvestments from the net operating profit after taxes. The higher the growth rate, the higher the reinvestments needed to support it, hence the lower future cash flows will be.
The last step of a DCF analysis is to apply the discount rate to future cash flows, usually calculated using the weighted average cost of capital (WACC).
Now, trying to project the future performances of the two companies, starting with Technogym we can assume its 2022 revenues to grow at 10.5%, the expected growth rate calculated before based on how much and how well they reinvested in growth drivers, and then let the growth rates to decline slowly as the company reach maturity by 2031. Therefore revenues are expected to be around €1 billion by 2031 growing at a CAGR of 6% in 10 years.
With regard to its efficiency and profitability, assuming they will keep investing at the same rate as in the past, we can expect both the operating margin and the ROIC to remain equal to its median value by 2031, respectively 15% and 34%. With these assumptions, FCFF are expected to be equal to €110 million by 2031.
Projecting Peloton's future performance we can use the same approach using the expected growth rate of 26.3% calculated before, and let it slowly decline as the company reaches its steady state. Revenues can be expected to triple in ten years, from $3.5 billion in 2022 to around $10.5 billion by 2032, growing at a CAGR of 11.6%.
But high growth rates come always at a cost, we can expect Peloton to struggle to turn profitable in the coming years and assume that only in four to five years its investment starts to pay off. As regards its operating margin and ROIC by the time Peloton reaches maturity, as said at the beginning, we can think of Peloton as the Netflix of fitness content and use Netflix's median operating margin and ROIC as a proxy to forecast Peloton ones. So, by 2032, we can assume Peloton to have an operating margin of around 13% and a ROIC of around 14%. With that said FCFF are expected to remain negative for many years to come, then turn positive and sit at around $780 million by 2032.
Applying a discount rate of 7.57% for Technogym and 7.82% for Peloton, calculated using the WACC, we can derive the present value of their FCFF equal to €1.6 billion, or €8 per share, for Technogym and $3.3 billion, or $9.8 per share, for Peloton.
Conclusion
In the current market, given my assumptions, Technogym appears to be trading at fair value, in comparison to its stock price. Meanwhile, Peloton is still overvalued when compared to its current stock price.
Upon analysis, it becomes clear that Technogym is a more stable company, with consistent and modest revenue growth, and a business model that has proven to generate strong cash flow for its shareholders, thanks to the company's well-established brand. While Technogym might not experience significant growth in valuations in the near future, its strong fundamentals suggest sustained success in the long term, making it a good investment opportunity.
On the other hand, Peloton's disruptive business model is projected to drive strong growth in the future. However, growth alone does not necessarily indicate a strong investment opportunity. Currently, Peloton's business model, characterized by heavy spending on content and high costs associated with producing gym equipment, does not bode well for profitability in the near future. Additionally, the company's substantial debt further increases the risk for investors. Hence, in my opinion, Peloton is not a good stock to buy.
In conclusion, while Technogym's steady performance and strong brand make it a good investment opportunity, Peloton's high risk and lack of profitability make it a less attractive option for investors at this time.
Editor's Note: This article discusses one or more securities that do not trade on a major U.S. exchange. Please be aware of the risks associated with these stocks.