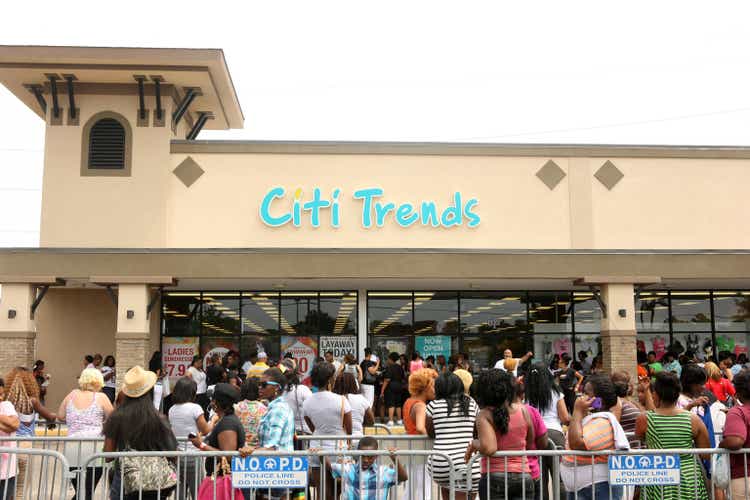 Citi Trends, Inc. (NASDAQ:CTRN) is a specialty value retailer targeted at customers with an annual household income of about $40,000 and lower. It has been expanding its footprint since last year with a three-year goal of growing by 100 new stores and remodeling at least 150 stores. Year to date, the business has opened twelve stores, remodeled 35 and closed six stores. If we look at the stock trend across the last ten years, we see that end of 2020 to the beginning of 2022 is a significant outlier in the stock price's historical trend, which is around the $25 mark.
What's important to realize is that CTRN is a fundamentally stronger company than before 2019. It has invested in an ERP solution and is focused on remodeling and broadening its product selection to attract a larger audience. Although we're cautious of strong economic headwinds decreasing YoY growth, the increased debt intake, negative TTM cash flow and high short interest in the stock, the business is showing strength by cutting down costs while maintaining a growth strategy, improving gross profit margins and maintaining stable inventory levels. Therefore investors may want to take a bullish stance on this stock.
Overview
CTRN is a value clothing retailer founded in 1946 and operates 615 stores across 33 states. The stores are located in urban, suburban and rural areas, and trends are aimed at urban, lower-income customers. Below we'll be able to see a description of the company's six business segments. Total sales for FY2021 was $991.60 million, of which ladies were the largest segment at 26% of total sales in FY2021, followed by Kids at 22%. Accessories & Beauty was the fastest growing sector with a YoY growth of 42.42%.
Future growth and further business scaling will be done by providing a more comprehensive range of offerings in ladies, kids and men segments. Secondly, change will be through CTRN's new ERP system, which brings in business intelligence on trends, replenishments, planning and project management. Thirdly, CTRN has a remodeling project underway, closing down loss-making stores, remodeling existing stores and adding new stores.
Financials
CTRN recently reported that its holiday season went according to expectations, considering the inflationary pressures and a drop in consumer purchasing. Although CTRN has yet to release its Q4 quarterly results, it announced that total sales for the nine-weeks ending December 31, 2022, were $171.9 million, a decrease YoY of 16.1%; however, it increased from the same period in 2019 by 0.8%. The company had a successful 'Big gift and spent less holiday' promotion. The gross profit margin has also improved since 2019, with a TTM of 39.38%. The business expects it to remain in the high 30s by this financial year's end. The net income has been upward trending for the last two years. The company reported a net income of $62.2 million and is currently at a TTM of $62.1 million.
The business produced a negative $3.59 million in cash from operations and has a negative TTM cash flow of $18.38 million. Including the last financial year and not taking COVID-19 into the picture, the business reported trending annual positive cash flow for many consecutive years upward. We want to see this positive, to give us confidence that the company has enough cash to reinvest, pay off expenses and give back to investors.

On the balance sheet, the company has total cash of $77.77 million and more than three times the total debt level of $270.72 million. Before FY 2018, it had zero debt. This has been increasing annually due to COVID-19 and expansion efforts. The company has good liquidity if we consider its current ratio of 1.34. However, the quick ratio is well below one at 0.47, indicating that it has insufficient liquid assets if it were to have to pay off short-term liabilities. The inventory level is $128.5 million, which is less than its inventory levels before FY 2019. For this financial year-end, the management expects the cash balance to be between $95 million to $105 million.
If we consider Seeking Alpha's Quant Valuation system, we see an attractive A- grade and an FWD price-to-earnings ratio of 4.06, which is well below the consumer discretionary sector. Looking at the Factor grades across six months, we see that growth has improved from a C- to an A+. Although the company has declined in sales YoY, it has increased its working capital and has an EPS FWD long-term growth of 25.45%. We can see that price to sales ratio is well below one at 0.31, indicating that investors are paying well under a dollar for every dollar earned.
Final thoughts
We are amidst a weaker recessionary environment in which consumers are cutting down on their spending, and inflation is still high, impacting costs and cutting into gross profit margins. CTRN's customers are most affected by the rising costs due to the low annual household income. However, CTRN fulfils many 'essential' shopping moments, such as back-to-school and work wear, and remains one of the more affordable options if people want or need items. This way, it targets a newer, higher-income audience looking for cheaper alternatives. The business has invested in many initiatives to increase its effectiveness and efficiencies and to tap into opportunities quickly. With many more stores to open and a broader range of products to be sold, I believe there could be a lot more long-term upside potential and recommend a bullish stance.