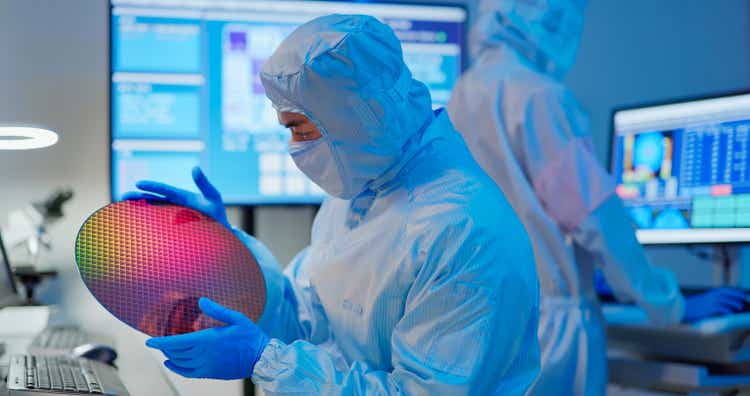 Introduction
Semiconductor, today, is often viewed as the oil of the 21st century as it is the building block of all technological innovation. Semiconductors not only enable electronics to function, but it allows impending technological innovations such as electric cars, data centers, artificial intelligence, etc. As such, semiconductor market growth is expected to be persistently strong throughout the current decade. However, since the pandemic-induced demand, 2022 has been a brutal year for the semiconductor market. Many companies saw revenue decelerate significantly as the consumers pulled back on spending. Today, in early 2023, the semiconductor market continues to be grim; however, the market is starting to see very early signs of a long road to recovery. Thus, given the current situation. I believe Lam Research (NASDAQ:LRCX) is an optimal buy. The company has strong financials, valuations, and a competitive product portfolio to benefit from the changing macroeconomic trend from a headwind to a tailwind. Therefore, I am bullish on Lam Research.
Market
While the semiconductor market has been and continues to see a downturn, I believe the market will start to turn around in the coming months, and because the stock market attempts to respond at least six months ahead, now may be a great time to add to Lam Research as the rebound in semiconductor market will be highly correlated to higher ASP and demand for Lam Research as it was seen during the pandemic times.
The semiconductor market is starting to see early signs of a potential recovery in the market. As the picture below shows, memory market demand is responsible for about 52% of Lam Research's total revenues, and after the memory chip market fell about 18% in 2022, the market is starting to see early signs of a turnaround. Seagate Technology (STX) is a data storage company, which is one of the indicators for a memory market demand, and according to the company's latest earnings report on January 25th, Seagate technology is expecting the quarter ending on March 31st to report revenue of about $2 billion. The guidance signals that the quarter-over-quarter sequential decline is coming to an end as the previous three quarters saw revenue of $1.89, $2.04, and $2.63 billion (latest on left). Further, Intel reported its earnings report on January 26th. The company's Q4 results and Q1 guidance were low, but the management has said that the depressed revenue was mostly correlated to the customer's "significant inventory burn...not necessarily a reflection of demand in the market." It is true that one of Lam Research's customers is experiencing a contraction, but I found customer inventory burn as positive as I believe that the inventory burn is one of the last phases before the industry reaches the bottom and starts to recover. Finally, consumers are starting to become more positive in the economy. As the chart below shows, both the consumer sentiment data and future inflation expectation data are trending in a positive direction (upward for consumer sentiment and downward for inflation expectations), which signals that consumer spending will likely be persistent throughout 2023 helping lift up the demand.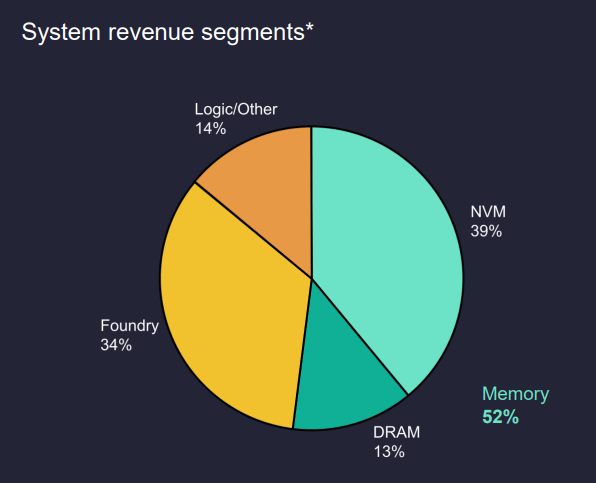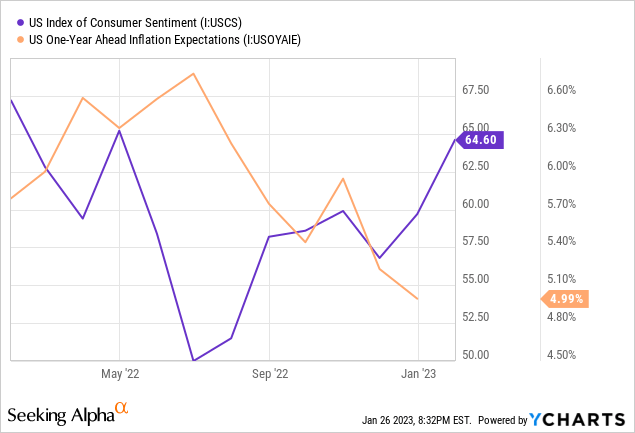 [Chart created by author using YCharts]
It may still be too early to call out a recovery, but I believe that these early signs of the semiconductor market recovery are meaningful. Stock market often attempts to react months before the actual recovery starts; thus, as the industry is reaching for the bottom in the coming months, investors may profit from pouncing on the opportunity early.
Competitive Product
Lam Research has competitive products to fully capitalize on the growth in semiconductor fabrication demand recovery.
There are arguably 6-8 major steps to semiconductor manufacturing, and Lam Research's product is critical to make to about 3 of these steps a reality. Lam Research has leadership in the etching process where selective films and materials that are on the wafer are removed, the cleansing process where impurities are removed in between steps, and the deposition process where layers of insulating and metal conducting materials are built.
On top of operating in a critical process of the semiconductor manufacturing process, Lam Research operates with a strong moat and a limited number of competitors. Semiconductor equipment manufacturing is an industry that has high barrier to entry as the semiconductor fabrication plant is largely operated by only select few companies around the world, and once these firms start using certain equipment from a certain company, they will likely stick to these products to not disrupt the quality of the sensitive production processes. Thus, there are only about five major equipment manufacturer including Lam Research, which will likely allow Lam Research to continue its growth along with the market.
Valuation and Financials
Lam Research boasts strong balance sheet. The company has about $4.5 billion in cash and short-term investments which can almost cover the company's entire long-term debt of about $5 billion. Further, the company's total assets stand at about $19.2 billion with total liability at about $10.9 billion bringing its total asset to liability ratio at a healthy ratio of about 56.77%. Finally, with the company's net income in the latest quarter of about $4.7 billion, I believe it is reasonable to argue that Lam Research has a strong and stable balance sheet. In terms of valuations, Lam Research's current valuation is in-line with the company's historical valuation multiples. The company currently has a valuation multiple of about 14.2, which is around the midpoint of the company's historical valuation multiples.
Risk to Thesis
Being early is not far from being wrong in the stock market. Time is one of the most valuable assets, and if my bullish thesis regarding Lam Research happens to be premature, investors may have to endure a momentary downturn in the stock price before the semiconductor industry and the stock market recovers. This may be especially true looking at Lam Research's most recent earnings report transcript. The company's guidance for the 2023Q1 quarter suggests that Lam Research will see a revenue contraction on a year-over-year basis. Although this information is the result of a "reduction in deferred revenue in the March quarter," it is true that the management is also seeing a "lower business volume." Therefore, if the potentially impending global recession is worse than expected impacting the semiconductor demand, semiconductor manufacturers could start cutting CAPEX at a meaningful level affecting Lam Research negatively. As the economy is at a volatile and rather hard to predict state, the possibility of an overall economic recovery may be pushed back.
Another potential risk that investors should look at is Intel's decision to change its method of accounting depreciation. Instead of reporting the useful life cycle of certain machines and equipment as five years, Intel is increasing them to eight years. If this is a trend in the industry where the useful life of equipment is increasing, Lam Research's long-term demand may be negatively affected. I view this as a possibility because the rate of achieving the production of smaller semiconductor node has been slowing as it gets increasingly difficult. Without fast pace of innovation, a persistent demand for the newest equipment may slow, but as the information just came out, it is hard to gauge the potential impact of this change. Investors should also keep in mind that Intel may be pushing this change as a result of the company's poor performance to create a perception that the downturn the company is experiencing is limited.
However, global demand, in the big picture, in my opinion, is expected to be strong with a rebound in demand starting toward the end of 2023. Samsung (OTCPK:SSNLF), for example, did not announce any CAPEX cuts despite a slowing in demand while Intel continues to be committed to building out fabrication plants in the U.S. and Europe. Further, TSMC (TSM) is expanding its footprint to the U.S. and potentially Japan and Europe. I believe this reflects the long-term increasing demand for semiconductors as the world becomes more and more digitalized. In fact, according to the Fortune Business Insights, the semiconductor market is expected to see a 12.2% growth CAGR through 2029. Therefore, despite the risks of being early to the industry recovery, I believe trading Lam Research could be profitable in the long-term.
Summary
Lam Research is a well-established company in the wafer equipment manufacturing industry. The company provides necessary value to the fabrication plants while operating in a high barrier to entry market with limited number of customers. As such, with the potential sign of recovering semiconductor market, investors may want to consider buying into Lam Research. Consumer sentiment is rebounding and customer inventory is starting to show signs of declining, and because the stock market often attempts to react to the recovery months before it actually happens, now may be the optimal time to buy Lam Research.