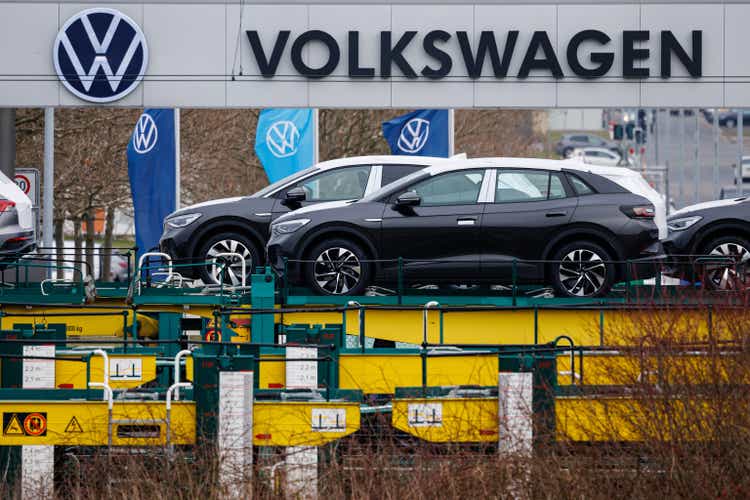 Investment Thesis
Volkswagen's (OTCPK:VWAGY) EVs are gaining popularity worldwide. EV deliveries for 2022 increased by 26% to 572,100 units. The company's strong brand image, financial strength, operational performance, and well-structured strategic plan for electrification should help it grow in the long term. Volkswagen stock corrected 46% in 2022 giving investors a good price point to enter.
Business
German auto maker Volkswagen operates under two divisions: Automotive and Financial Services. The automotive division handles the manufacturing and marketing of motorcycles, trucks, buses, passenger cars, and commercial vehicles. The Financial Services division, on the other hand, looks after fleet management, customer-dealer financing, and vehicle leasing services. The company currently has 72 vehicle plants with 668,000 employees working worldwide.
Stock Performance
The U.S. stock markets were overshadowed by investors' concerns about rising interest rates in the face of higher inflation. The crisis between Russia and Ukraine aggravated inflation as commodities and energy costs climbed. Additionally, higher raw material costs forced automakers to sell vehicles at a higher price point. This put downward pressure on demand. As a result, all the major automobile stocks were down in 2022. Tesla's (TSLA) stock price was most affected based on controversies going around Elon Musk post Twitter buyout, as well as valuation concerns about the stock. On the other hand, Volkswagen's stock price was down by 46.4% during the year. The stock price of its German rival BMW (OTCPK:BMWYY) didn't decline as much.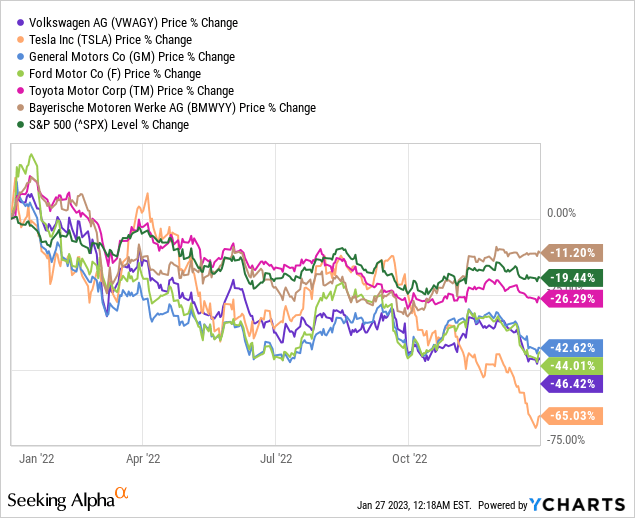 Financial Performance
Volkswagen Group produced revenue of €203 billion in the first three quarters of 2022, a significant increase over the same period last year. Despite improved pricing, favorable mix and exchange rate impacts, and the Financial Services Division's strong business results, vehicle availability remained constrained as a result of component supply bottlenecks. The group produced 82.6% of its sales revenue abroad. From January to September 2022, its profits before taxes rose by €2.7 billion to €17.0 billion. After taxes, earnings increased by €1.4 billion annually to reach €12.8 billion.
Volkswagen Group is growing steadily with good profit margins. The company is able to maintain its margins even during difficult times. The year 2020 was a tough year for Volkswagen as deliveries fell drastically (16%). Despite these challenges, the company was able to recover strongly.
The company continues to invest in R&D to bring new technology to the market. Capex as a % of sales has declined over time. Inventory turnover has improved and is above pre-Covid levels. CFO as a % of sales is also increasing year-on-year, which is a positive sign.
Deliveries
In 2020, when the entire world went into lockdown, Volkswagen, Toyota (TM), and Ford (F) deliveries were affected the most. Although Toyota vehicle deliveries fell drastically during Covid, they recovered strongly in 2021. Mercedes (OTCPK:MBGAF) and BMW, which cater to the premium segment of the car market, were not affected significantly. Tesla delivery numbers were affected but remained positive and way higher compared to its peers.
VW Region-Wise Delivery Breakdown
| | | | | |
| --- | --- | --- | --- | --- |
| Deliveries (in '000) | 2019 | 2020 | 2021 | 2022 |
| Europe | 4550 | 3616.9 | 3518.7 | 3153.2 |
| North America | 951.5 | 785.8 | 908.4 | 842.6 |
| South America | 608.6 | 489.7 | 514.6 | 473.7 |
| Asia Pacific | 4533.7 | 4122.2 | 3610.6 | 3514 |
| Middle East/Africa | 331.6 | 290.7 | 329.6 | 279.3 |
| Total | 10975.4 | 9305.3 | 8881.9 | 8262.8 |
In 2022, Volkswagen's deliveries in Europe fell by 10.4% to 3,153,200 vehicles, whereas BEV deliveries were up by 13.4% to 352,000 units. Deliveries in North America and South America fell by 7.2% and 8%, respectively in 2022. Asia-Pacific region saw the smallest change among the major regions with a 2.7% decline in deliveries.
Semiconductor shortage, Covid-19, and Russia Ukraine conflict impacted deliveries in H1 2022. Volkswagen's delivery numbers recovered in the second half of 2022, with a significant increase in deliveries in China.
Electric Vehicles
As customers shift their interest toward sustainability, EVs have gained popularity all over the world. According to Deloitte, the transition to EV is happening at a very different pace in different markets. The transition to BEV in China is much faster than in other countries. Transition in Germany is much faster compared to the U.S., Japan, and South Asian markets. This gives Volkswagen lots of opportunities to grow in future.
Volkswagen's global EV deliveries stood at 452,900 for 2021, up 96% compared to the previous year. Volkswagen's electric-vehicle deliveries for 2022 increased by 26% to 572,100 units.
Tesla's electric vehicle delivery numbers are way ahead of Volkswagen and other automakers. Still, Volkswagen's EVs are gaining popularity worldwide.
The Group's most successful all-electric vehicles include the ID.3 and ID.4 from the Volkswagen Passenger Cars brand, the Audi e-Tron and Audi Q4 e-Tron, the SKODA Enyaq iV, the CUPRA Born, and the Porsche Taycan and Taycan Cross Turismo.
The introduction of ID series will play a crucial role in beating Tesla in the EV race as this model provides similar EPA as compared to the standard Model 3 at a much lower price point. By 2030, Volkswagen plans to increase the proportion of its EV portfolio to 50%. Volkswagen Aero, PO eMacan, VW ID.Life, VW Trinity will be an important part of its EV portfolio going forward.
Volkswagen's Chip Strategy
Volkswagen's software unit Cariad invested more than $2 billion to acquire 60% stake in Chinese Technology firm Horizon Robotics. This partnership will focus on developing technology that will integrate various functions for autonomous driving into a single chip. This chip will be available only in China.
The company plans to have suppliers in main regions like North America, Europe, and China. It has already partnered with U.S. chipmaker Qualcomm (QCOM) and Franco-Italian STMicrolectronics (STM) for developing semiconductors and automated driving technology. PowerCo and Unicore have created joint ventures for the manufacturing of battery materials in the European region.
Valuation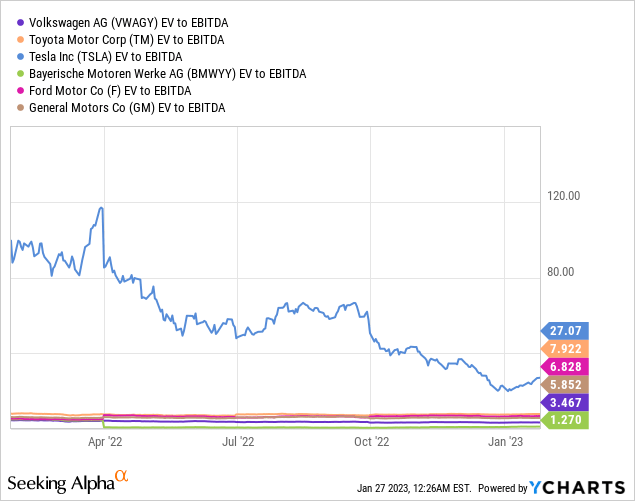 Based on EV/EBITDA ratio, Volkswagen stock looks reasonably valued as compared to its peers.
Seeking Alpha's proprietary Quant Ratings rate Volkswagen stock as "hold." The stock is rated high on valuation, profitability, and revisions factors but low on growth and momentum factors.
Outlook and Conclusion
Volkswagen's management remains optimistic about the future as the shortage of intermediates and commodity becomes less intense. Russia's conflict with Ukraine has created an environment of uncertainty. As Russia has cut its gas supply to Europe, the continent is currently going through a major gas crisis. The geopolitical situation may continue to impact energy supply and, in turn, the supply of other critical material and components. Furthermore, inflation rates could reduce purchasing power, adversely affect consumer behavior, and put pressure on deliveries going forward.
Volkswagen expects the year 2023 to be more challenging than 2022 as inflation and uncertain economic conditions might affect demand for its vehicles. The company will have to improve productivity and reduce its fixed cost in order to tackle headwinds. The stock corrected 46% in 2022 giving investors a good price point to enter. The company's strong brand image, financial strength, operational performance, and well-structured strategic plan for electrification should help it grow in the long term.
Editor's Note: This article discusses one or more securities that do not trade on a major U.S. exchange. Please be aware of the risks associated with these stocks.