Ford Motor (NYSE:F) makes for one of the great feel-good stories of the past five years. Alan Mulally came in and saved the company, turning around the giant sinking ship. Now, with the shares up 1,100% off the 2008 lows, the stock has come to a grinding halt. Over the last two months, Ford has been flat, while the S&P500 has surged 7.5%. Why the underperformance? Well, a lack of new positive catalysts and a bunch of new worries for the company - all in the last six months.
The most glaring concern right now is the rising gas prices in 2012. Gas prices nationwide are surging, with the national average above $3.89/gallon. This creates two major problems for Ford Motor. The US economy may not be able to sustain its already tepid economic growth, slipping back into a recession, and there is a huge incentive for consumers to buy smaller, fuel-efficient cars, rather than the gas-guzzling SUVs and trucks that hurt Ford's profits.
Another huge concern for Ford is that multiple news sources over the last four months have been rumoring that CEO Alan Mulally will be retiring. This will continue to be a hangover on Ford's stock until it actually happens. Mulally is one of the greatest CEO's in Corporate America, and losing his leadership will be a big loss for Ford, especially since the CFO, Lewis Booth, also announced his retirement on February 9, 2012. A loss of both of these men, who were integral to the turnaround of Ford Motors, will overshadow the stock until new management comes in and proves its competency.
Finally, Europe's debt crisis could continue to trip Ford in 2012 and 2013. The credit crisis could have a detrimental impact on car sales if credit freezes up later this year. Ford derived 41% of its sales internationally in 2011, with over 26% of total sales coming from Europe. Ford had a disappointing 2011 internationally, showing a loss in both its Europe and Asia Pacific/Africa divisions.
Due to woes in Europe and elsewhere for Ford, earnings estimates for 2012 have slowly been lowered by analysts, who now expect Ford to earn $1.47 in 2012. Shares trade at a cheap 8.5x estimated earnings; however, this isn't a reason to buy shares until the overhang of two of the three problems are resolved.
U.S. car sales continue to be quite robust, and the 1.6% dividend yield will help put a floor underneath the shares of Ford. However, there are no new catalysts that will drive Ford in 2012. Until a catalyst becomes clear, or the worries subside, Ford will continue to lag the overall market. Shares are not a buy or a short right now, but rather a hold or stay-on-the-sidelines and invest your money elsewhere.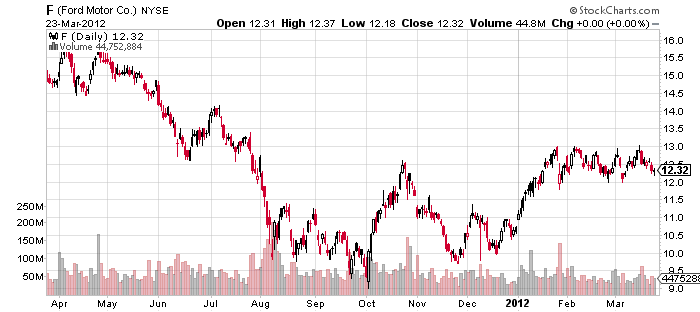 Disclosure: I have no positions in any stocks mentioned, and no plans to initiate any positions within the next 72 hours.