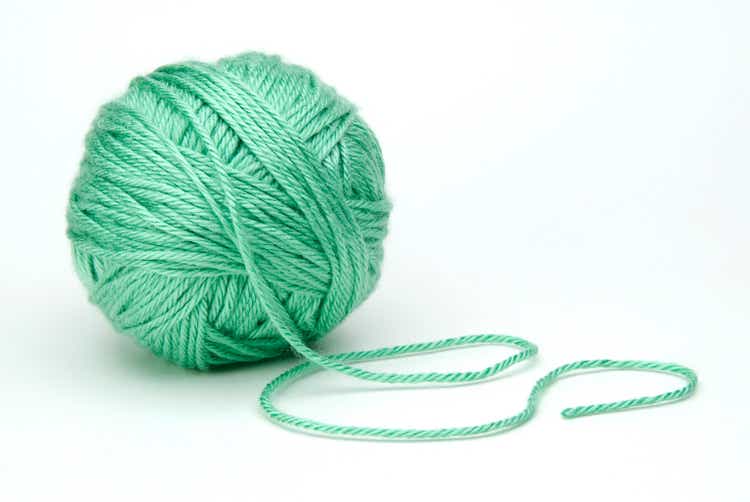 Cassava Sciences (NASDAQ:SAVA) recently released results for its open label extension trial for simufilam, which it proclaimed as positive. Some investors, though, were unimpressed. Part of the dour reaction was that the percentage of people who improved while on simufilam kept going down: from 68 percent for the first fifty patients to 47 percent in approximately 200 patients. The point change in response was even more dramatic. The first 50 patients improved by 3.2 points as measured by the Alzheimer's Disease Assessment Scale-Cognitive (ADAS-Cog), the second group of 50 patients declined by .2 points, and the last 100 patients declined by 2.5 points (press release one, press release two). It appears that Cassava Sciences segregated patients by degree of cognitive decline, starting with those with the least decline and ending with those with the most decline (from a mean baseline ADAS-Cog score of 15 to a mean baseline score of 25.7). This allowed the company to declare early on that simufilam had impressively improved cognition in patients with Alzheimer's disease.
Cassava Sciences tried to minimize the small decline in the second group of 50 patients by averaging it with the results from the 50 patients (a 1.5 improvement versus a .2 point decline). When Cassava Sciences released the results for all 200 patients, it tried to explain the decline in those with the highest ADAS-Cog scores (the higher the score the more the impairment) by arguing that those with moderate Alzheimer's disease declined on the drug but those who had mild Alzheimer's disease still improved substantially. Cassava Sciences noted that the mean improvement in the "mild group" was from an ADAS-Cog of 15 to 12.6 whereas the mean decline in the "moderate group" was from 25.7 to 30.1.
The following conversion scale between the Mini-Mental State Examination (MMSE) and ADAS-Cog, and the following staging categories call into question Cassava Science characterization of mild and moderate groups, however.
Mild Cognitive Impairment
MMSE 24-26
ADAS-Cog 13-18
Mild Alzheimer's Disease
MMSE 20-24
ADAS-Cog 19-37
To cut Cassava Sciences a bit of slack, they expanded the definition of mild Alzheimer's disease to include those with mild cognitive impairment likely due to early Alzheimer's disease (MMSE 24-26, ADAS-cog 13-18). Nevertheless, almost all the patients who declined in Cassava Sciences trial had mild rather than moderate Alzheimer's disease (average baseline ADAS-Cog of 25.7). And most of those who improved had mild cognitive impairment rather than mild Alzheimer's disease (average baseline ADAS-Cog of 15).
The following percentage and point changes probably reflect this same division.
47 percent of those on simufilam improved by an average of 4.7 points, 23 worsened by an average of 2.5 points, and 30 percent worsened by an undisclosed amount. A 2.5 decline is similar to the decline one would expect with those on a placebo taking Aricept for mild Alzheimer's disease. Most of the 47 percent who improved likely had mild cognitive impairment and most of the 53 who worsened likely had mild Alzheimer's disease.
Biotech writer Adam Feuerstein pronounced his judgment regarding simufilam in this glaring headline in Stat (article):
New results show Cassava's Alzheimer's drug has placebo-like efficacy"
This does appears to be the case except perhaps for those with very mild Alzheimer's disease (a .2 point decline?). However, simufilam does appear to lead to improvements in those with mild cognitive impairment. The question, though, is how long are these improvements sustained or put another way how long does simufilam stall the progression from mild cognitive impairment to Alzheimer's disease (if at all). This is a difficult question to answer, first because not everyone with mild cognitive impairment even those with considerable amounts of amyloid progress to Alzheimer's disease, second because ADAS-Cog scores are not very reliable in individuals with mild cognitive impairment, and third it can take several years to progress from mild cognitive impairment to Alzheimer's disease. Probably the best hope for simufilam is that it buys someone with mild cognitive impairment an extra year or two, but again this would be very difficult to establish.
My hold recommendation despite my deep skepticism about this company's management, science, and results is based on the following. Most of those who were understandably skittish about the results have sold. Cassava Sciences has a loyal base of investors who are not about to sell the stock. The 18 month cognitive maintenance study may look better than the open label extension trial if it includes fewer people with mild Alzheimer's disease. The company will put the best face it can on the phase 3 trial results. But in the end none of this may be enough to gain FDA approval for a drug which while it appears safe, does not appear to help most of those with Alzheimer's disease (although the FDA has already granted accelerated approved to Biogen (BIIB) and Eisai's (OTCPK:ESALY) Aduhelm and Leqembi which are far more dangerous than simufilam and which have almost no benefit to non-carriers and only modestly slow down the disease in ApoE4 carriers very mild Alzheimer's disease). The FDA's favorable treatment of Eisai and Biogen is far from a guarantee, though, that it will also in a couple of years grant approval to simufilam. There may also be better treatments for mild Alzheimer's disease in the next two years. Until all of this is sorted out, Cassava Sciences seems locked into a fairly narrow price range, that no amount of effort by shorts or by supporters is likely to budge.