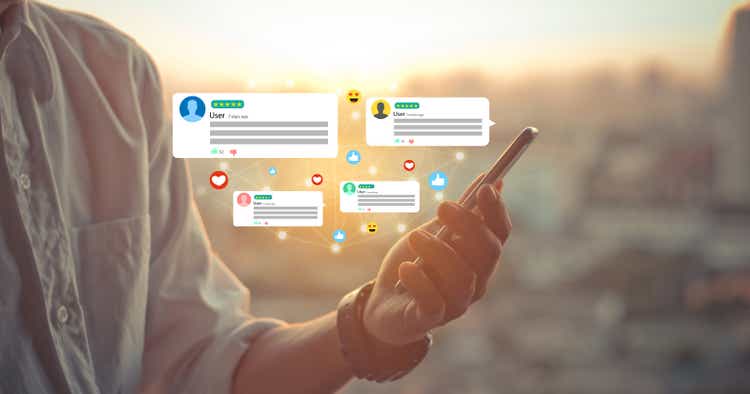 Amid Shopify's (NYSE:SHOP) success, Amazon (NASDAQ:AMZN) has been persistently striving to monetize Shopify's merchant base through regular advancements in its 'Buy with Prime' program. It extends access to Amazon's various e-commerce functionalities, such as Prime shipping and Amazon advertising solutions, to independent digital merchants. Amazon's latest move allows 'Buy with Prime' users to show Amazon customer reviews on their web stores. Online reviews indeed play a vital role in shoppers' purchase decisions, augmenting the appeal of 'Buy with Prime', but Shopify is well-positioned to fight back.
Amazon extends 'Buy with Prime' to include customer reviews
Amazon's 'Buy with Prime' has been a key competitive strategy to counter the rising trend of digital merchants opting to launch their own e-commerce websites, as opposed to listing on the Amazon marketplace. The program extends various e-commerce capabilities to independent digital merchants, including its industry-leading Prime fulfillment capabilities and lucrative advertising solutions, enabling the e-commerce giant to monetize non-Amazon sellers. The program also entails access to Amazon's vast Prime membership base, as these members can benefit from Prime perks (like free-shipping) while shopping on external e-commerce websites that participate in the program. 'Buy with Prime' indeed poses a notable threat to Shopify's ability to monetise its sellers, as 74% of Shopify merchants surveyed by UBS are considering to join the program once it becomes available to them.
Furthermore, Amazon recently announced that it will now enable 'Buy with Prime' merchants to display 'Amazon customer reviews' for 'Buy with Prime' products listed on their own websites. Customer reviews are playing an increasingly important role in online shoppers' purchase decisions. Reliable online reviews are essential in augmenting brand trust among online shoppers, and good reviews indeed play a key role in driving sales conversion rates higher. Customer reviews are a prominent part of the Amazon shopping journey, and extending this feature to the e-commerce websites enrolled in 'Buy with Prime' enables these digital merchants to enhance visitors' shopping experiences, and conceivably drive sales conversions higher.
Amazon could benefit from both sides of the coin through this strategy. If the external merchant receives positive reviews, it will improve sales conversions, resulting in more commission fees for the e-commerce giant, through the use of Amazon fulfillment services and Amazon Pay, to facilitate purchases made by Prime members. Even if the purchases are made by non-Prime members, higher sales conversions as a result of positive Amazon customer reviews would augment the value proposition of 'Buy with Prime' among these merchants, making them more likely to stick to the program. On the other hand, if the merchant receives negative reviews that hinder visitors from making a purchase, the presence of Amazon customer reviews, alongside Amazon's 'Buy with Prime' badges, keeps the Amazon marketplace top of mind among those web visitors with high shopping intent, conducive to them visiting Amazon.com to look for similar products. Shoppers often like to compare and contrast products before making a purchase, and the prominence of Amazon logos/ features on these third-party websites improves the likelihood of them considering the Amazon marketplace to engage in product comparison activity. Essentially, the 'Amazon customer reviews' feature better enables the e-commerce giant to direct 'Buy with Prime' merchants' hesitant shoppers towards its own marketplace.
Note that 'Buy with Prime' merchants are not mandatorily required to display 'Amazon customer reviews' on their own websites as part of the program. That being said, the 'reviews' feature can be added at no extra cost, thereby sweetening the deal for these sellers.
Shopify can fight back
Offering the ability to write and read customer reviews is not alien to Shopify merchants. Sellers have access to numerous 'product reviews' add-ons through the Shopify App store, to enhance visitors' shopping journeys through their e-commerce websites. It is worth noting that many of these apps also offer free subscription plans to enable merchants to add a 'customer reviews' feature on their websites at no extra cost. They also offer premium (paid) plans with advanced features to further enhance consumers' shopping journeys.
The availability of these apps is testament to just how vital the Shopify App store is to fend off competitive threats. Shopify has taken prudent measures to continuously augment the appeal of the Shopify App store, both for merchants and app developers. One of these measures includes waiving commission fees on app developers' first $1 million in sales revenue through the Shopify App store, conducive to App developers becoming more willing to produce apps specifically for Shopify merchants. The broadening availability of apps on the Shopify App store induces more merchants to become a Shopify subscriber, in turn further encouraging app developers to create more Shopify-oriented apps, thereby inducing a self-reinforcing network effect. This network effect also broadens the variety of apps available to address various types of e-commerce needs, which enhances Shopify's competitiveness and helps subdue threats like 'Amazon customer reviews'.
The availability of 'customer reviews' apps through the Shopify App store could indeed hinder adoption of 'Amazon customer reviews' among 'Buy with Prime' members. Hence,
Amazon is presenting the 'Amazon customer reviews' add-on as a way to "complement [merchants'] existing product reviews", in order to get around this hindrance.
Certain merchants could be willing to adopt the new 'Amazon customer reviews' feature despite already offering a similar feature on their website, as the more reviews brands can garner, the better-informed consumers can be when making purchase decisions, thereby augmenting brand trust.
On the other hand, Sellers that are already using a 'product reviews' app through the Shopify App store may indeed be reluctant to duplicate this feature on their websites, in the interest of making optimal use of their web space. As Amazon continues to add new features to its 'Buy with Prime' program, merchants will want to avoid their web stores looking like Amazon clones. Time will tell whether 'Buy with Prime' members will continue to enthusiastically embrace Amazon's growing suite of features, especially given the amplifying risk of merchants' web visitors becoming inclined to search for similar products on the Amazon marketplace. Amazon also continues to face a 'fake reviews' dilemma on its marketplace, undermining consumers' ability to trust the reviews when making purchase decisions, which may consequently hinder 'Buy with Prime' members from adopting this latest add-on.
Shopify's social commerce endeavors
Social media firms have been increasingly striving to turn their platforms into e-commerce destinations, in a bid to augment the appeal of their advertising solutions. More specifically, social media influencers are becoming an increasingly prevalent brand/ product marketing avenue, resulting in the rise of influencer marketing.
According to Influencer Marketing Hub, the industry is expected to have reached a size of $16.4 billion in 2022 (April 2022 projection). Furthermore, according to JungleScout study covering the Q3 2022 period, an increasing proportion of consumers are turning to social media platforms to initiate their shopping journeys, in comparison to Amazon, as revealed by the survey results below.
To capitalize on this trend, Shopify introduced Shopify Collabs in August 2022, enabling Shopify merchants to more seamlessly partner with social media content creators from platforms like Instagram, TikTok and Pinterest. Shopify Collabs offers exciting sales and marketing channels to find and engage with high-impact audiences through popular content creators.
One of Shopify's most noteworthy partnerships is with YouTube, a platform with which merchants can integrate their online stores through YouTube shopping, as well as engage in livestream shopping events. Wendy Yang (YouTube Shopping product designer) proclaimed that:
According to a study we ran in partnership with Publicis and TalkShoppe, 89% of viewers agree that YouTube creators give recommendations they can trust… creators can offer their audience live product drops, exclusive discounts, and even poll fans during their shopping livestreams to interact with and get feedback from their fans.
This interactive form of shopping offers new and exciting ways of learning about products and making purchase decisions. More importantly, the trust that followers place in YouTube creators allows for more meaningful brand impressions that help Shopify merchants reach new customer bases more effectively. Moreover, the trust placed in social media influencers' recommendations, combined with viewer interactions/ feedback through live-streams (or other means), enables consumers to learn more about a product in a reliable and exciting manner, and hence challenges Amazon's customer reviews feature, the reliability of which can often be questionable. Amazon is indeed aware of this shift in shopping trends towards social commerce, which has even induced the e-commerce giant to launch its own social commerce features, such as the 'Inspire' discovery feed. Nevertheless, Shopify's various social commerce partnerships leverage the trustworthiness of social media influencers, and bolsters the company's competitiveness against Amazon's latest 'customer reviews' ploy.
Despite the rising trends in influencer marketing, consumers are unlikely to turn to social media influencers for all types of purchases, as consumers don't usually seek exciting influence for basic, general-use products, such as a pack of ballpens. Reading products reviews and comparing/ contrasting different products would make more sense for such purchases, making Amazon's shopping features more appealing. That being said, there are various product categories, including clothing and beauty products, where social media marketing allows for more inspiring ways to learn about new products from influencers that consumers can trust. This is where Shopify Collabs thrives, and enables Shopify to more competently counter Amazon's 'Buy with Prime' advancements.
Summary
Amazon continues to bolster its 'Buy with Prime' program to optimize monetization of third-party merchants, at the expense of Shopify's own monetization efforts. The latest 'Buy with Prime' advancement, enabling third-party merchants to include 'Amazon customer reviews', offers a way for Shopify sellers to enhance the shopping experience and build brand trust among shoppers. Though product reviews on the Amazon marketplace may not always be reliable, and 'Amazon customer reviews' appearing on independent merchants' websites could raise the risk of web store visitors looking for similar products on the Amazon marketplace instead. Shopify merchants are already able to offer 'product review' features through the extensive Shopify App store. Additionally, Shopify Collabs allows merchants to reach high-impact audiences through trusted social media influencers, well-positioning Shopify to take on Amazon's competitive threats.
Given that this article particularly discusses Amazon's 'Buy with Prime' advancement, a neutral 'hold' rating will be assigned to the Amazon stock, as investors should consider all business divisions in aggregation when making investment decisions. Nexus Research maintains its 'hold' rating on Shopify stock.