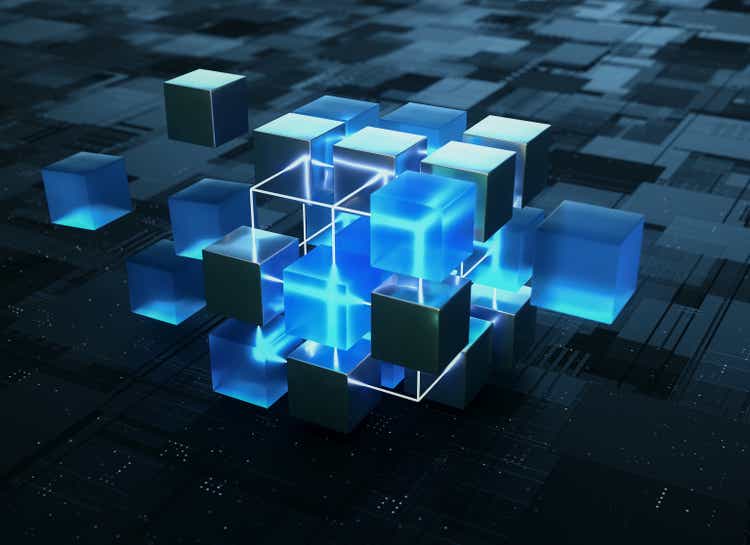 Aptos (APT-USD) is one of the hot new blockchains after launching its mainnet in October of last year. APT is the native coin of the Aptos blockchain and it's used for gas fees in transactions. Aptos is actually a remnant of the now-defunct Libra/Diem blockchain that was formerly developed by Meta Platforms (META). Aptos is a chain that I have covered previously for Seeking Alpha, and I pointed out what I felt were several red flags at that time. Those red flags included but were not limited to a native coin that has an enormously dilutive emissions model, a large amount of coins allocated to insiders, and poor sentiment about transparency from the larger crypto community.
Part of my summary from that first article made mention of the large amount of Layer 1 competitors to Aptos that don't have the negative first impression hurdle to get over:
given the proliferation of much larger layer 1 blockchains that already have established communities, I don't think this is one to jump into today. First impressions are important and Aptos' first impression with the crypto community wasn't a good one.
At the time, APT was a little under $9. By the end of December, the coin had traded down near $3. End of story, right? Not quite. Since bottoming out near the end of December, Aptos is now up almost 400% year to date and it's still January:
Thanks to this rally, APT now has the 26th highest crypto market cap according to CoinMarketCap. It has a higher market cap than Aave (AAVE-USD), Synthetix (SNX-USD), and Lido Finance (LDO-USD). Which are three protocols that are among the most widely used projects in all of crypto. Such a remarkable run in APT begs the question; is this a speculative mania or is there network activity that justifies this level off coin buying?
Why is Aptos Going Up?
All those red flags from October and none of them even addressed the bigger questions a fundamental investor in this fledgling industry might have; which are simply why does any of this stuff go up or down, and how do we value these digital assets? As I laid out for my BlockChain Reaction subscribers earlier this week, we don't really have industry standard valuation metrics for the crypto industry yet, and it's on us as market participants to try to do our best with the information that we have available to us.
For Layer 1 smart contract blockchains like Aptos, we can look at user growth or DeFi activity happening on the chain. So far, there are typically between 20-30k daily active accounts on the network - which isn't nothing, but it's lower than similarly capitalized chains. Furthermore, new account growth seems to be slowing already even during APT's bullish run:
Another popular metric to consider is the total value locked, or TVL. This metric can be tricky because TVL increases can sometimes hide the real story if the native coin of the chain is simply increasing in value - as is the case with ATP. When we adjust for the TVL measured in the native asset itself, we can get a better sense for the DeFi health on chain. For Aptos, the TVL peaked at 16.4 million APT in December.
Aptos is now down to 3.2 million APT in TVL. A breathtaking decline of 80% in just a few weeks.
Developer Interest
Another way to assess if a chain has a fundamental story is if there is a large number of developer interest or code commits on the chain. This is where Aptos is actually somewhat compelling because there is a much larger amount of developers apparently working on Aptos than on some of the smaller Layer 1 blockchains like Algorand (ALGO-USD). However, the trend for most of the other chains has been comparatively stable over the last year while Aptos has seen a big spike leading up to mainnet launch followed by a reversion to pre-launch levels:
Aptos comes in behind Cardano (ADA-USD), Polkadot (DOT-USD), Cosmos (ATOM-USD), and Solana (SOL-USD) regarding active developers but ahead of Binance (BNB-USD). The same is true for code commits, but that chart is a bit messy when all chains are on it, the solo asset chart is more beneficial for showing general trend:
There just isn't as much developer interest in Aptos since the chain launched, and that's a departure from what we're seeing in other well-capitalized chains.
Summary
So let's answer the question; why is Aptos going up? It's going up because it's going up. There is absolutely no reason for this as far as I can see. I would be very careful chasing anything in the crypto industry right now, let alone new protocol coins that have poor tokenomics, poor sentiment, and poor levels of activity. Aptos is the latter. I called it a hold in October, and that was probably being generous. Today, APT is a sell, in my view.