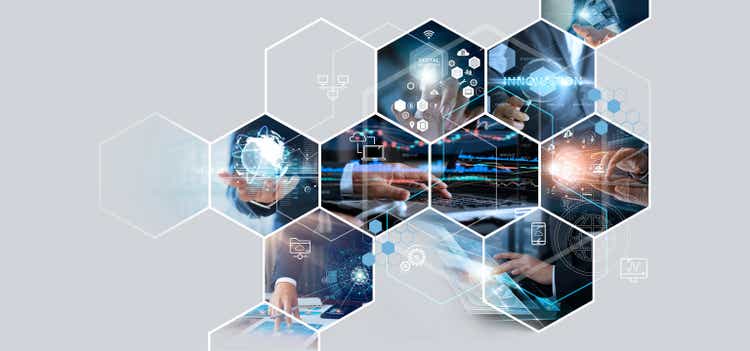 Recommendation
My recommended rating for AvePoint (NASDAQ:AVPT) is buy. I believe the business has demonstrated its ability to grow at a rapid rate despite the weak macro-outlook. This growth is supported by the strong underlying trend for digital transformation throughout all levels (from SMBs to huge enterprise). While AVPT might face some growth deceleration in FY23, I believe growth will normalize once we tide through this tough period.
Business
By harnessing the flexibility and scalability of the cloud, AVPT designs products and advises businesses on how to reap the benefits of digital collaboration. When it comes to data security and safe collaboration, AVPT solutions help organizations make the transition to market-leading cloud platforms.
Digital transformation is a top priority now
In my opinion, digital transformation will be the most important investment a company can make in terms of information technology. IDC predicted in 2021 that by 2024, digital transformation will account for more than half of all ICT investment. Historically, IT departments have been responsible for setting the priorities of an organization's IT. Buying decisions for digital transformation funds are increasingly being made by business line owners. Business unit leaders want to put their money into projects that will increase their company's profits, streamline its operations, and give it an edge over the competition.
In essence, businesses are updating their technological infrastructure to enhance worker output and morale. Users want IT to centralize collaboration services, but that is not happening as quickly as they would like. Whether moving existing on-premises operations to the cloud or consolidating multiple cloud services, businesses today must face heightened scrutiny, security issues, and regulatory oversight. Cost-cutting and making do with less resources are still crucial in today's highly competitive business environment, where operations and markets are under siege from factors like COVID-19. Clearly, this indicates a growing demand for tools that improve the efficiency and effectiveness of digital teams working together.
All of these result in a very large TAM – as much as $36 billion – that is still growing at a high rate.
AVPT lowers total cost of ownership
AVPT Cloud can be adopted without any outlay (from customers) of capital or any increase in the workload for its set-up, maintenance, or upgrades. Using benchmark storage costs and administrative expenses, management has determined that a typical 5,000-user customer of Cloud Backup can save as much as $2 for every $1 spent compared to customers using self-hosted backup solutions. On top of that, they predict that a typical Cloud Governance customer (around 12,000 seats) can save up to $5.40 per $1 spent on the service thanks to lower administrative costs and greater efficiency when compared to in-house development or commercial software. A feature that I think brings down the psychological barrier to adoption is that AVPT solutions can be tried out immediately in the cloud.
AVPT's high ROI alone, in my opinion, is a strong argument in favor of implementing AVPT solutions in businesses. And I think this is borne out by the fact that the number of businesses using AVPT appears to be on the rise. I need only consider the impressive set of key metrics that AVPT introduced in November of 2022 to back up my claim. AVPT's ARR growth has been straight and to the right. On top of that, AVPT has kept its net retention rate at or above 100%, which is strong evidence of the contentment of its core clientele.
Strong and rapid go-to-market strategy to drive growth
With the help of multiple distributors and a global network of online marketplaces, AVPT products can be brought to market quickly in a variety of countries and currencies, and managed service providers can set their own pricing and payment terms through flexible monthly billing. Having the option to make purchases via these pre-existing marketplaces streamlines the transaction mechanism and increases AVPT's exposure to the SMB market.
To put it briefly, AVPT's GTM strategy incorporates a combination of direct and indirect sales forces. The company's sales force is structured in accordance with account size and industry specialization within predetermined regions. Geographically, the AVPT sales force is divided into two groups, one catering to small and medium-sized businesses [SMB] and the other to large enterprises. The SMB sales team focuses on low-touch, wide coverage of the segment by interacting with customers indirectly, via channels and partner networks. On the other hand, AVPT's inside sales team handles mid-market accounts and typically interacts with clients on a one-on-one basis. The in-house sales team at AVPT is responsible for generating leads and qualifying opportunities for the company's mid-market and enterprise sales teams.
In addition to its sales tactics, the company also maintains a customer success team to handle inquiries and concerns after a purchase has been made. By facilitating increased adoption and consistent utilization of AVPT solutions, the AVPT Customer Success team strives to secure high renewal rates and steady ARR. Clearly, this team is doing a good job, as evidenced by the above retention rate of over 100%.
Further room to grow in the SMB market
The SMB market is where AVPT is seeing the most rapid expansion, both in terms of revenue and the number of seats sold. By establishing key alliances and cultivating channels, I believe AVPT will be able to break into new markets. In my opinion, AVPT should put a lot of resources into building a global distribution network and OEM partnerships with companies that have solid credibility and widespread adoption among managed service providers [MSP] and their SMB clients. This is because the SMB market is so massive. SMBs account for 90% of the world's businesses, and a study by Microsoft (MSFT) shows that SMBs are accelerating their growth by adopting cutting-edge IT systems.
Macro headwinds might have some short-term impact
AVPT had a prosperous quarter, with total revenues rising by 23% (31% after adjusting for currency effects). Nonetheless, they lowered their revenue and annual recurring revenue forecast for the remainder of FY22 to account for wider challenges faced by the software industry, such as prolonged sales processes and increased budget constraints, as well as the expected negative impact of currency fluctuations. The high demand for digital transformation and the attractive return on investment provided by AVPT's platform make me optimistic about the company's future growth despite these challenges. I continue to expect strong sales for FY22/23, with cloud computing seen as a major contributor. Overall, I think AVPT's performance will get better over time, despite the fact that there may be temporary setbacks due to difficulties with the macroeconomy.
Valuation & model
Using management's FY22 guidance and my growth projections through FY25, I believe AVPT is worth $5.92 in FY24, making the stock 31% undervalued. Like the consensus, I believe the macroeconomic and foreign exchange headwinds will slow growth slightly in FY23. Following that, I expect growth to reaccelerate to 20%. I think the 20% growth rate is a little optimistic, given that AVPT has historically grown much faster.
Given that the strong secular trend is not going away anytime soon, and that the AVPT revenue base has not yet reached a sizeable size, I believe normalized growth could outperform my expectations. For example, in 3Q22, demand was still being driven by factors such as digital transformation and security traction. The Control and Resilience Suites are still widely used, which has aided in their expansion. As a result, I remain confident that AVPT will benefit from the digital transformation that is driving the adoption of cloud and security technologies. The company's cross-sell and upsell rates remain strong, contributing to the impressive 106% net retention rate.
Aside from that, valuation has fallen from slightly above 3x to the current 2.3x. While I do not anticipate any changes in the near term, as AVPT accelerates growth in FY24, valuation may exceed 2.3x.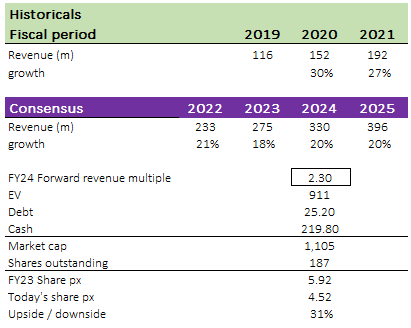 Risk
Reliance on MSFT
Because MFST market share is so crucial to AVPT's business model, I anticipate that the success of AVPT will hinge, at least in part, on the rate at which MSFT expands its cloud collaboration offerings. While yearly growth in MSFT 365 users has been substantial in the past, any unexpected slowing could hurt AVPT's ability to boost revenue. Consequently, I think AVPT's growth potential will be contingent not only on the company's own performance but also on MSFT success in expanding its 365 business.
Summary
The demand for digital transformation is increasing, and businesses are investing in technology to improve efficiency, collaboration, and competitiveness. To capitalize on this, AVPT offers a solution with high ROI and has a strong and rapid go-to-market strategy, with multiple distributors and online marketplaces to bring its products to market quickly. AVPT is seeing the most rapid expansion in the SMB market, both in terms of revenue and the number of seats sold, and I believe it can further grow in the SMB market by establishing key alliances and cultivating channels.