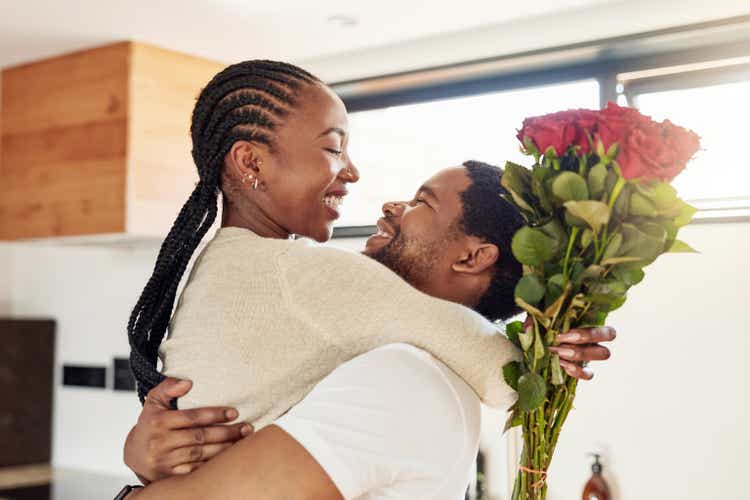 Overview
1-800-Flowers (NASDAQ:FLWS) is a popular online flower and gift retailer that offers a wide range of products to help customers express, connect and celebrate. The company has portfolio well-known brands like Cheryl's Cookies, Harry & David, PersonalizationMall.com, Shari's Berries, FruitBouquets.com, Moose Munch, The Popcorn Factory, Wolferman's Bakery, Vital Choice, Stock Yards and Simply Chocolate.
FLWS was founded in 1976 by James McCann, who purchased a single florist shop in New York City and grew it into a 14-store chain. He then shifted the company's strategy to take advantage of the growing trend of toll-free calling and acquired the 1-800-FLOWERS toll-free number, using it as the company's identity. This marked the beginning of building a national brand around 1-800-FLOWERS.
Today, FLWS offers gifts for various occasions, including birthdays, anniversaries, holidays, and more. With Valentine's Day quickly approaching you may want to check out their website to find the perfect gift for your special person. FLWS also operates a loyalty program called Celebrations Passport which gives members free shipping and no service charge. The company is headquartered in Jericho, New York and is publicly traded on the NASDAQ.
Performance
FLWS has been consistently reporting positive financial results and has established a nice track record of revenue growth. The company reported revenue of $2.2 billion in 2022. This represents an increase of almost 200% over the previous decade. What's even more impressive is the company has only once posted an annual revenue decline over the same period which occurred in 2018.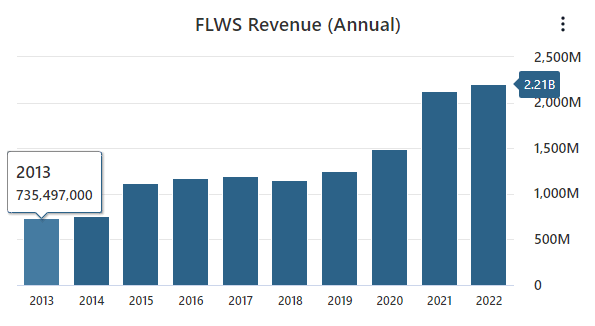 In terms of free cash flows, FLWS has reported inconsistent results over the years. The company reported negative free cash flow of -$61 million in 2022, and though this has been the only year of negative free cash flows over the last decade, it is a cause for concern. Free cash flow is important to a business because it represents the amount of cash a company generates after accounting for capital expenditures, negative free cash flow may signal financial strain and a lack of resources for the business to grow and meet its obligations.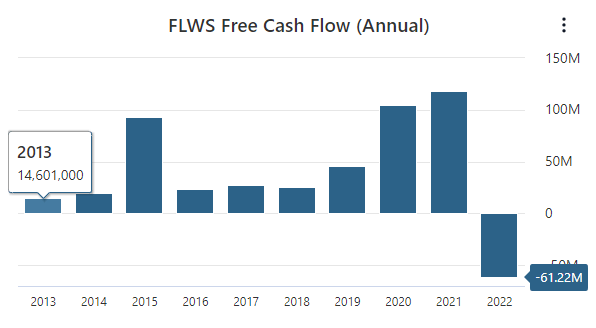 Additionally, FLWS has produced a shaky record of profitability as returns on invested capital have varied wildly over the years. The company has a current ROIC of just 2% down from 30% just a couple years ago. ROIC is important to a company because it measures how efficiently a company uses the capital invested in its business to generate profits. A low ROIC can signal poor resource allocation and financial inefficiency, which may deter potential investors and negatively impact the company's financial performance.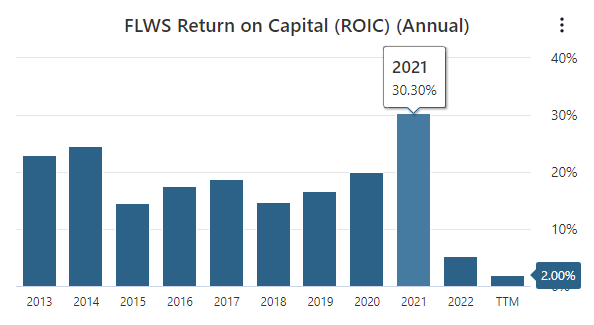 FLWS balance sheet is a mixed bag. Total debt has risen each of the past three years but so has the shareholders equity as the company maintains a debt-to-equity ratio of under 0.93. However, the company's current ratio is just 1.11. This is important because a low current ratio may indicate that a company is struggling to meet its short-term obligations and could be facing financial difficulties.
Unfortunately, for FLWS shareholders, the company's mixed financial results over the past couple of years have translated to poor stock performance. Over the past five years the company's stock price has declined by 11%. Even worse, FLWS stock has dropped by more than 70% since reaching a high of $37 in June, 2021.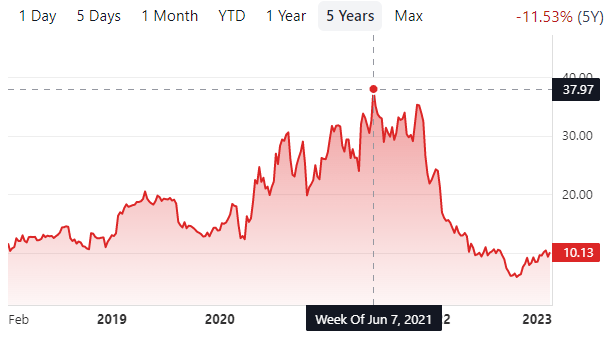 Outlook
FLWS strategy has always been to be the foremost expert in considerate gifting, cater to a growing range of our clients' special occasion needs, enable them to express themselves and strengthen bonds with loved ones. The company also prioritizes customer trust by offering easy access, stylish and fitting gifts, and exceptional service. The company believes by engaging with its customers, they can encourage more emotional expression and connection - values that are increasingly vital in today's world.
The company will look to continue this strategy moving forward. However, 2022 was a tough year for the company because of changing consumer habits in response to high inflation, causing a rise in costs that hurt gross margins and increased operating expenses. As a result, earnings were far lower than expected. However, 2023 is bringing some good news. Although inflation pressures persist, we are starting to see signs of improvement in some areas, such as a decrease in fuel prices, a decrease in ocean freight rates, and stabilization of labor rates with some improvement in availability.
FLWS is investing in its operations as it plans for the future. These investments include automating warehouses and distribution centers to lower reliance on labor and reduce labor rate hikes and seasonal shortages, procuring and stocking up on inventory ahead of time to address ongoing global supply chain challenges, and using logistics optimization programs to cope with rising carrier rates. The company hopes these initiatives, plus new strategic pricing across its brands, will help improve its bottom-line results during 2023.
In addition, growth through mergers and acquisitions have vital to FLWS's growth strategy. These acquisitions include Shari's Berries in 2019, Personalization Mall in August 2020, Vital Choice in October of 2021, and most recently Alice's Table in December of 2021. The company will continue to foster and grow these brands and look for more strategic acquisitions in the future to expand its product offerings.
Valuation
To estimate FLWS's intrinsic value, a comparative and discounted cash flow ("DCF") analyses will be used. The comparative analysis will consist of taking the highest, lowest, and median price-to-earnings ratios the market has paid for FLWS over the past five years and multiplying them by FLWS's consensus 2024 EPS estimate of $0.40 per share. As a bonus, the current sector median valuation of 15.07 will also be applied to FLWS's consensus 2024 EPS estimate for an additional scenario.
| | | | | |
| --- | --- | --- | --- | --- |
| Scenario | P/E | Next Year Earnings Estimate | Intrinsic Value Estimate | % Change |
| Bear Case | 9.153 | $0.40 | $3.66 | -63.86% |
| 5Y Median P/E | 22.8 | $0.40 | $9.12 | -9.97% |
| Bull Case | 86.92 | $0.40 | $34.77 | 243.22% |
| Sector Median Valuation | 15.07 | $0.40 | $6.03 | -40.49% |
On a comparative analysis, FLWS has a wide range of scenarios that can play out. Investors could realize an excellent 243.22% return if the market were bullish and applied the 86.92 multiple, seen just a few weeks ago, to next year's average analyst earnings estimate, should those estimates materialize. However, it's unlikely for this scenario to unfold because FLWS earnings have fallen much further than its share price resulting in an unusually high P/E ratio. On the downside, investors could realize a significant -63.86% loss if the market were to value FLWS at the 5-year low multiple seen in May 2022.
The most likely scenario is the base case which is based on the 5-year median P/E ratio. This base case scenario would result in a -9.97% loss for investors. The final scenario which is based on the sector median multiple also results in a significant -40.49% loss. Altogether, this comparative analysis indicates that FLWS is overvalued at its current share price.
Turning to the discounted cash flow analysis, the starting point will be the average of the last five years of free cash flows, which is $49.6 million. Then a 7% growth rate will be applied to the free cash flows for the next ten years based on rule 72, which states a 5% growth rate will almost double the original value in 10 years. Rule 72 will be followed for this DCF because it's challenging to accurately forecast free cash flow growth rates multiple years into the future. However, based on the FLWS's past performance and growth opportunities in the future, a 5% growth rate of free cash flows is achievable over the next decade.
Following the 10th year, a 2.5% growth rate will be used into perpetuity to determine the terminal value. A discount rate of 10% will be used, representing my personal required rate of return. With these inputs, the DCF analysis estimates FLWS's intrinsic value is $11.71, representing an upside of more than 15% from the company's current share price.
Therefore, this DCF analysis indicates that FLWS is slightly undervalued at its current share price. However, if you are more bullish on FLWS consider that if the company could grow free cash flows by 10% per year over the next decade then this DCF would predict an intrinsic value of $16.90 which is 66% higher than FLWS current share price and if the company can grow free cash flows by 12.5% per year than the DCF would produce an intrinsic value of over $20 per share which is double the current share price.
Summary
FLWS has established itself as popular online flower and gift retailer that offers a wide range of products to help customers express, connect and celebrate. The company's revenues continue to rise as it grows through acquisitions, but FLWS had a rough 2022 because of changing consumer habits in response to high inflation, causing a rise in costs that hurt profit margins. The company will look to mitigate these risks with investments in new technologies to help automate its warehouses, optimize its logistics, and get ahead of supply chain challenges.
I expect the company to rebound when macroeconomic conditions improve, but at this point the valuation is fair but doesn't scream bargain so for that I'll rate FLWS a hold for now. If you disagree, please let me know in the comments section below.
Thank you for reading!