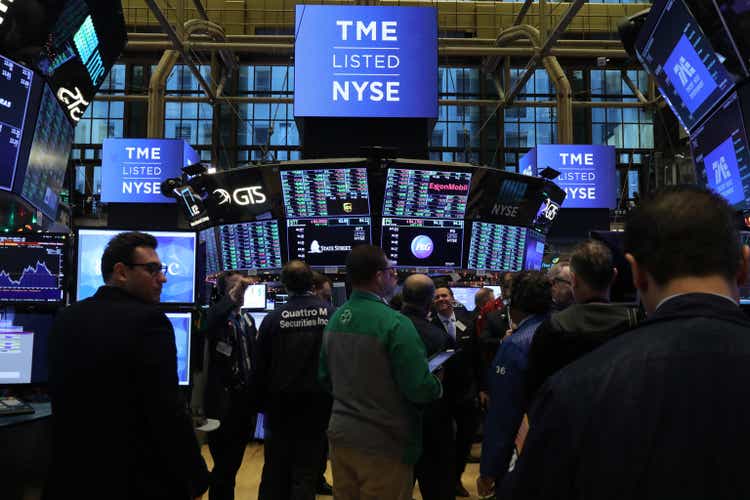 Elevator Pitch
I have a Hold rating assigned to Tencent Music Entertainment Group's (NYSE:TME) [1698:HK] shares.
I wrote about TME's listing on the Hong Kong Stock Exchange and the sell-side analysts' expectations regarding the company's third quarter financial performance with my prior article published on October 31, 2022.
My view is that Tencent Music Entertainment is deserving of a Hold rating. As per my analysis outlined in this article, TME will likely struggle to grow its top line as fast as it used to in the past. Tencent Music Entertainment has laid out its plans to tweak its future revenue mix, but investors need to be patient.
Revenue Mix Optimization Will Take A While
Tencent Music Entertainment has recorded top line contraction on a YoY basis for four consecutive quarters between the fourth quarter of 2021 and the third quarter of 2022. The current market's consensus forward-looking financial estimates sourced from S&P Capital IQ point to TME's revenue declining by -3% from RMB7,607 million for Q4 2021 to RMB7,351 million in Q4 2022.
TME's revenue weakness in recent quarters isn't just attributable to strict COVID-19 restrictions and slowing economic growth in Mainland China. Tencent Music Entertainment's top line has also been declining as a result of the competitive threat posed by short video platforms such as Douyin (China's TikTok) and the regulatory crackdown on the Chinese live streaming services industry. These issues have hurt TME's social entertainment business which suffered from a -20% YoY decline in its segment revenue for Q3 2022, as opposed to a +19% YoY growth in online music services revenue in the same time period.
As such, there is a pressing need for TME to make changes to its current revenue structure. Specifically, Tencent Music Entertainment has plans in place to grow its foreign market operations, and increase revenue contribution from its existing online music services business (vis-a-vis its domestic social entertainment business) as well.
Tencent Music Entertainment emphasized at the company's Q3 2022 results briefing on November 15, 2022 that it will "continue to expand in overseas market, both organically as well as through suitable M&A opportunities."
Notably, Billboard reported earlier on September 21, 2022 that TME bought an equity interest in a company which owns "Pokekara, Japan's leading karaoke app." In its fiscal 2021 20-F filing, Tencent Music Entertainment specifically mentioned that "substantially all" of the company's sales are generated from its home market, China. Therefore, TME's Pokekara deal is a small but significant step that the company has taken to venture into international markets.
On a separate note, TME is putting in lots of effort to accelerate the revenue growth of its online music services business in an attempt to partially offset the top line weakness for its social entertainment business. But this won't be an easy feat, as the social entertainment business accounted for a significant 63% of Tencent Music Entertainment's full-year fiscal 2021 revenue.
One growth driver worthy of note is Tencent Music Entertainment's Super VIP membership subscription program; Super VIP members for TME grew by an impressive +20% YoY in the third quarter of 2022. At its third quarter earnings call, TME stressed that it has the confidence to upsell more of its existing subscribers to the more expensive Super VIP membership program by offering more "privileged content and higher sound quality features."
Another growth driver for TME's online music services business is exploring new revenue streams such as TMELAND. An October 26, 2022 news article posted on Chinese media website Pandaily highlighted that TME created and hosted "a new metaverse zone for fans" on its "virtual social music platform" TMELAND as part of the "Coca-Cola (KO) Fan Festival." It is clear that there are multiple ways of monetizing music content and related events, and Tencent Music Entertainment is clearly moving in the right direction with new offerings like TMELAND.
But one has to acknowledge that international market expansion and accelerated growth for the online music services business aren't going to change TME's revenue growth prospects overnight, and this is reflected in the sell-side's consensus numbers for the company.
As per S&P Capital IQ's financial data, analysts see Tencent Music Entertainment's top line increasing by +4%, +7%, and +9% for FY 2023, FY 2024, and FY 2025, respectively. In contrast, TME used to achieve much higher revenue growth rates of +34% and +15% for FY 2019 and FY 2020, respectively prior to the COVID-19 outbreak.
Gross Margin Expansion Potential Should Be Capped
In my earlier end-October 2022 write-up for TME, I noted that Tencent Music Entertainment's "cost optimization efforts" will allow the company to record in-line Q3 2022 earnings at the very least. TME's actual third quarter bottom line turned out to be better than what the sell-side was forecasting, and this was mainly driven by a +300 basis points improvement in its gross profit margin to 32.6% in Q3 2022 resulting from good expense management.
Moving forward, further gross profit margin improvement for Tencent Music Entertainment will be challenging, as TME should have exhausted levers relating to cost control.
According to the consensus financial figures taken from S&P Capital IQ, the sell-side is projecting gross margins of 32.0%, 32.4% and 32.6% for TME in Q1 2023, Q2 2023, and Q3 2023, respectively. In my opinion, the consensus gross margin forecasts for Tencent Music Entertainment are reasonable.
As mentioned in the preceding section, TME is expected to increase top line contribution from its online music services business to make up for lower sales derived from its social entertainment business going forward. This will lead to an unfavorable sales mix for TME in the foreseeable future, as the online music services business boasts lower margins than the social entertainment business. The average revenue per paying user (ARPPU) for TME's online music services business is -95% lower as compared to the ARPPU for its social entertainment business in Q3 2022, notwithstanding the fact that the former has 11 times the number of paying users as the latter.
Closing Thoughts
I award a Hold rating to Tencent Music Entertainment's shares. Tencent Music Entertainment is making the right moves to tweak its future revenue mix, but it is too early to turn positive on the stock now.