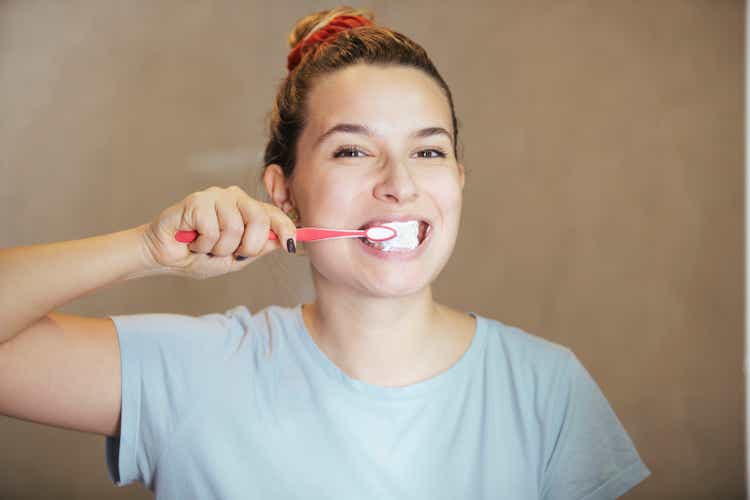 Introduction
Haleon plc (OTCPK:HLNCF) (NYSE:HLN) is an international consumer healthcare company based in England. Haleon is a spin-off from GSK (GSK) in July 2022. It is the world's largest consumer healthcare company, with well-known products like Sensodyne toothpaste, Panadol and Advil pain relievers, and Centrum vitamins.
Prior to the split-off, Unilever sought to buy the company for £50 billion. The enterprise value of Haleon's IPO was around £10 billion lower than Unilever's proposal. Eventually, the stock price fell to $5.6 per share before rising to $8 per share today.
The stock is worth buying because of its operating earnings growth in a high-inflationary environment, high free cash flow margin, and stock valuation that is comparable to its peers.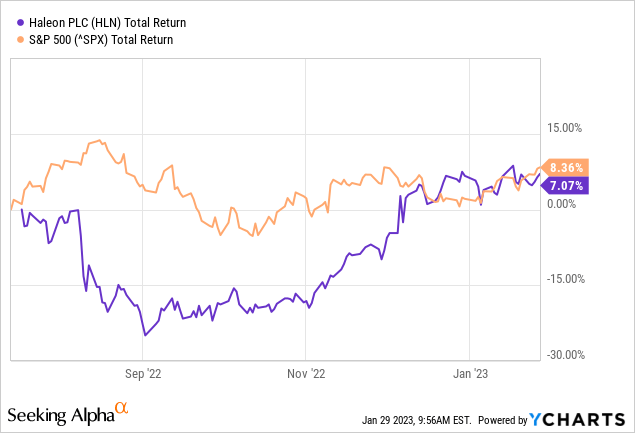 Third Quarter Earnings Were Strong
Despite inflationary pressures, Haleon reported a solid third quarter with an 8.1% gain in revenue due to favorable volume/mix, which contributed 2.6% to its growth, and 5.5% due to price increases.
Its Respiratory Health category, in particular, performed exceptionally well, growing by 30% during the third quarter. This was primarily due to the summer's increased cold and flu incidents, as well as higher advance purchase ahead of season.
Other categories performed well, with the exception of Vitamin and Mineral Supplements (VMS), which witnessed high increase in sales during the third quarter of 2021. As a result, its robust growth velocity slowed slightly in the fourth quarter. Oral health and VMS are expected to expand in the mid to high single digits by 2025.
Haleon is experiencing remarkable growth in Europe and Latin America, which together amounted to organic growth of 12.2% compared to the same quarter last year. Asia is next, accounting for 9% of organic growth. North America also performed well, with organic growth of 2.9%.
Because of gains in gross profit and a positive translational advantage from foreign exchanges, adjusted operating income grew 14.9%. At constant currency rates, adjusted operating income climbed by 4%. Adjusted income margin increased marginally from 25.3% in the third quarter of last year to 25.1% this year.
The corporation is focusing on deleveraging, as net debt was £10.8B, slightly more than the £10.7B in net debt at demerger due to unfavorable effects from currency exchange rates as the pound fell.
The business raised its 2022 projection and expects organic revenue growth of 8% to 8.5%, with adjusted operating margins somewhat better than in 2021.
In the medium term, the company anticipates revenue growth of 4% to 6%, with sustainable adjusted operating margin expansion at constant currency. By the end of 2024, net debt/EBITDA is expected to be less than 3x. Its initial dividend will be at the lower end of the 30% to 50% payout range.
Debt Is Manageable
The company generated approximately £1.5 billion in free cash flow and is working to reduce its debt portfolio. In October, the business repaid £250 million of its £700 million term loan. Looking at its bond debt maturity profile, we can see that Haleon can manage its debt well due to its significant free cash flow creation.
Stock Valuation In Line With Peers
Haleon has a great brand portfolio, so investors could expect a high stock valuation.
Haleon earned roughly £1.5 billion in free cash flow (excluding earnings from divestments and costs for integration and separation) in 2021, giving them a high free cash flow margin of 16%.
The company's market capitalization is approximately £29.5 billion, while its net debt is £10.8 billion, resulting in an enterprise value of £40.3 billion. It has a current enterprise value to free cash flow ratio of 26.9, indicating a high valuation.
So, how does it compare against peers? Procter & Gamble (PG), Colgate-Palmolive (CL), and Johnson & Johnson (JNJ) are peers in the consumer staples sector.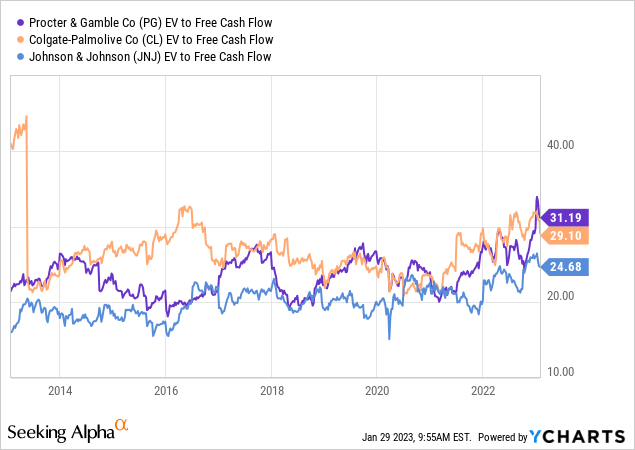 The EV to free cash flow ratio of Haleon falls between Johnson & Johnson's and Colgate-Palmolive's EV to free cash flow ratio. The company is fairly valued compared to its peers.
Haleon could withstand inflationary pressures well, and the company is consistently expanding. I don't see any significant headwinds. As a result, the stock is worthwhile to buy.
Conclusion
Inflationary pressures will not deter Haleon from expanding because price increases will compensate for increased costs caused by high inflation. Consumers continue to prefer Haleon products, as volume/mix increased 3% in the third quarter. Haleon anticipates medium-term revenue growth of 4% to 6%. Net debt is rather high due to negative currency translations. Net debt to EBITDA is expected to decrease to 3x in 2024. Haleon's consumer brands are strong, and its free cash flow margin is high at 16%. Although the decline in the value of the pound has had an unfavorable effect on net debt, the company is using free cash flow to reduce its level of debt. Also, its stock valuation is fairly valued to peers. The stock is recommended buying since Haleon expects operating earnings growth, has the ability to manage inflationary pressures efficiently, and its valuation is in line with peers.
Editor's Note: This article discusses one or more securities that do not trade on a major U.S. exchange. Please be aware of the risks associated with these stocks.