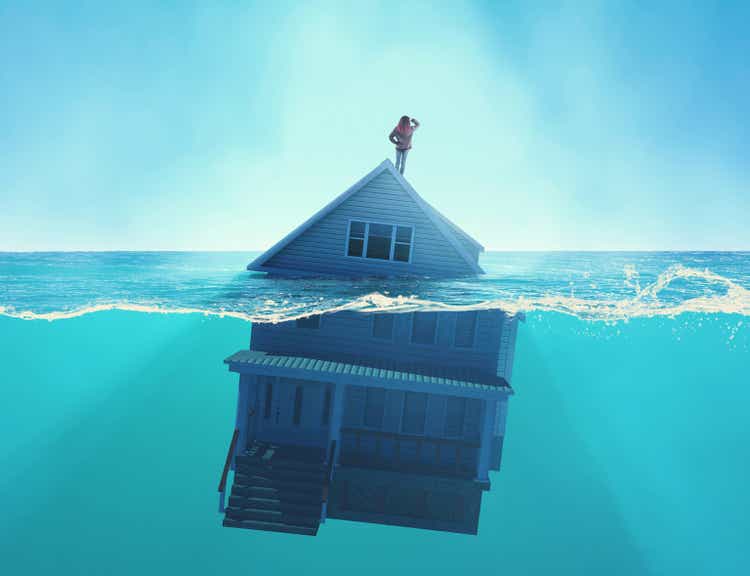 Blackstone Inc. (NYSE:BX) recently received a lot of attention after it announced that it was going to limit the withdrawals of its flagship real estate investment trust ("REIT") called BREIT. It quickly sparked a lot of scary headlines from media outlets and caused Blackstone's share price to drop by 10%: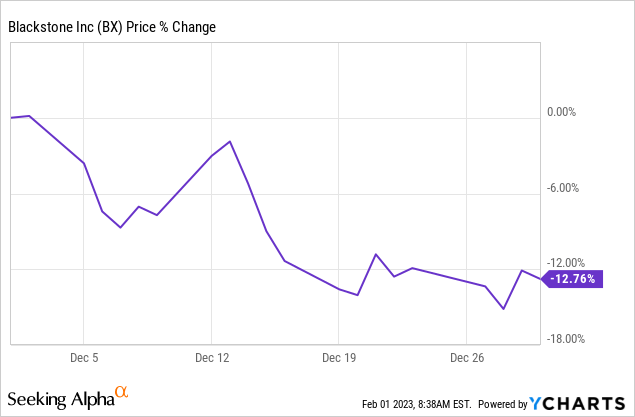 While I think that the market's reaction is overblown, it is quite simple to understand why the market would react this way.
BREIT is massive at $125 billion of assets under management ("AUM"), and it is one of Blackstone's biggest fee generators. It has also been one of Blackstone Inc.'s most important growth drivers as it raised tens of billions for it in the last 2 years alone.
Now the outflows surpass the inflows which signal that this growth is over, at least for now. Moreover, if its asset values begin to decline, then the fees would drop even further since they are a function of total assets under management and the performance of the REIT.
As such, the exceptional growth of the recent years could now turn into negative growth, which naturally would justify a lower valuation.
Our REIT expert, Jussi Askola, recently shared a Tweet that essentially explains that BREIT is relatively unattractive in today's marketplace and so the headwind could last for years to come:
This really highlights the problem of large numbers.
Once you hit a certain size, it becomes harder to grow because you always need to raise more and more money to deal with the outflows of existing capital.
And Blackstone, being the largest alternative asset manager in the world, is facing this issue more than anyone else. It has nearly $1 trillion of capital under management, which means that it has much more to lose than to gain.
Growing from such a high base is much more complicated, and this is the primary reason why I don't invest in Blackstone.
I think that it is undervalued even despite these recent difficulties, but there are other asset managers that are much better positioned to grow going forward and our favorite pick is Patria Investments Limited (NASDAQ:PAX).
Below we explain why:
Patria Investments: Our Top Pick
Patria is essentially a mini-Blackstone of Latin America.
Blackstone used to be one of its largest shareholders, and they have been an official partner of Patria for a long time. This explains why it is commonly perceived to be the Blackstone of Latin America.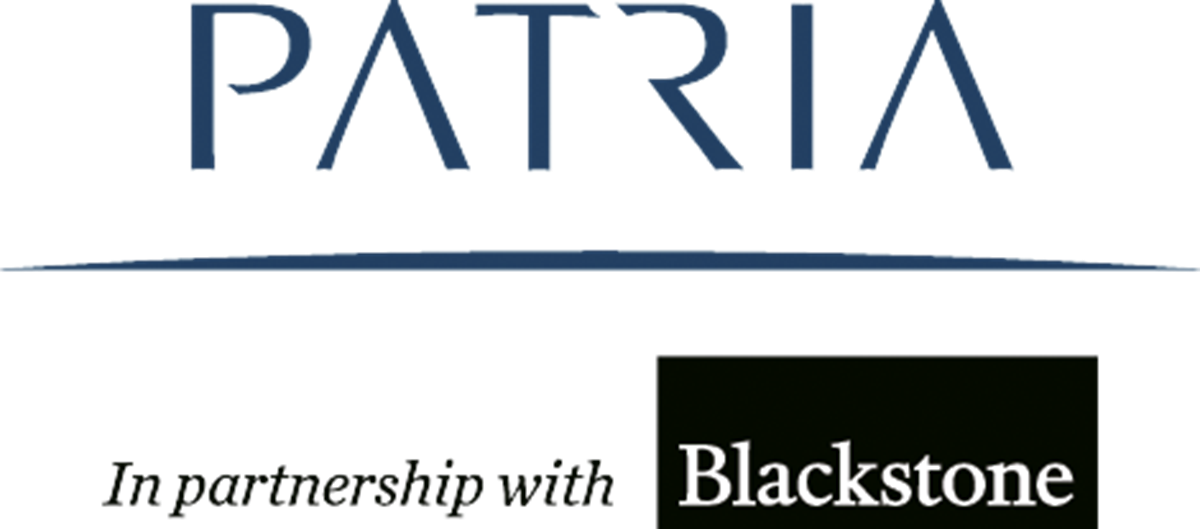 But unlike Blackstone, Patria is still early in its growth phase, with just $27 billion in assets under management. We think that it is well-positioned for future growth.
Right now, increasingly many global investors are turning to Latin America to diversify their portfolios, and there are three main reasons for this:
Reason #1: Higher Return Potential - The alternative investment market has become quite competitive in developed markets, but it is still in its infancy in Latin America. There is little competition, valuations are low, and growth prospects are significant.
Reason #2: Interesting Macro Backdrop - Right now, most of the world is struggling with high debt, rising interest rates, and high commodity prices. But most Latin American countries have relatively little debt in comparison, they are further into their credit tightening cycles, and they actually benefit from the higher commodity prices.
Reason #3: Far Away from Geopolitical Risk - This is probably the most important reason. In a world of chaos, Latin America can serve as a refuge, far away from geopolitical risk, and provide real diversification benefits. During the second world war, it was the refuge where people were escaping, and today again, it is starting to look more appealing due to Russia's recent invasion of Ukraine. It has made most of Eastern Europe more unstable and greatly increased tensions between the East and the West. This could still potentially turn into a 3rd world war if say Belarus got involved, and other countries decided to counter their attack. Belarus isn't a nuclear power after all. China could also invade Taiwan in the future and this is making investors more concerned about investments in Asia. What's the next frontier? It is Latin America for increasingly many investors.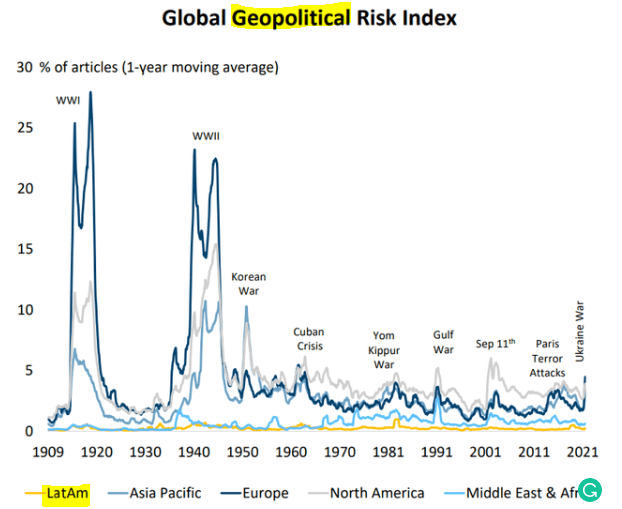 This new growth in demand for alternative investments in Latin America should benefit Patria because it is the local partner of choice for global investors:
It has the scale
It has the track record
It has the reputation
It already has partnerships with many major global institutions
It is a one-stop-shop with many different vehicles
It follows western best-practices.
How much growth are we talking about?
Patria has guided to nearly double its assets under management by 2025.
This should lead to a near doubling in its fees as well:
Real estate will make a lot of that growth.
Unlike Blackstone, which is now struggling to grow its REIT, Patria is still just getting started. It recently acquired VIB Real Estate, which is a leading REIT manager in Brazil with about $1 billion of assets under management.
It is the manager of 7 small REITs in Brazil with strong track records and they are rapidly growing in popularity:
Now, Patria will take this concept and replicate it in other Latin American countries.
The potential for growth is massive since it is still just getting started and the market is still unpenetrated.
Patria believes that it can roughly double its earnings per share by 2025 by scaling these vehicles:
That's very significant growth.
Far more than what you would expect from Blackstone or most other asset management firms in the coming years.
How much are we paying for it?
Not so much.
The timing of Patria's IPO was unlucky as it happened shortly before the market began to tank. As a newly IPOed small-cap with large exposure to Latin America, it dropped a lot more than its peers (KKR; BAM; BX):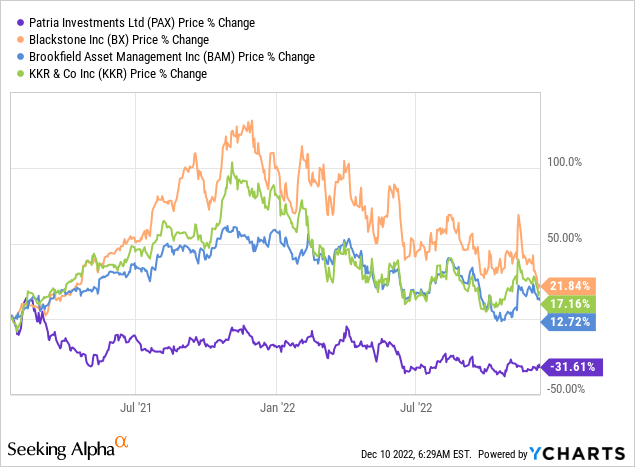 As a result, it is now priced at roughly 15x its annualized FRE, net of unrealized accumulated performance fees. Blackstone is offered at closer to 22x, despite facing headwinds and growing slower.
I think that both are undervalued. Blackstone traded at closer to 30x not long ago. But I think that Patria is the most undervalued of the two because it has a long runway of rapid growth.
And there's more.
Something that I didn't even mention here is that Patria has a debt-free balance sheet! This means that they could even accelerate their growth by taking on debt in the future. It also lowers risks compared to other asset managers that already use debt.
Secondly, Patria has the same shareholder-friendly dividend policy as Blackstone. They pay out 85% of their distributable earnings in the form of dividends to shareholders. The management has previously noted that they expect the yield to be around 7-9% in the coming years once you include the performance fees. Blackstone's yield is nowhere near that.
Bottom Line
I like Blackstone Inc., but I think that it is getting too big for its own good, and this will inevitably slow down its growth as it gets increasingly difficult to maintain what it already has.
Patria Investments Limited, on the other hand, is still early in its growth phase, and I think that it has a long way to go from here.
Patria Investments is expected to double within the next 3 years, it has no debt, it pays a high yield, it provides real diversification benefits, and this is why Patria Investments Limited is one of our largest holdings at High Yield Investor.