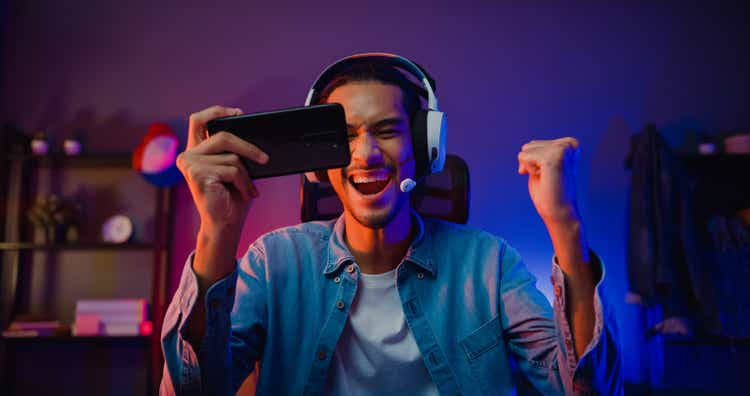 Investment Thesis
Sea Limited (NYSE:SE) is a Southeast Asia consumer business. Its story is far from straightforward. There are segments, such as Sea's Digital Entertainment which accounts for below 30% of total revenues that are slowing down. Meanwhile, both its E-commerce and its Digital Financial Services are rapidly growing.
Then, to further confound matters Sea's balance sheet is not as strong as one would desire.
All that being said, I declare that this insight is well-known and amply factored into its valuation already. And that's why I'm taking a bullish view on this business.
Animal Spirits Are Back
Tech stocks imploded in 2021. 2021?
Yes, even though the large caps managed to survive largely unscathed until the middle of 2022, broader tech was already crumbling in 2021.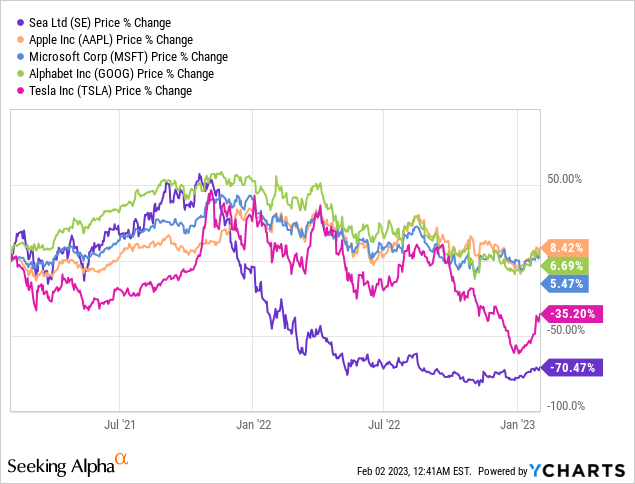 But starting in January of this year, all kinds of businesses that got crushed by 50%, 60%, and even 80% are raging back. It doesn't even matter what the business does.
In the graphic that follows I highlight ARK Innovation (ARKK) as a benchmark. But I also highlight some random individual names, like Affirm (AFRM), Carvana (CVNA), and Peloton (PTON).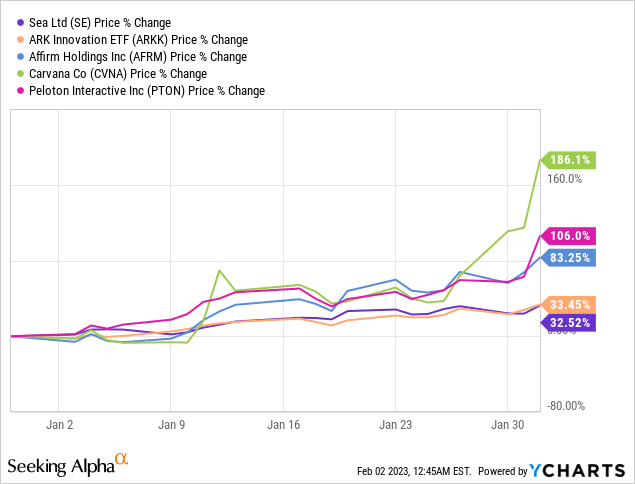 It doesn't matter. The market has become nondiscerning. If you think that the average business is the S&P500 generally compounds at around 8% to 10% CAGR per year, what you are seeing here, is both surreal and unsustainable.
But All Bussiness Are Not the Same
I declare that in the medium term, the underlying business matters more, than what share prices do in a single month. Put another way, in the long-term the market is a weighing machine.

To be clear, in hindsight Sea was over-earning in 2021. But details matter.
Even if Sea's Digital Entertainment business is slowing down and is likely to continue slowing in the near-term, I don't believe that's where the crown jewel of this business lies.
I believe that within its E-commerce business, Sea Limited's marketplace is what's particularly attractive. This is an E-commerce business with value-added services.
With this side of the operations, Sea's marketplace business grew by 39% y/y as of Q3.
On yet the other hand, the bulk of this segment's strong performance of late has come from advertising. Advertising within the core marketplace.
Furthermore, as you know from what we've seen in the past few days from both Snap (SNAP) and (META), the advertising sector is nowhere near as strong as it was last year. Which further complicates this investment thesis.
However, even then, the story doesn't finish.
Coveted Path to Profitability
Recall, back in 2022, what the market craved more than anything was businesses that were able to convince investors that they had a path to profitability.
With that in mind, Sea's Founder and CEO Forrest Li declared that at some point this year, the business will reach breakeven.
So, Sea had to pivot from a growth mindset to a profitable culture. Something that is both challenging and contentious.
Part of the reason why Sea was forced into a corner is that Sea's convertible notes are weighing down its business.
In total, presently Sea holds about $4.2 billion of convertible notes. And these notes have razor-thin interest rates on them because they convert into large number of shares each convertible.
In fact, Sea's 2023 and 2024 convertibles are already very much in the money, unless they are retired with cash.
Yes, Sea holds more than $6 billion of cash and equivalents on its balance, but with the business burning through significant cash flows, investors want to know that this business is more than a compelling story.
They want to know that not only their business is viable, but that it has the wherewithal to survive and thrive going forward. Hence, why the stock is so depressed.
With that in mind, let's turn our discussion to Sea Limited's valuation.
SE Stock Multiple Has Been Crushed
The graphic that follows is a visual reflection of everything we've discussed.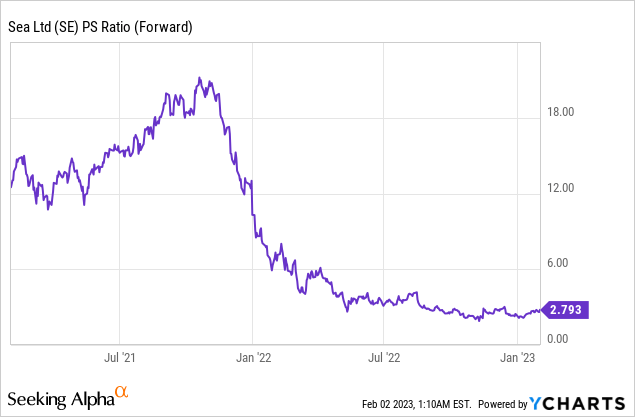 We can see that investors' appetite for Sea Limited has fully dissipated. What was once a high-flying business priced at significantly more than 10x forward sales, is now a business that's valued at roughly a quarter of this.
If in hindsight we can say that this business was too richly viewed, I'm inclined to believe that right now, this business is selling at too cheap a valuation.
The Bottom Line
Sea is a business that will reach profitably at some point in 2023. Meanwhile, it has seen its multiple compresses to unjustifiable levels. Hence, I declare that the risk-reward is now very attractive.
The time to get involved in a stock is not when everyone is excited about it. It's when others are not excited. When you are not competing with capital flows. Hence, why I'm putting my bullish rating on this stock now because I believe that this stock is undervalued.