Old Dominion Keeps On Delivering And It's Trouncing The Market As A Result
Summary
Old Dominion Freight Line is an LTL carrier with a terrific business model, allowing it to achieve outperforming growth.
While 4Q22 was challenging, the company did a tremendous job growing its operating income, hinting at further pricing gains and bottoming demand.
The stock is now up 30% year-to-date, which has caused the risk/reward to become unfavorable.
Given economic developments, I'm closely watching ODFL to make it a holding of my dividend growth portfolio.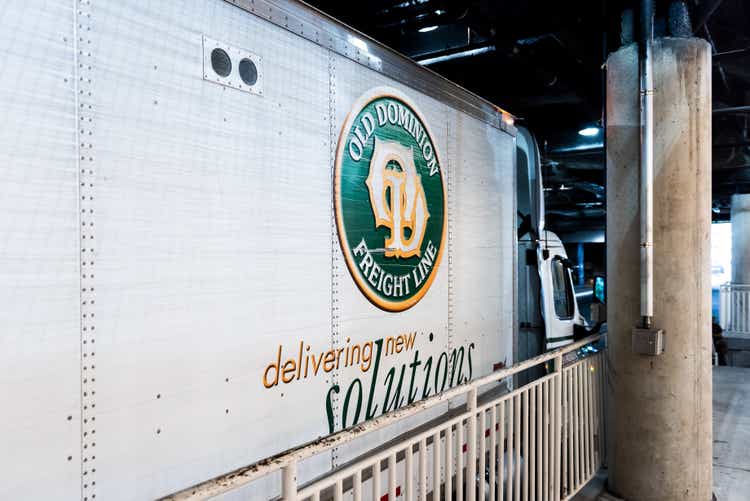 Introduction
On January 18, I wrote an article titled Old Dominion Is Set To Fly Higher. Unfortunately, I was right, as the stock price has risen more than 15% since then. I'm saying 'unfortunately' as I'm not invested in Old Dominion Freight Line (NASDAQ:ODFL), as I was waiting for a better entry opportunity. The company has done everything I expected it to do. It had a stellar fourth quarter with outperforming revenue growth, a fantastic operating ratio, and service quality that hints at a continuation of its successful business model. The problem I have is that the market is completely ignoring falling economic growth, which makes it hard to find an entry when dealing with a stock that has always fired on all cylinders.
In this article, we'll discuss the company's fourth-quarter earnings, its stellar business model, and what I'm doing when it comes to finding an entry.
So, without further ado, let me show you why ODFL is simply one of the best industrial stocks on the market.
The ODFL Success Story
In January 2003, the famous SPDR S&P 500 ETF (SPY) went public. It was way before ETFs became popular. Since then, it has returned 1,510%, which is a fantastic performance. However, ODFL has returned close to 20,000%. It's been one of the best performers since then, beating almost everything in its path except for a few high flyers like Apple (AAPL).
To give you a recap, Old Dominion is doing something genius. The company is a major operator in the LTL industry. LTL means less-than-truckload, which covers the transportation of smaller loads, often from multiple customers.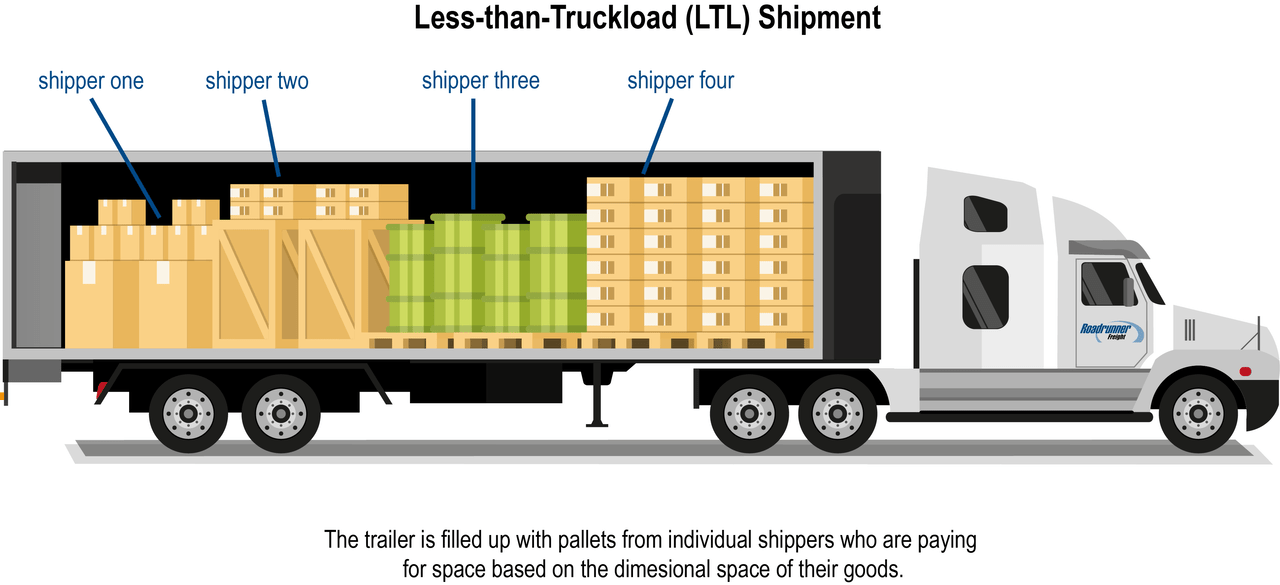 This industry tends to be highly tied to industrial demand, which is relevant to the economic trend we'll discuss in this article. Moreover, the industry is highly fragmented due to low entry barriers. After all, it's not that hard to buy a truck and get at least a few customers.
What is hard, however, is being efficient and offering top-tier services. As I discussed in a prior article, ODFL offers services with above-average quality at competitive prices. This has allowed the company to organically grow its market share.
Hence, ODFL is exploiting one of the benefits of operating in a highly competitive environment: being able to take market share away by being better.
It has caused revenue to grow by 12.4% per year between 2002 and 2021, which is a stunning number, especially because it's organic. ODFL does not grow through M&A like some other peers.
Between 2014 and 2025E, the annual compounding revenue growth rate is 9.3%. This excludes the strong post-Great Financial Crisis years. However, it includes the 2015 manufacturing recession and the 2020 pandemic.
Thanks to higher margins, EBITDA has grown by 14.0% per year during this period. Needless to say, few companies can compete with these growth rates.
One reason is high margins and related pricing power, which we will discuss now.
Flying Is What ODFL Did
I had mixed feelings when I dissected ODFL's just-released fourth-quarter earnings. I was extremely happy that the company once again confirmed what I had been preaching for years. However, I was disappointed as I wasn't invested. After all, the stock is now up 30% year-to-date. And it's only the first week of February.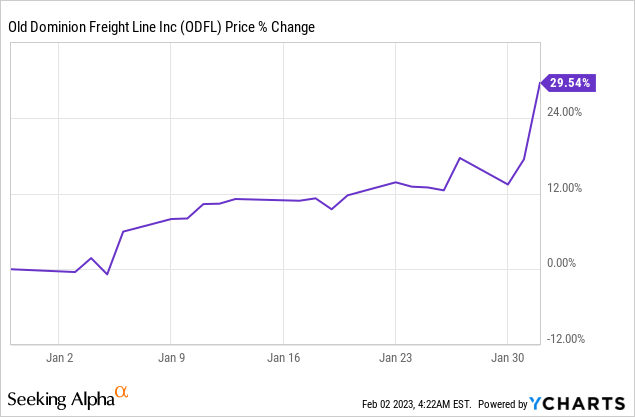 What happened is that ODFL reported blowout numbers in light of rapidly cooling economic growth. It surprised investors, which triggered a 10% post-earnings rally.
In 4Q22, ODFL reported $1.49 billion in revenue. That's an increase of 5.7% compared to the prior-year quarter. That number was in line with expectations.
GAAP EPS, however, came in at $2.92, which beat estimates by $0.25.
Based on that context, we're seeing a confirmation of two things:
Economic growth slowing
ODFL operating excellence
Using the overview below, we see that in the fourth quarter, the company shipped 38.2 thousand tonnes per day, which is a decline of 9.1% versus the prior-year quarter. Total shipments declined by roughly 4,600, or 8.6%.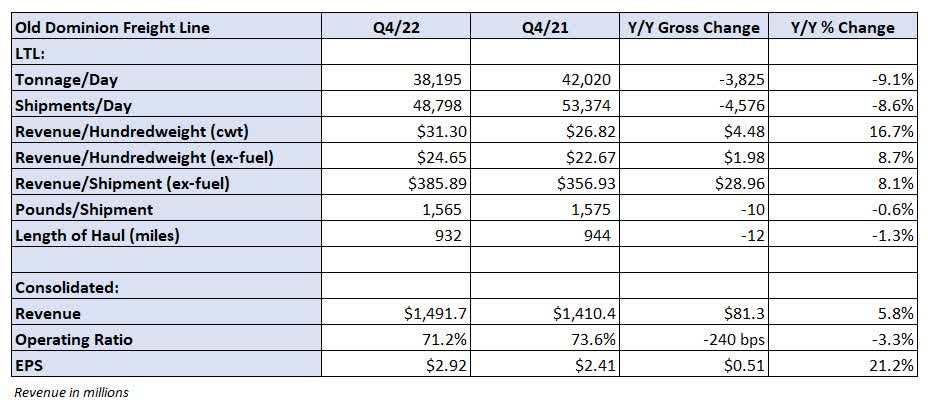 These numbers make sense as economic growth is now rapidly slowing. The ISM Manufacturing Index just printed a new low below the neutral 50.0 line, which indicates manufacturing contraction. New orders were even worse, pointing at very slow sentiment in the sector.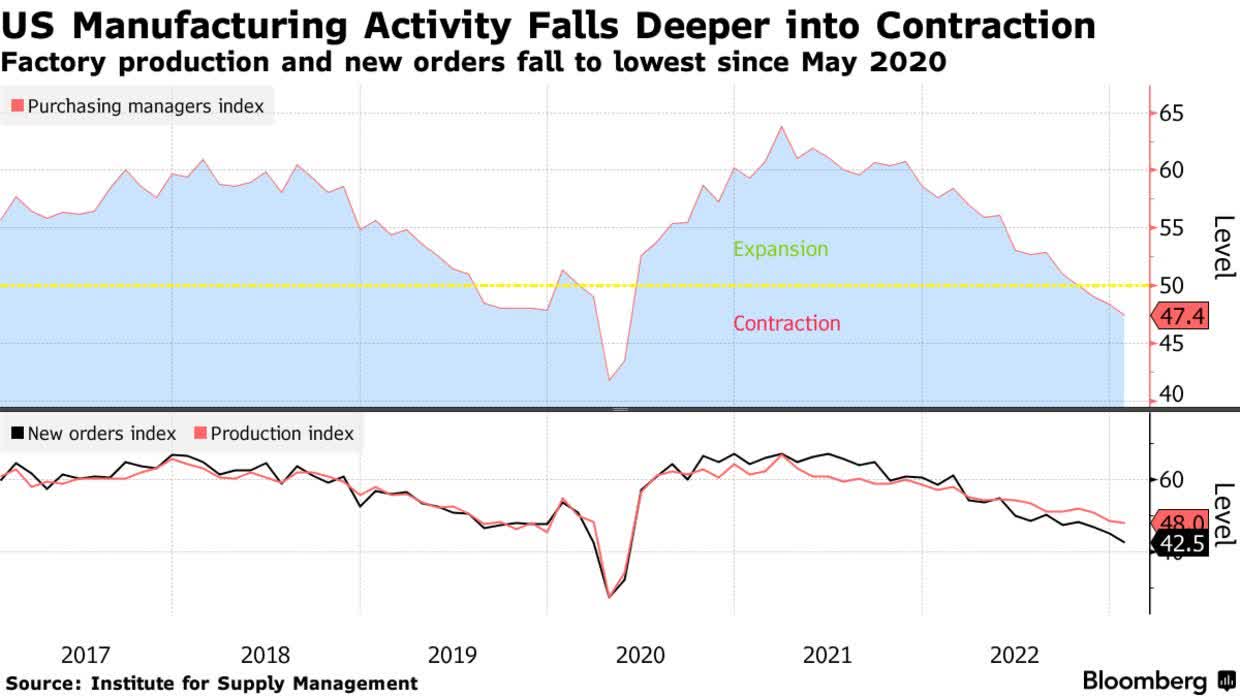 Going back to the table above, ODFL turned the contraction in volumes into higher revenue per shipment and weight. Revenue per hundredweight increased by 16.7% to $31.30. Excluding fuel, that number is still 8.7%.
These numbers reflect...
[...] the continued execution of our long-term pricing initiatives. Our consistent approach to pricing is supported by our ability to provide our customers with superior service and available capacity. We believe this value offering is becoming increasingly important to shipper, which is why we remain absolutely committed to executing on the fundamental elements of our long-term strategic plan.
This is what we discussed in the first part of this article.
But wait, there's more.
Another impressive number is the operating ratio, which measures how much it costs to operate the LTL carrier as a percentage of total revenue.
That number dropped to 71.2%, which is now roughly 10 points above the average of America's Class I railroads. This is an incredibly impressive number. Not just because most LTL carriers struggle to be profitable but also because the company further improved that number in an environment of high inflation.
Even labor costs improved relative to revenue, which shows how efficiently ODFL is dealing with dynamic demand, pricing, and cost changes.
Within our direct operating cost, productive labor as a percent of revenue improved 170 basis points, which our purchase transportation costs improved 200 basis points. These changes more than offset the 260 basis point increase in operating supplies and expenses that primarily resulted from a significant increase in the cost of diesel fuel and other petroleum-based products during the quarter.
4Q22 was the tenth consecutive quarter of both revenue and operating ratio improvements.
Moreover, capital investments totaled $775 million on a full-year basis. This is 12.3% of 2022 revenue and is inside of the company's 10% to 15% target range. This, too, is an impressive number. It's also expected to improve gradually in the years ahead, as $800 million in CapEx might support $7.4 billion in revenue in 2025.
$300 million of its 2022 CapEx was invested in real estate projects to further improve the company's service center network - the core of its excellent business, which allowed the company to achieve a 99% on-time service rate and a cargo claims ratio of just 0.1%.
After servicing CapEx, the company spent $1.3 billion on share buybacks. $134.5 million was spent on dividends. Before the earnings call, the quarterly dividend was hiked by 33% to $0.40 per share. This translates to a 0.4% dividend yield.
Now, the question is: what's next?
Outlook & Valuation
The post-earnings stock price explosion somewhat gave away what the market thinks is going to happen.
ODFL, which did not provide clear guidance, did include two interesting comments in its earnings call.
First of all, the company did not see pressure on pricing, which is important as it kept revenue from falling.
We have customers in here every week, and our larger customers, contract customers coming in. Its business is usual. They're coming in and asking for contract renewals, additional services and so forth. So, we're not seeing anything out of the ordinary for the economic circumstances, no major price cutting or anything like that. So, I feel pretty confident that the end is probably near what we're going through.
Moreover, the company hinted that volumes might be bottoming. If that were to become reality, it would soon benefit from both pricing and higher volumes again. That's when ODFL shares tend to run hot. Yesterday's price action was the result of investors front-running these developments.
We said in our third quarter earnings call that we anticipated volumes could start increasing in the spring of this year. And we continue to remain cautiously optimistic that this will occur despite ongoing risk with the domestic economy.
This is in line with what FreightWaves reported going into this year.
Over the past week, we've spoken with numerous freight executives who have mentioned that the first two weeks of the first quarter are shaping up better than expected, granted, expectations were incredibly low after such a weak peak.

Going into the quarter, executives we spoke with predicted a significant collapse in freight for the first quarter, with a seasoned veteran executive of a large trucking technology firm predicting that the first quarter would be the worst in his four-decade career. It was a fair bet considering how challenging the second half of the 2022 was for most in the freight market.
Looking at consensus estimates, sell-side analysts expect both revenue and EBITDA growth to be slightly negative, with EBITDA margins being steady.
Concerning the valuation, the company has an implied enterprise value of $39.8 billion, which is based on its $40.6 billion market cap and $800 million in 2023E net cash (negative net debt).
This is 19.0x 2023E EBITDA, which is now somewhat lofty.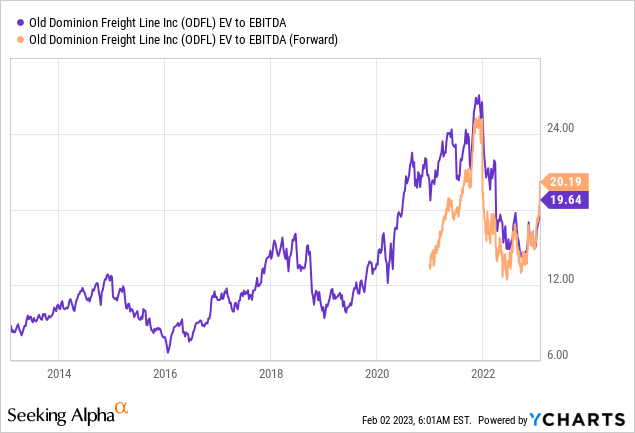 The company is now trading at $367 per share, which exceeds the two price targets it received this year (so far).
Credit Suisse: $323 (neutral -> underperform)
Bank of America: $334 (underperform -> neutral)
That said, we're seeing something very unusual. ODFL shares are trading at an all-time high while economic growth is deteriorating.
The lower part of the chart below compares the ISM Manufacturing Index to the total drawdown of the ODFL share price. In other words, if the red line is at the top, ODFL shares are trading at an all-time high. The lower the red line, the bigger the drawdown.
While it makes perfect sense for ODFL to take off before the market finds out that economic growth is bottoming, I believe the current move is providing new investors with a somewhat bad risk/reward.
Takeaway
I'm impressed. Old Dominion Freight Line continued to deliver fantastic results, despite slowing economic growth. The company used pricing to its advantage and further improved its operating efficiency.
Even more important, the company sees more opportunities to use pricing to its advantage while volumes seem to bottom.
Investors know what this means for the company, which resulted in a strong rally after earnings, bringing the year-to-date performance to 30%.
Needless to say, I still have ODFL shares on my watchlist, as the stock would make a lot of sense in my portfolio.
However, I am still waiting for a better entry. Especially after the recent surge, the risk/reward has turned unfavorable. ODFL has now priced in a rather steep economic improvement in the months ahead. I'm not yet willing to bet on that, which is why I will continue to watch the ODFL ticker like a hawk for an entry.
(Dis)agree? Let me know in the comments!
This article was written by
Leo Nelissen is an analyst focusing on major economic developments related to supply chains, infrastructure, and commodities. He is a contributing author for iREIT on Alpha.
As a member of the iREIT on Alpha team, Leo aims to provide insightful analysis and actionable investment ideas, with a particular emphasis on dividend growth opportunities. Learn More.
Analyst's Disclosure: I/we have no stock, option or similar derivative position in any of the companies mentioned, and no plans to initiate any such positions within the next 72 hours. I wrote this article myself, and it expresses my own opinions. I am not receiving compensation for it (other than from Seeking Alpha). I have no business relationship with any company whose stock is mentioned in this article.

This article serves the sole purpose of adding value to the research process. Always take care of your own risk management and asset allocation.
Seeking Alpha's Disclosure: Past performance is no guarantee of future results. No recommendation or advice is being given as to whether any investment is suitable for a particular investor. Any views or opinions expressed above may not reflect those of Seeking Alpha as a whole. Seeking Alpha is not a licensed securities dealer, broker or US investment adviser or investment bank. Our analysts are third party authors that include both professional investors and individual investors who may not be licensed or certified by any institute or regulatory body.