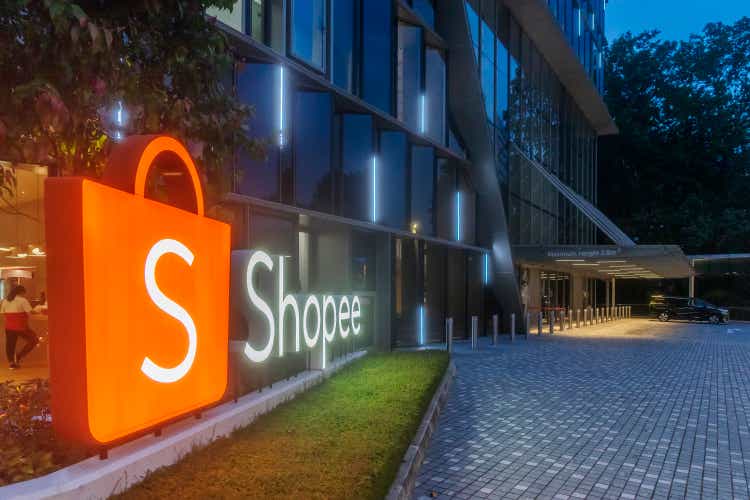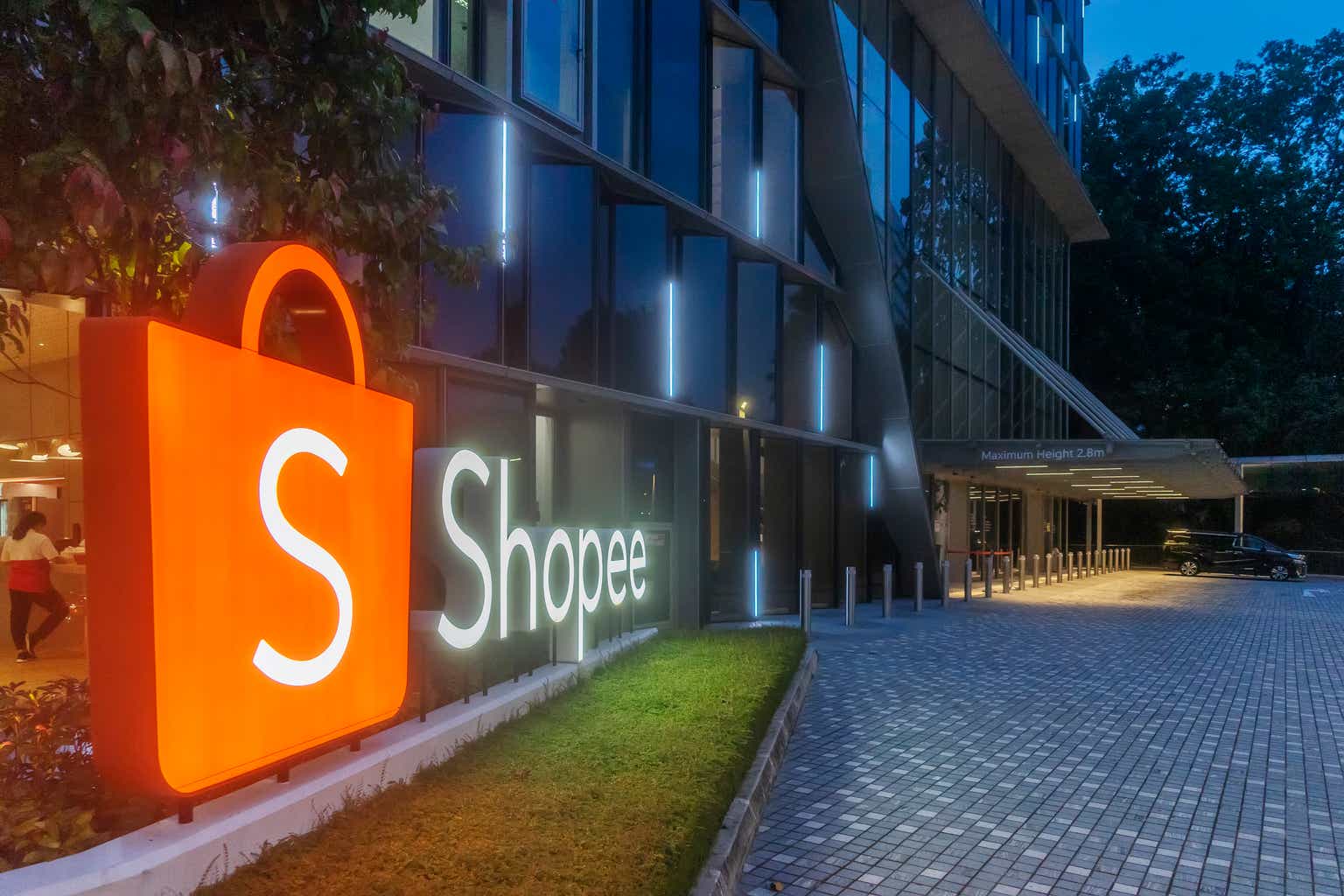 2022 was an abysmal year for many smaller growth-oriented technology stocks, with the "benchmark ETF" ARK Innovation (ARKK) losing a staggering ~75% of its value. The years leading up to 2022 saw immense valuation growth in this market segment as many retail investors clamored for high-momentum stocks. At this point, I believe it is fair to say that many small-cap technology stocks experienced a significant bubble from around 2018, culminating in 2021 and bursting last year. Many companies were pulled into this boom and bust cycle; one interesting example is the Asian gaming and technology conglomerate Sea Limited (NYSE:SE). SE tracked the bubble closely and experienced a slight rebound during the first month of 2023. See below: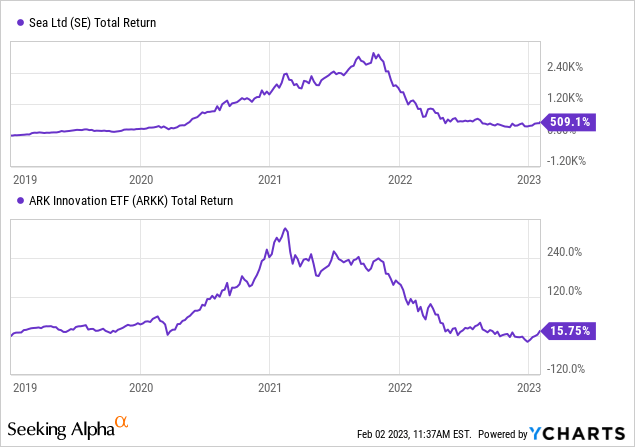 While ARRK does not specifically own SE, I believe SE's "boom and bust" was ultimately tied to the general bubble within smaller consumer technology stocks. In 2020, various factors caused a global surge in (typically) younger retail investor activity, leading to immense speculation on consumer technology companies with little regard to valuation. Unsurprisingly, as I (and many) preemptively warned, the speculative bubble eventually became a bust, causing immense losses as stocks fell back toward more sensible valuations.
Overall, the 2019-2021 technology bubble pattern is highly similar to that of the late 1990s, reaching the next generation of investors with less experience and were charmed by the allure of technology innovation. While it is true that the 2000s bubble pop saw immense losses, some of the companies that lost 80-90% of their value are now magnitudes higher than they were even at their peak. Examples include Amazon (AMZN), Microsoft (MSFT), Google (GOOGL) (GOOG), and others. Given the recent surge, many investors may wonder if SE's bear market is over and if it may be poised to become like the US technology giants eventually. That said, some evidence indicates SE's ongoing rally may be a "dead cat bounce" that proceeds an even more significant decline.
Is Sea Limited A Viable Company?
Sea Limited is a consumer internet technology conglomerate from Singapore. The company's primary asset is the game development company Garena, which owns the game Free Fire. More recently, the firm expanded to own Shopee (an "Asian Amazon-like shopping platform"), a payment services firm SeaMoney, and a professional Football club (Lion City Sailors). The company generates most of its gross profits from its digital entertainment segment (Garena), but nearly equal sales from both. Shopee is also quickly growing and is the most popular e-commerce marketplace in Southeast Asia by visits per month.
I believe Shopee is likely a more considerable opportunity than its digital entertainment segment since that region's e-commerce market is increasing. Indeed, SE has had solid sales and gross profit growth over recent years without sacrificing margins. That said, it has seen significant debt growth to fuel its aggressive expansion. See below: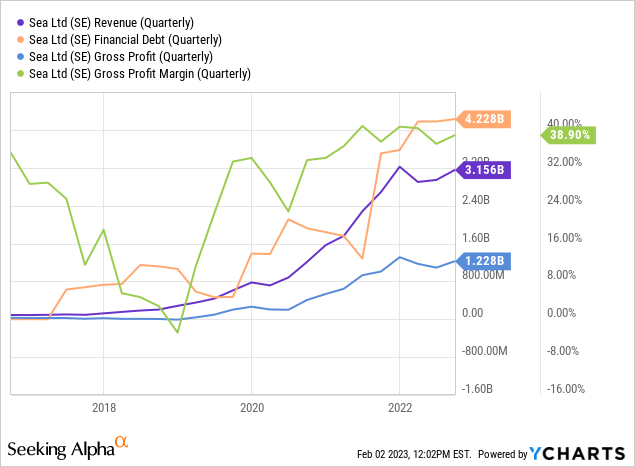 Despite a considerable stock price decline last year, Sea's sales and gross profits have continued to grow as the company expanded its Shopee segment. The firm is still largely dependent on one game, Free Fire, and sales of that game are slowing. Free Fire was banned in India last year along with many other Chinese-associated apps, likely stemming from increased tensions between India and China. This points to the general risk among Asian technology stocks of being brought into geopolitical regulatory tensions. It seems unlikely that western countries will follow this pattern, but the effort to ban TikTok in the US may indicate this possibility. At any rate, it appears Sea would be wise to focus more extensible on Shopee; fortunately, the company has expanded that platform quite rapidly over the past year.
Of course, rapid growth has caused Sea's losses to expand toward a staggering ~$500M per quarter (or $2B per year). These losses are almost entirely due to operating costs. While the firm's operating costs-to-sales ratio is falling, it will need to decline more quickly for Sea to become profitable. See below: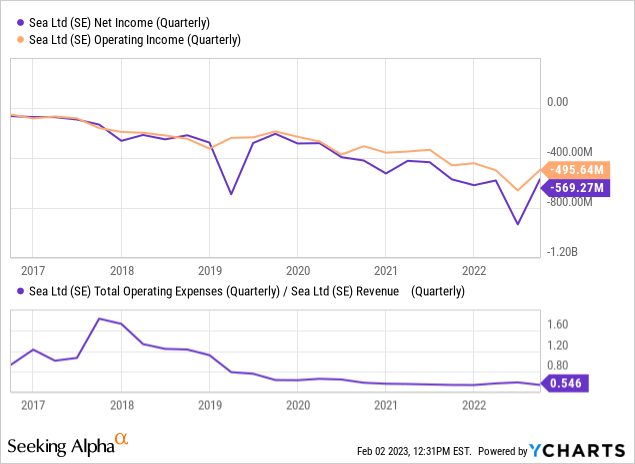 Generally, a company with stellar growth but no income may not be of value if its liquidity deteriorates too quickly. There is significant competition within the Southeast Asian e-commerce space, so it is sensible that Sea is operating at a loss to try to take market share. The company does have a substantial cash and working capital position, mainly due to share sales during its massive market-capitalization boom, but it only equates to ~ two years of losses. See below: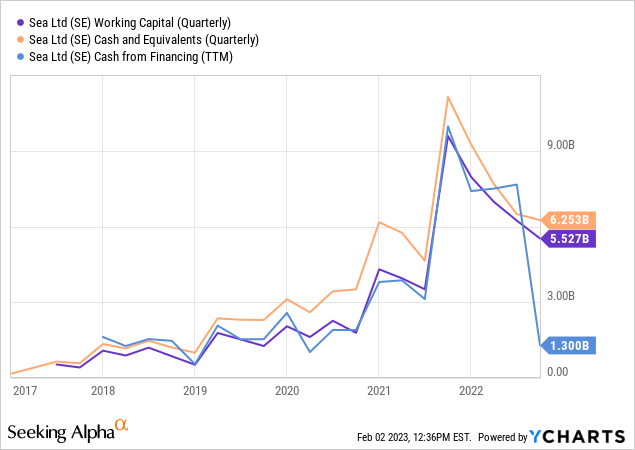 Sea's liquidity position is strong, allowing the company to operate at a loss for a year and possibly much more if its burn rate falls. The company has lost money so quickly that it is not guaranteed to break even soon enough, but if it continues to grow revenue while keeping operating costs in check, it may manage the feat. At this point, I believe Sea may become profitable quickly enough that it does not need to pursue dilutive financing. The company's business is undoubtedly not stabilized but appears viable and may become very profitable if it secures a more prominent dominant E-commerce position.
What is Sea Ltd Worth?
In my view, it appears likely that Sea's digital entertainment business will fade unless it can create a stronger alternative game to Free Fire. However, its payments and retail e-commerce brand will likely continue to experience strong growth and eventual profitability. That said, investors should not assume that SE is worth buying simply because it is viable. The stock is up around 70% from its November low and is valued at nearly $40B - a very high measure to live up to.
The analyst consensus points toward Sea obtaining annual sales of ~$30B by 2029, just under 3X TTM levels. That is a sensible projection given its historical growth pace and the expansion of the E-commerce segment. If its gross margins remain, around 39% (stabilized) and operating costs-to-sales fall to 30% (from ~55%). Its projected operating margin would be about 9%, giving it a hypothetical operating income of approximately $2.7B. Most likely, that would translate to a net income of about $1.75B.
Over time, most stable companies have a "P/E" of around 15X; however, due to the time value of money over a 6-7 year period, that ratio is about 30% lower (using a 4% discount rate) on today's terms or ~11.5X. Since I am using a long-term projected income, its value must be discounted to reflect lost "risk-free" income from Treasury bonds. Of course, Sea may see a rise in cash during this period from operating income. Still, I generally expect its overall cash (from operations) change to be near zero by then, as it may lose more for two-to-three years before turning positive. Thus, I believe SE is worth around $20B today, or roughly 11.5X target "PE" valuation times the projected annual income of ~$1.75B.
The Bottom Line
This valuation target equates to a target share price of around $37, or nearly half its current price. Interestingly, the stock fell to about that value in November before rising. After its crash, there was significant short interest against the stock, so its ongoing rally may ultimately be tied to a short squeeze or dip-buying activity.
Overall, I believe SE is potentially overvalued today, but I am not particularly bearish on the stock, nor would I bet against it. While it is true that my price target is well below its current price, a more substantial rise in revenue or improvement in operating cost overhead could bring the firm's income high enough to justify its current price. Long-term valuations are very sensitive to changes in assumptions. I believe my assumptions represent a fair "base case" scenario, but SE could easily be worth half as much, or twice as more, as my valuation suggests based on a change in assumptions. Thus, I believe SE is trading at the high end of its fair valuation today; so it is not "overvalued" but at risk of becoming overvalued if it rises much further.