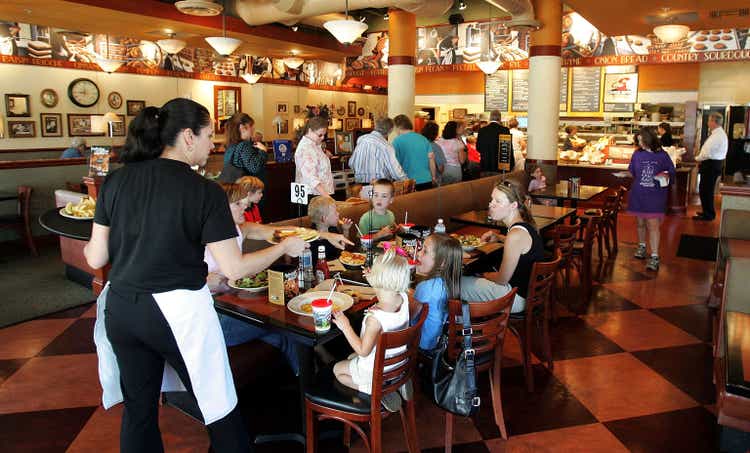 Recommendation
I believe Brinker International (NYSE:EAT) is fair valued at the current price, especially after a huge rally over the past 6 months.
With an SSS of 9.7% and a store margin of 11.6%, EAT had a fantastic 2Q23. These were accomplished largely through the management of labor costs and the implementation of a sales mix that drove revenue after the elimination of discounts and introduction of new menu items. Truthfully, I anticipated no less from the new management team. On the other hand, traffic was low, but this is expected to improve in 3FQ23 thanks to new marketing campaigns that put an emphasis on the low-cost "3 for Me" option. It's also important to note that EAT's margins continue to be below average when compared to competitors. I believe that the key to earnings growth and confirmation of the more bullish case for the stock is the convergence of margins to those of the company's peers. However, I believe that this convergence won't be as quick as it seems due to the need to invest in both labor and marketing.
Long-term margin targets are just one topic that will hopefully be fleshed out at the June investor event. Most investors, in my opinion, will look for gains beyond current projections, even as they recognize that reinvested capital is helpful to the turnaround story in the long run.
Latest earnings highlights
The SSS of 9.7% for EAT 3FQ23 was better than the 6.7% expected by the streets, leading to a better-than-expected revenue. Both Chili's and Maggiano's strong momentum and an increase in overall check sizes contributed to the overall growth of SSS. It's crucial to remember that underlying demand trends are still solid, and that this holds true even into January. Despite some weather-related slowdowns and a decline in lower-income customers, EAT has seen an improved sales mix as a result of its shift toward a model with less discounting. In addition, EAT is making headway at Chili's thanks to the success of the new bar menu that debuted in 1FQ23, which is boosting sales of alcoholic beverages, PPA, and mix. Later on this year, EAT is also expected to be launching a new Crispers platform and expanding its selection of premium margaritas. In addition, I'm excited to see Chili's value proposition in action beginning in 3FQ23, when the chain will begin airing TV ads emphasizing its "3 for Me" platform. Meanwhile, both off-site initiatives and recruitment efforts are making significant headway. However, management has indicated there will be additional investment spending in 2Q23, which is important for the long-tern turnaround in my opinion.
Despite a 19% increase in commodity prices, EAT saw storm margins of 11.6 percent, which was higher than the expected 10.5 percent. As I see it, management's expectations that raw material inflation will continue for some time are reasonable. Managers anticipate a ~10% inflation rate in 3FQ23 and a mid-single-digits rate in 4FQ23. More importantly, EAT began implementing changes to the labor model in the second half of 2FQ23 with the goal of bettering the experience for both employees and customers. Although I anticipate this will have a positive impact on LT benefits, I do anticipate near-term margin pressure.
Capital allocation
Due to the importance that upper management places on improving the store's facade and its infrastructure, I anticipate an increase in capital spending in the near future. As for debt, I expect it to gradually decrease from its current levels to 2-2.5x, driven primarily by improvements to EBITDA but also by some debt paydown. The company has no immediate plans to resume buybacks or the dividend, but management has mentioned they will continue to assess options for returning capital to shareholders over the next 6 to 12 months.
Guidance
With the 2Q23 results in mind, management has increased FY23 guidance, which now includes $4.05 to $4.15B in revenue and adjusted EPS of $2.60 to $2.90. This suggests a relatively flat 2H at the midpoint. Management also anticipates capex in the range of $170-$180 million, an increase in G&A of ~$8.5 million and a decrease in D&A of ~$5.5 million, with interest expense increasing by ~$10 million. EAT also anticipates a growth of 7 units in 2H.
Valuation & model
Given the current price, I do not see much potential for EAT to increase in value. While there will be some macro challenges this year, I expect sales momentum to continue as initiatives move forward, with SSS maintaining in the mid-single digits. The normalized level of SSS should decrease to 3% going forward. In terms of expenses, I anticipate that commodity and labor inflation will persist, cutting into margins in the near future. Although the elimination of sale items from menus will likely lead to higher average selling prices (a result of a more favorable sales mix), fewer customers will likely visit the establishment as a result - thereby impacting traffic.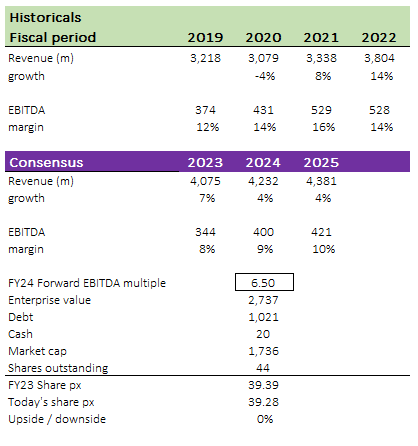 Summary
In conclusion, EAT is fairly valued at its current price after a significant rally in the past 6 months. The company showed strong results in 2Q23 with a 9.7% same-store sales growth and 11.6% store margin, mainly due to effective management of labor costs and a sales mix that drove revenue. Despite low traffic, the company expects it to improve in 3FQ23 with new marketing campaigns.