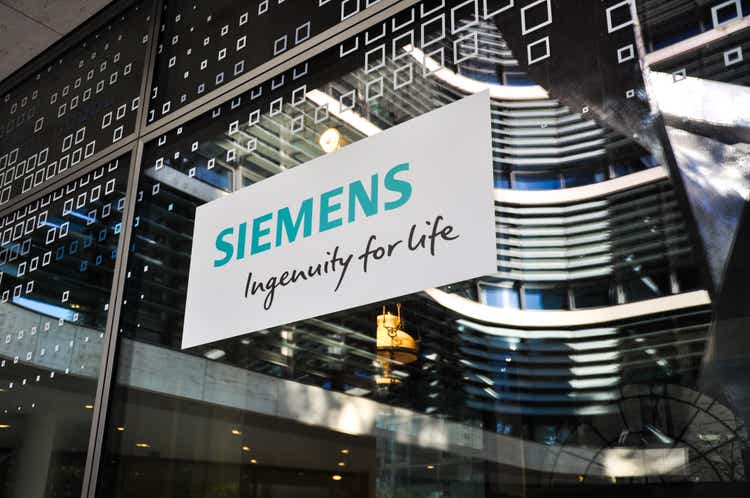 Despite a year challenged by macro headwinds, high inflation, and rising interest rates, and the Russia-Ukraine conflict (which saw Siemens leaving Russia after 170 years of operations in the country), German industrial giant Siemens (OTCPK:SIEGY) reported strong results with revenues increasing 8.2% YoY to EUR 72 billion on a comparable basis with all business segments reporting solid sales growth. Orders were up 17% YoY to EUR 89 billion while the order backlog set a new record at EUR 102 billion.
Looking ahead, Siemens' prospects look bright with all business segments positioned to benefit from solid structural demand drivers in their respective end markets. The company aims to achieve 5%-7% revenue growth over the next three to five years.
Digital Industries
For FY 2022, Digital Industries, which provides automation solutions covering both software solutions as well as hardware components for discrete and process industries, revenues grew 13% YoY to EUR 19.5 billion while orders grew 32% YoY driven by strong performance from the automation business. The segment's profit margin of 19.9% was almost the same as the previous year's 20.3%.

Near term, Digital Industries' solid performance is expected to continue. Siemens expects Digital Industries to be its best performing segment in 2023, with the segment expected to grow 10%-13% during the year, with profit margins of 19%-22% on the back of strong orders mainly driven by a large number of contract wins in the PLM business. Digital Industries' order backlog increased to EUR 13.5 billion in Q4 2022 (quarter ended September 2022) which should support segment revenues for 2023. Management expects more than EUR 10 billion of this backlog to be converted to revenue over the 6-9 months of FY 2023.
Long term, there are reasons to be optimistic about Digital Industries' prospects with the segment set to benefit from automation and digitalization trends around the world. After experiencing disruptions to their manufacturing and supply chains, the pandemic has hit home the importance of digital transformation which is no longer viewed as an optional, "nice to have". In a 2021 survey, 91% of respondents said they stepped up investments in digital transformation as a result of the pandemic but with a number of digital transformation efforts delayed as a result of the pandemic, demand for industrial automation and digitalization solutions could accelerate as expansion plans and digitalization efforts are implemented in the near future. In a 2022 survey, 18% of manufacturers were forced to speed up digital transformation efforts as a result of the pandemic while 47% of respondents said their digital transformation processes were unaffected because 42% of respondents hadn't started the process yet.
The division services a broad range of industries (including automotive, food and beverage, pharmaceuticals and chemicals, and machinery among others), across all continents around the world, and Siemens, the world's biggest automation vendor by revenue, is also a market leading player in several subsegments within the automation market including Product Lifecycle Management or PLM, and Integrated Digital Platforms.
The industrial automation and digitalization industry has relatively high barriers to entry, with vendors requiring a high level of domain-specific knowledge, experience, as well as capital investment, and therefore Siemens' market leading position and brand recognition would be extremely challenging for a newcomer to dislodge which suggests Siemens is well positioned to capitalize on growth opportunities in the automation space going forward.
Smart Infrastructure
Siemens' Smart Infrastructure segment, which provides solutions to support the transition from fossil fuels to renewable energy (covering products such as charging infrastructure), as well as solutions to support sustainable buildings and infrastructure (including HVAC, building management systems, energy performance services, and grid management solutions etc.) also saw strong growth momentum in FY 2022 with revenues up 10% YoY to EUR 17.4 billion and orders up 23% YoY led by electrical products and contract wins in the electrification business. Order growth was driven by strong demand from industrial customers for data centers and digital building services.

Electrification, a key demand driver for the Smart Infrastructure segment, is very much at the early stages and has a long runway for growth as the world works towards net zero emissions. Much of this could be met through the electrification of transport as well electrification of certain industrial processes such as heat processes (such as food drying processes) however industrial equipment's typically long life means the electrification of industry is a slow process. Electrification of transport on the other hand is taking place at a much faster pace and there is plenty of runway for expansion in the medium term.
There are around 27 million electric vehicles, a number expected to climb to 40 million by the end of 2023. That would still represent around 3% of the global car fleet (a considerable increase from 1% in 2020), leaving enormous room for growth. Yet, a lack of charging infrastructure has been identified as one of the main barriers to EV adoption, and as governments work their way to meet EV adoption deadlines over the coming years (the EU is aiming to ban ICE vehicle sales by 2035, the UK is aiming to achieve the same by 2030, while China, the world's largest car market aims to phase out fossil-fuel vehicles by 2035), charging infrastructure demand should increase as well. In Germany alone, where Siemens has a home advantage, the government has approved a plan to spend EUR 6.3 billion to increase the number of charging stations from 70,000 currently to 1 million by 2030, more than a fourteen-fold increase over the coming eight years.
Mobility
Siemens' Mobility division which provides products and services for passenger and freight transport covering rolling stock (including trains, trams, light rail etc.), rail infrastructure (including products and services for rail automation and electrification), and software solutions for intermodal solutions (such as fleet management, route planning, ticketing, payments etc.) saw revenues rise 3% in FY 2022, while orders rose 2% YoY.

Mobility should benefit from growing efforts to decarbonize the transport sector which accounts for a quarter of global CO2 emissions. Rail, which is one of the most energy efficient modes of transport for freight and passengers (the rail sector carries 8% of the world's passengers and 7% of global freight transport but represents just 2% of transport energy demand) is getting increased attention. Siemens has been winning a few rail project contracts around the world (recent wins include Egypt, and most recently in India, the world's largest rail market.
The global competitive landscape is stiff however with market leader CRRC (OTCPK:CRCCY) having a considerable cost advantage, and second-placed rival Alstom/Bombardier (OTCPK:ALSMY) having a global operational footprint that is far wider than Siemens which may suggest Siemens may not be as well positioned as rivals to capitalize on the global opportunity. At 3% YoY growth in sales in FY 2022, Mobility is Siemens' slowest growing segment and far short of Alstom's 8.2% sales growth in FY 2022 (both Alstom and Siemens' fiscal year ends in September).
With a segment margin in the high single digits, Mobility is also Siemens' lowest profit margin division and although the company is making efforts to boost segment profitability, it remains to be seen how successful they would be as stiff competition may make this effort an uphill climb.
Nevertheless, in Germany and the U.S., where Siemens Mobility has a strong presence, opportunities are plenty. In Germany, where Siemens should have a home advantage, rail investment lags neighbors such as Switzerland and Luxembourg.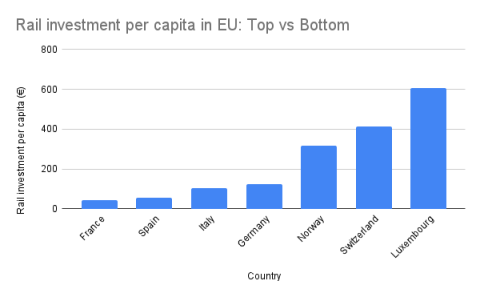 Meanwhile in the U.S., the Biden administration approved USD 2.3 billion in funding to expand and modernize the country's intercity passenger rail network worldwide, marking one of the largest investments in 50 years, a positive trend for Siemens.
Siemens Healthineers
Siemens's healthcare subsidiary Siemens Healthineers AG (in which Siemens holds a 75% stake) recorded revenue growth of 6% YoY on a comparable basis while orders grew 9% YoY. The segment's actual 21% YoY revenue growth was largely driven by Covid antigen tests. Siemens Healthineers expects comparable revenue growth of 6%-8% for FY 2023.

The segment, which sells diagnostic and therapeutic products to healthcare providers should benefit from rising demand for healthcare services worldwide as the global population ages, rising urbanization leads to increased disease incidence, as well as rising demand for quality healthcare in emerging markets as incomes rise. Siemens Healthineers has a broad geographic presence and is the global market leader in diagnostic imaging (GE Healthcare (GE) is a close second) which nicely positions the company to capitalize on growing demand for diagnostics in the healthcare space.
Conclusion
For a market leading player with stable mid-digit growth prospects, a P/E of 18 and a market value that is about double their shareholders' equity suggests Siemens is not exactly undervalued but could be viewed as fair and worth a look for investors with a moderate risk appetite and a long-term horizon.
Analysts are largely bullish on the stock.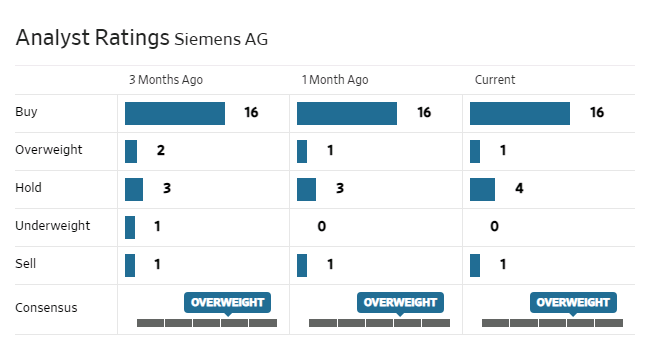 Editor's Note: This article discusses one or more securities that do not trade on a major U.S. exchange. Please be aware of the risks associated with these stocks.