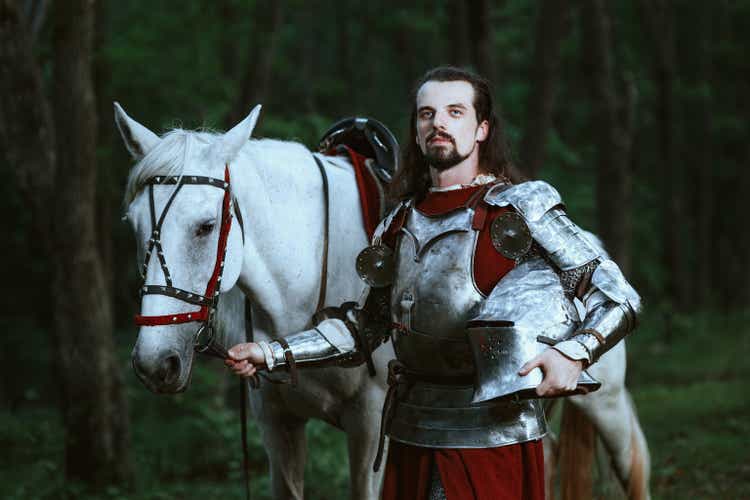 There were plenty of pundits seeing a buying opportunity when the Western Australian local behemoth Northern Star Resources (OTCPK:NESRF) sold its Plutonic gold mine to a Canadian junior by the name of Superior Gold (OTCQX:SUPGF) back in 2016. And for a while, it looked as if these calls were justified as Superior posted robust results during the initial quarters of operating this asset. The share price topped C$1.50 in 2019, before taking investors on a volatile ride, culminating in a gut-wrenching drop in the second half of 2022.
The current market capitalization computes to around half of the book value for the Plutonic mine and indicates a company in distress; a closer look at the balance sheet confirms this suspicion. However, despite headwinds aplenty not all is lost for Superior Gold shareholders, as we will explain in the following.
Northern Star had picked up the Plutonic mine for just $22.3M in a deal with Barrick Gold (GOLD) that closed in 2014 and sold the asset for $66M to Superior Gold less than three years later. What looked like a profitable flip for Northern Star on surface, barely represented a break-even after considering all the work the Australian miner had done to redevelop this old and tired mine. Significant investments had been made to delineate new zones for future underground mining, most notably the Caribbean, Pacific East, Indian, and Caspian Zones; and the company had also added open pit inventory to fill the mill on the way to produce 100,000 ounces of gold per annum as described in an investor update - shortly before the mine was put up for sale.
Expectations were therefore high when Superior Gold took over the Plutonic mine, and management certainly wasn't afraid to promise big. The 5-year guidance released in October 2019 is just one example:
Unfortunately, actual production numbers fell well short of the many promises, and the company only achieved its annual guidance once in six full years of gold production at the Plutonic gold mine. Grades remained well below the lower bound stated in the 5-year production guidance; actual reported cash costs and all-in sustaining costs exceeded the upper end of the 5-year cost guidance by a minimum of 30%.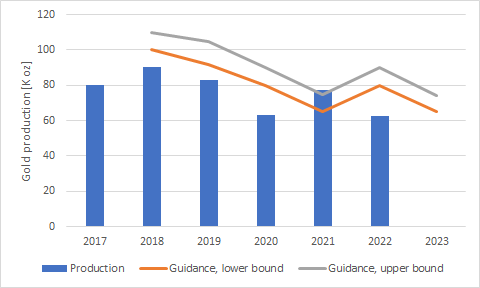 Rather than zooming into the many details of this perennial double whammy of over-promise and under-performance, we would like to take a step back here and point to what we believe is the underlying cause. The Plutonic mine is a mature asset that has been in operation since the late 1980s. It yielded in excess of 300,000 ounces of gold per year in its heydays. These days are long gone, however, and too many years of under-investment have turned this mine into an old and worn asset.
Northern Star under the leadership of Mr. Bill Beament got its start by turning around a similar asset (the Paulson mine), growing from a micro-cap junior miner into the second largest gold miner down under by repeating this feat several times over. Seeing this best-in-class team flip the Plutonic mine to Superior Gold served as a red flag to this scribe (and we told our subscribers as much at the time). We submit that Mr. Beament saw the writing on the wall after studying the Plutonic mine for a year, and passed it along to the highest bidder, i.e., to Superior Gold.
And of course, the mishap about rights to open pit ore to feed the hungry Plutonic mill added to Superior Gold's uphill battle.
Supplementing With Open Pit Ore
Northern Star seemed to have realized that the Plutonic underground mine could no longer fill the mill and had acquired rights to various open pit resources in the vicinity to serve as supplementary ore sources (most notably the Hermes acquisition). Superior Gold capitalized on these open pits initially, and the ore from the Hermes mine propped up operations until this resource was exhausted in May 2019.
The K2 project controlled by neighboring junior explorer Vango Mining (OTC:ORDRF) was another promising option to develop a supplementary open pit. Unfortunately, the earn-in agreement struck by Northern Star became shrouded in litigation when the Plutonuic mine changed hands denying Superior Gold access to this potential ore source. The case is still working its way through the Western Australian courts and Superior Gold has been forced to consider much less attractive alternatives, an expensive cut-back of the original Plutonic pit being one of them. Open pit mining was suspended all together in October, and ore processing was scaled back to batch milling in November.
The Balance Sheet
Running the mill below capacity, and with comparatively low-grade underground ore has resulted in an untenable cost structure, and the resulting lack of noteworthy operating cash flow (and the associated negative free cash flow) has taken a heavy toll on the balance sheet. By the end of Q3 Superior Gold reported a negative working capital of -$9.1M, and Accounts payable had increased significantly above the typical $15M range signaling potential delays with payments to suppliers.
In October the company announced a $7M (A$10M) financing that came with more than just a whiff of desperation, a loan to be repaid in physical gold, and thus encumbering 18 months of future production starting this January. And despite this loan, the company exited 2022 with just $8.1M in the treasury, down from $11.6M at the end of Q3. The company hasn't released its end-of-year financial statements yet, but one can safely assume that working capital remains negative, and free cash flow has remained elusive.
The Year Ahead
The company is guiding for gold production of 65,000 to 74,000 ounces at all-in sustaining costs of $1,600-1,800/oz. In essence, this guidance implies close-to-Zero free cash flow at the current gold price - and that's before taking into account the repayments on the mentioned gold loan, and only if the company actually manages to hit its start-of-the-year guidance for the second time in its seventh year of operation.
Hitting its guidance will be all the harder, as open pit mining has been suspended all together in late 2022, and production will hinge solely on the underground mine. Superior Gold has a highly variable operational track record with regards to underground mining at Plutonic, arguably caused by a lack of investment to develop new mining fronts, and the associated necessity to mine remnant resources. Apparently, the company is addressing mine development with $7-9M in capital investments into the underground mine infrastructure. Unfortunately, no information has been provided on where the funds for this capex program will come from - and the balance sheet will certainly not support this plan as explained above.
White Night Or Vulture?
This brings us to the emergence of Catalyst Metals (OTCPK:CLYMF) on this scene. Catalyst Metals is a local Australian junior miner with a track record of turning around operations at the Henty underground gold mine in Tasmania. This company has struck a deal to acquire Vango Mining, the company litigating against Superior Gold over the rights to the K2 open pit project. The Western Australian rumor mill was working extra time when this proposed deal became public knowledge, prompting Superior Gold to put out a press release to confirm talks with Catalyst Metals. The little uptick at the beginning of this year in the chart above can be attributed to this confirmation (and the most recent turn South is most likely the result of the mentioned 2023 guidance).
Catalyst Metals has had a reasonable run lately and considering its track record at the Henty mine and its imminent ownership of the open pit resources on Vango grounds, it certainly looks like the logical party to operate the Plutonic mine following a presumed transaction with Superior Gold. At a share price of just C$0.265 at the time of writing Superior Gold's market capitalization computes to just C$33M ($25M in US denomination) leaving sufficient leeway for Catalyst to offer a premium, and still pick up a bargain considering the $66M price tag attached to the mine when Superior Gold bought it off Northern Star.
Vango Mining's board has recommended a takeover by Catalyst Metals last week, and Catalyst Metals is already Vango's largest shareholder. Completion of this acquisition seems a formality. A transaction with Superior Gold is the next logical step for Catalyst Metals. For all the reasons explained earlier in this piece, we believe that Superior Gold is approaching the end of its line, and an acquisition by Catalyst Metals appears in the best interest of both parties.
Long-term investors, frustrated by the lengthy litigation over the K2 project, will presumably view Catalyst as a circling vulture. And no offer that can reasonably be expected from Catalyst Metals will change this view for some of them. However, considering Superior Gold's less-than-average operational track record, its lack of accessible open pit ore, and its precarious balance sheet, a more balanced view is in order. Catalyst Metals is perhaps not quite the White Knight that brings fortunes to long-suffering Superior Gold investors, but it might just offer a face-saving exit from a story that could well go to Zero otherwise.
Investment Thesis
Superior Gold shareholders are probably best advised to hold their shares for now and cut their losses in the event of a takeover offer by Catalyst Metals.
Speculators picking up Superior Gold shares at the current share price stand a reasonable chance to earn a premium if a deal is struck. However, the risk-reward balance for such a speculation doesn't seem very attractive to us. Surely, better speculative punts must be available for such inclined.
And investors with access to the ASX might wish to consider an investment in Catalyst Metals (trading activity on the OTC is anemic and should be avoided). The company seems to be in a strong position to negotiate a favorable deal with Superior Gold and the share price might well rally if an agreement can be reached. And the downside is limited in the event that no transaction eventuates, given the company's solid operational and financial results at the Henty mine and its attractive exploration projects in Victoria.
Editor's Note: This article discusses one or more securities that do not trade on a major U.S. exchange. Please be aware of the risks associated with these stocks.