Exar Corporation (NASDAQ:EXAR) offers a compelling risk/reward profile, with a significant margin of safety. At $7.93, the stock trade below the value of cash (~$4.43), land/property (~$0.67), and NOLs (~$3), and has the potential to double or more (to $16). Management is extraordinarily incentivized to maximize shareholder value. Over the next 12 months, we expect shares to trade into the teens, with positive news flow expected to accelerate when Exar's new fiscal year (FY13) begins in April.
Company background: Exar is a semiconductor company founded in 1971 that develops power management and interface components, communications products, storage optimization solutions and network security solutions. Despite multiple management teams and strategies, it has floundered for most of the past couple of decades.
New CEO specializing in turnarounds
On December 6 last year, Exar announced the hiring of Louis DiNardo as President and CEO. DiNardo is an industry veteran with long stints at Analog Devices (NASDAQ:ADI), Linear Technology (NASDAQ:LLTC), and Intersil (NASDAQ:ISIL). Most relevant to his current position has been his long stint as CEO of Xicor.
When DiNardo took over at Xicor in November 2000, it was a struggling, significantly money-losing, Serial EEPROM company with over $100 million in revenues. He shrunk it to a $40 million, break-even, analog company. When we heard DiNardo's Xicor pitch 10 years ago, regarding Xicor's turnaround and exceptional growth prospects, we were highly skeptical. Despite limited growth and profitibility, DiNardo managed to sell Xicor to Intersil for an astonishing $529 million - 13x revenues (Revenues!) for a break-even company. We're not sure what Intersil management was thinking when they made the acquisition, which has proved to be one of the poorest in semiconductor industry history.
DiNardo made Xicor investors a lot of money, and we believe he can do the same at Exar. While we believe Intersil grossly overpaid for Xicor, we think investors can double their money on Exar based on the company being acquired for a very reasonable multiple within a few years.
DiNardo's compensation package
Louis DiNardo received a generous, unusual, and potentially exceptionally lucrative employment contract from Exar. He has a $500,000 base salary and up to 1.2 million stock options (60% guaranteed, 40% based on stock performance). The options were struck on DiNardo's first day of work, January 3 this year. Conveniently, however, Exar pre-announced negatively a week earlier, on December 28, causing the stock price to drop.
DiNardo will also receive up to 300,000 shares, if Exar hits certain operating metrics (detailed below). Finally, DiNardo has elected to take his $500,000 guaranteed bonus for his first year in stock, based on the price on the first day of Fiscal 2013, which is April 1 - we'd expect news flow to improve significantly after this date. We'd suggest that investors read the 8-K they filed on December 6 last, that includes the entire employment agreement. A summary of the key points is as below:
Shares of Xicor must exceed the price listed below for at least 45 consecutive trading days in the corresponding Fiscal Years, for Louis DiNardo to receive 120,000 options in each of FY13, FY14, FY15, and FY16. The strike price on each of these options is $6.43. For example, for DiNardo to receive 120,000 option for FY15 (at a strike of $6.43), the stock will have to be above $12 for at least 45 consecutive trading days in FY15 (April 2014-March 2015).
Click to enlarge

Source: Exar 8-K filed December 6, 2011
Cleary, DiNardo has specific motivation to get the stock price to rise.
In addition, DiNardo is to receive 300,000 Restricted Stock Units (RSUs) in three equal tranches, assuming Exar can achieve the following targets:



Notably, the press release announcing DiNardo's hiring, mentioned the 1.2 million stock options, but fails to mention these 300,000 RSUs, which would be worth almost $5 million if Exar achieves its performance targets, and reaches our $16 target price.
While we believe DiNardo has already achieved significant personal success, clearly additional future wealth is extremely tied to Exar stock price appreciation. We believe all of his performance metrics are achievable, and once fully vested, we'd expect him to attempt to maximize share price via a sale of the company.


Xicor 2.0
Since coming to Exar, DiNardo has started trimming fat, and reshaping the company in his own image. When Exar reported 3Q results, he announced headcount reductions that will result in $7 million in annual savings. He has begun hiring former co-workers from Xicor and Intersil, in what we expect will be an ongoing effort to reshape and improve Exar.
In the almost six years since DiNardo's departure from Intersil as President, during his time at PE firm Crosslink Capital, we believe he has been studying the semiconductor industry, biding his time for an opportunity to replicate his experience at Xicor, using all his best practices. With three former senior co-workers now on the Exar team within DiNardo's first two months on the job, we are convinced that he came to Exar with a well constructed game plan.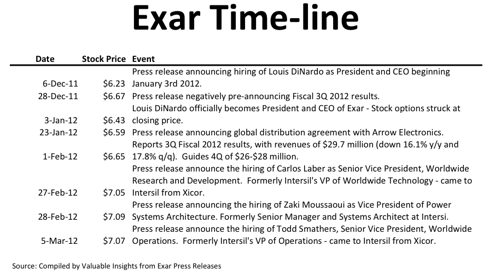 Margin of Safety: The stock has $8+ of assets to an aquirer today.
We estimate the fair value of Exar's cash, PP&E and Net Operating Losses ("NOLs") at $8+. Exar ended 3QFY12 (December) with $198.5 million, or $4.43 per shares.
In addition, the company has property, plants and equipment of $30.0 million or $0.67 per share, although we believe this number understates the actual value of PP&E. We note that Exar acquired 13.1 acres in Fremont in 1985 - that is, 27 years ago. In addition, the company spent $14 million on construction of its 151,000 sq. ft. headquarters in 1995 - that is, 17 years ago. Bay area real estate prices have risen dramatically over the past decade, suggesting that if buyers acquired, Exar they could receive a significant premium if they sold the company's headquarters.
Finally, according to their FY11 amended 10-k (page 100), as of March 27, 2011, Exar's federal and state net operating loss carryforwards for income tax purposes were approximately $285.0 million and $139.0 million, respectively. In addition, the company has federal and state tax credit carryforwards of $9.0 million and $11.0 million. Given the losses fiscal year-to-date, we would expect these numbers to be higher today.
We note, that according to Sec. 382 of the tax code, an acquirer code only use 3.55% of the losses annually, based on the current long-term tax-exempt rate for Section 382 ownership changes. Still, taken the present value of the NOLs into account, we believe a buyer could extract $3 per share of value through tax savings. Notably, the analog sector is full of extremely cash-rich, profitable players that could benefit from NOLs.
The Case for a $16+ stock
Louis DiNardo presented Exar's long-term operating target model recently at the ROTH Conference.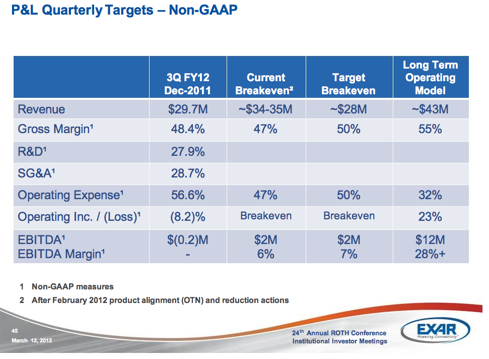 Source: 8-K filing of presentation at Roth Conference
Exar is targeting $43M in quarterly revenue with a 28% EBITDA margin, resulting in $12M in quarterly EBITDA - or $48 million in EBITDA. Notably, Exar's EBITDA was a loss of just $0.2M in the December quarter, on just $29.7M of sales. Since then, it has eliminated 15% of the workforce, resulting in $7M in annual savings (see 10-Q, page 20). In addition, at this conference DiNardo indicated an additional $10M of annual cost savings to be put into place in 1H FY2013.
In other words, based solely on the cost savings, of $17M, or $4.25M per quarter, Exar's EBITDA would have been $4M on the recent $29.7M of revenues (loss of $0.2M + savings of $4.25M = positive EBITDA of $4M) - or a 14.1% EBITDA margin. We believe we are at a cyclical bottom, and would expect that within a couple of quarters, revenues will be back to at least $35 million, and with expected costs savings, Exar should have EPS that exceeds $0.10 per quarter.
While we are unsure that Exar can get to $43M and 28% EBITDA margins, we think that getting to ~$40M in revenues (near recent highs) and to EBITDA margins of 25% is entirely realistic. Based on our numbers, Exar would have annual EBITDA of $40M. An 8-10x EBTIDA multiple would suggest a value of $320-$400 million or $7-$9 per share.
We believe a buyer could likely take out at least an additional $20 million of cost savings. For example, an acquirer would not need two CFOs, two heads of sales, redudant accounting costs, duplicative process technologies, public company filing costs, etc.
So, quite realistically, a buyer could get EBITDA of at least $60M. A very conservative acquisition multiple of 6x EBITDA would be $360M, or $8 per share, plus $8 for cash, PP&E, and NOLSs - resulting in a take-out price of $16.
Of course, if DiNardo can get to $43M revs/28% EBITDA, and sell for an 8x EBITDA, or higher, the numbers could get really interesting. And remember, he was able to sell Xicor for 13x revenues, so he certainly can tell a good story.
Consolidating industry with lots of buyers
The analog semiconductor sector has been consolidating for some time, with the notable acquisition of National Semiconductor by Texas Instruments (NYSE:TXN) in April 2011 for a 78% premium, a particularly momentous event.
Following the announcement, industry analysts indicated they expected an acceleration in sector M&A. Assuming DiNardo executes his plan for Exar, there could be numerous buyers including Analog Devices, Linear Technology, Maxim (NASDAQ:MXIM), Microsemi (NASDAQ:MSCC), or even cash-rich Intersil, now under new management. This could be an easy, bite-sized transaction where the deal could be accretive at a reasonable multiple, while still making DiNardo and investors, significant profits.
We think the two limiting factors to our thesis are that: (1) based on the vesting schedule, DiNardo would be unlikely to sell prior to April 2015 so that all his shares vest - although for the right price, it might be worth his while to sell early, and (2) DiNardo, at just 52 years old, may want to become the CEO of the buyer, limiting the buying population to those open to a new CEO. Then again, DiNardo has millions of reasons to take the highest price he can get and to walk away with a smile on his face.
Disclosure: I am long EXAR.
Additional disclosure: We conduct thorough research on our ideas, but our views are our own. Please do your own research.