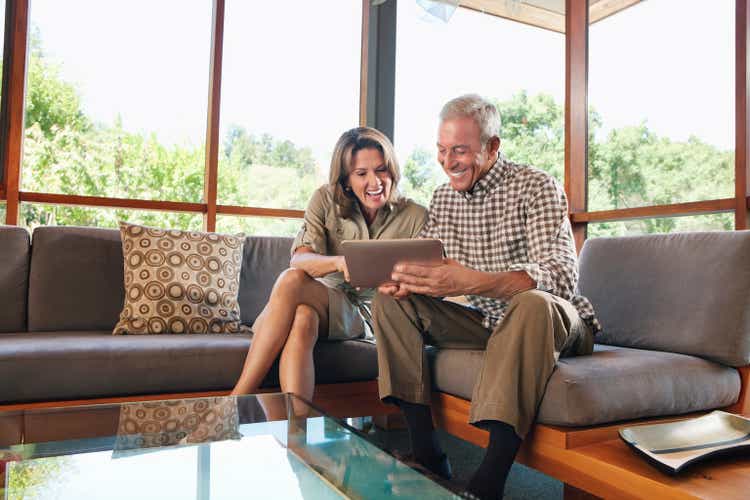 ~ by Snehasish Chaudhuri, MBA (Finance)
Nuveen Core Equity Alpha Fund (NYSE:JCE) is a closed-end fund ("CEF") that invests in stocks of companies operating across various sectors in the U.S. It is a fundamentally strong fund that has been successful in meeting investors' expectations through transforming capital gains (availed from its equity investments) into regular dividends. JCE's management has demonstrated its strong stock picking and portfolio reconstruction capability and has been successful in generating strong returns over the long run. The fund was formed in 2007 and has been paying quarterly dividends for the past 15 years. The fund generates a strong yield. The fund has a low asset under management ("AUM") and has a relatively high expense ratio. JCE is currently trading at $12.9, at a low premium of 3 percent to its net asset value ("NAV").
Nuveen Core Equity Alpha Fund Generates Strong Yields and Total Returns
Nuveen Core Equity Alpha Fund seeks to provide attractive total return, primarily through high price growth, and high levels of yield. However, in reality, investors are more dependent on JCE's high yield than its price growth. Nuveen Core Equity Alpha Fund invests in a portfolio of actively managed common stocks selected from component stocks of the S&P 500 Index (SP500), using a proprietary mathematical process designed and implemented by INTECH Investment Management, a sub-adviser of the Fund. The index is a fundamentally weighted index that comprises dividend-paying large-cap U.S. stocks with growth characteristics.
Nuveen Core Equity Alpha Fund can also sell call options with a notional value of up to 50 percent of its equity portfolio. However, at present JCE has written call options on a very small portion of its entire equity portfolio. The premiums earned on selling call options enable JCE to generate strong payouts. Average annual yield recorded during 2022 was almost 14 percent. Average yield during the past 10 years was 11.2 percent. Due to such a high yield, the fund has been able to generate strong total return. Annual average total return between 2016 and 2021 was 17 percent. Market price of this fund exhibited high volatility during the past one year, supposedly due to its written call option strategy, which tends to offer rich premiums when volatility is high.
Composition and Returns of Nuveen Core Equity Alpha Fund's Portfolio
Nuveen Core Equity Alpha Fund has an asset base of $201.23 million and has a relatively high expense ratio of almost 1 percent. The Fund invests its assets in large-capitalization U.S. common stocks having the potential for long-term growth. Almost 72 percent of its assets are invested in equities from four sectors - financial, healthcare, industrial, and information & communication technology (ICT). Due to changes in industrial structure, technological evolution and rise in demand for better healthcare facilities, these four sectors are expected to generate higher-than-average growth in the coming decade.
Nuveen Core Equity Alpha Fund's major investments in those four sectors included Apple Inc. (AAPL), Microsoft Corporation (MSFT), Amazon.com, Inc. (AMZN), Berkshire Hathaway Inc. (BRK.B), UnitedHealth Group Incorporated (UNH), Johnson & Johnson (JNJ), Alphabet Inc. Class C (GOOG), Alphabet Inc. Class A (GOOGL), Pfizer Inc. (PFE), Thermo Fisher Scientific Inc. (TMO), Cisco Systems, Inc. (CSCO), Danaher Corp. (DHR), Meta Platforms, Inc. (META), Accenture plc (ACN), Adobe Inc. (ADBE), Verizon Communications Inc. (VZ), Lockheed Martin Corp. (LMT), and Cigna Corp. (CI). Out of these 18 stocks, barring VZ and META, all other stocks generated price growth in excess of 20 percent (i.e., at 3.7 percent compounded growth) during the past five years.
Investment Thesis
Nuveen Core Equity Alpha Fund has a low asset base and has a relatively high expense ratio. It is currently trading at a low premium to its NAV. These are the few factors which may make an investor a bit concerned about this fund. However, all these matter only when the yield and returns are either very low or extremely erratic. JCE has neither. The CEF pays a quarterly dividend, generating strong yield. This yield is most likely sustainable over the long term, due to its current strategy of investing in four most promising and growing sectors of the economy - financial, healthcare, industrial, and ICT.
Nuveen Core Equity Alpha Fund also has a highly diversified equity portfolio and offers investors an attractive option to invest in dividend-paying large-cap equities in the U.S. stock market. A 10-year average 11.2 percent yield itself is lucrative enough to attract long-term investors. In addition, a price growth creates further attractiveness as the total returns move into double-digit. However, this fund has a very high turnover of 104 percent, and none of these stocks has been first incorporated in JCE's portfolio 5 years back. Most stocks have been included in JCE's portfolio after the onset of Covid-19 pandemic. This implies that the fund managers also have realized the growth potential of those four sectors, and invested in the right group of stocks.
Nuveen Core Equity Alpha Fund failed to register positive price growth during the past 5 years, because its top equity investments were not part of its portfolio for a longer duration. But, as the fund generated strong yield, Nuveen Core Equity Alpha Fund has been able to deliver much higher total returns. During the past 5 years, annual average total return stood at 8.8 percent. At the same time, this return has been much higher at almost 9.5 percent since the onset of the pandemic - a positive impact of its portfolio reconstruction. Thus, I would vouch for this fundamentally strong fund, as Nuveen Core Equity Alpha Fund has been successful in meeting investors' expectations and has the ability to satisfy the needs of long-term investors.
About the TPT service
Thanks for reading. At the Total Pharma Tracker, we offer the following:-


Our Android app and website features a set of tools for DIY investors, including a work-in-progress software where you can enter any ticker and get extensive curated research material. 
For investors requiring hands-on support, our in-house experts go through our tools and find the best investible stocks, complete with buy/sell strategies and alerts.
Sign up now for our free trial, request access to our tools, and find out, at no cost to you, what we can do for you.