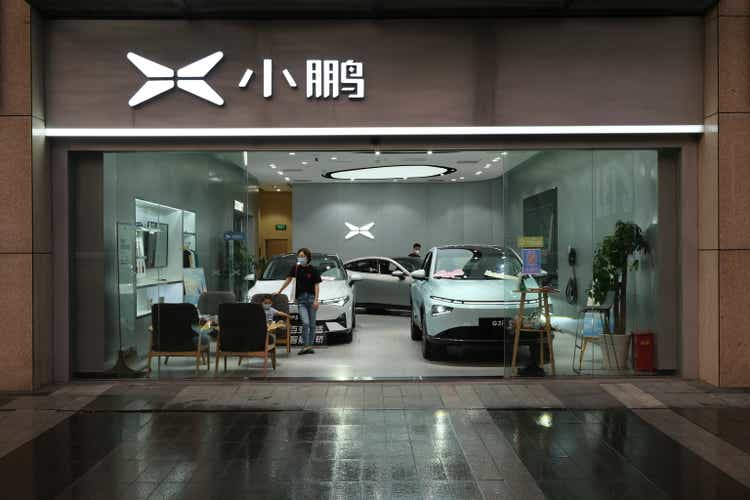 Chinese EV manufacturer XPeng (NYSE:XPEV) recently shifted back its profit target by another year, now targeting an operating break-even in 2025 as the OEM focuses on building out its Navigation Guided Pilot over the next 24 months. XPeng also is planning to launch two new models during 2023 and recharge growth to over +65% to reach 200,000 units. With these major targets and a delayed profit target, let's dig in with what to know.
2022 And January 2023 Deliveries
XPeng capped off a challenging 2022 with 120,757 deliveries, just 23% growth from 2021's 98,155 deliveries -- and falling far short of initial targets for 250,000 deliveries for the year. XPeng's 2022 'challenge' target of 300,000 vehicles is not coming to fruition until at least 2024, putting the OEM far behind schedule.
Delivery growth dropped from 263% y/y in 2021 to just 23% y/y in 2022, a staggering fall that contributed to shares falling over 80% last year. XPeng also had failed to show any q/q delivery growth since Q4 2021, recording declines in every quarter last year.
Some of the main issues that plagued 2022 included:
inconsistent delivery figures -- deliveries had slumped in February, dipped again in April and May due to the production suspensions, and then slumped from nearly 15,300 units in June to just 5,101 in October
major production suspension/supply chain disruptions -- XPeng noted that a late March/early April production suspension had led to "an output loss of more than 40,000 units," effectively lowering its annual production by about 25%
To end 2022, XPeng notched 94% m/m growth to 11,292 deliveries in December, driven in part by 160% m/m growth in G9 SUV deliveries to 4,020 units. A hint of strength here, ending the year on a strong note and at a 135k annual delivery run rate.
However, that strength quickly faded as weak seasonality in January combined with Lunar New Year weakness led to deliveries falling substantially -- XPeng kicked off 2023 with 5,218 deliveries, down 53.8% m/m and down 14.7% y/y. XPeng added that G9 deliveries were 2,249 vehicles during the month, down over 44% from December.
So off the bat, XPeng's already starting off on a fairly weak note, relative to its targets for 2023 -- deliveries fell on both a monthly and annual basis, leaving XPeng 11 months to deliver about 195k vehicles simply to reach its target. On a monthly basis, that's about 17,700 vehicles per month on average.
That's about 56% higher than December's deliveries, and a major step up from Q2 through Q4 as vehicle deliveries are unlikely to see rapid enough growth to hit a 17.7k average until at least the early summer. Already, it's a big ask to hit 2023's guidance if XPeng cannot reach at least 25k deliveries per month by late Q4, or double December's tally.
A European launch of the G9 and P7 in Denmark, Norway, the Netherlands, and Sweden set for Q2 2023 could provide an extra leg of growth for deliveries, allowing XPeng to penetrate new markets. However, pricing does vary -- the Danish price of DKK479,900 (CNY471,000) is far higher than the Norwegian NOK499,900 (CNY318,000) starting price point.
Profit Targets Delayed
XPeng had initially "aimed to break even by late 2023 or early 2024," but now "expects to turn an operating profit in 2025," according to CEO He Xiaopeng. Driving this profit goal is "a bold bet on full self driving," with He "aiming to snare at least 20 percent of what he calls the 'all-intelligent vehicle' market, referring to cars 'infinitely close to Level 4 autonomous driving' where the vehicle can handle complex urban situations."
The two major takeaways here -- XPeng is now further from profitability in a rising rate environment, which is detrimental to the future value of its cash flows, now delayed; and XPeng is prioritizing and emphasizing that the widespread commercialization of its Navigation Guided Pilot [NGP] will drive this shift to operating profitability. This stance is likely to cause R&D to balloon over the next 12 to 24 months, hence the profit delay.
There are currently no L4 passenger vehicles available for sale anywhere in the world -- Mercedes-Benz has the only L3 vehicle approved for sale in Germany and Nevada. While L3 is a bit of a gray area, the main and simple difference is this: in L3, the vehicle can allow some hands-off functions in limited conditions, such as up to 40 mph on certain roads or in certain weather; in L4, the vehicle assumes a majority of the driving related tasks, typically in a defined geographic area, like an urban city.
Regulatory stances in China are slowly beginning to allow L4 driving, but enacting such legislation through all of China to allow for rapid proliferation of L4-equipped vehicles is likely to take much longer than 12 months, further placing XPeng's profit target at risk, given the role that NGP commercialization looks to play in it. Shanghai Pudong New Area just enacted the first fully unmanned driving legislation on February 2, so there's still much more ground to cover from a regulatory standpoint.
Even with no L4 passenger vehicles on the market, He "said rapid developments in technology will see the market grow to around 5 million vehicles a year in five years." So by 2027, hitting his target of at least 20% would require XPeng to sell at least 1 million NGP-equipped vehicles by then. This correlates to a ~52.8% CAGR from 2022's 120k deliveries, or a 49.5% CAGR from 2023's targeted 200k volume -- this is higher than Tesla's (TSLA) forward growth rates, with the EV leader projecting just 31% growth in deliveries in 2023. From a smaller scale than Tesla, XPeng's targets are certainly achievable, but the automaker faces mounting risks from eroding supplier confidence and missed volume targets to regulatory questions and general L4 availability.
Financial Review
From a financial standpoint, XPeng can afford to undergo this autonomous-focused effort, as long as it continues to raise cash.
XPeng has burned through around half of the CNY14.6 billion it raised in 2021 through September 2022, with cash, equivalents and short term investments totaling CNY31.9 billion at the end of the 9M period, down CNY7.8 billion from the CNY39.7 billion at the end of 2021.
Through the end of 2024, XPeng is set to burn through around CNY14 billion to CNY18 billion, depending on how much it funnels into autonomy. Losses and cash burn are forecast to shrink in 2024 as production scales higher, while 2023 is still in limbo given the lack of data to confirm the feasibility of a 200k annual volume target. Given the expected cash burn rate, XPeng is likely to raise capital in late 2023 or early 2024 to fund further scaling of production and autonomy R&D.
For 2023, assuming XPeng reaches deliveries of 190,000 and sees a 5% rise in ASP to CNY215,000 (given the intention to tap into higher priced segments with new models this year offsetting a recent price cut to the P7), revenues are projected just under CNY41 billion, or about US$6.05 billion.
Assuming gross margins stay steady around 13%, XPeng is set to log just CNY5.3 billion, or US$780 million, in gross profits for the year. R&D and SG&A are expected to total around CNY11 billion, or US$1.6 billion, for 2022, and are expected to rise by at least 20% as NGP development comes front and center and as production scales.
All told, XPeng is still a leap and bound away from reaching operating profitability. If XPeng can reach 190,000 deliveries in 2023 and grow by 40% in both 2024 and 2025 to reach about 375,000 deliveries. At that level and an ASP of ~CNY225,000 revenues would be projected to reach CNY84 billion/US$12.4 billion. Should gross margins expand to 15%, gross profit could top CNY12.6 billion/US$1.8 billion -- meaning that R&D and SG&A will have to moderate a bit from 2023's expected increase to reach operating profitability.
Outlook
XPeng has delayed its profit target to 2025 as it shifts to focus on developing its NGP system, as CEO He Xiaopeng sees a massive market opportunity for the technology in China. While selling autonomy-enabling software can be accretive to margins in the long-run, XPeng is already facing thin gross margins and high R&D costs that will already challenge its 2025 operating profitability target.
XPeng is coming off a dramatic growth slowdown, recording just 23% growth in 2022, with January 2023 showing more declines. To reach its annual target of around 190,000 to 200,000 units, XPeng will have to significantly increase scale to at least 25k for the back half of the year, a tough ask considering that supplier confidence may have eroded given its poor performance in 2022. This could increase component pricing and difficulty sourcing components at scale, further added costs and risks to reaching its ~65% delivery growth target for the year. With these risks in mind, XPeng likely faces a challenging path to reaching operating profitability with R&D costs set to rise in 2023.