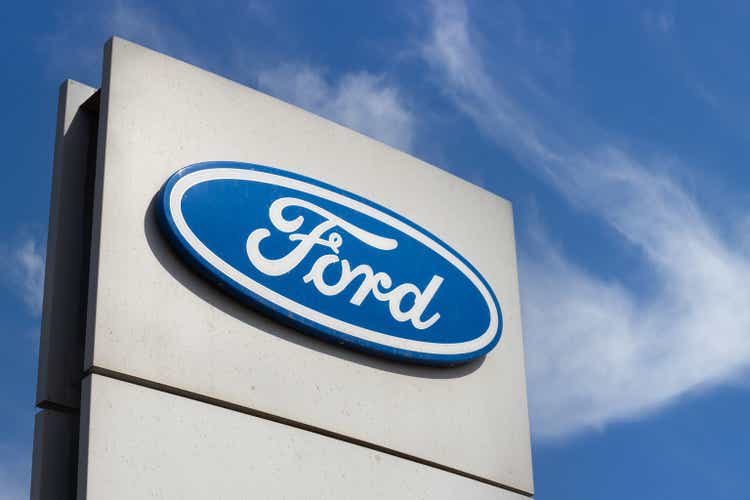 Ford (NYSE:F) reported earnings for its fourth-quarter last week and the car brand widely disappointed as it failed to reach its own adjusted EBIT forecast for FY 2022. Ford earned a full one billion less in adjusted EBIT due to poor execution and continued supply chain bottlenecks. The outlook for FY 2023 regarding free cash flow was also highly disappointing and resulted in an 8% price drop on Friday. Although Ford said that it will pay a $0.65 per-share special dividend this year because it sold down its stake in electric vehicle start-up Rivian Automotive (RIVN), I believe the risk profile remains unattractive in the short term!
Without price increases, Ford's Q4'22 performance would have been worse
Ford squeezed out 4% year over year growth in wholesale volumes in the fourth-quarter, despite supply chain challenges, but the car brand's financial results overall highly disappointed. Possibly the biggest take-away from Ford's earnings release last week was that the company only earned $2.6 billion in adjusted EBIT in the fourth-quarter which brought Ford's full-year adjusted EBIT to $10.4B. This was $1.1B less than Ford's own adjusted EBIT forecast of $11.5B which the company communicated in October.
Ford's top line increased 17% year over year to $44.0B in the fourth-quarter due to price increases for a number of vehicles. However, higher prices didn't translate to higher profits for Ford because margins continued to remain under pressure from commodity cost headwinds. Therefore, Ford's revenue performance in Q4'22 looks stronger than it really was and the company's adjusted EBIT, as I said above, fell widely short of Ford's own expectations.
Free cash flow
Another very important key metric besides adjusted EBIT that I follow is Ford's free cash flow. The company guided for $9.5-10.0B in adjusted free cash flow in FY 2022 and, unfortunately, also fell short here: Ford's total FY 2022 free cash flow amounted to $9.1B which was $400M below the low-end of guidance. The huge adjusted EBIT and FCF misses explain Ford's 8% price drop on Friday.
Monetization of EV stake
Ford has been an early backer of Rivian Automotive (RIVN), an electric vehicle start-up that produces the R1T all-electric truck and the R1S sport utility vehicle. Rivian's shares have seen a major revaluation to the down-side in FY 2022, leading to massive mark-to-market losses for Ford. In FY 2022, Ford recognized a (non-cash) valuation loss of $7.4B on its EV investment.
However, Ford has sold a ton of shares of Rivian in FY 2022. Ford has been selling shares of Rivian throughout FY 2022 and the car brand owned shares of Rivian worth $0.2B at the end of the fiscal year. In the year-earlier period, Ford's stake in Rivian was still valued at $10.6B.
Because Ford is cashed up due to the sale of a large block of its Rivian shares, the car brand announced a special dividend of $0.65 per-share which will be paid on March 1 for shareholders on record as of February 13, 2023. The special dividend will be paid in addition to Ford's regular $0.15 per-share dividend.
Disappointing outlook for FY 2023 and free cash flow valuation
As I expected, Ford's guidance for FY 2023 implies a steep drop-off in adjusted EBIT and free cash flow as the company continues to suffer from supply chain constrains as well as consumer spending headwinds. Ford expects $9.0-11.0B in adjusted EBIT which implies an up to 14% year over year drop. Ford also sees only approximately $6.0B in free cash flow which implies a 34% year over year drop. The outlook is not attractive and the lowered free cash flow outlook makes Ford's shares more expensive from a FCF point of view.

Ford has a market cap of $52.7B which, based off of Ford's outlook for FY 2023, implies a forward P/FCF ratio of 8.8 X. However, just two months ago Ford was valued at a P/FCF ratio of 5.4 X. Due to the decline in free cash flow expected in FY 2023 Ford's shares on a free cash flow basis have become more expensive. Based off of earnings, Ford is now trading at a forward P/E ratio of 7.9 X. Both Ford and General Motors (GM) don't seem to be overpriced based off of P/E, but I believe consumer spending headwinds and high inflation pose earnings risks for Ford.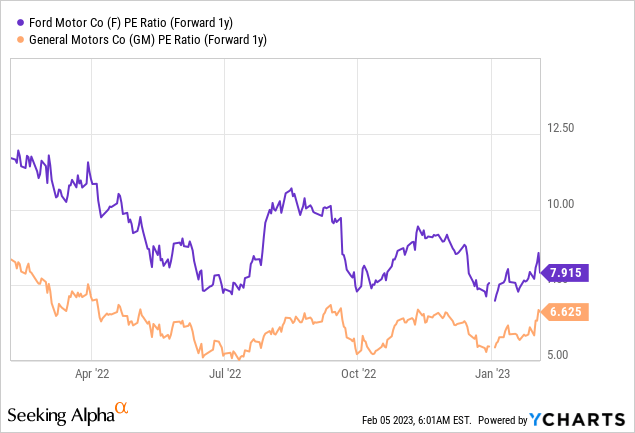 Risks with Ford
I did not expect Ford to execute so badly in the fourth-quarter and investors were largely disappointed with Ford's performance... as was I. I don't expect things to get better anytime soon, however, and I expect 2023 to be a difficult year for cyclical car manufacturers like Ford. Despite a growing product portfolio in the EV niche, inflation remains a challenge for consumers and wholesale volumes and a US recession, at least theoretically, is a possibility.
Final thoughts
Ford's really tripped in the fourth-quarter and the Q4'22 earnings report was a significant disappointment for me as well as for many other shareholders. What was also a disappointment was the car brand's outlook for FY 2023 which implies steep year over year declines in adjusted EBIT as well as free cash flow. With cyclical earnings risks for Ford growing and the car brand disappointing regarding its execution, shares of Ford remain only a hold, despite the payment of a special dividend!