Making Money With Pinnacle West When Everything Is Going Wrong
Summary
Pinnacle West is the main electric utility in the fast-growing state of Arizona.
Pinnacle is being hit with numerous headwinds that have caused a major damage to earnings.
The potential return for investors with a long term view is significant.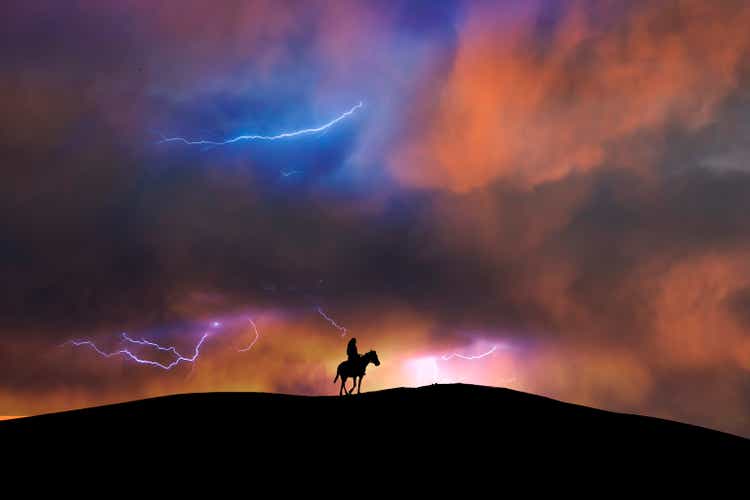 A utility confession
Electric and gas utilities are my favorite stocks. Although I have concentrated on the new and exciting cannabis sector in recent years, my experience with utilities goes back more than 35 years. Utilities, it is said, are for "widows and orphans," because they can be counted on for income and slow capital appreciation without requiring much attention or expertise. I am not a widow or an orphan but they have been very rewarding over time. Their slow, sometimes halting march upwards is a needed counterpoint to the volatility and uncertainty of other sectors and for me an important component of the path to financial security.
Pinnacle West Capital under stress
There can be great potential in an industry or company under stress. There's even a case to be made that the best time to invest is when conditions are at their worst. Pinnacle West Capital (NYSE:PNW), Arizona's electric utility, is not at its worst but currently experiencing challenges to its business on several fronts. PNW stock is 25% below its pre-COVID levels even though peers like Duke Energy (DUK), Southern Company (SO) and WEC Energy Group (WEC) are at all-time highs. This article looks at the reasons for this divergence and proposes a strategy for investors to profit with PNW under adverse conditions.
One of the stresses Pinnacle West is experiencing is from the effects of higher interest rates in the US economy. Debt is an important part of the business equation for utilities, and higher interest rates make debt more expensive. In addition, dividends are an important factor for utility investors, and as rates rise stock prices decrease to keep yields competitive with other high yielding investments. As of today, PNW's 4.72% yield is competing with 4.2% for a two year risk-free Treasury bond. A second stress comes from inflation, which reduces the value of future cash flows. This effect is particularly pronounced for utilities because their future rate of return is established in advance by state regulators, so they can't easily raise user rates to counteract higher costs (fuel costs excepted). Inflation also reduces the real value of dividends.
But the greatest stress by far has come from regulators in Arizona. In October 2021 they voted to slash Pinnacle West's return on equity from 10.0% to 8.7%. Analysts described the decision as "draconian," and company officials said it was the lowest ROE "for any mid- to large-sized vertically integrated, investor-owned utility in the U.S." The hit to earnings will be about $.15/quarter, and any new rate case will likely not be decided until late 2024. The decision had a negative effect from which the share price has still not recovered. The effect is clear in table below comparing PNW to four peers: Duke Energy (DUK), Consolidated Edison (ED), Southern Company (SO), and WEC Energy Group (WEC). (The stock decline began in July 2021 as the decision parameters became clear.)
Benefiting from Pinnacle's misfortune
An important key here is the investment case established by the utilities themselves: reliable, regulated earnings and share prices plus substantial and increasing dividends. These are backstopped by demographics and a constantly increasing reliance on electricity to meet our energy needs. Over the long term it's common to see price charts that look like these, with consistent long term growth.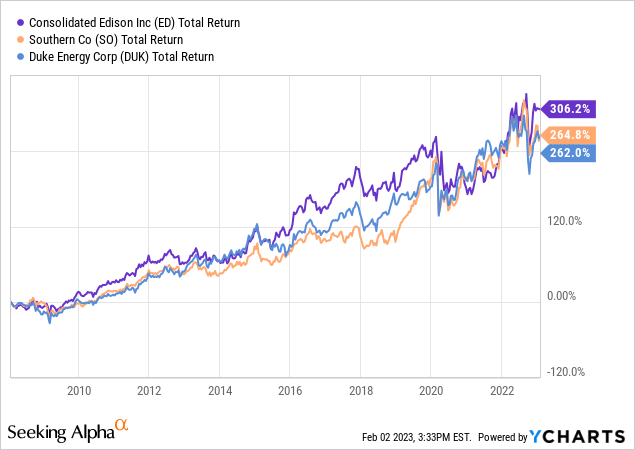 The 10 year chart up until Pinnacle's recent trouble looks very similar.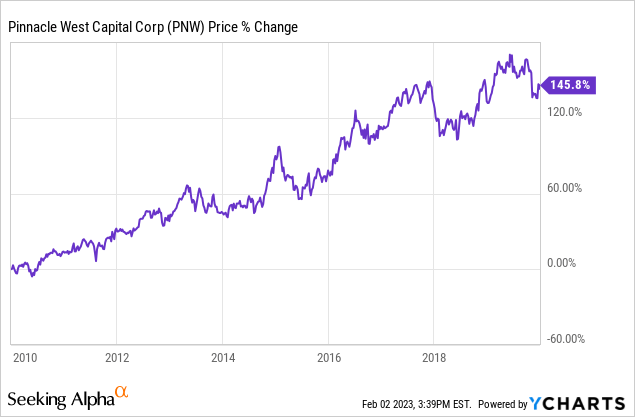 For PNW the damage has been done and the stock has reset to account for it. The price reflects the current stresses, and as those abate, PNW will resume it's long term upward trend, but from a lower starting point. Already inflation is coming down. Interest rates are near their peak and expected to decline over a year or two. The outcome of future rate cases is a big question mark, but it's unlikely that the future ROE will be lower than the current depressed level that the stock price already reflects.
Dividend reinvestment is a critically important part of the long term thesis, as illustrated by the chart below.
Confidence in fundamentals
PNW has an impressive record of growth through 2021, as shown in the chart below.
This comes from the strong state economy underpinned by a growing population. Arizona's population grew by 11.9% over 10 years and is expected to be the 2nd fastest growing state in 2023. PNW is further bolstered by the campaign by state officials to make Arizona a favorable environment for business. Recent results from this include Intel's (INTC) announcement of a $20 billion investment in two chip plants and a $12 billion investment by Taiwan Semiconductor (TSM) that has already broken ground.
The adverse effects of the rate case have set PNW back considerably. Analyst estimates project earnings for 2022 at $4.29 a share (company estimate is for $4.20-4.35), down from $5.47 in 2021. It should be noted that the company has beat estimates 11 out of the last 12 quarters, sometimes by a lot, and projections are up from $3.90-4.10 at the beginning of 2021.
Risks
There are three main known risks to PNW investors. First, the outcome of the next rate case is uncertain. Regulators are slow to change, and it's possible that part of the business-friendly strategy of state officials involves cheap electric rates. Pinnacle's future past 2024 depends in part on being allowed to get a reasonable return on their business, which is not currently the case. Second, a recession would hurt Pinnacle's business, reducing earnings and revenue. Third, a general stock market decline would hurt the stock price.
Investment Recommendations
Pinnacle has a long history of growth that investors can be confident will continue. But as with most utilities, a multi-year horizon is essential as earnings, dividends, and the stock price often take a "two steps forward, one step back" pattern. This is particularly true for PNW after a multi-year setback from the 2021 draconian rate case. The bad news is that the rate case caused a serious drop in the stock price. The good news is that the reset is complete, and the price should resume its upward direction from the new, lower starting point. The stock has settled in a range of between $65 and $79, and will most likely fluctuate in that range until the next rate case in late 2024. A purchase price of $70 would mean a potential return of $15.62, or 22.7%, over two years at an end price of $79:
$9 appreciation + $6.92 dividends = $15.62
This return may not be sufficient for investors with a shorter time frame or large goals for gains. However, other investors will be attracted by the stability, reliability, and low maintenance offered by an investment in PNW.
After the next rate case the stock could revisit its previous highs in the upper nineties, increasing the return to $38.44, or 54.9%, over three years at an end price of $98:
$28 appreciation + $10.44 dividends = $38.44 gain on $70 investment
Summing Up
A PNW investment is a play on three factors. First, the company has a long tradition of growth and rewarding investors. The prospects for continued growth are bright, with the support of excellent Arizona demographics, economy, and business-friendly reputation. Second, the regulatory environment is negative. This has done substantial damage to earnings, and will continue to do so through 2024. The key for investors is to look beyond 2024 when the next rate case is decided. Investors buying around paid close to 5% a year to wait with minimal downside, and could reap rewards of almost 55% in three years. Third, if the widely predicted recession or bear market comes to pass it would adversely affect PNW stock, but the effect would be transient. For the long term investor, however, it would simply mean a better entry point for buying or reinvesting shares. Many investors don't want to contemplate a two or three year time frame, but the ability to defer rewards for a number of years is a substantial advantage.
This article was written by
Ted Waller is a private investor who bought his first stock at age 13 (GTE) and has over 50 years of investing experience. His focus is on deep value and low risk. Acquiring wealth is a slow incremental process that requires setting goals, adherence to principles, patience, and flexibility.
Analyst's Disclosure: I/we have no stock, option or similar derivative position in any of the companies mentioned, but may initiate a beneficial Long position through a purchase of the stock, or the purchase of call options or similar derivatives in PNW over the next 72 hours. I wrote this article myself, and it expresses my own opinions. I am not receiving compensation for it (other than from Seeking Alpha). I have no business relationship with any company whose stock is mentioned in this article.

Note on disclosure: At time of writing I am waiting for the stock price to reach my target range. I sold my shares in December 2022 at $78.79, with plans to reinvest all proceeds near 70.
Seeking Alpha's Disclosure: Past performance is no guarantee of future results. No recommendation or advice is being given as to whether any investment is suitable for a particular investor. Any views or opinions expressed above may not reflect those of Seeking Alpha as a whole. Seeking Alpha is not a licensed securities dealer, broker or US investment adviser or investment bank. Our analysts are third party authors that include both professional investors and individual investors who may not be licensed or certified by any institute or regulatory body.