So far in 2012, shares of Goldman Sachs Inc (NYSE:GS) are up 32% while shares of Morgan Stanley (NYSE:MS) are up 26%. At this point, I believe there are 3 reasons why MS is a better buy than GS.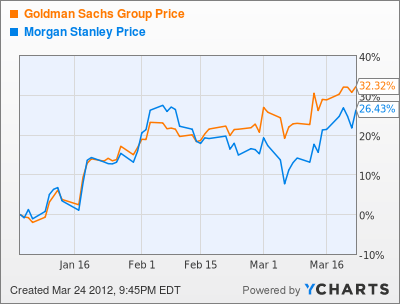 Valuation
MS is currently trading at just 0.57 times book value, this compares to 0.92 times book value for GS. While GS may be considered "higher quality," MS's discount relative to book value means significantly more upside is possible for MS. In addition being cheaper based on book value, MS is also cheaper based on forward earnings. MS trades at 8.6 times forward earnings while GS trades 9.4 times forward earnings.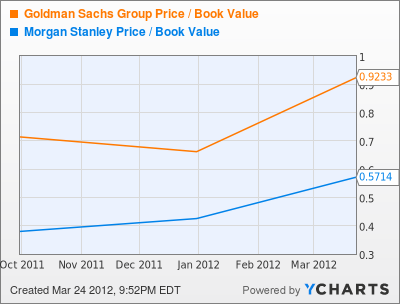 Greg Smith Op-Ed
Former GS employee Greg Smith recently wrote an Op-Ed outlining the reasons he left the firm. Below are some of the notable parts of the Op-Ed:
To put the problem in the simplest terms, the interests of the client continue to be sidelined in the way the firm operates and thinks about making money. Goldman Sachs is one of the world's largest and most important investment banks and it is too integral to global finance to continue to act this way.

It might sound surprising to a skeptical public, but culture was always a vital part of Goldman Sachs's success. It revolved around teamwork, integrity, a spirit of humility, and always doing right by our clients. The culture was the secret sauce that made this place great and allowed us to earn our clients' trust for 143 years.

When the history books are written about Goldman Sachs, they may reflect that the current chief executive officer, Lloyd C. Blankfein, and the president, Gary D. Cohn, lost hold of the firm's culture on their watch. I truly believe that this decline in the firm's moral fiber represents the single most serious threat to its long-run survival.

What are three quick ways to become a leader? a) Execute on the firm's "axes," which is Goldman-speak for persuading your clients to invest in the stocks or other products that we are trying to get rid of because they are not seen as having a lot of potential profit. b) "Hunt Elephants." In English: get your clients - some of whom are sophisticated, and some of whom aren't - to trade whatever will bring the biggest profit to Goldman.

Over the last 12 months I have seen five different managing directors refer to their own clients as "muppets," sometimes over internal e-mail. Even after the S.E.C., Fabulous Fab, Abacus, God's work, Carl Levin, Vampire Squids? No humility? I mean, come on. Integrity? It is eroding.
There have been many responses to Smith's Op-Ed, including the response written by GS CEO Lloyd Blankfien and GS President Gary Cohn. At the end of the day, the true validity of Smith's comments are unknown. However, these comments undoubtably raise questions about how business is being conducted at GS. Also, the recent questions over GS's confict of interest in the El Paso (EP)-Kinder Morgan (NYSE:KMI) merger raise additional questions about GS. Contrastingly, MS has not faced such allogations. If the negative press continues for GS, it is possible that MS may pick up some business from disgruntled GS clients.
Facebook IPO
MS was chosen as the lead bookrunner for the Facebook (NASDAQ:FB) IPO. While GS, Bank of America (NYSE:BAC), and JPMorgan (NYSE:JPM) will all participate in the deal, MS will get the most stock and largest fee. MS will likely use the FB deal as a way to reward clients who have been loyal to the firm. Deals such as the FB deal are essential in MS's plan to become the premier retail broker in the world. In addition to increased exposure to the deal, it is also impressive that MS was able to beat out GS as lead bookrunner in the FB IPO. In the past, GS would have almost certainly beat out MS as lead bookrunner. MS's ability to beat out GS is indicative of the momentum MS currently has going.
Conclusion
MS is a better buy than GS for three reasons: valuation, the lack of Greg Smith, and the Facebook IPO.
Disclosure: I have no positions in any stocks mentioned, and no plans to initiate any positions within the next 72 hours.