What's The Opiant CVR Worth?
Summary
Opiant appears on track to be acquired for $20/share and offers various Contingent Value Rights (CVRs) linked to a potential drug launch.
The drug helps with opioid reversal after an overdose and has a scheduled FDA review date of May 2023.
If certain revenue targets are hit after launch, the CVR will pay out up to $8/share in total.
However, Teva has settlement agreements with most U.S. states that offer 'free' generics broadly similar to what the Opiant drug offers.
Despite the risks, the CVR appears to have value in excess of the current price, I calculate a little over $2/share in expected value from the CVR.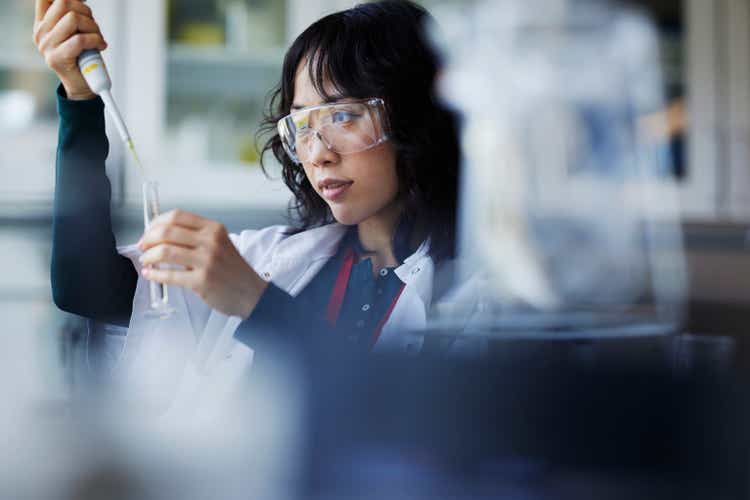 Opiant (NASDAQ:OPNT) is being acquired for $20 a share, as this article previously discussed. Since then the Hart-Scott-Rodino waiting period expired and CFIUS approval was granted, so it is likely that after a shareholder vote in early March the acquisition occurs. The Contingent Value Right or CVR is non-tradable and could pay out as much as $8/share in total, vs. an implied price of around $1/share at the time of writing. So what might the CVR be worth?
We'll review various data points and then discuss the risk from Teva's (TEVA) recent agreements offering large amounts of generics to various U.S. states.
CVR Structure
The non-tradable CVR pays out in $2/share when any of the 4 time-based revenue hurdles below are met for drug candidate OPNT003 (for a total of $8/share if all 4 are met):
A payout

of $2/share for annual revenue of $250M from OPNT003 prior to the 3

rd

anniversary of U.S. commercial launch. Annual revenue is defined as any consecutive 4 quarter period.

A payout of $2/share each for the following 3 hurdles of annual revenue: $225M, $300M and $325M These are prior to the 7th anniversary of the U.S. commercial launch.
What Is OPNT003?
OPNT003 is Nasal Nalmefene a nasal spray that treats opioid overdose, something that kills 80,000 Americans a year, and injures many others. There are competing products in market currently, chiefly Narcan and its more recent generic versions. However, OPNT0003 is argued to be faster acting and have a longer half-life, that is important when dealing with particularly opioids such as fentanyl which is 50 times stronger than morphine. Today, repeated doses of Narcan are often used in this scenario. The nasal spray makes the drug easy to administer, though is not a differentiator, as Narcan is offered as a nasal spray. With both drugs, the drug itself is not under patent, but the delivery mechanism is novel. There is also some debate as to whether the painful precipitated withdrawal that Narcan and OPTN003 can produce should limit their use, though most agree that eliminating risk of death from overdose should be the primary goal.
Regulatory Approval - Decision May 23, 2023
OPNT003 has a PDUFA date of May 23, 2023. Approval seems likely and base rates for drug approval at this late stage are around 85%. The main risk is that approval is delayed rather than blocked. However, any numbers for the CVR should take account of the 15% chance that approval does not occur.
Base Rates On Drug Revenue
It's helpful to look at base rates for what OPNT003 might realize (if approved), here are a few data-points.
Narcan Comparisons
First off, Narcan is in market today and doing $360M in run-rate revenue, but declining due to generic competition. Emergent BioSolutions (EBS) markets this drug, so their reporting offers more color. Narcan has grown steadily over time, but there is concern about upcoming generics. Also, it is unlikely that OPNT003 will displace Narcan, but the market should continue to grow. Emergent acquired Narcan for $581M as part of Adapt Pharma in 2018, revenue was $280M in 2019, $311M in 2020 and $434M in 2021, run-rate sales are currently $360M as of calendar Q3 2021. This is somewhat encouraging, though of course a lot depends on market dynamics and generic competition.
Management Forecasts
In the proxy, management share their November 2022 forecasts for the drug. Interestingly, these imply none of the CVR payments would occur. However, it's close, the lowest milestone is $225M in sales in 7 years and these projections get to $210M of sales at that point. I translate this to a 25% chance of hitting one of the milestones. Also, interestingly, elsewhere in the proxy, management mention that they believe the CVR is worth around $4/share, so they are maybe a little more optimistic than these revenue forecasts imply, maybe because the launch will get more traction with Invidior than with Opiant standalone.
Base Rates From Cancer Drugs
Looking at Comparison of Sales Income and Research and Development Costs for FDA-Approved Cancer Drugs Sold by Originator Drug Companies Kiu Tay-Teo, PhD; André Ilbawi, MD; Suzanne R. Hill, PhD broadly 75% of successful launches in the cancer drug segment achieve over $264M of annual sales within 3 years. Of course, OPNT003 is not a cancer drug, but the data here is somewhat encouraging that all of the milestones could be met.
Bottom-Up Forecasts
Comparative products are in market today with price points of $100-$150/unit. That suggest that suggests OPNT003 would have to do around 1.6M-3M units to hit CVR milestones.
Summary
If we then quantify the four scenarios above, we have something like the following:
| | | | | | |
| --- | --- | --- | --- | --- | --- |
| OPNT003 Revenue | $250M year 3 | $225M year 7 | $300M year 7 | $325M year 7 | |
| Narcan Comparison | 50% | 50% | 50% | 50% | |
| Management Forecast | 0% | 25% | 0% | 0% | |
| Cancer Drug Comparison | 75% | 75% | 75% | 75% | |
| Bottom Up Assessment | 50% | 50% | 50% | 50% | |
| Simple average | 44% | 50% | 44% | 44% | |
Numerically that's a 44% chance payout for 3 x $2 milestones and 50% for the other, then we assume an 85% chance of drug approval and discount these future payouts at a 6% interest rate that works out to an expected value of $2.18/share in total CVR payouts. That does suggest some upside to the current implied price of around $1. It's also interesting that the CVR payouts appear pretty correlated, i.e., either the launch is a success or it isn't. Next, we should talk about Teva risk.
Teva Risk
The primary risk to the CVR is Teva flooding the market with generic Narcan as a result of legal agreements. As disclosed in the proxy, OPNT was rejecting bids at $40/share prior to Teva's opioid settlement with Texas. Teva has agreed to provide generic Narcan to the states of Texas, and this model was subsequently most other U.S. states. This agreement provides approximately $150M of generic Narcan at wholesale cost of perhaps $20/unit, suggesting perhaps 7.5 million units of Narcan per year going to U.S. states. That compares to run-rate unit sales of Narcan of under 3 million to Emergent Bioscience. Therefore, the Teva settlement might destroy much of the market for Narcan in the U.S. for the next 10 years. However, OPNT003 is likely to be shown to be more effective than Narcan and can achieve CVR payments on low unit volumes if pricing is high. For, example at $150 OPTN003 can meet at least some of its CVR goals on under 2 million annual units, that's less than Narcan achieves today (albeit that Narcan sales are declining from generic competition).
Risks
There is still a chance the merger does not close; OPNT stock could see downside to around $10/share in that scenario based on the pre-merger price
Even if these CVRs do pay out, it would occur years in the future and the CVRs are non-tradable
These CVRs are basically binary payments, so there's a risk of complete loss of any value allocated to the CVR
The Teva agreement does create an overhang for the opioid reversal market, and we likely won't have much data on that before the merger has closed
Conclusion
It's challenging to know what will occur with drug sales this year, let alone 7+ years out for a drug that is not yet approved. However, there are reasons to think that OPNT0003 may achieve at least some of its CVR goals.
If it is more effective than Narcan and can communicate that benefit, then it may be able to displace generic solutions and command a high price point. Furthermore, there are no signs that the opioid epidemic is easing, so the market for products such as OPNT003 may continue to grow.
Still the Teva agreement creates risk as does the simple fact the OPNT003 may not be approved, or the acquiring company Invidior may choose to focus on other products after acquisition. There is likely some upside from the OPNT CVR for the long-term patient investor in an expected value sense, though the Teva agreement is a clear concern.
This article was written by
Value-oriented ideas and special situations, generally mid/small cap. Also, orphaned and unfashionable investment ideas, ideally with a catalyst and the prospect of asymmetric upside/downside payoffs. Contrarian tendencies. To some extent I'll go anywhere if it's cheap and I'm more influenced by momentum and quality than I used to be.
Analyst's Disclosure: I/we have a beneficial long position in the shares of OPNT either through stock ownership, options, or other derivatives. I wrote this article myself, and it expresses my own opinions. I am not receiving compensation for it (other than from Seeking Alpha). I have no business relationship with any company whose stock is mentioned in this article.

Not intended as investment advice. Author's opinion only. CVR is non-tradable and illiquid and may result in a total loss. Seek professional advice. Article may contain errors or omissions and may not be updated. Author's positions may be updated without notice.
Seeking Alpha's Disclosure: Past performance is no guarantee of future results. No recommendation or advice is being given as to whether any investment is suitable for a particular investor. Any views or opinions expressed above may not reflect those of Seeking Alpha as a whole. Seeking Alpha is not a licensed securities dealer, broker or US investment adviser or investment bank. Our analysts are third party authors that include both professional investors and individual investors who may not be licensed or certified by any institute or regulatory body.