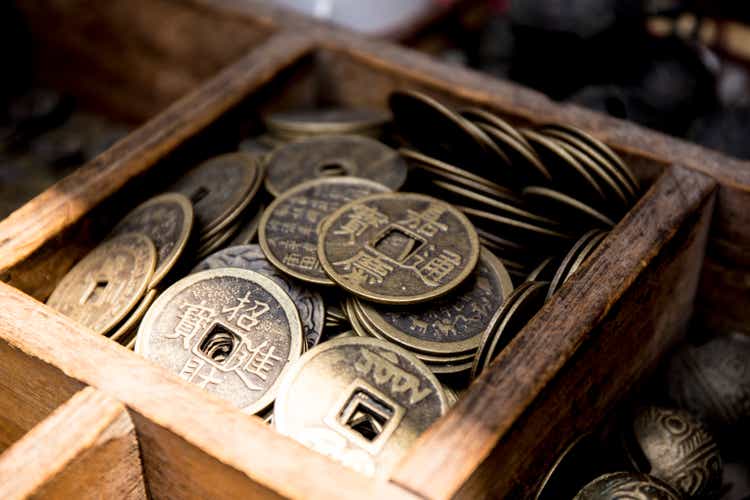 Elevator Pitch
My Buy rating for Noah Holdings Limited's (NYSE:NOAH) [6686:HK] shares stays unchanged.
NOAH's stock price has gone up by +53.7% (source: Seeking Alpha price data) since my prior write-up highlighting that "negatives are priced in" for Noah Holdings was published on November 24, 2022. During this time period, the S&P 500 rose modestly by +2.8%.
Notwithstanding Noah Holdings' stock price outperformance in the past two and a half months, I am of the view that NOAH's shares still have room to run. Noah Holdings' current P/E multiple is below its historical average, even though its 2023 prospects are good and the company's delisting risk has been mitigated to a substantial degree.
Analysts Have Become Incrementally More Bullish On NOAH
A positive change in sell-side analyst sentiment towards a stock is a key indicator of future share price performance. There are various metrics suggesting that a growing number of analysts have a favorable opinion about Noah Holdings' stock price trajectory and financial results going forward.
The mean analyst rating for NOAH increased from 4.33 as of November 29, 2022 to 4.45 as of February 13, 2023. With ratings of 5 and 4 representing Strong Buy and Buy recommendations, respectively, it is clear that the majority of sell-side analysts covering Noah Holdings' shares are positive on the stock.
Separately, both the market's consensus top line and bottom line estimates for NOAH have been raised by approximately +1% in the last two and a half months as per S&P Capital IQ data. The sell-side expects a substantial improvement in Noah Holdings' financial performance for 2023. Specifically, NOAH's revenue is forecasted to grow by +25.1% in FY 2023 as compared to a -32.7% top line contraction for FY 2022. The analysts also estimate that NOAH will turn around from a -27.3% drop in its bottom line for FY 2022 to achieve a +19.0% increase in its normalized EPS for the current year.
There are good reasons why the sell-side is becoming incrementally more positive on Noah Holdings' growth prospects for the new year. At its earlier Q3 2022 earnings briefing on November 21, 2022, NOAH had cited "Fed rate hikes, sporadic lockdowns in China due to its prolonged COVID-zero policy as well as very volatile public markets" as the key headwinds for the company in 2022. These headwinds are very likely going to moderate in 2023.
Firstly, there are expectations that rate hikes will come to a stop this year considering the easing of inflationary pressures, as highlighted in a recent January 27, 2023 Reuters news article. Secondly, China has already begun to relax its pandemic restrictions in December last year and there are no signs pointing to an emergence of new variants, so a return of pandemic lockdowns in the country is unlikely. Thirdly, research issued by various firms such as Russell Investments, Morgan Stanley (MS), and BlackRock (BLK) indicates that worldwide stock markets in general are expected to perform better in 2023 as compared to 2022.
In a nutshell, the sell-side analysts are justified in turning more bullish on Noah Holdings, as the company's business outlook for 2023 is reasonably good.
ADR Delisting Risk Is Much Less Of A Concern For NOAH Now
Towards the end of last year, Seeking Alpha News reported that Noah Holdings' "conversion of its secondary listing status to a primary listing status" on the Hong Kong market has been completed. Since December 22, 2022, Noah Holdings has become "a dual-primary listed company" as per Seeking Alpha News' late-December 2022 article. This is an important development for Noah Holdings, as the risk of delisting for Chinese ADRs as a group is still a concern.
Notably, the PCAOB or Public Company Accounting Oversight Board announced in mid-December 2022 that it has obtained "complete access to inspect and investigate audit firms" in China. Initially, there were expectations that the delisting risk for US-listed Chinese companies should have been greatly reduced following this announcement.
But recent developments suggest that investors shouldn't completely ignore the Chinese ADR delisting risk. A recent February 11, 2023 Reuters news article mentioned that President Biden is considering to "ban investments in some Chinese technology companies." This comes after US-China ties took a turn for the worse with the recent spy balloon saga. Therefore, it is reasonable to assume that Chinese companies which are solely listed in the US will continue to suffer from some form of valuation discount attributable to the risk of delisting. In that respect, NOAH stands out from its US-listed peers, having secured a primary listing in Hong Kong.
At the company's most recent quarterly earnings call in late-November 2022, Noah Holdings specifically emphasized that its "Hong Kong shares and ADRs" will be "fully fungible" once its primary listing conversion for its Hong Kong shares is concluded which "removes our ADR delisting risk."
Concluding Thoughts
I make no changes to my existing Buy for Noah Holdings. Although NOAH's shares have done extremely well since late-November (up by more than +50%), the market still values Noah Holdings at a reasonably undemanding consensus forward next twelve months' normalized P/E ratio of 9.0 times (source: S&P Capital IQ). Considering the company's favorable financial outlook for FY 2023 and the successful primary listing conversion for its Hong Kong shares, I think that NOAH's P/E multiple can expand further to the low teens level at the very least. As a reference, Noah Holdings' five-year average forward P/E multiple was 12.3 times as per S&P Capital IQ data.
Asia Value & Moat Stocks is a research service for value investors seeking Asia-listed stocks with a huge gap between price and intrinsic value, leaning towards deep value balance sheet bargains (i.e. buying assets at a discount e.g. net cash stocks, net-nets, low P/B stocks, sum-of-the-parts discounts) and wide moat stocks (i.e. buying earnings power at a discount in great companies like "Magic Formula" stocks, high-quality businesses, hidden champions and wide moat compounders). Sign up here to get started today!