Dentsply Sirona: The Rebuilding Begins
Summary
Dentsply Sirona has a new management team in place and more details on how they intend to improve operating results should be coming fairly soon.
This business seems ripe for a portfolio review to pare out low-return/low-potential products and a restructuring of the global sales effort.
Market segments like imaging (intraoral scanning and standalone digital impressions), implants, biomaterials, and clear aligners can support a mid-single-digit revenue growth base.
I believe today's price reflects only modest improvement in Dentsply's operations; if management is willing to be bold and can execute on that vision, meaningful upside could come over time.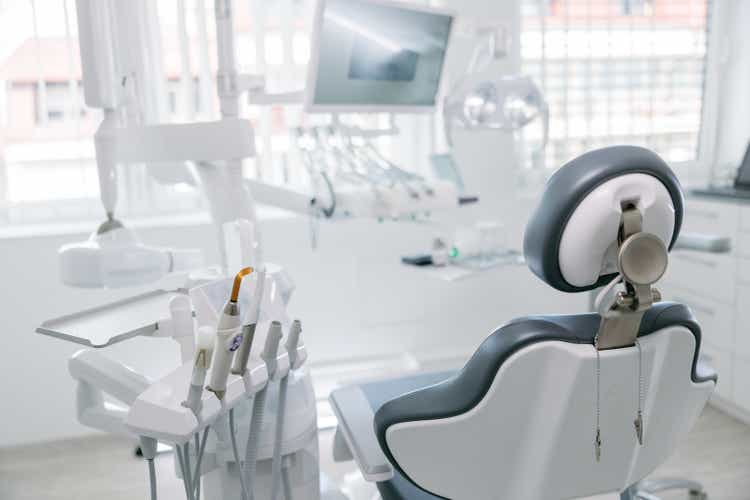 Dental equipment and consumables manufacturer Dentsply Sirona (NASDAQ:XRAY) has recovered some stock price momentum over the past three months, outperforming the broader med-tech space, as well as peers/comps like Envista (NVST) and Straumann (OTCPK:SAUHY), but the longer-term picture has been pretty rough. With the prior management team tossed out for failing to drive sufficient improvement, after being brought in following ongoing execution issues after the major merger of Dentsply and Sirona back in 2016, Dentsply is once again starting over with a new management team.
There's definitely enough here to make a rehabilitation effort worthwhile. The company has under-executed in areas like imaging, implants, and clear aligners, but the company still has a very credible presence in the market, a broad product portfolio, and a large global sales force that gives the company leverage to growing spending on dental care outside of well-established markets like the U.S.
Right now, the market seems to be pricing around 2%-3% long-term revenue growth and modestly better free cash flow, with no real expectation of meaningful structural margin or free cash flow conversion improvement. While I do understand that Dentsply hasn't earned the benefit of the doubt and that failure is very much an option for the new management team, this is an early-stage turnaround worth watching, even as 2023 figures to be a rough year.
Waiting To Hear How It Will Be Different This Time
New management (a new CEO and CFO) was brought in last year with a mandate to clean up and improve Dentsply after years of underwhelming financial performance and accounting issues that led to a modest restatement in 2022. Having been on the job since August, I would expect to hear the CEO have at least some broad initiatives in mind for how to drive improved performance and to lay those out on the upcoming earnings conference call (fourth quarter earnings are scheduled for February 28).
Broadly speaking, I think there are likely strategic initiatives that most investors will agree should be a priority. First ought to be disposing of non-core operations. For years now, Dentsply has operated Wellspect, a manufacturer of bladder and bowel-control products that it acquired as part of a larger deal for Astra Tech (acquired from AstraZeneca (AZN)) more than a decade ago. The company seldom talks about this business, but a recent Bloomberg article suggested that management was evaluating the carve-out/disposal of the business with a potential valuation of $1B. Given no synergies with the ongoing dental business, this should have been done long ago.
There are also meaningful opportunities to further streamline the portfolio. There are a lot of products with Dentsply's portfolio (particularly in the consumables business) that aren't really growing and don't generate enough margins or cash flow to continue on as part of the company. While keeping some of these will make sense, I expect that there are significant divestiture and streamlining opportunities here, and paring the portfolio of low-return products can drive higher revenue growth (addition by subtraction), better margins, and the opportunity to consolidate manufacturing and distribution operations.
I also expect to see a renewed commitment to R&D and product innovation, as well as improved go-to-market strategies. While Dentsply has held onto good share in the imaging space (chairside CAD/CAM), it has lost ground in implants to rivals like Envista and Straumann and arguably hasn't maximized its opportunities in the clear aligner space (where Align (ALGN) remains far-and-away the market leader).
…But 2023 Will Be Challenging
Turning around a large business is hard enough, but operating conditions in 2023 are going to be more challenging as macro headwinds pressure the business.
Europe represents around 40% of the business and looks more difficult in 2023 on macroeconomic concerns, and the same could be true for the U.S. as the economy slows. Dental office visits are still below pre-pandemic levels, but demand for dental services has been more economically-sensitive than other healthcare services in past cycles, and I believe that may be a challenge later this year.
China is also a challenge. In addition to ongoing issues with the COVID-19 pandemic, value-based pricing has created headwinds for participants like Envista and Dentsply, with Dentsply talking about 40% price cuts for the business in 2023.
Although orthodontics was previewed as an area of strength in the fourth quarter (management guided to the high end of its range for the fourth quarter when it presented at a large sell-side conference in January), and aligners should be strong in 2023, instruments are likely to see more pressure. Management did endorse $3.00/share in earnings as an exit-rate target for FY'25, as well as a long-term operating margin of 20%, but 2023 will likely be a step back.
This may actually end up helping the restructuring and turnaround process. Tougher end-market demand conditions should give more clarity into which products in the portfolio are true growth drivers and which products more or less just ride along with underlying demand.
The Outlook
Modeling always involves guesswork, but modeling a turnaround without hearing management give more detailed guidance on its priorities and strategic plans is basically throwing darts blindfolded. I'm modeling 2% to 3% long-term revenue growth largely just on the basis of Dentsply's position as a major player in the dental care space; while it is certainly possible that poor execution could drive even more share loss, simply stabilizing the business should allow for low-single-digit revenue growth.
Should management take a more aggressive view on restructuring, I think mid-single-digit growth is a credible target. Imaging, implants, and clear aligners can support mid-single-digit growth, and possibly better than that with more focused efforts on higher-growth markets like intraoral scanning, biomaterials, aligners, and new technologies like 3D printing.
A lot depends on how much revenue management is willing to walk away from in the short term and what their assessment is of the company's ability to sustainably compete and gain share in these higher growth markets. Dentsply has a presence in all of these markets, and so I do think that a combination of revamped innovation, improved go-to-market (more effective/efficient sales efforts), and selective M&A can drive better growth.
On the margin side, 20% doesn't strike me as a particularly ambitious long-term target, particularly if management is willing to actively pare away low-return products and restructure the sales effort. This company has generated around 13% free cash flow margins for a long time, and I consider that a reasonable baseline, with improvement into the high-teens possible with better execution.
I think the market is basically valuing the company as what it is today - a large, established player struggling to consistently grow and drive real operating leverage. Given the track records of the new management, I think this is likely a low-end estimate for what can be accomplished with these assets. If they can execute, I think a forward multiple of 2.75x to 3x is attainable, and that would drive a significantly higher fair value (in the mid-$40s).
The Bottom Line
Without knowing what management plans for Dentsply, beyond the relatively brief overviews offered back in January, it's hard to recommend that readers buy this stock. That said, I see a lot of potential here and if management lays out a path for real change, including restructuring the portfolio and the sales approach, then this is a name I'd eagerly revisit.
Editor's Note: This article discusses one or more securities that do not trade on a major U.S. exchange. Please be aware of the risks associated with these stocks.
This article was written by
Stephen Simpson is a freelance financial writer and investor.Spent close to 15 years on the Street (sell-side, buy-side, equities, bonds).
Analyst's Disclosure: I/we have no stock, option or similar derivative position in any of the companies mentioned, and no plans to initiate any such positions within the next 72 hours. I wrote this article myself, and it expresses my own opinions. I am not receiving compensation for it (other than from Seeking Alpha). I have no business relationship with any company whose stock is mentioned in this article.
Seeking Alpha's Disclosure: Past performance is no guarantee of future results. No recommendation or advice is being given as to whether any investment is suitable for a particular investor. Any views or opinions expressed above may not reflect those of Seeking Alpha as a whole. Seeking Alpha is not a licensed securities dealer, broker or US investment adviser or investment bank. Our analysts are third party authors that include both professional investors and individual investors who may not be licensed or certified by any institute or regulatory body.