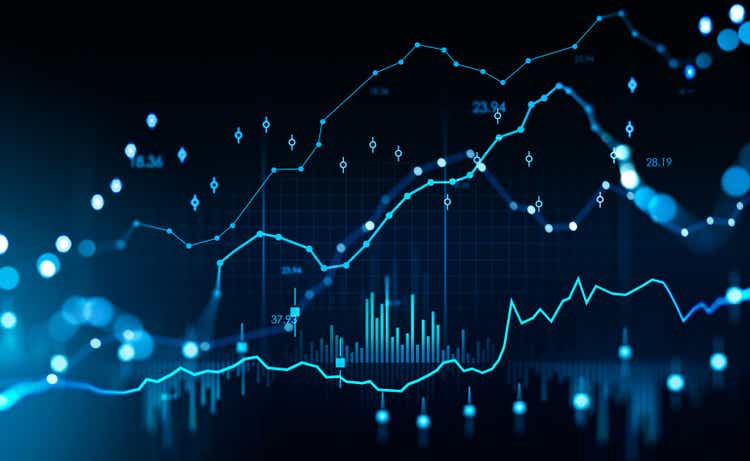 Alteryx - The pieces are all falling into place
I have written a lot about Alteryx on SA and to my subscribers over the years. It has been more than a year since I last wrote an article on SA about Alteryx and the early results of its go-to-market transition. The shares are actually up a bit since that time, mainly a function of the 40% share price decline seen in 2021, but also because somewhat quietly, the company has been stringing together quarters of positive operating results.
Alteryx, ins some ways, is a poster child for why many investors have chosen to make and retain outsize IT commitments in their portfolios. Revenues have grown by about 7X + since I first wrote about the company, gross margins percent has risen, and the company is profitable on a non-GAAP basis and is forecasting a significant level of non-GAAP profits in 2023.
I first discovered the company through some recommendations on the part of happy sales people and customers. Subsequently the company lost its way and needed a product and go to market refresh. Sometimes readers express skepticism about excessive executive compensation. There are elements of that cavil which are unassailable. But looking at the change in leadership at this company, and what has happened since the new team has focused sales focus on users who can buy more and get the most value from the company suggests that stockholders are getting what they have been paying for.
The company reported a strong quarter in terms of both revenue and cost metrics, although not quite as strong as the headline numbers might suggest. But unlike most other software companies, Alteryx raised guidance for both revenues and earnings and did so despite taking a far more conservative view of the pipeline and sales funnel than has usually been the case. While the shares did appreciate last week, rising by 13% in the wake of the earnings release, and the shares are up by about 35% so far in 2023, they are very far from prior highs-in fact the shares were 10% higher than they are now as recently as last September and they are down by even more than that from their 2022 high which was set in April. The shares actually hit a high point more than 3X current levels back in the summer of 2020 at the peak of the post-Covid market rally.
I am the last to suggest that changes from past highs are particularly relevant in assessing a reasonable current valuation. The summer of 2020 seems like an eon ago in terms of market sentiment and of course economic policy is upside down compared to what it was then. But the fact is that Alteryx is a significantly stronger company now then it was 2.5 years ago-not just in terms of revenue, but in the ARR metric that more closely identifies with the sales progress of the company. And of course, the company has made some noticeable strides in improving sales productivity that are starting to show up in many cost ratios that I like to track. Of even more interest in this environment is the visibility the company has in terms of backlog, as well as other sales tailwinds that are different than those of other enterprise software companies. And finally, while in no traditional sense is Alteryx an "AI" company with a neural network and a sophisticated generative model, this company is benefitting by industry trends in which AI technology are fostering lots of application development in spaces that are addressed by the newest components of the Alteryx offering.
I should note that Alteryx has used and will use stock based compensation. Last quarter stock based compensation was about 21% of revenues. This is down from prior periods, but in part the ratio declined because the company's quarterly revenues grew by more than 73% as reported last quarter. I prefer to account for SBC by using dilution as portrayed by the increase in outstanding shares in analyzing relative valuation. The outstanding share count for Alteryx had increased by a bit more than 2.5% last year. The outstanding share count will rise more significantly in 2023 because it will now be based on 9 million additional shares that will be counted from conversion of the outstanding convertible debt as is the GAAP convention when a company reaches profitability, even on a non-GAAP basis. Of course doing so would wipe out most of the debt on the company's balance sheet which had been 15% or so of the company's enterprise value.
In reality, the share conversion won't happen; the conversion price is greater than $189/share, but the accounting convention calls for using higher weighted average shares and EPS estimates and other valuation calculations by most analysts will be based on the 78 million shares on which the company's forecast is based.
Market trends come and go. Last week the market sustained a risk-off trend and declined. Until today, which is Thursday February 16, 2023, the market has been in a risk-on mode. Today, investors are concerned about a "too hot" PPI with notable revisions of prior months as well as a failure of 1st time unemployment claims to climb above levels indicating a tight labor market. The rather startling decline of the Philly Fed index seemingly has not been a factor in investor perceptions of inflation and future Fed interest rate decisions, nor has the continued decline home construction metrics. I feel I need to comment about economic macros because they influence share prices, and the price of Alteryx shares in particular, more than the company's improvement in operational performance over the short term.
Alteryx shares have done much better than average so far in 2023. But they are unlikely to continue to rally until market sentiment with regards to future inflation and interest rate trends becomes sustainably positive in the eyes of market participants.
This article is a purchase recommendation for Alteryx shares. It is NOT a trading call, and has nothing to do with my view of economic macros. I will outline in the balance of the article the case for owning Alteryx shares but I am as aware as anyone that in the short term the shares will be governed by market sentiment and perceptions of risks of inflation and interest rate increases.
Why is Alteryx doing better - Is it sustainable?
Alteryx has been a case of a founder led company in which the founder wound up outstaying his welcome, so to speak. The company was founded to bring analytics, real analytics as opposed to visualization, to the desktops of millions of "citizen data scientists." It was quite successful in doing so and growth just before the advent of the pandemic was nothing short of spectacular, but things started to go wrong as the impact of Covid-19 was felt in the overall economy. The basic causes were a flawed go-to-market strategy, and a product roadmap that was slow to embrace the cloud. It didn't help that some users considered investment in a corporate analytics strategy to be a postponable investment regardless of the consequences.
The company brought in a new CEO, Mark Anderson in the fall of 2020 to take over from the retiring founder. In turn, Mr. Anderson brought in a new CRO, Paula Hansen and a new CTO, Suresh Vittal as the Chief Product Officer. The CFO, Kevin Rubin, has remained throughout the course of the transition and continues in his role.
One of the cardinal rules of building a large software company is to focus on the enterprise. Just about all software companies figure out that lesson. It took a new CRO at Alteryx to make that pivot, and it took a few quarters before the personnel necessary to implement the strategy could be brought into the company. This led to quarters with lots of salesforce churn that in turn hampered sales growth. Once the personnel were on the ground, so to speak, the company needed to focus on providing enterprise customers with attractive options to acquire more Alteryx seats in a cost effective fashion. Like many enterprise software companies, Alteryx has a land and expand model. It needed to make the expand part of the strategy attractive to enterprise users, and it has done so by offering Enterprise License Agreements. It may seem a simple undertaking, but the advent of ELAs at Alteryx has started to have a substantial impact on the company's business with the opportunity for acceleration.
The company had resisted a product strategy of "cloudifying" its products. Its desktop users were happy with the Alteryx offering-very happy, indeed, as I had learned. But to sell large deals in the enterprise, it was necessary to have an offering that CIOs and Chief Data Officers could embrace, and that meant developing cloud based technology. The company has been releasing cloud versions of its apps, particularly aimed at developers, and some of those new offerings are now starting to impact revenue growth.
2023 is likely to be a rough year for enterprise software sales despite some notable exceptions. Alteryx has certainly had its share of miscues in terms of sales performance along the way during its transition. But as I will try to explain later in this article, the specific opportunities in terms of ELA growth, renewals and new product adoption that the company has should provide it with a significant opportunity to beat the rather conservative guidance the company provided. Consensus revenue growth forecasts for 2023 and 2023 which mainly reflect revisions post earnings are 15% and 17% respectively. Alteryx, itself, projected revenues for 2023 of about $985 million, or growth of about 16% but on a far more conservative basis that has been usual. The company is also projecting growth in ARR this year of 23%. Over time, ARR growth and revenue growth will be consistent. Given the macro headwinds this year, and the many positive initiatives still in process at this company, I think a 3 year CAGR is most likely to be closer to 30%.
The analytics market and the Alteryx competitive position
One reason why I think growth estimates for Alteryx dramatically understate the company's potential is the size of the data analytics market. Many estimates such as the one linked here, put the market size at over $30 billion, with a CAGR through the end of the decade of nearly 30%. No doubt these studies have a more expansive definition of analytics that probably over estimates the TAM for Alteryx. When Alteryx first became a public company its projected TAM was only $10 billion. That TAM now seems to have grown to about $65 billion according to the latest Alteryx investor penetration, both because analytics itself is growing rapidly, but also because the company is now addressing what it describes as data engineering as well as the traditional applications of business intelligence, performance management, data integration and data governance.
The world is increasing data driven. Enterprises of all kinds want to use data to assist in making decisions and in looking at trends. This has driven users to prioritize analytics investment compared to many other categories of software. That doesn't mean that enterprise analytic deployments aren't getting increased scrutiny in this current environment; Alteryx would achieve much faster growth if the step back in software investment weren't happening across the board. It simply means it is a segment that is outperforming other software segments at this point, and likely on into the foreseeable future.
I understand the skepticism of many readers about ROI for an application such as analytics. But there are numerous documented case studies that portray just why users have prioritized analytics applications even in the midst of macro headwinds. There are lots of studies that relate to pricing and inventory optimization for retailers. Sometimes ROI comes from unlikely places such as using analytics to reduce unwarranted treatment variations for a healthcare provider. The optimization of parcel routing is another less obvious need that has been addressed by analytics.
Data analytics is a large market and Alteryx has many competitors of different shapes and sizes. While Alteryx is clearly a company that has a significant presence in what is called the ETL (Extract, Transform, Load) space that is not what provides the company its competitive advantages. Many 3rd party analysts focus on ETL in their competitive evaluations. For many years Informatica (INFA) has been the leading vendor in the ETL space and that is probably still the case although there are plenty of other competitors in this market segment.
Data visualization is another component of the overall analytics space, and this segment is dominated by Tableau/Salesforce (CRM), Qlik which is owned by Thoma Bravo and Microsoft's (MSFT)Power BI. The data visualization companies do all have ETL solutions, and thus compete with Alteryx in that part of the universe. Alteryx does not compete in the data visualization space.
What makes Alteryx unique is that it runs the table, so to speak. Not entirely of course, but in a general sense the company has a broader scope of analytical offerings than most of its competitors. The company offers ETL products, it offers products for data prep and blending, it offers analytics, reporting and geospatial software, it has solutions that encompass data science, machine learning and NLP (Natural language Processing) and what is described as auto insight generation and exploration. I have linked here to a couple of 3rd party market research reports. Many of them show Alteryx competing against companies that really don't address the meat of the company's value proposition. I think the analysis from PeerSpot probably adds the most value in looking at real competitors. That said, even the PeerSpot review has limitations as it includes alternatives that are less likely to be considered by potential Alteryx users.
Many Alteryx users also have analytics deployments from SAS Institute, from their own stack vendors such as Oracle (ORCL) and SAP (SAP), and use Power BI from Microsoft. Probably the largest opportunity for Alteryx is to convert its large base of installed Fortune 2000 users into significant clients. Currently, 1/3rd of the company's Fortune 2000 clients have an ARR level of less than $50,000 and 20% of the large enterprises using Alteryx are within 2 years of their initial deployment.
Alteryx has been refreshing its product offering at an accelerating pace. Just how much of the new offerings are reflected in the competitive surveys is unclear. It can be difficult to say in any objective sense that Alteryx solutions are better than those of numerous competitors. I do think it is likely that they are easier to use and deploy, and that they offer a more rapid learning curve than alternatives. The company has had no code/low code offerings for years. Alteryx, along with others, offers support for a programming language called Python which makes it easier for non-software professionals to automate analytical tasks. I also believe that the company's broader product footprint has made it significantly easier for Alteryx to present enterprise license to prospective users and to enhance the upsell opportunity. Alteryx doesn't have to have the "best" solution in every component of the analytics landscape; it simply needs to present a road map that enterprise can embrace.
Most recently, the company has accelerated its cloud solution introduction. The Alteryx analytics cloud has been one factor that has had the impact of fostering enterprise adoption of the company's overall vision. The platform includes capabilities that allow users to blend data, identify complex patterns, a machine learning capability that help to uncover hidden patterns and relationship which help with forecasting, and an auto insight capability based on AI which identifies trends, nuances and opportunities. It has allowed the company to compete more effectively against SAS Institute (JMP offering), Dovetail (a private Australian company) and Civis a data warehouse and analytics engine.
Alteryx and the artificial intelligence paradigm
For the past couple of months, many investors, and more than a few commentators in the IT sector have become transfixed by the opportunities presented by Artificial Intelligence. With Microsoft's investment of $10 billion into OpenAI, and its new version of Bing based on the latest ChatGPT models now in a well publicized limited release, the artificial intelligence revolution has reached a flood tide level. This paradigm is being adopted rapidly because it has such a high level of utility for so many different businesses. For example, Doximity (DOCS) is already using ChatGPT to help compose patient notes and to analyze and categorize patient records in order to reduce the time it takes to present pre-authorization paperwork to payers.
Investors and rightfully so in my opinion, are very interested in how potential investments fit into this new landscape. Many IT companies are likely to benefit as well as some a bit afield from IT such as NVIDIA (NVDA) and Arista (ANET) So, how does Alteryx fit into this emerging paradigm? First of all Alteryx is not now, and is never likely to offer the advanced neural networks that use what is called generative AI that are the core of the AI technology offered by OpenAI and others in the space such as C3.ai (AI).
Obviously a discussion of the potential impact of ChatGPT on Alteryx was one of the focal points of this latest conference call. Rather than me rambling on, it is probably better for the company Chief Product Officer to provide context.
On the ChatGPT question, Mark kind of alluded to it, we think it's a massive acceleration, accelerating opportunity for us. What is, imagine a world where a customer could be based on chat on generative AI trained against their libraries of previous workflows in Alteryx, they're synthesizing new workflows and giving creators a lot more time and flexibility in how they embrace our technology. We see great opportunity for generative AI to help augment our capabilities as well. We are already building tools that leverage generative AI technologies to translate between languages like SQL and Python and create huge time savings for the different technology and developer personas so they can start to incorporate massive amounts of SQL code and Python code into their Alteryx platforms.

Mark talked about the reimagination. So many of our partners are already starting to reimagine and create vertical apps that bring a combination of generative AI and Alteryx. We think the end goal of democratizing analytics and indeed democratizing AI is very nicely matched between technologies like ChatGPT, generative AI technologies and large language models allow consumers to do and what Alteryx helps consumers do. So we think this is a real one plus one equals three opportunity for us.
One of the important considerations for readers when they look at this emergence of AI as a major demand driver relates to how companies can monetize the technology and at what cadence. Inevitably there will be lots of hype, with vendors and analysts looking to portray their favorite company as a specific beneficiary. Some of this kind of speculation will prove to be ill-founded or exaggerated.
Just how much AI will lead to broader and more rapid deployment of Alteryx would be more of a guess than anything else at this point. At this point, and in this environment, about all I can say is that the halo effect of AI onto an analytics stack might make it more likely that Alteryx can continue to exceed its quarterly forecasts in meaningful fashion as it has in the last few quarters. But when readers try to determine a likely CAGR for Alteryx over the next several years, some headwind from the AI revolution should be part of the consideration, in my opinion.
The Alteryx pivot to enterprise selling-It is still a substantial and underappreciate tailwind
Talking about selling models and go-to-market motions can be easily overlooked by investors and yet it is one of the principal requirements for the success of any enterprise software company. Over the last several quarters, besides recruiting enterprise sales people who have a different work cadence than the initial cohorts of Alteryx sales reps, the company has designed different consumption models that are more appealing to enterprise.
In particular, the company has started to sell Enterprises License Agreements that make it much easier for the Global 2000 and other large organizations to deploy a significant level of Alteryx without the need to cost justify each and every new workload. In particular, the company introduced what it calls ELA bundles in mid-2021. This offering has shown early signs of success. 2/3rds of ELA that have reached their one-year anniversary were upsold in Q4, and of those that were upsold, the average ARR growth was greater than 50%.
The company's pipeline is replete with large ELA opportunities, and despite the macro environment, the sales forecast presented to investors, calls for a growing number of ELA sales, particularly amongst the largest potential customers. In addition, ELAs are tiered based on what is called burst capacity. While, no doubt, some users will attempt to constrain capacity growth that conflicts with the effective utilization of analytic development. Management maintained that it had a high level of visibility when it came to upsells based on increasing requirements for higher burst capacity. The company has been successful in selling these ELAs with burst, and this is driving consumption growth that provides a significant tailwind to revenue growth that is probably not entirely appreciated.
The company indicated that it has a meaningfully greater balance of renewals this year when compared to 2022 and earlier. Renewals have been strong; the company has focused on upsells during renewals and the results of doing so are becoming visible.
Finally, as I will discuss in the following section, sales force productivity measures are starting to show a significant improvement. The company, as some may recollect, went through a period in which it turned over a high proportion of its original sales force. This in turn led to some underwhelming quarterly sales performance. The sales force retooling has been complete for some time, and the results are now beginning to make a difference in terms of cost ratios.
The Alteryx business model: The progress of the work is now starting to be visible
Alteryx is in the early stages of reaching sustainable non-GAAP profitability and free cash flow. Last quarter, a fiscal Q4 for the company, Alteryx reported a non-GAAP operating margin of 23%, up from 10% in the prior year. Because of the company's rev. recognition model, Q4s are always far greater than other quarters so sequential comparisons are not useful here.
Last quarter non-GAAP sales and marketing expense was 44% of revenues, compared to 51% of revenues the prior year. Sales and marketing expense still rose by over 50% year on year, so there is substantial room for more expense remediation. I wouldn't be surprised if when all was said and done, the company didn't achieve another 700 bps of improvement in the sales and marketing expense ratio this year, although to be clear, that is not what this company is currently forecasting. Sales and marketing is by far the largest expense item on the income statement, and the area with the most room for expense remediation.
The non GAAP research and development expense ratio was 15% last quarter compared to 17% in the year earlier quarter. The kind of research and development expense ratio is fairly typical for a growth company as this is. Research and development expense also rose by 50% last year, just slightly less than reported revenues; I am reasonably sure that the company's cadence for research and development spend growth will moderate significantly in 2023.
The company's non-GAAP general and administrative expense ratio was 13% last quarter, down from 17% in the year earlier quarter. Overall, non-GAAP general and administrative expenses rose by around 30% last year, and that rate of increase will likely be falling as well.
The company, despite the strong Q4 results, did not generate positive cash flow from operations last year. Much of that was a function of balance sheet items, and in particular, prepaid expenses which ballooned over the course of 2022. The company had a healthy growth in deferred revenues last quarter despite the effects of shorter average contract duration. Overall, stock based comp. expense was 26% of revenue for the full year as reported vs. 23% of revenues in the prior year. Much of this relates to the aggressive hiring which usually results in stock based comp when new hires start and some part of their options vest. As mentioned, stock based comp expense was less than 21% of revenues last quarter.
The company is projecting a non-GAAP operating margin of about 5% next year, with more than all of non-GAAP income coming in the 2nd half of the year-typical seasonality for this company. That compares to the 2% non-GAAP operating margins that were achieved in 2022. As is typical these days, the company's guidance has been flagged by the CFO as being unusually conservative given the macro challenges and that seems to me to be entirely appropriate. That said, given the dialogue presented during the call regarding both likely revenue tailwinds and expense management, I would not be surprised to see material upside to operating margins over the course of 2023. Just as a point of reference, at the start of 2022, the company initially forecast a non-GAAP loss from operations of $45 million at the mid-point, and wound up with non-GAAP income of $13 million for the full year.
The company doesn't forecast cash flow; just looking at its projected non-GAAP operating margins and the items that make up both operating and free cash flow, I am projecting a free cash flow margin of about 6.5% in 2023.
Wrapping Up-Alteryx valuation and my recommendation.
Like many other high growth IT companies, Alteryx shares have appreciated sharply in the first 45 days of 2023. They are up by 35% since the end of 2022. That is likely to scare off some potential investors, but the fact is the shares are only up by 19% over the 12 months, during which time ARR has climbed by more than 30% and the company has gone from reporting losses to a modest level of non-GAAP profitability.
My estimate for the EV/S ratio for Alteryx is now 5.5X. On a relative basis, that is still well below average for the company's growth cohort. The company has a Rule of 40 metric that should approach or exceed 30 this year, and is likely to go considerably higher in future years. The DPV calculation can be all over the lot depending on the company's growth beyond 2023 and just how rapidly the free cash flow margin escalates. Using a somewhat balanced view in which it takes 4 years beyond 2023 for the free cash flow margin to reach 20%, and a consistent 30% revenue CAGR yields a DPV value more than 65% above the current share value. I have used a 9.3% weighted average cost of capital which is the Guru Focus calculation. The WACC metric is likely to decline because of the rapid improvement in profitability metrics.
The case to buy the shares rests on several pillars. These include the retooling of the go-to-market motion, the product line extensions that now include a substantial cloud component, specifically the Alteryx Analytics Cloud Platform, the priority that users have placed on analytics in this difficult environment for enterprise software, the company's gains in market share as best as that can be determined, and the significant trends in terms of expense discipline that are producing non-GAAP profitability and will produce free cash flow this year.
These days everyone want to know how the AI story fits into any IT investment. Alteryx does not have, nor is ever likely to have the complex neural networks and models that are the stock in trade of companies such as OpenAI and C3.AI. It will benefit, however, both by using AI in its own technology stack and by the creation of vertical apps that bring a combination of generative AI and Alteryx. That said, while AI has lots of hype these days, it is not going to move the revenue needle at Alteryx in 2023.
Another significant pillar of the investment case is for Alteryx is the conservatism of the guidance. For the most part, Alteryx has always provided conservative guidance even during less stressed times in the IT space. But to my recollection, this is the first time the CFO actually called out specifically that guidance was more conservative than it usually is, and that visibility is better than has been historically typical. I really don't like the term de-risked as it applies to investments seeing more than a few de-risked situations deteriorate. But I do think given the company's sales momentum, and the uptake of its ELAs, its sales forecast is likely to prove to be a floor.
Finally, I think the current executive team at the company including the relatively newly minted CEO, CRO and Chief Product Officer as well as a long serving and reliable CFO are important components of why I expect the company to achieve outperformance despite the macro headwinds over the coming years. I think Alteryx shares will produce significant positive alpha even after the strong move the shares have had to start 2023.