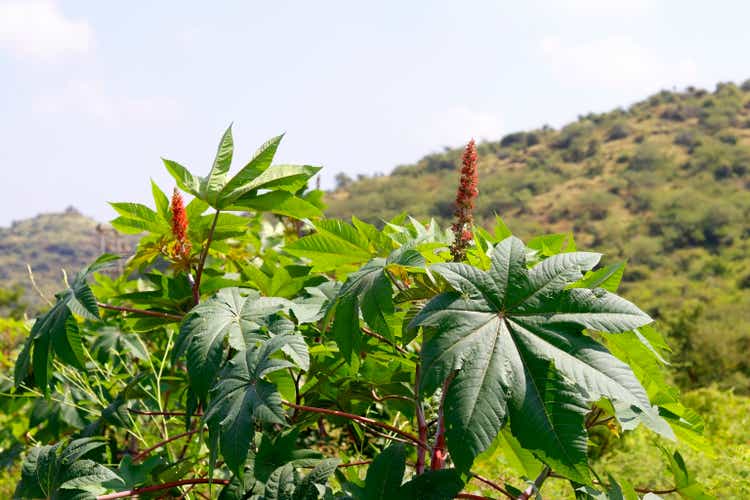 On January 19, 2023, Evogene Ltd's (NASDAQ:EVGN) wholly-owned subsidiary Casterra Ag. Ltd. announced that it had entered into an agreement with a yet unnamed major energy company to supply its proprietary varieties of castor seeds (to grow castor oil plant, known as Ricinus communis) and castor plant/castor oil know-how, on a commercial scale.
As set out on its website, Casterra's mission is to,
...provide the most genetically advanced castor bean seed varieties, tailored to humanity's eco-friendly energy needs of today, with a complete comprehensive ag-service solution to castor cultivators and manufacturers." Source: Casterra's website
Casterra's focus is on Biobased products:
Biopolymers- derived from castor oil; and
Biofuel- castor oil as an additive to the diesel mixture.
Israeli-based Evogene Ltd. [TASE: EVGN] is using its AI-driven computational predictive biology platforms to develop life science products both internally and through its 5 subsidiary corporations, including Casterra.
Evogene Corporate Summary:
Evogene Ltd.'s market cap is approximately $35 million. Its shares trade in the $0.85 range.
Liquidity: As of September 30, 2022, Evogene had cash of $38 million (no debt). Its cash burn was approximately $7.3 million in Q3 (approximately $4.7 million excluding Lavie Bio). Management believes its cash position as of September 30, 2022, was sufficient to fund the company and its subsidiaries until late 2024, if not longer. Management has also indicated it plans to try to raise funds at the subsidiary level in order to minimize dilution at the parent level at least while Evogene's share price is so low. (Source: Q3 Financial Statements as reported in Evogene's November 17, 2022 press release.)
Since its November 17th press release, Evogene has announced that it will be paid the sum of $3.5 million by Bayer arising out of its seed collaboration (announced December 8, 2022). As well Evogene's subsidiary Biomica announced that it has entered into an agreement under which it will be receiving an additional $10 million from Shanghai Healthcare Capital subject to regulatory approval in China (announced December 21, 2022). The foregoing announcements are referred to later in this article.
Assuming the $3.5 million payment and $10 million funding into Biomica are received, that should result in Evogene having sufficient capital into early 2025.
Shares Outstanding: As of September 30, 2022, Evogene had 41,215,944 shares outstanding.
Description of Evogene's Assets: Evogene's assets include AI-driven computational predictive biology platforms (ChemPast AI, GeneRator AI and MicroBoost AI), CRISPR technology, proprietary genomic databases, intellectual property, internal and external collaborations with major multi-nationals including Bayer, Corteva, ICL and others, proprietary genetically modified seed varieties, and five life science subsidiaries including:
Biomica (microbiome therapeutics in human health);
Lavie Bio (Ag-biologicals including bio-stimulants and bio-pesticides), with minority interest owned ag-tech multi-national Corteva Inc. (CTVA) and ICL (ICL);
AgPlenus (next-generation Ag Chemicals including herbicides, insecticides and fungicides);
Canonic (medical cannabis); and
Casterra Ag, Ltd. (proprietary castor oil seeds and related agricultural products).
My Previous Articles on Evogene:
Since August 2020 my previous articles written about Evogene focused on the first four named subsidiaries (Biomica, Lavie Bio, AgPlenus and Canonic), including my last article published on Seeking Alpha on March 22, 2022 which provided an update on Biomica, Lavie Bio and AgPlenus.
Until recently I considered Evogene's fifth subsidiary Casterra Ag, Ltd. to be of little value. My view is now changed. For the reasons articulated in this article, Casterra may have significant value for Evogene and its shareholders.
Based upon the renewed interest in castor oil, with tailwinds generated by European Union laws banning palm oil and soyabean oil as a biofuel in transportation fuel in particular, the demand for castor oil as a biofuel in Europe is skyrocketing. Casterra's proprietary castor oil seeds and its technology is now in demand.
Based upon my recent discussions with Casterra's CEO, Casterra's castor oil seed varieties are best in class and capable of significantly increasing castor bean and castor oil yields in difficult soil and growing conditions.
Casterra Ag, Ltd. (Producing Genetically Advanced Castor Bean Seed Varieties)
Castor oil, produced from the castor beans grown on the castor plant (Ricinis communis), was recently described by Casterra to be a carbon-neutral fuel, unlike other vegetable oils such as palm oil or soyabean oil.
Casterra is developing an industrialized cultivation approach to castor bean farming by developing a castor bean-specific mechanical harvesting machine in collaboration with Italian specialty machine maker Fantini Italia S.r.l. group, as well as a proprietary high-capacity dehulling machine. However, the key driver and source of value for Casterra is its ability to develop proprietary and vastly superior castor seed varieties using Evogene's plant genomic capabilities and GeneRator AI tech engine and its collection of more than 300 varieties collected from 40 countries, creating a vast 'playground' for superior development.
The success of Casterra's genomically modified castor seed varieties also helps validate Evogene's GeneRator AI technology.
Casterra's Management
Casterra's management group (source: Casterra's website) includes:
Eyal Ronen, CEO and General Manager of Casterra. Mr. Ronen is also the recently appointed CEO of Evogene's subsidiary Canonic, and Executive Vice President of Business Development for Evogene.
Dr. Michi Brog, PhD, Head of seeds development of Casterra, and Director of breeding of Evogene's Medical Cannabis subsidiary Canonic.
Mr. David Schvartzman, Product & Market Development Agronomist of Casterra, with experience in Latin America and African markets. Mr. Schvartzman was formerly head of Evogene's plants' department where he led the development of biofuel crops.
Mr. Ziv Halamish, Director of operations of Casterra, and Evogene's Director of Greenhouse Research Center responsible for experimental and agrotechnical activities.
Casterra's Agreement with a World Leading Energy Company for Casterra's Castor Varieties and Broad Know How
While Casterra's January 19, 2023 press release did not disclose the identity of the "leading energy" company it did disclose that,
... Casterra will provide its unique castor varieties and its broad know-how in the cultivation of castor at a commercial scale for biofuel production.

...

the initial focus is the purchase agreement of castor seed varieties from Casterra for growing castor in specific African territories and the provision of technical support. The agreement also allows for the potential for long-term cooperation in castor cultivation between this customer and Casterra, with the potential for expansion into additional territories on the African continent. ..."
In preparing to write this article I spoke to Casterra's CEO Eyal Ronen on February 2 and February 16, 2023.
As Mr. Ronen explained, during the past few years there has been increasing recognition of the use of castor oil as a "green" biofuel or biodiesel feedstock in the production of diesel fuel, particularly in Europe to reduce the use of fossil fuels.
Low ILUC (Indirect Land Use Change) Crops:
As well, under European Union regulations, starting in 2023, all bio-feedstock must be certified as being Low ILUC (Indirect Land Use Change) Crops by either demonstrating yield increase (improved seeds, cover crops) or by land recovery (being able to grow the crop in unused, abandoned or severely degraded land.) Casterra's castor bean seeds are able to produce castor oil which can be certified as a Low ILUC Crop.
14% Biofuels in European Transportation Fuels by 2030:
Furthermore, the European Union regulations require that a portion of all transportation fuels including diesel, contain a certain minimum portion (approximately 10%) of biofuel, increasing to 14% by 2030.
Until recently, biodiesel feedstock in Europe came primarily from renewable vegetable oils such as palm oil, soyabean oil and other edible oils.
In September 2022 the European Parliament passed laws to ban the importation of various products linked to deforestation, including palm oil. The ban is being phased in beginning in January 2023; palm-oil-based biofuels will be completely banned in Europe by 2030. The rationale has been that palm oil as a biofuel led to an enormous amount of deforestation and loss of arable land to grow palm oil, which in turn has contributed to climate change.
Over the past number of years, a number of major oil and gas companies supplying Europe had begun finding alternatives to palm oil as a biofuel during the past years with Castor oil being one such viable solution.
Castor oil is produced from castor oil plant beans (Ricinus communis) which are non-edible. Unlike other edible oil plants such as palm oil and soybean oil, Castor oil plants can be grown in non-arable lands in very difficult conditions, including lands that were otherwise abandoned. The idea is that the production of castor oil plants could be grown on previously non-arable lands which would enable the recovery of natural habitats where, for example, palm oil was previously cultivated.
As well, Castor oil is renewable, biodegradable, has low toxicity, contains negligible sulphur content and generally generates clean exhaust emissions. The European Union considers "castor oil" as a green fuel suitable as a biofuel or biodiesel satisfying European regulatory requirements.
BASF Group, a giant multi-national chemical company, appears to be the largest castor oil refiner in the world and is actively engaged in developing sustainable castor oil bean projects in India and elsewhere. See BASF's corporate presentation relating to its support and promotion of castor bean oil projects in India can be found here.
As well, large energy companies, such as Italy-based ENI S.p.A. (NYSE:E), are aggressively expanding castor oil plant production, particularly in Africa, for use as a biofuel in Europe.
On one of ENI's web pages with the title, "Seeds for Energy", ENI describes various castor oil plant projects it has been advancing in Africa during the past few years to produce castor oil as a biofuel, including:
a. an ENI project in the Republic of Congo,
... which started in November 2021, involves the cultivation of agri-feedstock within five large concessions and the involvement of rural communities in the area of interest, with an expected output of 200,000 tonnes per year by 2030. Oil will first be produced from castor-oil plant cultivations and it is expected to be available in 2023. For this purpose, an agri-hub with a capacity of 30,000 tonnes will be built.";
b. an ENI project in Kenya,
... which started in December 2021, involves about 25,000 local farming families in the production of 200,000 tonnes per year of agri-feedstock by 2026, starting with the cultivation of castor beans, the harvesting of croton and the development of co-products of the local cotton industry, for which an output of 30,000 tonnes per year is expected in 2023.".
The Superiority of Casterra's Genomically Modified Castor Bean (Ricinus communis) seeds
Casterra's CEO, Mr. Ronen, explained that over 80% of the castor oil plants are grown in India and that approximately 95% of the castor seed genetics come from India. Castor oil plants in India, according to Mr. Ronen, are characterized by a lack of uniformity with no specific genetics being dominant.
Most castor oil plants are grown in small family plots in India, Brazil and various countries within Africa including Kenya and the Congo and produce relatively low castor bean yields.
Ronen explained that traditional castor oil plants (grown from Indian sourced seeds) are typically tall, grown plantation style and have low grain yields: 500 kg/Hectare or Ha (approximately 2.2 acres) in non-irrigated soils and 700 kg/Ha in irrigated soils with less than 50% oil content, generating 250 kg to 350 kg of castor oil per Hectare.
In contrast, Casterra's proprietary castor oil seeds result in castor oil plants which are smaller, with a denser architecture, shorter growth cycle and much higher yield of 2,000 kg to 3,000 (or higher) per hectare per cycle, generating 1,000 to 1,500 kg of castor oil, with the potential to increase the number of castor bean crop plant/harvest cycles each year from two to three.
In fact, Ronen indicated that in remarkably optimized conditions, he has seen reports of Casterra's castor bean seeds producing 5,000 kg of castor beans per hectare yields generating approximately 2,500 kg of oil per hectare (per growing cycle).
The current market price for unrefined castor oil is approximately $1,800 US FOB per metric ton.
For castor bean farmers and oil and gas company end users, using Casterra's higher-yield castor seeds can materially improve yields and economic returns in growing castor oil plants, particularly if they are able to mechanize the growing and harvesting process.
Castor oil plants' ability to be grown in sub-optimal soils, and in drought conditions, in lands that might otherwise be considered non-arable or abandoned lands, is an enormous benefit to the farmers and countries involved, and the castor oil industry generally.
Casterra Markets Three Proprietary Castor Bean Seed Varieties
Casterra currently markets three types of castor bean seed varieties it developed genomically (using Evogene's AI GeneRator technology) including:
1. EVF712 (see Fact sheet below published by Casterra)- Average plant height 100 cm to 150 cm, 120 to 140 days from sowing to harvest, Medium drought tolerance, 48% to 50% oil content, and 2.0 to 3.0 tons/Ha grain yield potential.
2. EVF716 (see Casterra's Fact sheet below) - Average plant height 70 cm to 120 cm, 100 to 115 days from sowing to harvest, Low drought tolerance, 48% to 50% oil content, 2.0 to 3.0 tons/Ha grain yield potential.
3. EVF701 - (See Casterra's fact sheet below)- Average plant height 120 cm to 170 cm, 125 to 145 days from sowing to harvesting, High drought tolerance, 48% to 50% oil content, 2.0 to 3.0 tons/Ha grain yield potential.
Commercial Potential of Casterra's Castor Bean Seeds
According to Casterra's CEO, (although he did not provide any specific revenue guidance or forecasts), the current selling price of its proprietary castor oil seeds is about $24.00 US/Kg; each Hectare requires approximately 12 to 14 kg of seeds (equivalent of $288.00 to $336.00 US per Hectare per planting/harvest cycle). Conservatively, if we assume 2 growing cycles per year, that would generate over $500.00 US per hectare per annum in castor bean seeds alone.
The potential market for Casterra's castor seeds (assuming a focus on the castor bean markets in Africa, Brazil and Latin America) is estimated by Ronen to potentially be a few million hectares of castor oil plants by 2030. Based upon the foregoing figures, the potential market for high-yield genetically superior castor bean seeds could be approximately $500 million US for every 1 million hectares of castor oil plants grown. Casterra's potential is to capture a portion of this market. Ronen advises that while there is some competition in the castor bean space, Casterra plans to maintain its edge and continue to advance new and better castor seed varieties.
While Casterra has already announced castor bean oil agreements with two major parties including Titan Castor Farms Limited, as well as a leading energy company, Casterra is cautiously optimistic that it will be able to negotiate additional supply/ JV or other collaboration agreements in the coming years with major energy, chemical and other companies for Casterra's castor seeds, and related know-how and equipment.
Evogene's Other Recent Announcements: The January 19th announcement regarding Casterra's agreement with an energy major is one of a number of significant press releases issued by Evogene and its 5 subsidiaries during the past 6 months including:
Evogene's Share Price Volatility Since Summer 2020
Evogene's share price has been extremely volatile since the summer of 2020 when its shares were trading in the $1.00 range when I first began writing about the company. Evogene's share price subsequently skyrocketed to a peak of approximately $10.00 in February 2021 for a number of reasons including a $10 million investment by ARK Invest. Since peaking in February 2021, Evogene's share price has given up all of its gains and now trades in the $0.85 range. Evogene's market cap is little more than its cash on hand.
The 3-year share price charts below for Evogene and the S&P Biotech ETF (XBI) suggest that part of the Evogene share price meltdown since February 2021 parallels the general disfavour in the biotech space, particularly in the small and microcap biotech sector which had been badly affected.
Apart from the share price destruction itself, Evogene and its subsidiaries appear to continue to make progress.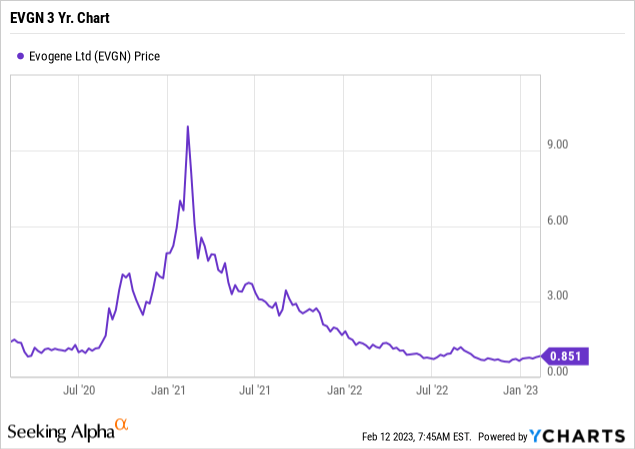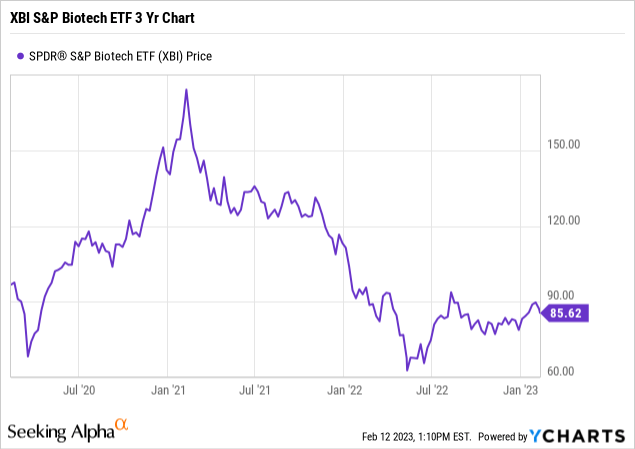 Analyst Reports on Evogene (Source: Bloomberg as of February 15, 2023)
Cantor Fitzgerald (Kristen Kluska) - $7.00 price target - Report date: February 2, 2023
Roth (Brian Wright)- $1.00 price target- Report date: January 3, 2023
Aegis Capital (Nathan Weinstein) - $8.00 price target - Report date: September 12, 2022
I have not seen Roth's report dated January 3, 2023 (referred to in the Bloomberg printout) in which a $1.00 share price target for Evogene is referenced, so cannot comment on the report or why it may be so out of line with Cantor Fitzgerald's $7.00 share price target and Aegis' $8.00 target.
While I am not qualified to provide a specific valuation on Evogene that I would be comfortable sharing, my own personal view is that on a "sum of parts" valuation (taking into account the valuation of the parent company and its 5 subsidiaries), Evogene's current share price and market cap of approximately $35 million represents a material undervaluation. My family and I own a full position in Evogene shares.
At a share price in the $0.85 range, Evogene (EVGN) may provide a good entry point for risk-tolerant investors. See Investment Risks below.
Casterra Summary
Evogene's subsidiary Casterra (and the genomically superior castor bean seeds it produces) is the beneficiary of changes under European Union laws relating to the banning of palm oil and soybean oils as biofuels in transportation fuel. Casterra's castor bean seeds have been developed using Evogene's GeneRator AI technology to produce superior castor oil plants with substantially higher yields in lands that may be otherwise non-arable or abandoned.
As well, Casterra's castor oil plants (grown from Casterra's castor bean seeds) qualify under EU laws as a Low ILUC Crop and are otherwise able to comply with the EU's regulatory requirements for biofuels for transportation fuels, and biodiesel.
Casterra expects sales of its castor bean seeds (particularly to energy companies selling transportation diesel fuels in Europe) to begin ramping up in H2 2023. Sales will hopefully accelerate during the next number of years as the ban on palm oil as a biofuel in Europe takes effect and the minimum requirement of biofuels as a percentage of transportation fuels in Europe increases to 14% in 2030.
Assuming that a couple of million hectares of castor oil plants will be grown in Africa, Brazil and Latin America by 2030, the potential market for Casterra's Castor oil seeds in Africa, Brazil and Latin America could be as high as $500 million (my estimate). Casterra's potential is to capture a portion of this market if all goes well.
Casterra's recently announced contracts with Titan as well as a major energy company confirm the substantial growing commercial demand for Casterra's castor seed varieties, castor bean plant expertise and related products. Casterra expects that sales revenues will begin this year and accelerate in the years to come.
While Casterra has not provided revenue guidance, I expect that we will have greater insight into Casterra's economic potential later this year. With the European Union regulatory tailwinds at its back, and its best-in-class castor bean seeds finding a significant market, Casterra has the potential to significantly contribute to the value of its parent company Evogene.
Investment Risks
Casterra Ag, Ltd. is one of 5 subsidiaries owned by Israel-based Evogene Ltd. and is currently wholly owned by Evogene, a public company trading on the NASDAQ and Tel-Aviv stock exchanges.
Evogene and its subsidiaries remain early stage and revenues are still relatively small. Evogene is suitable for investors with a high-risk tolerance.
There is no assurance that Casterra will succeed or that it will gain a material amount of castor seed market share. There is no assurance that castor oil will continue to be a favoured feedstock for biofuels or biodiesel in Europe, or elsewhere, or that there may be other regulatory or legal changes that could make castor oil less desirable as a biofuel.
Before investing in Evogene, you should do your own due diligence and/or obtain professional advice to determine whether it is an appropriate investment for you and the sizing of such an investment.
For further details of the potential risks involved, see the risk factors set out in the company's most recent public SEC filings available on the Company's website and on EDGAR.
Editor's Note: This article discusses one or more securities that do not trade on a major U.S. exchange. Please be aware of the risks associated with these stocks.