Eastman Chemical's Huge Cash Flows And Buyback Support Much Higher Stock Price
Summary
Eastman Chemical has a higher-quality business than your average chemical industry company.
Management treats shareholders well. The company is eating up tons of its own stock and pays a healthy 3.7% dividend yield on top.
Shares are already priced to reflect a sizable recessionary impact. The stock would have dramatic upside in a potential economic "soft-landing" scenario.
Looking for a helping hand in the market? Members of Ian's Insider Corner get exclusive ideas and guidance to navigate any climate. Learn More »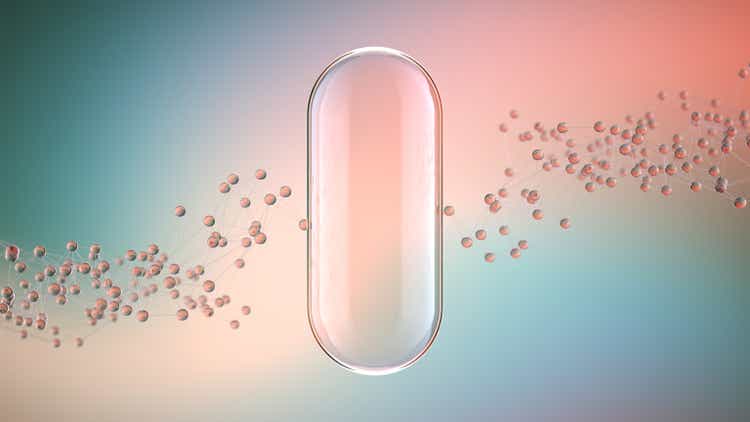 I've written about Eastman Chemical (NYSE:EMN) several times over the years. The business fascinates me in part due to its origin story. The company came about as a spinoff from the former photography giant Eastman Kodak. Kodak divested its chemical business back in 1993. Few would have guessed that while Kodak was about to fade from view, its chemical operations would go on to be a highly successful investment.
Over the past twenty years, for example, EMN stock has managed to outperform the S&P 500 to a reasonable degree while producing an 800% total return: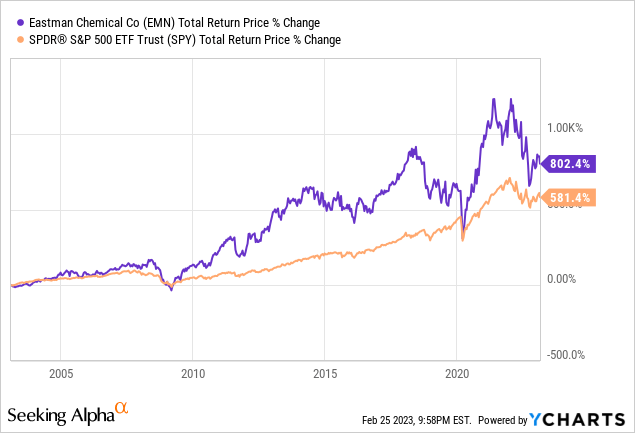 Not bad at all for a spin-off from a now-failed photography company. Eastman's performance might seem rather surprising. After all, chemicals have a reputation for being a cutthroat commodity business where any brief periods of excess profitability tend to vanish either due to new competitors or a turn in the business cycle.
And yet, Eastman Chemical has built a rather nice business for itself. And, with shares down sharply since their 2021 peak and now back toward pre-pandemic levels, it's time to take a fresh look at where EMN stock stands today.
Eastman's Business Model & Capital Allocation
Eastman Chemical makes a variety of specialty chemicals. Leading applications include chemicals for window tinting, safety glass, and specialized glass. These aren't huge markets, but Eastman has strong market positions in various of these niches, and they tend to be less competitive than in broader categories of chemicals.
Additionally, the company reinvests significant funds in R&D to come up with new products and chemical applications to modernize its portfolio. One such exciting newer product is Eastman's polyvinyl butyral for augmented reality displays. As per the 10-K:
"Saflex™ Horizon [is] a next generation polyvinyl butyral ("PVB") interlayer product, supports the longer virtual image distance, expanded field of view, and augmented reality features of advanced Head-up Displays ("HUD") systems."
While Eastman is not especially well-known, it's a reasonably-sized business. The market cap is currently $10 billion, and it produces $11 billion annually in revenues. And it is exposed to a great number of industries, including growing areas such as glass solutions especially designed for electric vehicles.
In any case, Eastman Chemical's under-the-radar presence works to its advantage. That's because the company is a frequent repurchaser of its own shares: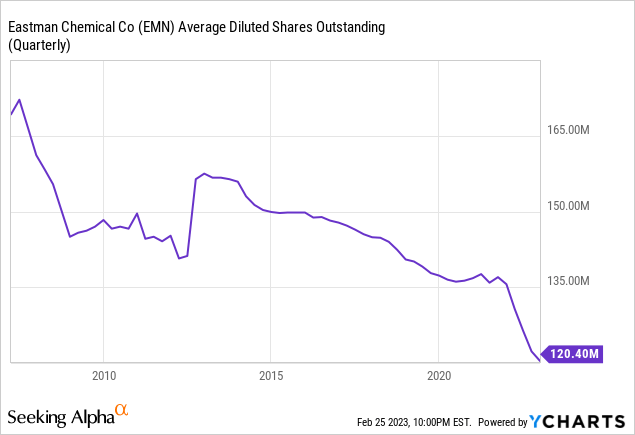 The company has reduced its share count from 170 million prior to the 2008 financial crisis to 120 million shares today. It'd be even greater than that, except that Eastman pulled off a $4.7 billion acquisition, for Solutia, with a mix of cash and stock in 2012. Even putting that deal aside, the company has bought back a massive chunk of its outstanding stock.
And, impressively enough, the company accelerated its buyback over the past year. Just recently, the share count has plunged from 135 million to 120 million. That's a more than 10% reduction in the amount of EMN shares out there, which offers a huge tailwind for Eastman's reported earnings per share.
It's also worth considering that Eastman's income isn't nearly as cyclical as you might expect for a chemicals company. Sure, there are ups and downs, but this isn't exactly a boom/bust business either: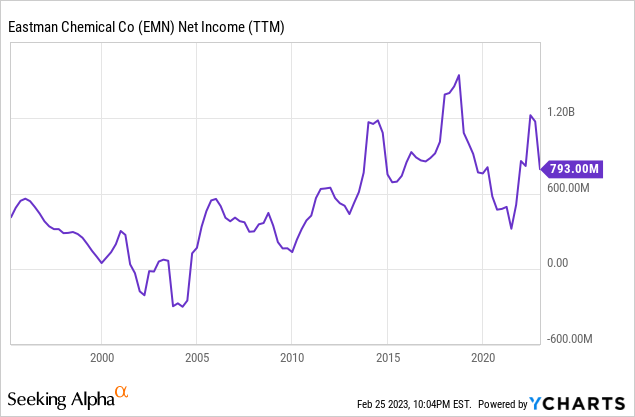 Eastman hasn't outright lost money since 2004. It remained reasonably profitable in 2009, and it didn't see a particularly bad hit from COVID-19 either. Eastman's operations slow down during a recession, but this isn't a situation where you are going to lose years of compounding due to one bad economic stretch either.
At such a low starting P/E ratio, I'd argue Eastman is priced for much more operational volatility than has actually occurred over the years. Looking at this sort of income chart, along with the huge buybacks, you could reasonably expect to pay something in the 15-17x P/E multiple range.
And yet, Eastman shares are selling for 12x trailing earnings. And, historically, they tend to at or under 12x earnings for a large portion of the time: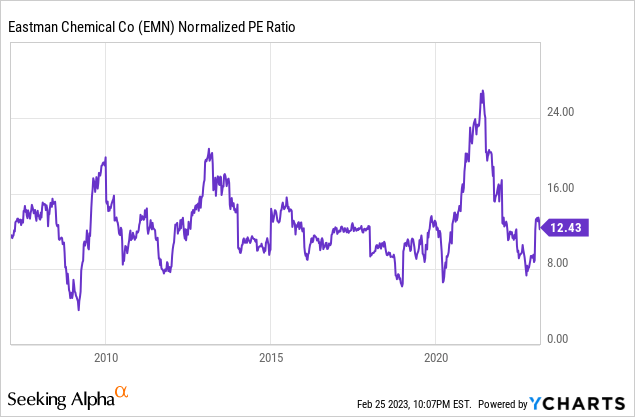 While this is disappointing for traders seeking short-term capital gains from multiple expansion, the persistently low valuation ratio is the factor that allows the company's share buyback program to be so effective. You get way more bang for your buck repurchasing shares at an 8% or 10% earnings yield as opposed to a 4% earnings yield.
And, some might argue, even Eastman's current P/E ratio undercounts the company's real operating results.
To put numbers to that, consider that the company is targeting $1.4 billion of operating cash flow in 2023. The company has a $10.0 billion market cap as I'm writing this. This works out to a 14% operating cash flow ratio -- the majority of which will be returned to shareholders via the share buyback and 3.7% dividend yield.
You can make all the macroeconomic arguments you want about inflation, recession risk, housing market slowdown or whatnot. And a lot of them would be valid.
But it's hard to lose too much money buying at this starting valuation. That's especially true when Eastman is returning so much of the profits to shareholders immediately. And furthermore, Eastman remained profitable even during the 2008 financial crisis and the pandemic. If those shocks couldn't cause material losses for Eastman, I doubt the Fed's rate hiking campaign will really crush the business' economics either.
Earnings will likely drop if we do indeed go into a recession. But if that happens and the share price follows, Eastman will simply buy back even more stock for its money. The company's shareholder-friendly capital allocation approach disarms much of the potential downside case here.
EMN Stock Verdict
Analysts expect Eastman to see a fractional decline in earnings this year, followed by a return to double-digit earnings growth subsequently:
At present, shares are going for less than 11x forward earnings, 9x estimated 2024 earnings, and 8x estimated 2025 earnings. And this earnings growth is realistic, despite the relatively slow top-line revenues growth, since the company is buying back its own stock so quickly at such a favorable valuation.
In addition to the massive buyback lever, the company is also offering an agreeable 3.7% dividend yield on top of that.
Chemicals are a volatile industry. There's no denying that. However, Eastman Chemical has done a good job developing niche products and a defensible business model that allow it to avoid the worst of the industry's boom/bust cycle. Meanwhile, at this depressed starting valuation, very little has to go right for shareholders to get double-digit total returns from here.
I'm not the only one seeing a significant mispricing at Eastman Chemical now, either. Morningstar's Seth Goldstein pegs fair value way up at $130 per share, which implies that EMN stock is 36% undervalued today. Goldstein's conclusion highlights the risk/reward nicely:
"Shares trade only slightly above our downside scenario, which produces a fair value estimate of $80 per share. In our downside scenario, we assume a recession weighs on 2023 profits and Eastman sees tepid growth thereafter. As a result, we think much of the bad news is priced in, leaving long-term investors with a good opportunity."
Put another way, Eastman shares already essentially reflect a recession at today's stock price. In such a downside scenario, shares should only fall slightly. Meanwhile, in a base case scenario where we muddle through 2023 and return to robust profit growth in 2024, Eastman should have tremendous share price upside in addition to its compelling dividend and buyback program.
If you enjoyed this, consider Ian's Insider Corner to enjoy access to similar initiation reports for all the new stocks that we buy. Membership also includes an active chat room, weekly updates, and my responses to your questions.
This article was written by
Ian Bezek is a former hedge fund analyst at Kerrisdale Capital. He has spent the decade living in Latin America, doing the boots-on-the ground research for investors interested in markets such as Mexico, Colombia, and Chile. He also specializes in high-quality compounders and growth stocks at reasonable prices in the US and other developed markets.
Ian leads the investing group
Learn more
.
Analyst's Disclosure: I/we have a beneficial long position in the shares of EMN either through stock ownership, options, or other derivatives. I wrote this article myself, and it expresses my own opinions. I am not receiving compensation for it (other than from Seeking Alpha). I have no business relationship with any company whose stock is mentioned in this article.
Seeking Alpha's Disclosure: Past performance is no guarantee of future results. No recommendation or advice is being given as to whether any investment is suitable for a particular investor. Any views or opinions expressed above may not reflect those of Seeking Alpha as a whole. Seeking Alpha is not a licensed securities dealer, broker or US investment adviser or investment bank. Our analysts are third party authors that include both professional investors and individual investors who may not be licensed or certified by any institute or regulatory body.